So you've harvested your plants and now you need to find the proper container to cure your buds in? You might be surprised how many different types of containers for curing cannabis are out there. We've gone out of our way to test, review, and break down the best containers for curing cannabis on the market.
What is Cannabis Curing?
Curing is the process of drying herbs and flowers to lock in their natural flavors and aromas. It's a simple process that uses time instead of heat. When curing cannabis, the goal is to dry it slowly enough so that the plant doesn't lose its potency or flavor but fast enough so that it doesn't become moldy. Then, you store them in an airtight container and allowing them to rest for a certain period of time.
Why is Curing Cannabis Necessary?
Curing is not technically necessary for cannabis to be enjoyed, but it does have some important benefits.
Potency: Curing allows the remaining sugars and chlorophyll in the cannabis to break down, enhancing the potency of the cannabinoids.
Flavor and Aroma: As the chlorophyll breaks down, the true flavors and aromas of the cannabis come through, providing a smoother and tastier experience.
Preservation: Curing cannabis correctly helps prevent the growth of mold and bacteria, extending its shelf life.
Smoothness: A properly cured cannabis bud burns more evenly and provides a less harsh smoking or vaping experience compared to an improperly cured bud.
Without curing, the cannabis buds may not reach their full potential in terms of potency and flavor. They may also have a shorter shelf life and provide a harsher, less enjoyable consumption experience.
How to Dry Cannabis?
Drying your weed is the first step of most cannabis-curing processes. This process removes the remaining moisture from your buds, which can cause mold to grow if it's left in the plant too long. It's also important to dry your weed correctly so that your buds retain as much THC and other cannabinoids as possible.
There are two ways to dry your weed: artificially and naturally. Naturally dried weed is left out in the open air until its moisture content decreases to an acceptable level. How long it takes depends on the temperature and humidity of the environment where it's being dried. Artificial drying involves placing your buds in an enclosed space with air circulation and heaters/dehumidifiers attached to accelerate the process as much as possible.
How to Cure Cannabis?
Curing cannabis involves drying buds slowly over time while providing them with controlled humidity levels. This process allows terpenes and cannabinoids to naturally degrade over time, resulting in smoother smoke and better taste overall.
If you're wondering how long it takes to cure bud, remember that different strains require different amounts of time before they're ready for consumption. Some strains will be prepared after as little as one week of curing, while others may take up to two months or even longer before they're ready for use.
There are plenty of methods to cure cannabis, and each has its benefits and drawbacks. It's essential to know how to cure cannabis before growing your buds.
The most common ways people cure their marijuana are:
Dry Curing – Dry curing involves taking your buds out of their packaging and placing them in a sealed container with some humidity. You can do this by placing them in a jar with dampened cheesecloth or putting some dampened paper towels inside the container with the buds. You want to ensure that there isn't too much moisture in the jar, so don't keep the paper towels damp for too long.
Wet Curing – Wet curing involves submerging your buds in water for up to a month after they have dried out. The water should be changed every couple of days while keeping the temperature at around 68ºF (20ºC), which is warm enough not to cause any damage but cold enough that it will prevent mold growth on your buds. Once you've submerged your buds in water, take them out and let them dry again before putting them back into the jars.
What are the Best Containers for Curing Cannabis?
The best containers for curing cannabis are airtight, dark, and roomy. There are many different options for cannabis curing containers, and it can be hard to know which is right for you. We'll go over all the different types of containers and give you our thoughts on each one.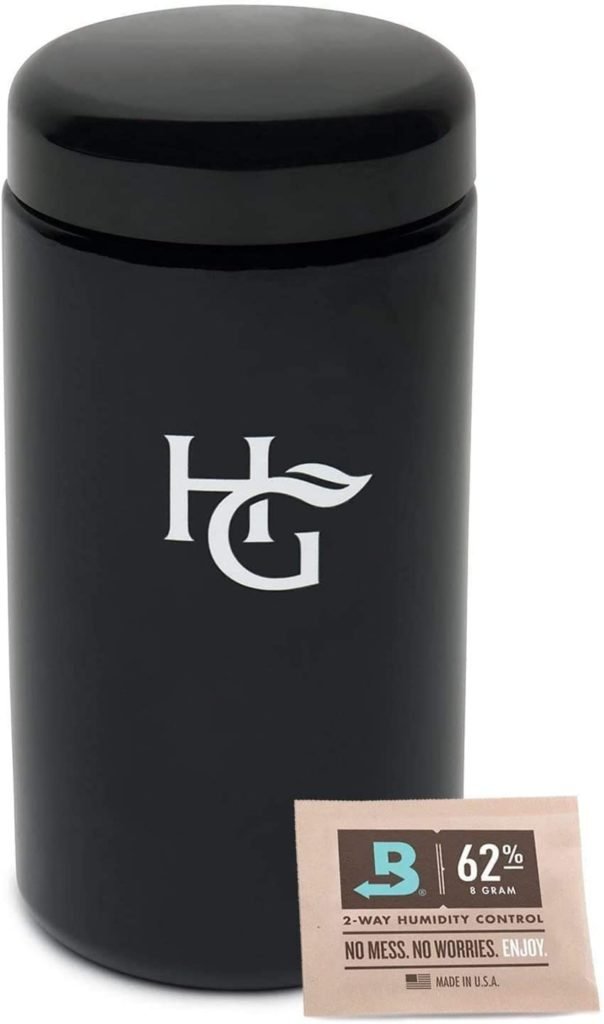 Herb Guard is a line of containers designed specifically for cannabis curing. They have a small footprint, so they're easy to store, and their plastic construction allows for good air circulation and light penetration.
Herb Guard containers come in three sizes: small, medium, and large. The company also sells a special-purpose drying rack that fits inside all three sizes of containers.
Pros:
Suitable for small amounts of cannabis
Air circulation is excellent
You can use it in different positions
Cons:
Smaller than other curing containers.
Check out our in-depth Herb Guard jar review to figure out if this is the right choice for you!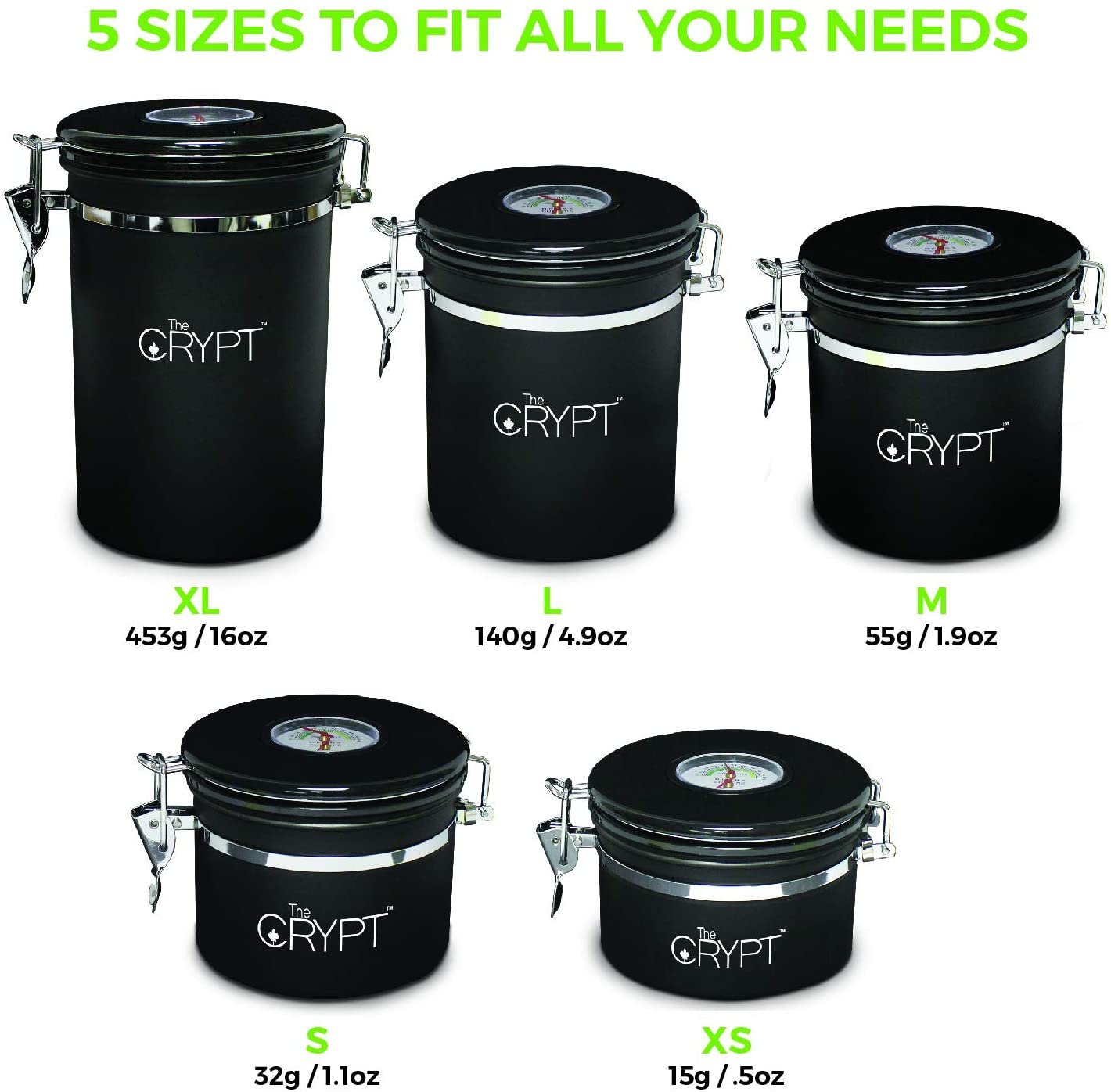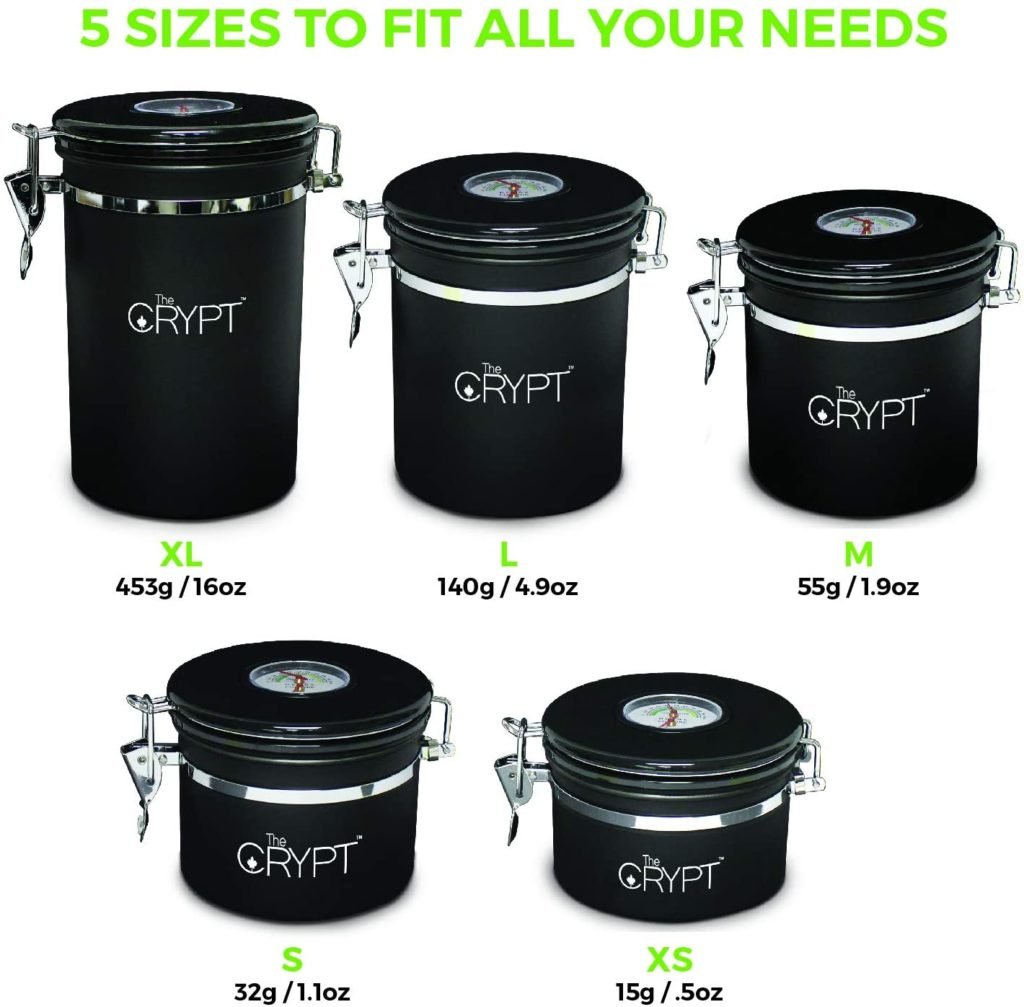 The CRYPT is a new and innovative airtight container designed to keep your herb fresh and at its peak. The patented design features several layers of protection, including a vacuum seal that prevents air from reaching your herbs and damaging them. The lid also locks into place to ensure that nothing falls out or gets in while you're traveling, which is another nice feature.
Pros:
The material is durable and easy to clean.
It's easy to find in most hardware stores.
It comes in different sizes, so you can buy a large amount at once or small amounts over time.
Cons:
Not big enough for larger amounts of weed if you're planning on curing multiple strains at once.
The Wide mouth 1-gallon glass jar with lid is one of the most popular jars today because it's cheap and effective. The wide mouth makes it easy to get your buds in and out of the jar without making a mess, and it has an airtight lid that will keep your buds from losing moisture during curing.
Pros:
Sturdy and capable of storing large quantities of cannabis.
Easy to clean
Cons:
Heavy, so you may want to keep it on a shelving unit or in a safe place where it won't get knocked over.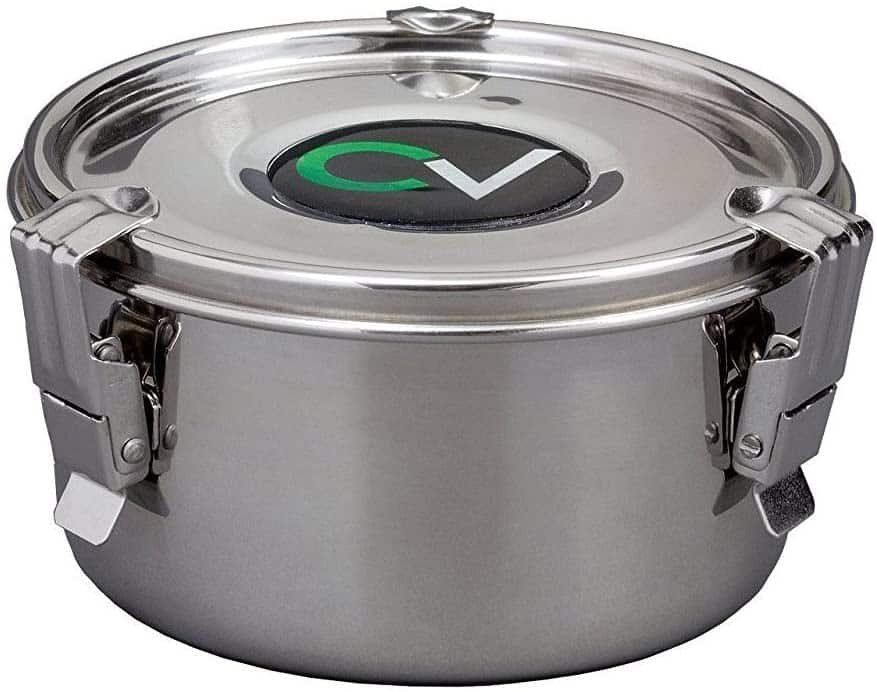 The CVault is a humidity-control stash container that allows you to keep your buds in the perfect environment until they're ready to smoke. It features an airtight seal that prevents moisture from escaping and keeps smells contained. This container uses replaceable desiccant packets, which absorb moisture from inside the container so that it won't get wet inside even if it gets left open overnight. The CVault also has an internal light, so you know when it needs refilling with desiccant packets or water.
Pros:
Airtight seal keeps humidity locked in
Separate compartments allow for different strains or products to cure at different speeds
Cons:
Some users report having problems with the lid fitting properly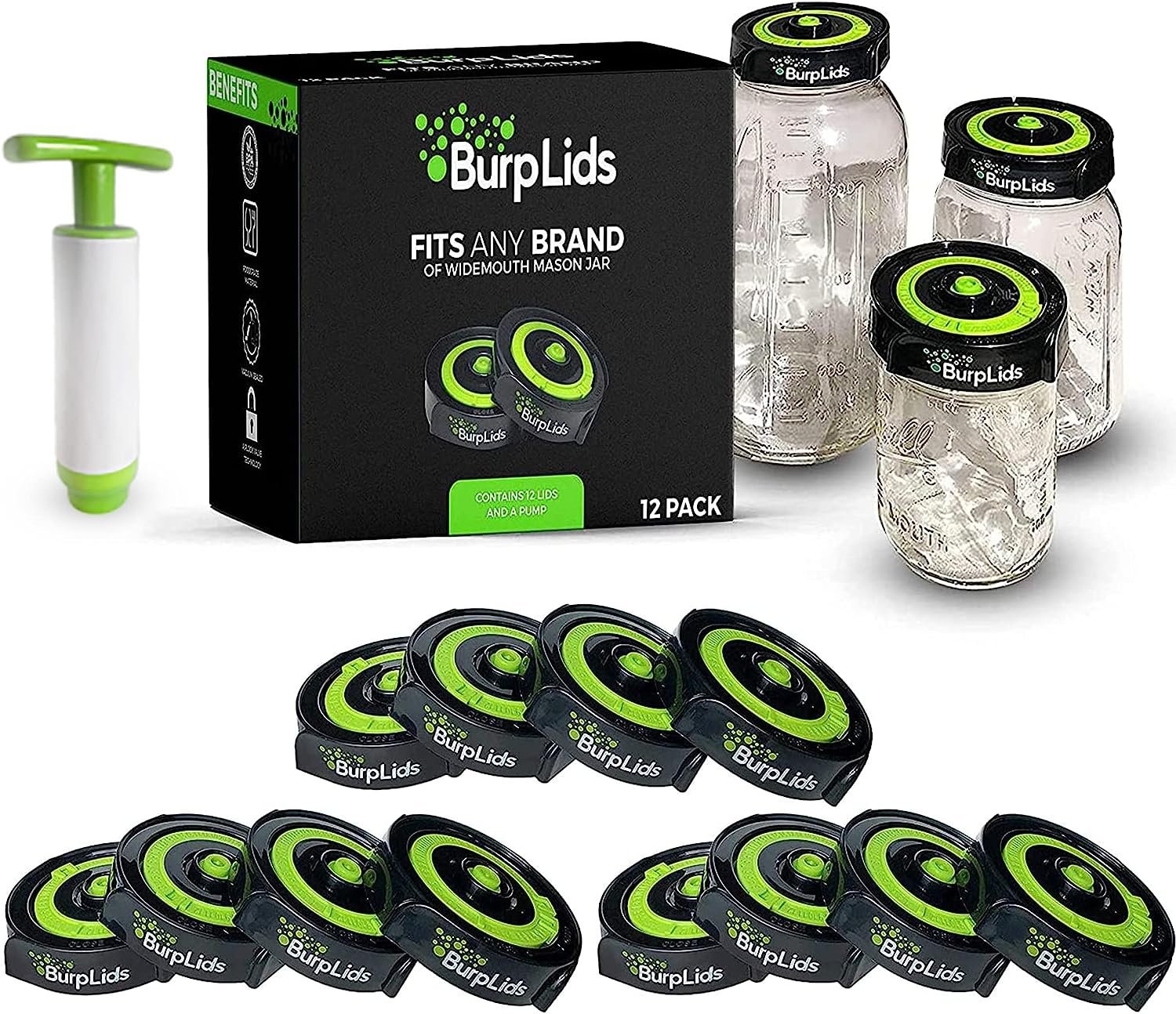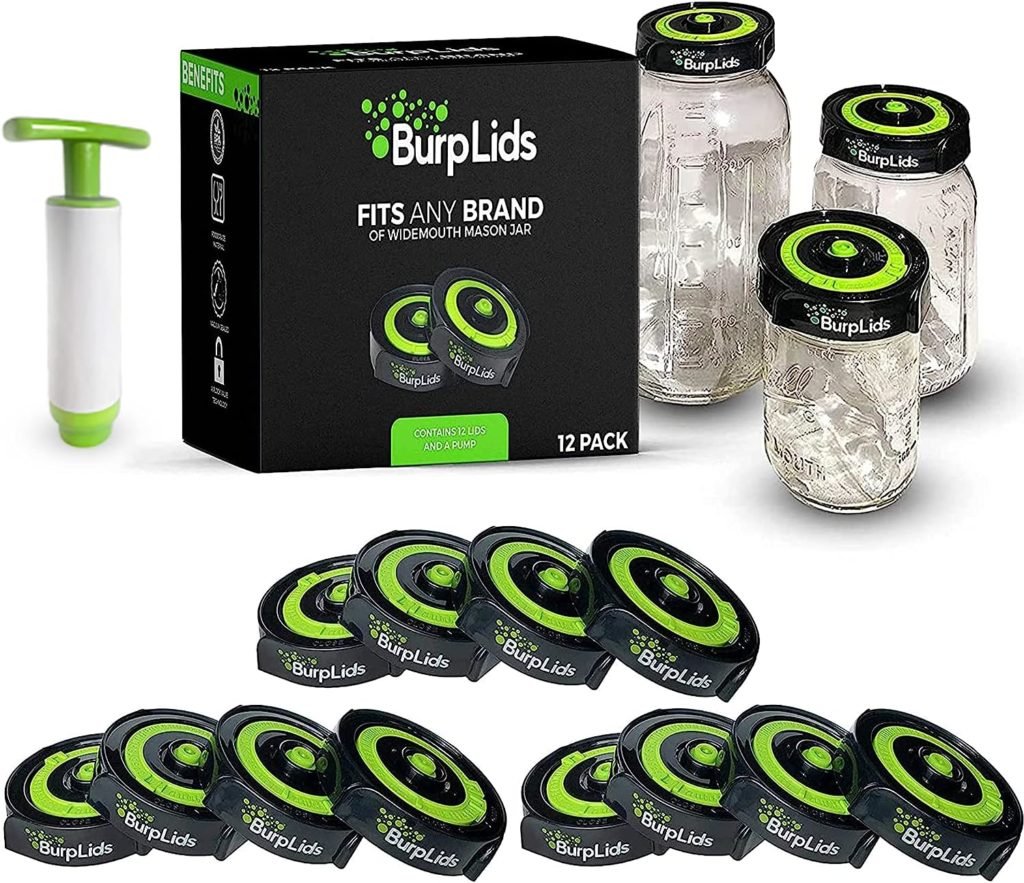 The Burp lids 12-pack curing kit comes in a set of 12 smoke-proof lids that fit any container. The lids help control the humidity and temperature of your curing process. You can use it with almost any container, but it's best to use the kind with airtight seals. It's also worth noting that these lids are made from glass, so they're pretty durable and easy to clean.
Pros:
The kit includes 12 lids that fit common-sized jars, making it easy to use.
They're made from silicone, which is resistant to mold and mildew growth.
The lids allow fresh air while keeping moisture out, preventing mold from forming on your buds during curing.
Cons:
You'll need a separate container with a lid for each jar you want to cure in.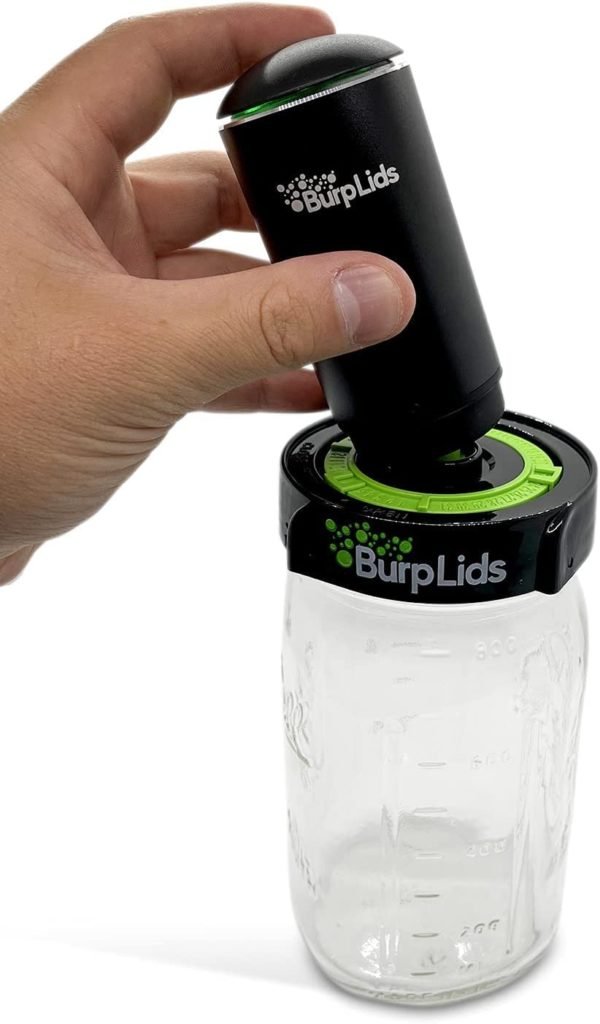 The Burp Lids Automatic Pump is a unique way to cure your cannabis. With one touch, this container will pump out the air and create an environment for your cannabis to cure faster. The lid also comes with a unique venting system that allows you to control how much of the container you want to open. The pump also has a built-in LED light to see what's happening inside without having to open it.
If you have some extra space in your curing chamber, these containers for curing cannabis can be stacked on top of each other. This makes storing them organized and maximizing your storage space easier. With all of these features combined, it's no wonder why these are some of the most popular containers available today.
Pros:
The pump is entirely automatic. The lid's weight will activate it, so there's no need for electricity or batteries.
It can hold a lot of products, so you don't have to worry about refilling it as often.
The pump has an adjustable timer and a built-in air filter, which helps reduce odor and prevent mold growth.
Cons:
Its design makes it difficult to clean thoroughly and sanitize between uses.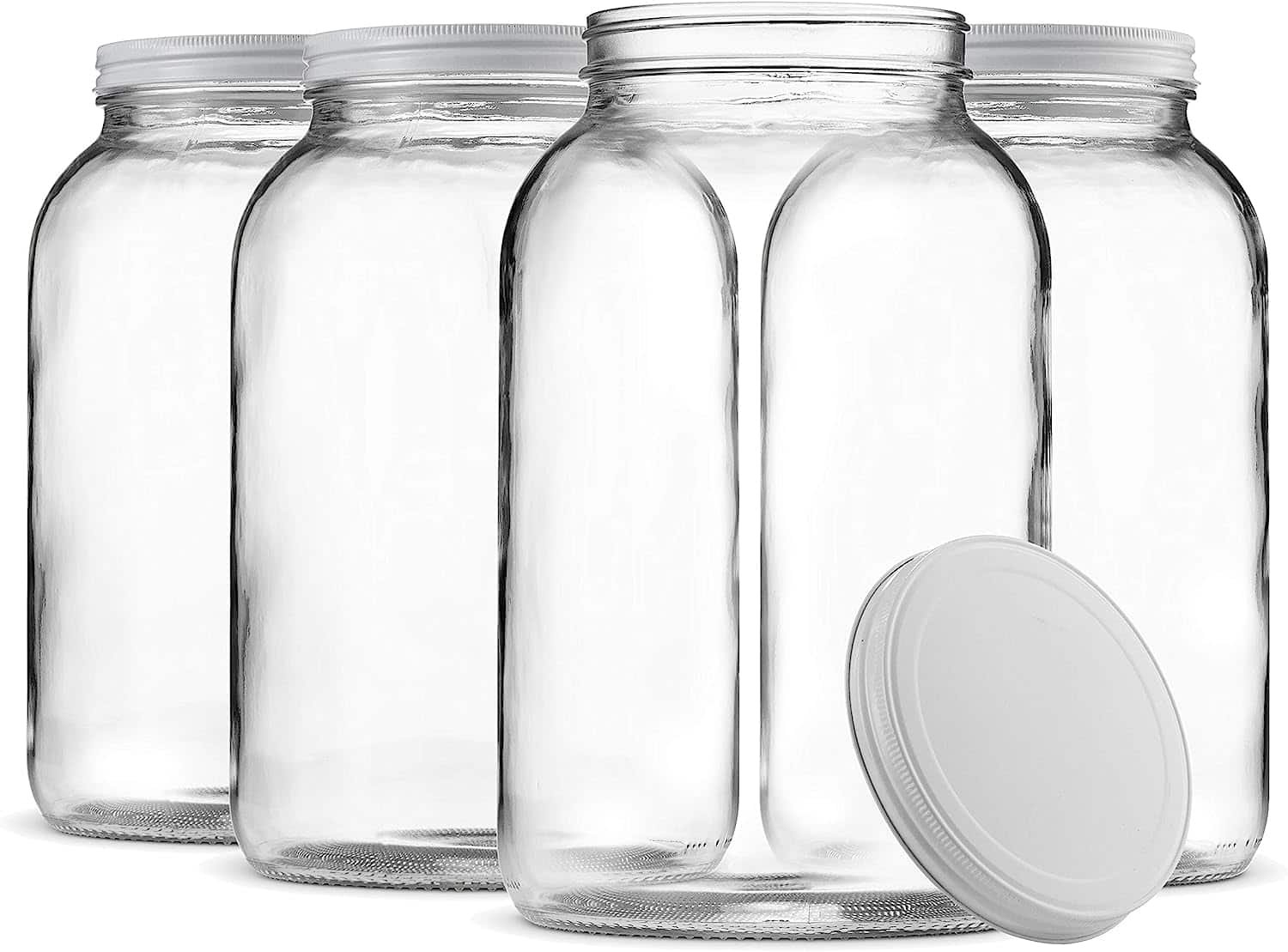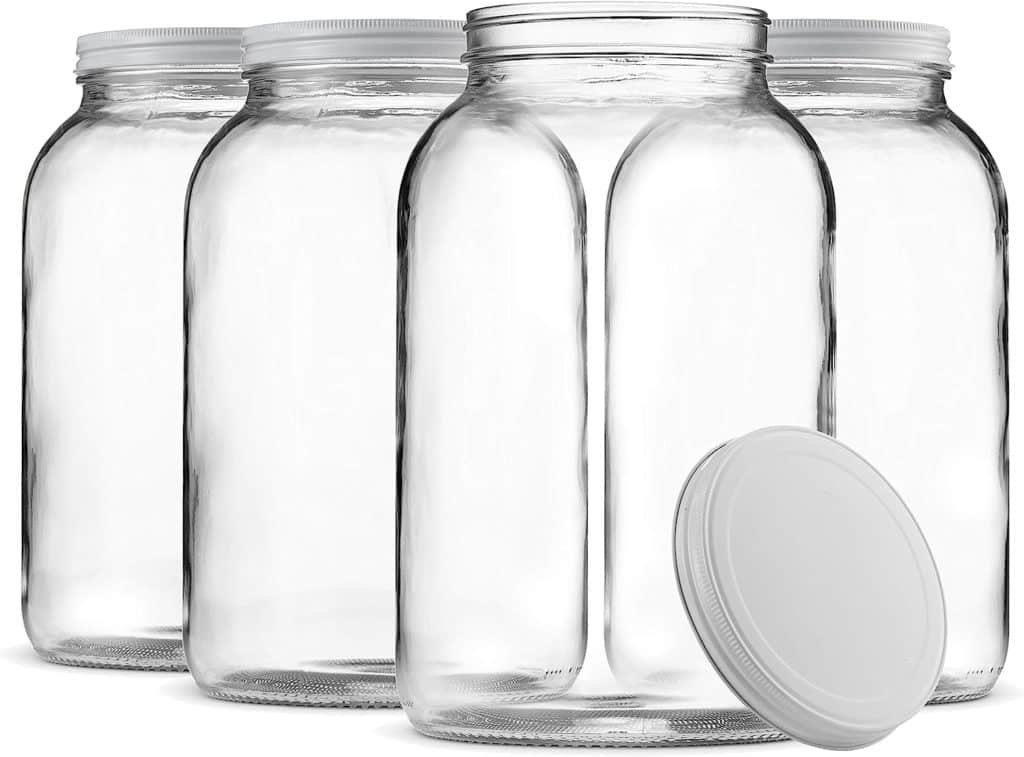 At first glance, this jar might seem like an odd choice for curing cannabis — but we promise it works just fine! The Paksh novelty jar has a wide mouth and an airtight lid, making it easy for you to get your buds into it and out again once they're ready to smoke.
Pros:
Made from high-quality glass
Airtight closure
Wide mouth for easy access to contents
You can use it for storing dried herbs, spices, and even tobacco.
Cons:
The only con would be that it doesn't come with an adapter ring.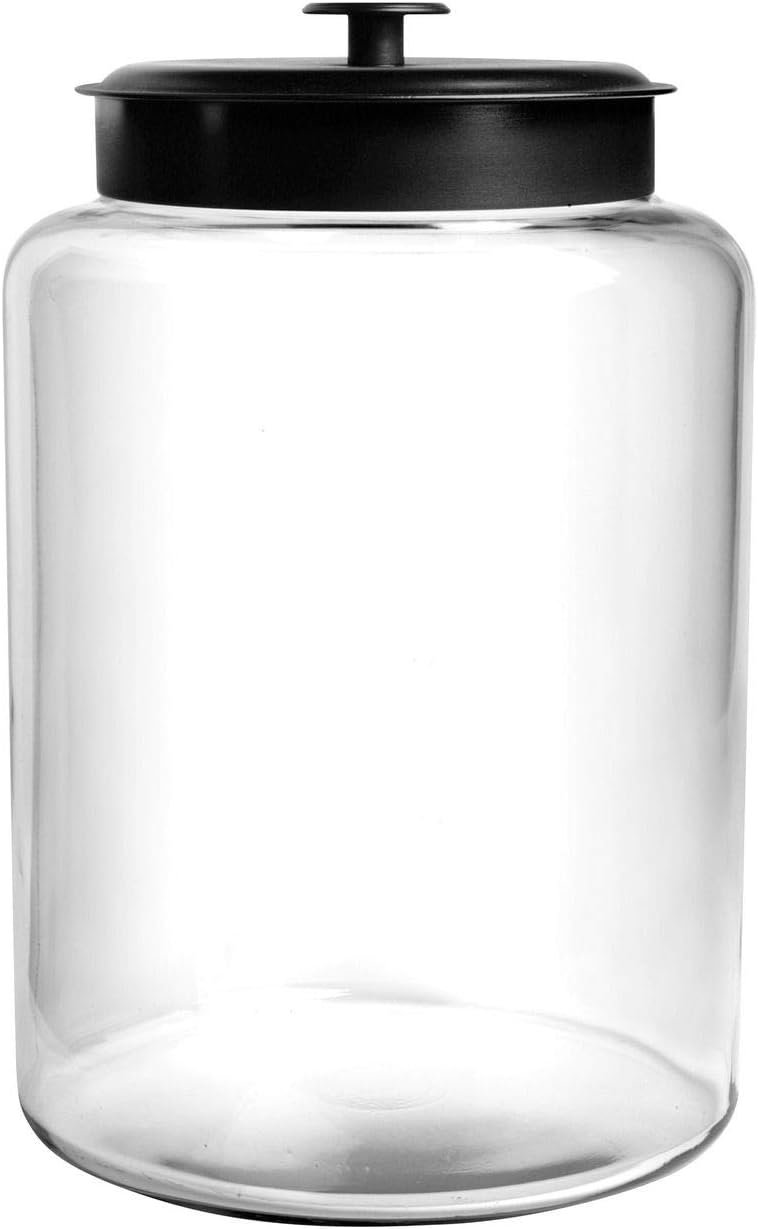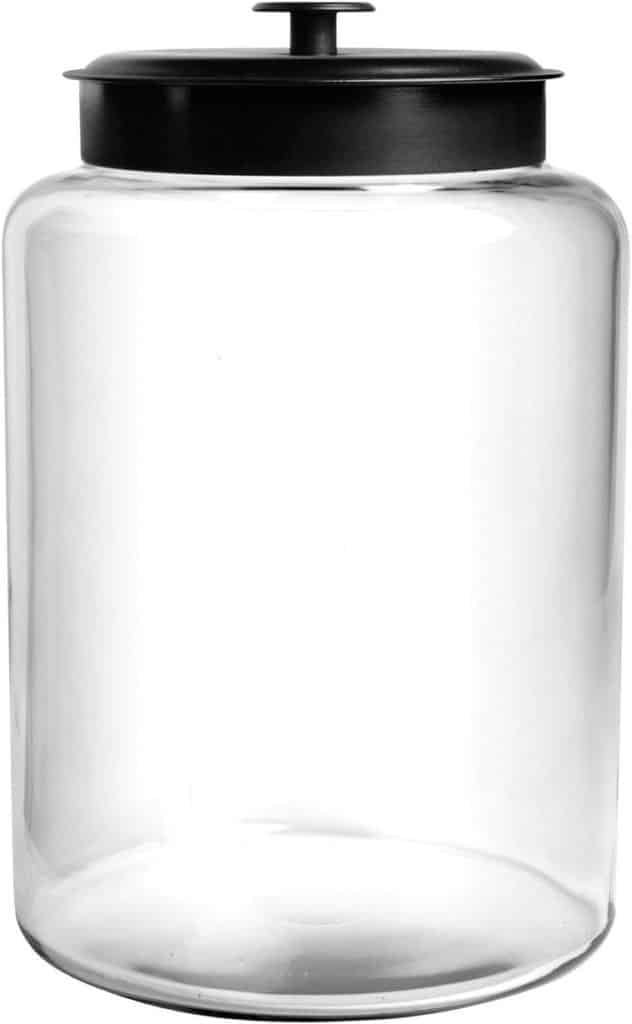 The Anchor Hocking 2.5 Gallon, Montana Glass Jar with Lid, is an excellent choice for curing cannabis. It's made of thick glass, so it's durable and will last for years. It has an airtight seal to keep moisture out and your buds safe from mold, mildew, and other contaminants that can ruin your precious supply. This jar is also easy to stack and store if you need space-saving solutions while curing your bud in this container.
Pros:
The large size allows you to store up to 5 pounds of bud in one jar
Airtight seal keeps moisture out of your stash
Holds heat well and prevents mold from growing on your buds
Cons:
Not suitable for long-term storage because of its size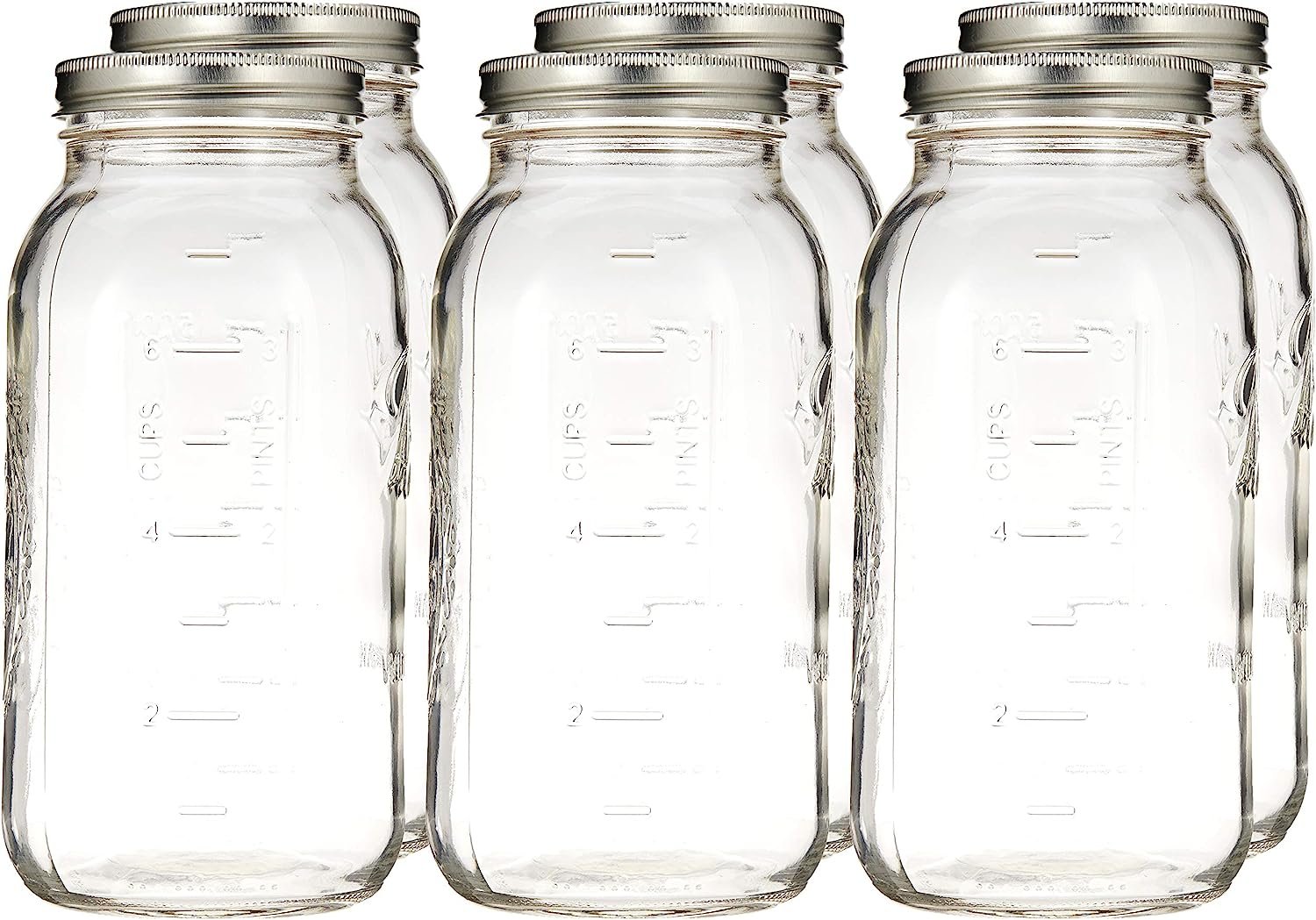 The Ball Wide Mouth Half Gallon 64 Oz Jars with Lids and Bands are an excellent option for storing your cannabis. They have an airtight seal, which helps keep moisture out of the jars. This keeps your marijuana fresh and ready to go whenever you want to use it.
Pros:
They're made from thick glass, so they won't break easily when dropped or knocked over.
The lids and bands come together, so there's no risk of contamination from touching them both at once.
Cons:
These jars are not dishwasher safe, so hand washing is required after use.
Worst Containers for Curing Cannabis
Apart from the best containers, there is also a list of methods you should definitely stay away from. The worst weed-curing containers don't provide enough space for the plant to breathe and will most likely result in damp, moldy weed that nobody wants to smoke.
Tupperware
While this is an excellent option for storing food, it isn't the best for curing cannabis. You can use Tupperware to keep your buds, but you need to ensure it's airtight and opaque.
Freezer Bags
Freezer bags don't have enough air circulation, which can cause mold and mildew to grow inside the bag. This will ruin your buds and make them taste terrible.
Turkey Bags
Turkey bags also don't have enough air circulation and can lead to mold and mildew growth on your buds if they're not stored properly.
What Types of Curing Containers Are There?
Glass Jars: A Time-Tested Solution
Glass jars, especially those with airtight lids, are arguably the most popular containers for curing cannabis. They are non-reactive, easy to sterilize, and offer superb protection against external elements. Mason jars are particularly favored due to their ubiquity, affordability, and seal quality.
Advantages of Glass Jars
Non-reactive: Unlike plastic, metal, or wood, glass doesn't interact with cannabis, preserving its natural flavors and aromas.
Visibility: You can easily observe your buds without disturbing the curing process.
Sterility: Glass jars can be thoroughly sterilized before use, minimizing the risk of mold and other contaminants.
Drawbacks of Glass Jars
Breakability: Glass jars are fragile and can break easily.
Light Exposure: They can allow light to degrade the cannabis, so they must be kept in a dark place.
Ceramic Containers: The Blend of Tradition and Innovation
Ceramic containers, particularly those with humidity control features, are gaining popularity in the cannabis curing world. With a porous nature, ceramics offer unique advantages that blend traditional curing methods with modern technological advancements.
Advantages of Ceramic Containers
Humidity Control: High-end ceramic containers come with built-in humidity control systems, maintaining the perfect environment for cannabis curing.
Durability: Ceramic containers are sturdier and more durable than glass, reducing the risk of accidental breakage.
Light Protection: They block light completely, providing excellent protection against degradation.
Drawbacks of Ceramic Containers
Cost: Ceramic containers with humidity control are more expensive than glass jars.
Weight: Ceramics are heavier than glass, making them less portable.
Humidor Boxes: The Premium Choice
Humidor boxes, traditionally used for cigars, are now becoming a high-end choice for cannabis curing. With in-built humidity control and classy aesthetics, these boxes are for those who value quality over cost.
Advantages of Humidor Boxes
Precision: Humidor boxes offer precise control over humidity levels, ensuring optimal curing conditions.
Aesthetic Appeal: With their premium build, these boxes add an elegant touch to your cannabis curing setup.
Drawbacks of Humidor Boxes
Price: These boxes are considerably more expensive than other container types.
Maintenance: Regular maintenance is required to keep the humidity control system functional.
Choosing the Right Containers for Curing Cannabis
Selecting the best containers for curing cannabis is a decision influenced by various factors, including your budget, quantity of cannabis to be cured, space availability, and personal preferences.
Budget Considerations
If you're on a tight budget, glass jars would be the go-to choice. They are affordable, readily available, and deliver great results. However, if you're willing to invest in superior quality and precision, ceramic containers with humidity control or humidor boxes might be worth considering.
Quantity of Cannabis
For small-scale curing, glass jars or ceramic containers work perfectly. But, if you're dealing with larger quantities, you may want to invest in humidor boxes that offer ample space and precise humidity control.
Space Availability
Glass jars and ceramic containers are compact and easily stackable, making them ideal for limited spaces. On the other hand, humidor boxes require more room but serve as a classy décor item in your room.
Personal Preferences
Ultimately, your choice may boil down to personal preferences. If you appreciate tradition, glass jars or ceramic containers may appeal to you. But, if you want a premium experience, a humidor box might be your cup of tea.
Maintaining Your Cannabis Curing Containers
Regardless of the type of container you choose, maintenance is crucial. Here are a few tips to keep your containers in pristine condition:
Clean your containers thoroughly before each use to prevent mold and contamination.
Regularly check your containers for signs of mold or degradation. If you spot any, clean immediately or replace if necessary.
For containers with humidity control, ensure the system is functioning correctly. Regularly calibrate and adjust as needed.
Keep your containers in a dark, cool place to protect your cannabis from light and heat.
Conclusion
There's no one-size-fits-all answer to finding the best containers for curing cannabis. Think about what you want from a storage container and choose accordingly. There are different containers, depending on what you're looking for in the product. Be sure to consider your requirements before making your selection.