With more states legalizing marijuana use (New York just joined the list), the marijuana seeds industry is booming. The internet is now flooded with seed banks that ship worldwide; among them: Crop King Seeds.
Crop King Seeds is undeniably one of the popular seed banks: But are their seeds worth the bucks? Is the company the king it claims to be? How reliable are its germination and delivery guarantees? This Crop King Seeds review takes a look at everything there's to know about the company: answering these and more questions to help you figure out if the firm is worth your while.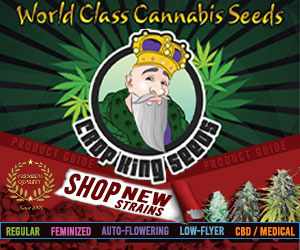 Crop King Seeds Overview
Crop King Seeds is a Canadian cannabis seed bank that's popular for its wide variety of marijuana seeds, CBD strains, feminized strains, starter strains, new age hybrid strains, and more.
The Crop King seed bank is known to have had the most potent and reliable marijuana seeds across the globe since the early 2000s. (But was officially founded on February 10, 2005.)
The founders were searching for the highest yielding marijuana varieties from different regions. Especially those with consistent THC and CBD levels. All while being easy to grow and maintain for commercial and private growers.
In August 2005, Crop King Seeds halted its operations until they were sure that the legality of the marijuana industry was in place in Canada. They resumed operations in 2012, focusing on being a leader in the cannabis industry in Canada and the rest of the US. (That's as more states legalized marijuana use.)
So beyond quality seeds, the company focused on unique and state-of-the-art packaging to distinguish itself from other distributors. It's this differentiation that enabled them to start selling to retailers and individual buyers across Canada in 2013.
In January 2013, the firm had its first store, "Hemp Roots," in Calgary. In February 2013, the company ventured into the eCommerce world with the launch of its website.
Since resumption, Crop King Seeds has been perfecting its products. Thus far, it has teamed up with reputable breeders across the globe, enabling it to offer a wide variety of marijuana seeds: CBD, regular, feminized, and auto flower strains.
Such partnerships have also boosted the effectiveness and potency of their strains, ensuring a high germination rate. It's no wonder the company offers an 80% germination guarantee. So if the seeds fail to sprout or grow, they ship additional ones to you at no extra cost.
Crop King Seeds Pros
Global shipping
Discreet deliveries
Quality seeds (with an 80% germination guarantee)
Highly professional, cooperative, and responsive 24/7 customer support
Multiple payment options
Retail and online shopping
Data privacy at the core (The company does not keep a record of your credit card number or sell your email address.)
Free shipping for orders over $200
Crop King Seeds Cons
Relatively pricey seeds (but they are of high quality)
Limited strains collection compared to other seed banks (Nonetheless, the available seeds are tested and inspected for viability and maturity.)
Who Is Crop King Seeds For?
Crop King Seeds is for every weed grower regardless of their location and production experience: so long as they are above 18 years of age.
The company caters to both advanced and novice growers across the globe.
Crop King Seeds ships to all countries. Canada-based farmers receive their orders in original packaging. But as an international customer, you can expect to receive your seeds inside random items such as flashlights, birthday cards, and pens.
Crop King Seeds also offers a variety of seeds: beginner strains, new age hybrid strains, and more. Their seeds have a commendable germination rate, and thanks to their beginner strains, even novice growers can expect a good harvest.
Crop King Seeds' marijuana growing guides are detailed enough to educate prospective weed farmers regardless of their experience. And in case of questions, their team of experts and industry professionals are ready to help.
When it comes to budget, Crop King Seeds packages its products in packets of five-, ten-, and twenty-five seeds. That way, one can order the number that best suits their current budget.
Crop King Seeds Reputation
Having pioneered the introduction of cannabis commercially, Crop King Seed Co does not compromise on seed quality. They are always improving their products, earning a reputation for seed quality and toll-free shipping.
Truth be told: They were not perfect from the word go. And they have received complaints about shipping wrong orders and seed varieties. Currently, though, the overwhelmingly positive customer response seems to be overshadowing the complaints.
To ensure seeds' maturity and viability: Crop King Seeds experts inspect, test, and handpick each seed before its shipped. In other words, you should expect only authentic seeds in their official packaging. (That also means you should be aware of knock-offs.)
As more proof of quality: Their seeds have gone on to win several awards, among them, the CBD Dutch Treat and Candy Cane. Their white cookie strain was listed among the top 10 marijuana strains of 2015 by High Times Magazine.
So, yeah: Crop King Seeds' seeds are quality.
Beyond selling Marijuana, Crop King Seeds also take part in community events. In 2014, for instance, the company participated in the Green Rush Foundation Conference trade show and emerged as the best booth. They also sponsor sports teams, donate to marijuana legalization movements, etc. CKS is not just about selling seeds. They are keen to give back to the community.
Crop King Seeds Strain Selection
Crop King Seeds offers over 500 different strains and types of seeds.
King Crop Seeds engineers its seeds, seeing to it that you only buy seeds crafted with precision and cautious experimentation.
In other words: The firm only sells its most potent and effective seeds to guarantee the highest germination rate. And in their bank you can find:
Autoflowering Strains
Are you farming indoors? And don't want to wait for specifically timed light cycles?
If so, the Autoflowering strains should be your go-to.
For one, the resulting plants flower regardless of the amount of sunlight they receive each day. That, in turn, eliminates your worries about light deprivation or supplementation when looking to realize multiple harvests in a season.
The available varieties in Crop King Seeds bank include:
CBD Strains
Cannabidiol substances are gaining popularity thanks to CBD's therapeutic appeal. And high CBD seeds are your ticket to riding that wave.
The available CBD seed varieties in the King Crop Seed bank include:
Feminized Strains
If looking to grow plants that will only produce potent buds (not seeds), the following varieties will do.
Regular Strains
And if looking to have both male and female cannabis plants in your garden, Crop King Seeds bank has you covered with varieties such as:
Assorted Seed Packs
In cases where you're not sure what strains you want: King Crop Seeds has their seed mixes just for you.
Mix seed packs let you grow several strains simultaneously. And luckily for you: Crop King Seeds include its popular products in the mix: carefully selected based on their uniqueness for easy differentiation. They also strategically handpick them to suit different cultivation: hydro, soil, etc. All while requiring little maintenance.
Mixed seeds varieties include:
Fast Version Strains
What if you're looking to grow your weed faster?
Probably because you reside in a region or country that experiences short seasons. So you want to grow your weed faster and harvest sooner: without compromising on the plant's flavor, effects, and yield.
If that's your case: The following Crop King Seeds Fast Version varieties can suffice.
Overall: You are not limited in options.
Crop King Seeds Seed Prices
Before judging the price of Copy King Seeds strains, remember the quality. You do get what you pay for, no?
So while the company's strains are expensive, they are also one of the most potent seeds in the world.
Generally, the firm's pricing fluctuates with different strains. But prices largely remain consistent.
If purchasing regular seeds, expect to pay:
$55 for a 5-seed pack
$70 for a 10-seed pack
And $140 for a 25-seed pack
If purchasing high-CBD, Autoflower, or feminized strains; expect to pay:
$55 for a 5-seed pack
$120 for a 10-seed pack
And $240 for a 25-seed pack
Crop King Seeds Sales, Discounts, and Promotions
Crop King Seeds does not usually offer discounts or coupons, unlike other seed banks such as ILGM. When you check the site at the right time (around 4/20) they will have some kind of promotion though. Also, when you order above $420 you will get 10 free seeds.
Alternatively, you can scout King Crop Seeds affiliates offering coupons. Or take advantage of the company's pack of free seeds by ordering your special stealth box.
Crop King Seeds Payment Methods
King Crop Seeds ships marijuana seeds globally. As such, they offer multiple payment options to make it easy for customers to place orders regardless of their location.
The company accepts:
Visa
MasterCard
PayPal
MoneyGram
And Bitcoin
If you want to pay cash: Crop King Seeds accept Canadian and US dollars. And they will provide you with their mailing address upon checkout.
You can place orders via money order or E-transfer, but only if you reside in Canada. As an international customer, you can check the available payment options by inputting your country's name on the checkout page.
Crop King Seeds Customer Service
In a scenario where you need help or answers, the company's customer service is outstanding.
For starters, there are many contact methods at your disposal.
The contact form on the company's official website
Online chat on the company's official website
Email address: [email protected]
Toll free line: +1 (844) 276-7546
International line: +1 (604) 563-0291
Local line: (604) 563-0291
Their support team is available 24/7 and comprises highly professional, responsive, and cooperative guides.
Beyond the customer support team, the company features a user-friendly website with self-explanatory guides.
It's easy to locate what you're searching for. When on a strain landing page, for instance, you can sort the available seeds by:
Popularity
Average rating
Latest
Price: Low to high and vice versa
Then proceed to order your preferred strain hassle-free.
Crop King Seeds Germination Guarantee
Crop Kind Seeds' seeds are tested, inspected, and handpicked for maturity and viability. It's then not a wonder that the company boasts an 80% germination guarantee. Some customers realize a 100% germination rate upon following the company's germination guide.
According to the guarantee,  if your seeds fail to sprout or grow, the company will ship more seeds to you at no extra cost. The guarantee is, however, not honored if you:
Did not germinate the seeds as directed
Planted the seeds directly into the soil
Used rock wool, peat pellets, seed starter kit, or other germination tools for vegetable seeds
Are Crop King Seeds Customers Happy?
Short answer: Yes.
Crop King Seeds have been in business for over a decade. And since the marijuana seed business is based on word-of-mouth referrals: you can assume that more and more of its customers are happy and willing to spread the word.
Heading online: Crop King Seeds bank reviews feature mixed reactions. Just look at this Reddit thread:
We have one user telling you to steer clear and another saying their seeds grew amazing. Which is which?
If you go over the two comments above, you feel that the person praising the seed bank has used their seeds. They tested the company's white widow Autoflower and had no issues.
On the other end, the Reddit user (PandemicGrower) seems more interested in recommending their favorite seed banks. That's instead of providing sensible criticism: highlighting where Crop King Seeds falls short for them to consider it "less reputable".
The same pattern is visible when you read the company's Google Reviews. Reviewers with evidence of having tried King Crop seeds seem to have had a positive experience. While those leaving 1-star, 2-star ratings seem to be making claims without proof.
Look at the image below for a better comparison.
Our take?
Don't just rely on the customer ratings. Instead, use reputable reviews (comments from people who have used the company's seeds) to inform your decisions. And going by that rule: It's clear that reviewers who have tried the seeds are happy with the results.
Shipping
Crop King Seeds ships marijuana seeds worldwide.
They use the original packaging when shipping to Canadian buyers. But as an international customer, you'll likely receive your seeds inside random objects such as flashlights, birthday cards, and pens. Regardless of the packaging, your seeds will be discretely packaged in sealed holders to keep them fresh during transit.
You'll be charged a $10 shipping fee for orders less than $200. In which case, you can expect your package to arrive after up to 25 days.
If you want to expedite the delivery process, you can pay an additional $20-$40 fee based on your location. In which case, you'll receive your order in 5-7 business days. The extra $20-$40 charge serves as insurance, too, and guarantees delivery.
Delivery Guarantee
Crop King Seeds ships marijuana seeds discretely to avoid being flagged by customs.
Only about 5% of their orders are flagged, giving you a 95% delivery probability. But you can raise that to a 100% delivery guarantee by selecting the $20-$40 Express option. If your package is seized by the government, for instance, the company will reship the order for free until it's delivered.
Crop King Seeds Alternatives
Let's face it. Crop King Seeds may not be for you. But even so, you have limitless options.
If you're unsure about Crop King Seeds or find it too limiting, here are reliable alternatives.
Free and fast shipping
Germination guarantee
10+10 free deals

Low-cost value packs
High-quality, highly refined strains
Best for commercial buyers

Germination guarantee
Fast shipping
Multiple payment methods

Large variety of seeds available
25% off when paying with Bitcoin

Stealth shipping

Super-fast shipping
Discreet packaging and billing
Premium seeds

Amsterdam Marijuana Seeds

Crush-proof packaging

Free seeds when buying in bulk

Worldwide shipping
Variety of mixpacks
Great customer service

Trackable shipping
Regular discounts and promotions
Excellent germination guarantees

Award-winning seeds
Worldwide shipping
Various value-packs available
Crop King Seeds Review: Final Thoughts
In summary: Crop King Seeds is a reputable seed bank. It's well-known for its high-quality strains and reliable shipping. To convenience, their customers, the company ship marijuana seeds globally and accept multiple payment methods.
The company also assumes responsibility for germination while delivering a sizable cannabis strains collection. Couple that with positive customer raves and easy-to-access customer support, and you have a winner.
Frequently Asked Questions
Where is Crop King Seeds located?
Crop King Seeds is headquartered in Vancouver, B.C., on the West Coast of Canada.
Is Crop King Seeds Legit?
Yes. Crop King Seeds is a legit seed bank. It's been in operation for over a decade and boasts a large loyal fan base and multiple positive reviews.
On a federal level, it's illegal to purchase or grow marijuana. Thus, always check your federal and state laws before buying seeds to grow weed at home.