If you're a cannabis grower or just looking to get started with growing your own marijuana, you've likely heard of I Love Growing Marijuana. (ILGM for short.)
Most (if not all) product reviews rank ILGM as the #1 seed bank in the market and if it's not in the top spot, most ILGM reviews will describe it as the editor's choice.
And yet, when digging a little deeper, there are also a number of complaints about the seed bank from Amsterdam.
So which is it? Is ILGM the best seed bank on the market or should you go looking somewhere else for cannabis seeds?
In this ILGM review, we take a very close look at the Dutch cannabis seed bank to help you cut through the haze and discover the brand for what it truly is.
Read on to find out everything you need to know about I Love Growing Marijuana and make an informed decision before buying your marijuana seeds.
Let's dive in.
What we like about ILGM 😃
Free and fast shipping to the US
Delivery guarantee
High-quality seeds (with germination guarantee)
Great deals and promotions
Beginner-friendly kits
Fantastic FREE Grow Bible
10% discount when paying with Bitcoin
What we don't like about ILGM 😩
Pricier than many other seed banks
Limited strain selection
Doesn't currently ship to the EU, UK, or Australia
Package tracking costs extra
Who is ILGM for?
Ilovegrowingmarijuana offers only high-quality seeds and is fantastic for anyone looking to grow marihuana from home – regardless of their location. Especially beginner growers can leverage the wealth of information and guidance provided by ILGM.
The seed bank's high-quality seeds, nutrients, and growing equipment are suitable for novice and experienced growers residing in the US. ILGM doesn't currently ship to Australia or the UK but did so in the past.
The history of ILGM
ILGM started in 2012 as a small cannabis grower blog. It was a place for Robert Bergman – the ILGM founder – to share his vast knowledge on all matters growing marijuana. Bergman has been growing weed in sized enterprises since the 1990s, so he had (and still has) a lot to share.
ILGM published detailed growing guides and made them free for all. The guides were particularly invaluable for beginners looking to venture into the marijuana cultivation scene.
ILGM's extensive forum, on its end, provided a fantastic place for growers to share their grows and get personalized help with nuisances or more advanced issues.
The blog became a hit, with more users asking where to buy marijuana seeds.
Bergman did his research and realized that most pre-legalization seed sellers were credit card scams. The realization prompted him to partner with expert breeders to start the ILGM seed bank.
To date, educating growers is a core part of ILGM, with the forum remaining active and its growing bible providing guidance to millions of growers.
Strain Selection & Seed Quality
ILGM stocks between 70-80 different strains covering many of the most popular strains out there.
While ILGM's seed offering is limited compared to some other seed banks, I Love Growing Marijuana offers high-quality seeds that are backed by a germination guarantee (more on that later).
ILGM has fantastic seed options and you can filter the shop by seed type, THC-to-CBD ratio, expected yield, indica/sativa, preferred climate, experience level, and more. 
ILGM's top-selling feminized seeds include: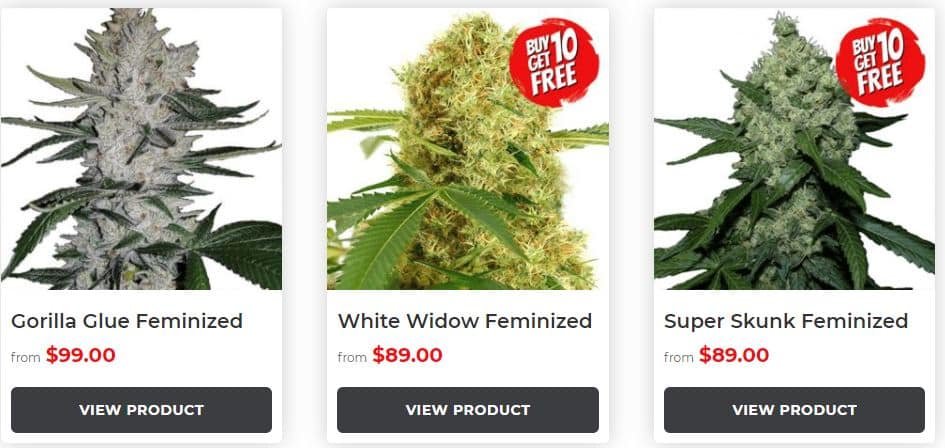 ILGM's fast-flowering seeds will be ready for harvest in as little as 8 weeks as opposed to regular plants, which you can harvest in 10-14 weeks. They include: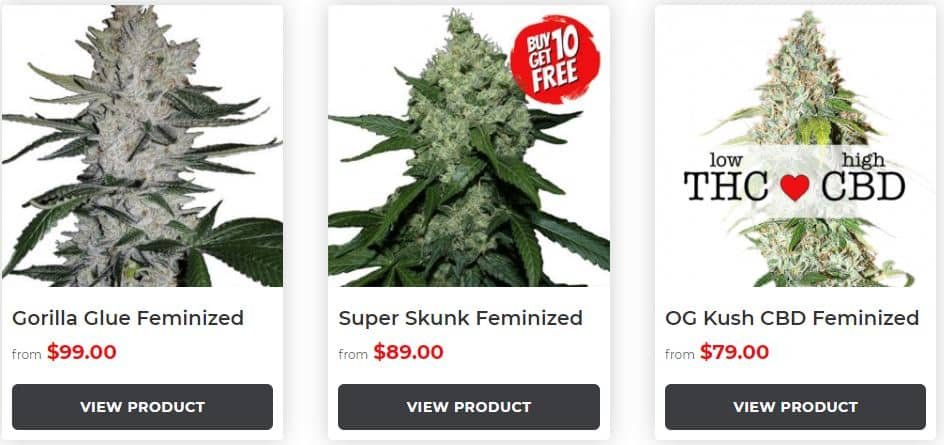 ILGM's high-yield seeds include: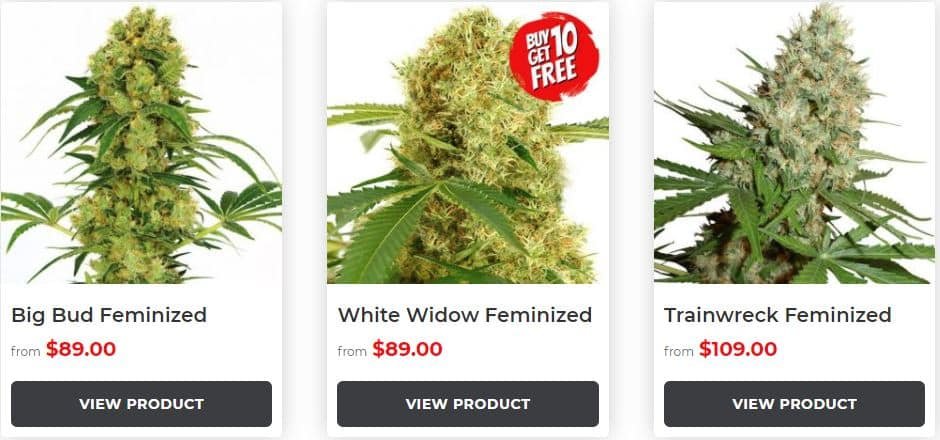 ILGM's High-THC seeds have at least 20% THC and include: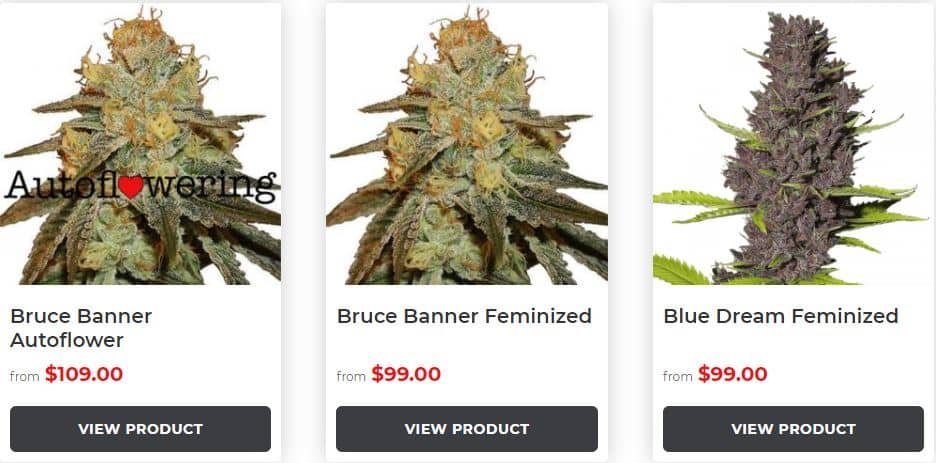 If you're not sure what strain you want to grow or want to try several strains without breaking the bank, ILGM also offers a variety of Mix Packs that contain between 15-30 seeds from three different strains. 
Germination Guarantee
ILGM's seed selection might not be the biggest when compared to other seed banks out there, but what the company lacks in variety it makes up for in quality and that is backed by ILGM's germination guarantee. 
This germination guarantee is pretty unique on the market and most seed banks will simply leave you hanging if your seeds turn out to be duds. 
To make sure your ILGM marijuana seeds sprout properly, stick to ILGM's recommended germination procedure.
According to ILGM, these 6 steps are the key to getting your cannabis grow off the ground.
Should your seeds still not sprout, they will send you replacement seeds free of charge.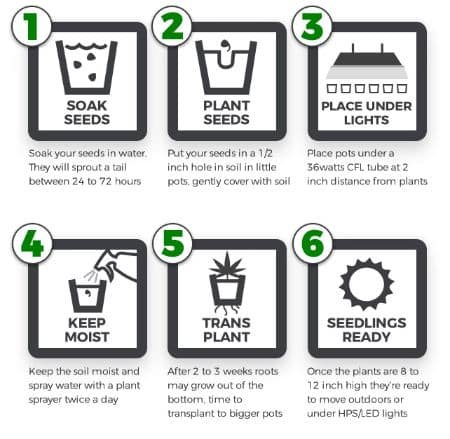 Seed Prices
Possibly one of the only negatives about ILGM is the prices. Compared to its competitors, ILGM seeds are some of the priciest on the market.
For example, 10 feminized White Window seeds go for $60-$80 at regular seed banks, yet the same goes for $119 at ILGM.
The price is countered by high-quality seeds, fast shipping, and other benefits.
However, if you're tight on budget, you can find affordable options, from reliable seed banks. Take a look at the list below for alternatives.
With ILGM however, you really do get what you pay for.
Grow Kits
Apart from just seeds, ILGM also offers high-quality grow kit bundles. These kits include everything you need to get you started with your very own first cannabis plant.
Inside the different bundles, you'll find 20 cannabis seeds, Bergman's plant food, and Bergman's plant protector. You'll also get a very detailed feeding schedule for both soil and hydro grows.
You have a choice between five different grow kit bundles.
The Grow Kit for Beginners offers 20 auto-flowering, feminized White Widow seeds. The White Widow Grow Kit, on the other hand, offers 20 feminized White Widow seeds. If you've never grown cannabis before, stick to the Beginner Kit.
You can also buy the Gold Leaf Grow Kit, which contains Bergman's Gold Leaf strain seeds. As the name suggests, Gold Leaf is Bergman's own creation and you should definitely try it at least once.
The High Yield Grow Kit has 20 feminized Big Bud seeds to help get a huge yield of prime weed, while the Medical Grow Kit contains 20 feminized Harlequin seeds.
Sales, Discounts, and Promotions
Being strategic about how you make your orders can save you money.
Buy 10, Get 10 Free
ILGM regularly runs 10+10 Free promos on a whole bunch of different strains, which comes down to effectively being a 50% sale.
If you can wait a few weeks, I Love Growing Marijuana has special deals for virtually every holiday, including 4/20. Apart from that, the guys at ILGM.com also release special deals in celebration of certain strains from time to time.
You can also buy mix packs and grow kits to reduce the cost of individual seeds. As noted, a mix pack includes three seed strains, with each carrying a discount. Thus, you can enjoy up to a 50% discount per mix pack.
Loyalty Program
You can also take advantage of the VIP program –where you earn points that are redeemable into money. To gain the points:
Like ILGM on Facebook
Follow them on Instagram
Refer customers to the ILGM site, or
Buy ILGM products
ILGM notes that VIP points can save you up to $100. The program also gives you access to exclusive strains.
Payment Methods
ILGM makes it easy to pay for your order. ILGM payment options include:
Cash via mail
If anonymity is important to you, paying through cash is the most anonymous way of ordering your seeds. Mailing money is safe too. According to ILGM, there haven't been lost cash payments in over a year.
When you place an order, ILGM sends you their mailing address and instructs you on how to send the cash. The I love growing marijuana seed bank accepts all currencies and you can use www.xe.com to calculate the correct exchange rate if need be. (It takes 1-2 weeks for the cash to arrive.)
Bitcoin
Bitcoin is another private method of ordering marijuana seeds. The best part? By buying seeds with Bitcoin, you get a 10% discount on your order. 
Credit cards
ILGM recommends using the other payment methods over credit cards. The reason is most card companies block most (if not all) marijuana-related payments. Besides, most US banks block credit cards for overseas use.
If using a credit card is your only option:
Consider calling your bank and informing them upfront that you're expecting an international charge.
Don't tell them what you're ordering.
Confirm your order via email (sent forth by ILGM)
Bank transfers (for USA customers)
Bank transfer is a quicker and cheaper method of ordering marijuana seeds. It is ILGM's favorite payment method too. You can deposit to their US bank account via:
Online bank transfer
WIRE or ACH bank transfer
Bill Pay or Check
Shipping
ILGM offers free (and discrete) shipping to all states in the US. To include tracking into your order, you'll have to pay for registered shipping during checkout, which isn't cheap.
ILGM has a California-based warehouse and can ship to US addresses very quickly, with an average delivery time of between 4 and 6 days. Since packages don't have to go through customs, as with many other international seed banks, you don't have to worry about lost packages, either.
Note, the duration can vary depending on stock availability. If the ordered strain is not available immediately, delivery can take 10 days or so.
Items like CBD oil and fertilizer can also take up to 10 days to arrive.
Stealth shipping
To keep your order safe, protected, and discreet, ILGM offers stealth shipping options. That means ILGM will pack your order discretely without any identifying information on the outside of the package, label, or bank statement. Stealth shipping marijuana seeds is free and automatically included.
Delivery Guarantee
The guys at ILGM guarantee the arrival of your order. If your order is yet to arrive after 25 business days, contact ILGM for a free reshipment. Be sure to contact them within 90 days of purchase to kickstart the replacement process.
The 2nd shipment contains similar items as your order but may ship to a different location as needed. Note, ILGM prints your address as you input it. So if you enter the wrong address and the package fails to arrive, that's on you. ILGM won't reship a second order.
The firm will, however, send a replacement if your seeds get damaged during transportation. Be sure to provide photos or images of the items in their packaging.
If the 2nd shipment is not received, I Love Growing Marijuana goes as far as to send the 3rd package. Their delivery guarantee strives to eliminate any worry of orders getting lost or intercepted by customs.
Nutrients & Plant Care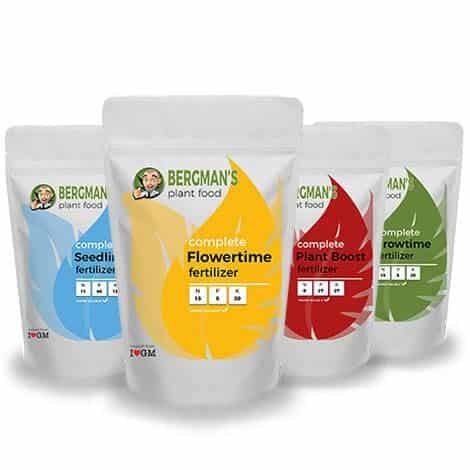 I Love Growing Marijuana ensures your cannabis plant gets the healthiest start possible with its marijuana nutrients and plant protectors. The goal is healthy plants, more buds, and high THC potency.
That's why ILGM offers various types of nutrients and plant protectors for the different stages of your plant's growth. The fertilizer comes in a fertilizer set with everything from seedling fertilizer to a plant booster before harvest.
Bergman's Seedling Fertilizer
10 grams of Seedling Fertilizer.
As the name suggests, Bergman's Seedling Fertilizer is the first stage of fertilizer in your young plant's life and will provide your plants with a blend of nutrients designed for seedlings. It can be used in both hydroponic and soil grows and will fortify the roots and encourage healthy growth. 
The nitrogen, phosphorus and potassium balance for this fertilizer is: N =11, P = 40, K = 13.
Bergman's Growtime Fertilizer
25 grams of Growtime Fertilizer.
Bergman's Growtime Fertilizer is made to protect your plants from diseases while at the same time improving soil tilth. It will give your plants stronger, healthier roots and better nutrient retention, which can also help in creating a bigger yield. 
The nutrient balance in the Growtime fertilizer is N = 19, P = 5, K = 20.
Bergman's Plant Booster
10 grams of Plant Booster
Bergman's Plant Booster is a flowering stimulator that is made to be added to your plants during their last stages of the vegetative phase to induce early flowering. This will give your flowers more time to develop into full, rich buds during the flowering stage. Plant Booster will improve soil tilth strengthening root structure and nutrient retention, resulting in heavier yields and increased quality.
The nutrient balance in the Plant Booster is N = 19, P = 5, K = 20.
Bergman's Flowertime Fertilizer
200 grams of Flowertime Fertilizer.
Bergman's Flowertime Fertilizer is very high in potassium, which stimulates the production of strong, potent buds. In addition, its high levels of nitrogen encourage foliage growth. The best time to begin applying this bloom fertilizer is as soon as your plants start forming flowers. Keep applying Bergman"s Flowertime Fertilizer throughout the flowering stage once a week, your plants will love it.
The nutrient balance in the Flowertime Fertilizer is N = 16, P = 6, K = 30.
Plant Protector
The plant protector consists of three 20ml bottles that include the Bug Blaster, Root Protector, and Mold Control. Together, these three products protect your plants from diseases and harmful pests and are suitable for soil, hydro, and other growth mediums.
Altogether you get enough product for about 20 plants.
Growing Guides
Apart from its quality seeds and reliable nutrients, ILGM's grow guides are the main selling point of this seed bank. The forum, blog, and Grow Bible offer an absolute wealth of information for cannabis growers at every stage of the journey and teach you how to flower and grow weed.
When you download the free Grow Bible, you also receive a link to a host of other guides. These include:
Marijuana Plant Care – How to overcome the biggest issues of growing marijuana
Harvest Guide – How to harvest your marijuana plants
The Harvest Journals – A professional outdoor harvest
Marijuana Edibles – 10 easy-to-follow recipes.
Ganha Livity – A guide to Jamaican weed culture
They also boast a forum with many experts who're ready to troubleshoot your complaints and queries.
Customer Service
ILGMs customer service strives to offer as much help as needed. Their 24/7 support is available through the usual avenues, including the forum.
Their support team troubleshoots your problem in an hour or so and directs you to an informative guide. TIGLM also responds within 24 hours – which is commendable given the customer base.
ILGM Review – What do users say?
ILGM boasts a 9.1/10 score on Kiyoh from around 5000 verified users, meaning the vast majority of ILGM seed bank reviews are positive. Most US buyers love their customer support, quality seeds, and fast delivery.


As any shop this size, ILGM has had its share of negative reviews. What sets ILGM apart is that it's candid about seeking them out and righting the wrong. It's no wonder the seed bank's reputation is growing by the day. For instance, ILGM boasts a sea of repeat customers who cite quality and consistency as their reason for going back every time.
In addition, the firm has a substantial number of reviews on its site. They also have over eight years of track record, which makes them a tested and verified brand. So, is ilovegrowingmarijuana legit? That can be answered with a resounding "yes."
ILGM Alternatives
If you're unsure about ILGM or find the high prices too limiting, here are reliable alternatives.
Free and fast shipping
Germination guarantee
10+10 free deals

Low-cost value packs
High-quality, highly refined strains
Best for commercial buyers

Germination guarantee
Fast shipping
Multiple payment methods

Large variety of seeds available
25% off when paying with Bitcoin

Stealth shipping

Super-fast shipping
Discreet packaging and billing
Premium seeds

Amsterdam Marijuana Seeds

Crush-proof packaging

Free seeds when buying in bulk

Worldwide shipping
Variety of mixpacks
Great customer service

Trackable shipping
Regular discounts and promotions
Excellent germination guarantees

Award-winning seeds
Worldwide shipping
Various value-packs available
Frequently Asked Questions
Is ILGM safe?
Yes. I Love Growing Marijuana is 100% safe to use and trust with your money. They have been on the market for decades and have consistently been one of the top-rated seed banks in the world.
Where is ILGM located?
I Love Growing Marijuana (ILGM) is headquartered just outside Amsterdam in the Netherlands. They also operate a warehouse in California, which means your seeds will arrive in just a few days.
Where does ILGM get its seeds?
Robert Bergman and the ILGM sources their seeds from hand-picked top breeders around the world and also breed their own seeds to make sure they have only the highest-quality seeds.
What is ILGM?
I Love Growing Marijuana, or ILGM, is a Dutch cannabis seed bank and has been on the market for 10 years. The company was founded by Robert Bergman in 2012 and has since risen to be one of the best seed banks in the world.
Who is Robert Bergman?
Robert Bergman is the founder of ILGM and has over 25 years of experience cultivating and breeding cannabis.
Does ILGM ship to Canada?
No, ILGM does not ship to Canada. At the moment they only ship to the US.
Does ILGM ship to Australia?
While ILGM used to ship to Australia in the past, at the moment it can't process orders from Australia and only ships to the US.
Does ILGM ship to Europe?
No, at the moment ILGM does not ship to Europe.
Is I Love Growing Marijuana legit?
Yes, ILGM is 100% legit. I Love Growing Marijuana has been in the seed business for over 10 years and has thousands of positive reviews online. ILGM is known in the cannabis community for its incredible customer service and products.
Are ILGM seeds good?
Yes, ILGM seeds are some of the best on the market. All seeds are sourced from hand-picked breeders or bred in-house. This means you are buying only the best seeds that are backed by a germination guarantee.
Where does ILGM ship from?
ILGM has a warehouse in California and all US orders are shipped from there. This means your order will arrive in just a few days with no delays from customs. Some out-of-stock seeds may have to be shipped to the US warehouse from Amsterdam, which can take longer.
Why is ILGM expensive?
ILGM's seeds are more expensive than some other seed banks but with the extra price you get prime genetics, outstanding customer service, and guarantees that other seed banks cannot offer.
Does ILGM ship to illegal states?
Yes, ILGM will ship your seeds anywhere in the United States, which is completely legal. What you do with those seeds once they arrive is your decision.
Does ILGM have good genetics?
ILGM spends a lot of time breeding the best cannabis strains and has top-notch genetics that are backed by a germination guarantee and thousands of happy customers.
Does ILGM sell regular seeds?
Yes. ILGM sells regular, feminized, and autoflower seeds. ILGM recommends that beginners buy feminized or autoflower seeds, leaving regular seeds to experienced growers who know how to separate male plants from the females.
Does ILGM give freebies?
Yes, ILGM regularly has special Buy 10 Get 10 Free deals where you get 10 extra seeds for free.
Is ILGM legal?
Yes. I Love Growing Marijuana is a 100% legal company headquartered in Amsterdam in the Netherlands.
The Review
I Love Growing Marijuana Review Summary
As our I Love Growing Marijuana review highlights, ILGM is one of the best seed banks in the market. They offer high-quality seeds, a 100% germination guarantee, and commendable customer service. They also provide fast and free shipping to USA customers – making them an industry favorite. Despite the limited strain selection, the buyer is guaranteed quality marijuana seeds.
PROS
Free and fast delivery to the US
Delivery guarantee
High-quality seeds (with 100% germination guarantee)
Discreet packaging
CONS
Pricier than many other seed banks
Limited strain selection compared to others
Review Breakdown
Seed Quality

0

Strain Selection

0

Customer Service

0

Payment Methods

0

Shipping

0

Discretion

0

Reliability

0

Promotions

0