Growing your own cannabis plant can be both exciting and perplexing, especially when it comes to estimating yields. Did you know that under perfect conditions, a single plant could yield up to 1,200 grams of dried product? In this blog post, we'll break down the numerous factors impacting marijuana yields per plant such as strain genetics, growth duration and more.
Stay tuned for some insightful tips on how to get the most out of your green thumb!
Key Takeaways
Weed plants can give a lot of buds. But how much depends on things like light, soil, and care.
Indoor weed plants often give more buds than outdoor ones. But both ways can work well.
The kind or strain of weed plant can change how much weed you get too!
Good light, the right temperature and wetness, and good food make happy plants that grow big!
Factors Affecting Cannabis Yield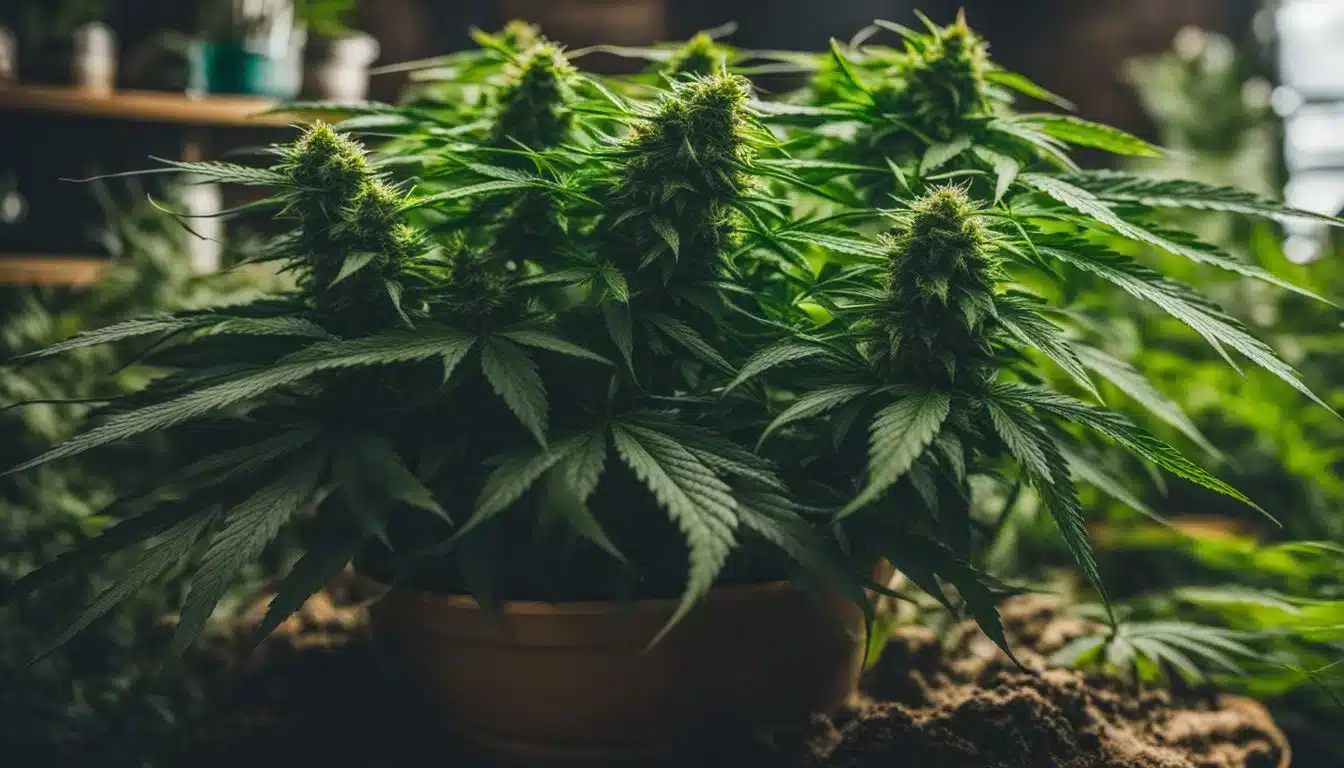 The yield of a cannabis plant is influenced by various factors, including strain genetics that determine growth characteristics, duration of growth affecting the maturity and size of the plant, lighting conditions which play a vital role in photosynthesis, climate impacting overall plant health, soil type influencing nutrient availability, quality of nutrients essential for development and flowering, as well as temperature and humidity levels which can enable or hinder optimal growth.
Furthermore, different growing techniques can either maximize or limit your yield.
Strain genetics
The kind of weed plant you grow makes a difference. This is called "strain genetics". Some weed plants give more buds than others because of their genes. Just like how tall people have tall kids, big-bud plants tend to have big-bud babies! But, be careful! Other things can change the size of your yield too, like how long the plant grows and what kind of light it gets.
It's not always easy to tell which will grow the most just by looking at its parents. There might be a lot of variation in yield even among plants that are brothers and sisters!
Growth duration
The time it takes for a weed plant to grow matters. It changes with the type of the plant and how you care for it. Some types grow fast, some take longer. If you give more light to your plants, they will grow faster.
It's good to use bright lights.
Feeding your plants well helps them too. Plants that get food often grow better than those that don't. You need to keep an eye on how big your weed gets as this affects its growth time too.
Bigger plants often make more weed but they also take more time to flower.
Training cannabis every day can help speed up growth too! But remember – there is no set rule on exactly how long a cannabis plant will take to fully mature.
Lighting
Light plays a big role in growing weed. Just like other plants, more light can make your plant grow bigger. This is due to something called photosynthesis. Not all lights work the same though.
For example, extra UV light does not help much for indoor plants. The type of light also impacts how fast your plant grows and what kind of chemicals it makes. If you lessen the blue part of the light, your plant will make more flowers! Some growers even use special UV lights to change how their plants grow and bloom.
But too much or too little light is bad for growth as well.
Climate
The weather plays a big role in growing weed. Heat, cold, wind and rain all shape how a plant grows. Too much heat or cold can hurt the plant. On hot days, plants need more water to stay strong.
In cold places, plants grow slower. High winds might break the plant or stop it from getting enough sunlight. Rain is good for making plants grow but too much can cause harm. It's also key to think about how many hours of sun a weed plant gets each day for best growth and health.
Soil type
Soil type plays a big role in how much weed you get from one plant. Good soil helps the plant to grow well and give more weed. Bad soil is not helpful at all. It can make your plant weak and result in less weed yield.
There are many different types of soil but some might be bad for growing cannabis seeds such as those that cause soil erosion or have high levels of heavy metals that cannabis plants can absorb.
Using the right kind of growing substrates like peat, green fiber, or coco coir will help you get better quality and higher yield from your cannabis plants. Remember, choosing the right type of soil is key for good yields!
Nutrient quality
Good plant food is key to weed growth. Nutrient quality helps with the size and bud yield of cannabis plants. You need to think about using N, P, K, and humic acid for your plants.
These can make your cannabis better and stronger.
If you don't have enough good nutrients in your plant's food, it might not grow well. It also may not make a lot of secondary metabolites like cannabinoids. So always try to give good quality food to your weed plants for their best growth.
Temperature & humidity
The right heat and dampness are key for growing healthy weed. The best range is 21 to 26 degrees Celsius. This keeps the THC content high. Too much heat, like over 30 degrees Celsius, hurts the plant's health.
It also lowers the amount of THC it makes.
The level of wet air, or humidity, matters too. It works with temperature in a thing called VPD (vapor pressure deficit). For weed to grow its best, keep it at a cool 68-77°F (20-25°C) and damp around 65-70%.
Even if it gets hotter than that, up to about 82°F (28°C), just make sure it stays between about half-wet to very wet air(40-70%).
So always watch your temperature and humidity! They have a big effect on how much good weed you'll get from each plant.
Growing techniques
You can boost your weed plant's growth using the right techniques. Light levels are key in this process. More light means better growth. But, too much light can hurt the plant. So balance is key here.
Indoor growing methods give you more control over light levels and space between plants. Keep a good space between plants for great results. Another important step is picking the right soil or growth medium for your plant to grow in.
Good nutrient-rich soil helps a weed plant grow well and gives high yields at harvest time.
Expected Yields from One Plant
Depending on various factors like indoor or outdoor cultivation, strain selection, light intensity, soil type and quality of nutrients, the expected yield from one cannabis plant can greatly differ.
Indoor vs. outdoor
If you're interested in cultivating cannabis, one of the first decisions you'll need to make is whether to grow your plants indoors or outdoors. Each method has its advantages and disadvantages, and the potential yield from one plant can also vary significantly. Here's what you need to know:
| Factors | Indoor | Outdoor |
| --- | --- | --- |
| Yield per plant | Indoor plants tend to yield more weed per plant compared to outdoor plants, thanks to a controlled environment that allows for optimal growth conditions. The upper limit of cannabis yield per indoor plant is typically considered 1 gram/watt of light provided. | Outdoor marijuana farmers aim for a desired yield range of 600-750 grams per plant. A healthy outdoor plant can yield approximately ½ pound (about 224 grams) of buds. |
| Plant size | Indoor plants are typically smaller due to space constraints. | Outdoor plants can grow larger due to the open space, more fresh air, and abundant natural light. |
| Light source | Indoor plants rely on artificial lighting, which can be controlled and optimized for the plants' needs. | Outdoor plants benefit from natural sunlight, resulting in robust and healthy growth. However, they are dependent on the weather and seasonal changes. |
| THC content | With optimal conditions, indoor plants can yield high THC content, especially when properly cared for and harvested at the right time. | In ideal conditions, it's estimated that an outdoor plant can yield up to 42 ounces per plant with a THC content of 30%. |
As you can see, there's no one-size-fits-all answer to which method yields more, as it greatly depends on various factors. However, with the right care and attention, it's possible to get a decent yield from either method.
Strain differences
When it comes to cannabis cultivation, the strain of the plant you choose can significantly impact your yield. Different strains have different genetics, which can influence factors such as growth rate, plant size, and overall yield. Here's a simple table to illustrate some popular strains and their respective yield potential:
| Strain | Typical Yield (Indoor) | Typical Yield (Outdoor) |
| --- | --- | --- |
| Blue Dream | 21 ounces per plant | Up to 600 grams per plant |
| White Widow | 18 ounces per plant | Up to 300 grams per plant |
| Sour Diesel | 16 ounces per plant | Up to 700 grams per plant |
| Purple Kush | 15 ounces per plant | Up to 250 grams per plant |
| Girl Scout Cookies | 16 ounces per plant | Up to 300 grams per plant |
Remember, these are just average estimates and actual yields can vary depending on other factors such as lighting, climate, soil type, nutrient quality, and temperature.
For instance, while the Blue Dream strain is known for its high yield, it also requires a warm outdoor climate to reach its full potential. On the other hand, strains like White Widow can adapt to cooler climates but yield less per plant.
Therefore, it's important to consider your growing conditions and choose the strain that best fits your situation. By doing so, you can optimize your yield and get the most out of each cannabis plant.
Impact of light intensity
Light intensity plays a crucial role in cannabis yield. Different aspects of light, such as intensity, duration, and quality, directly influence the plant's growth and productivity. Specifically, increasing light intensity results in higher yields of cannabis.
| Aspect | Details |
| --- | --- |
| Light Intensity | The yield of cannabis inflorescence (flowering buds) is proportional to the light intensity it receives. The higher the light intensity, the higher the yield. |
| Light Duration | The duration of light exposure also impacts yield. For instance, indoor-grown cannabis yield can increase with extended light exposure and increased light intensity. |
| Light Quality | The quality of light, specifically the light spectrum, affects cannabinoid synthesis, leading to a better yield. Full spectrum light is hypothesized to improve inflorescence yield compared to blue-red light. |
| Ultraviolet Radiation | Exposure to ultraviolet (UV) radiation also augments cannabis yield in indoor cultivation. |
Remember, the amount of sunlight a cannabis plant receives significantly influences its total production. Therefore, ensuring your cannabis plant gets adequate light of the right intensity and quality is key to maximizing yield.
Role of soil type
Soil type plays a key part in how much weed a plant can grow. Good soil gives the plant what it needs to grow big and strong. The right mix of sand, silt, and clay makes happy plants that give more weed. But poor soil can hurt your plants. It might not have enough nutrients or be too hard for roots to spread out. This can lead to less weed from each plant. Some growers use water instead of soil in a method called hydroponics. This can boost how much weed you get by up to 50%. Still, whether you pick soil or water, the number of plants per space will also change your final yield.
Effect of nutrients
Good food makes a plant strong. Nutrients are like the food for your cannabis plant. They help it grow and give you more weed. But too much is bad. Plants that eat too much do not make as much weed.
It's key to get the right balance of nutrients in your soil. Your plant needs different ones at each stage of its life, from seed to flower. The right mix will keep your plant healthy and boost how much crop you can get from it. This boosts how well they absorb light, which helps them grow better.
Influence of temperature
Heat plays a big role in growing cannabis. The right heat helps the plant grow well. But too much can hurt it. It is best to keep your plant between 20 and 30°C every day. More than 30 °C can stop growth and make less THC, which is what makes cannabis work so well. Too cold can also be bad for the plant. Cold air slows growth and changes how the plant looks with its color or size. So watch out! You need just the right heat for your weed plants to get big yields.
Tips for Maximizing Cannabis Yield
Selecting the right strain of cannabis is crucial for a high yield. Ensure to provide your plant with ample lighting, whether natural or artificial. Get the climate control right; too hot or too cold can disrupt growth.
Use rich, quality soil and give careful consideration to nutrients – they're vital for plant health. Lastly, effective growing techniques play a significant part in maximizing yield so do some research and implement best practices accordingly.
Selecting the right strain
Choosing the right type of cannabis is crucial. It plays a big part in how much weed you get from one plant. Here are some things to remember:
Each kind of weed has its own set of traits. These traits come from its genetics.
There can be big differences between strains. Some types grow more weed than others.
The right strain can make outdoor growing better. You could end up with 600 to 750 grams from just one plant!
If you take time to choose, you have a better chance of getting more weed.
Strains also affect how strong your weed is.
Providing proper lighting
Lighting is very important to grow weed. Let's talk more about it.
You must know one thing. Indoor growers aim for one gram per watt of light. This boosts the weed yield.
Make sure the light is strong. High light intensity helps the plant grow in the early stage.
Control when the plant gets light, too. It needs a right rhythm to grow well.
Also, beware! Too much powerful light can hurt your plants.
Many growers prefer LED grow lights. These give bigger buds and more yield.
But each strain of weed may need different lighting conditions to grow well.
Maintaining optimal climate
You need to keep your plant in the best weather for it to grow well. Here's how you do that:
Control the heat: Your plant does not like too hot or too cold weather. Keep it warm but not hot.
Watch the humidity: Too much water in the air can harm your plant. Use a tool to check and keep it right.
Good air flow: Make sure fresh air can reach your plant often. It helps the leaves breathe better.
Manage CO2 levels: Plants love carbon dioxide for making food. A bit more can speed up growth.
Take care of lighting: The right light makes plants happy and helps them grow well.
Using quality soil and nutrients
You can grow better cannabis plants with quality soil and good nutrients. Here is how it can help:
Quality soil helps the roots of your plant to grow strong.
A nutrient-rich soil gives your plant what it needs to grow well.
Soil-grown cannabis may produce a higher yield when fed with high-quality nutrients.
Using a hydroponic system can boost your yield by about 40 to 50 percent.
Fertilizers that are rich in nitrogen, phosphorus, and potassium are the best for your plant.
You should learn when your plant needs more of each nutrient.
Implementing effective growing techniques
Let's take a look at some useful ways to grow weed.
Make a plan: A good plan is the start of a great plant. You need a strong strategy for your cannabis plants. This will also help you keep an eye on the things that matter most.
Be regular: Don't let day go by without checking your plants. They need your daily care and attention to stay healthy.
Know your strain: Your plant's yield depends on its genes too. Find out what type of plant you have and how it likes to grow.
Use hydroponics: Hydroponics can give you a bigger crop than other methods. It gives plants the food they need, right when they need it.
Control pests: Bugs can damage or kill your crops in no time! Make sure that no pests enjoy the fruits of your labor before you do.
Keep light optimized: Your plants love light just as much as water and nutrients! Bright yet soft lights will make them happy and healthy.
Manage the temperature: If it gets too hot or too cold, plants may not be able to grow well.
Pick a nutrient-rich soil: Go for soils that are high in nutrients like nitrogen, potassium, and phosphorus.
Prune well: Pruning is all about keeping your plants neat and tidy for better growth.
Conclusion
Growing one weed plant can give you a lot of smokable buds. But, how much you get depends on many things. Things like where your plant grows and the kind of care it gets are very important.
If you grow your plant right and make good choices, you can get a lot of weed from just one plant!
FAQs
1. How much weed can one plant give?
One plant can produce around 0.5 to 1 ounce of weed if grown under right conditions.
2. Does every plant make the same amount of weed?
No, the amount of weed a plant makes depends on things like size, type, and how well you care for it.
3. Can I use any kind of light to grow my weed plant?
Not really, plants need lights that mimic the sun's rays; LED or HPS lamps work best.
4. What should I feed my weed plant so it gives more product?
Give your plant nutrients like Nitrogen, Phosphorus and Potassium in right amounts for better growth.
5. Will an indoor-grown or outdoor-grown weed yield be higher?
Outdoor plants usually have higher yields but indoor growing provides more control over conditions.