Are you interested in cultivating your own marijuana but worried about the potential high costs? The reality is that setting up an indoor weed homegrow doesn't have to break the bank.
This article will guide you on how to set up a cost-effective, thriving indoor cannabis garden for under $500, covering everything from essential equipment to alternative setups. Excited? Stick around and discover how to enjoy this rewarding hobby without burning a hole in your pocket!
Key Takeaways
You can grow weed at home for less than $500.
You need a tent, lights, fans, a timer switch, soil and seeds to start.
The cost breaks down into grow space gear ($100-$150), planting stuff ($50-$100), lights ($75-$150) and more.
You can also pick cheaper options like nano cannabis or micro cannabis setups if you are on a tight budget.
Grow kits or marijuana boxes are easy ways to start your own indoor garden of weed at home.
Equipment Needed for an Indoor Weed Homegrow Under $500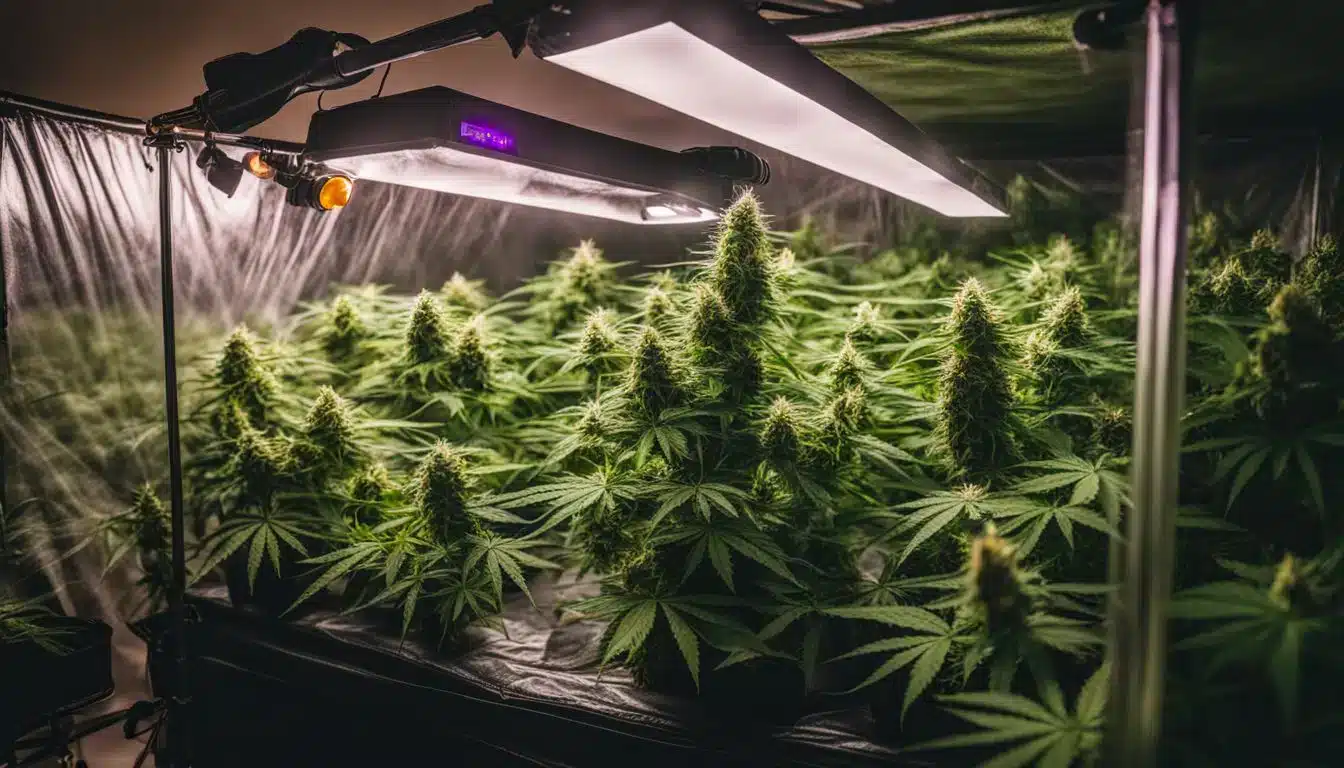 In order to set up a successful indoor weed homegrow for under $500, you will need the right equipment – this includes essentials like a solid grow space setup, effective planting materials and all the necessary gear that promotes healthy plant growth.
Grow space equipment
You will need some special gear to start an indoor weed homegrow. This grow space equipment doesn't have to cost a lot. Here's what you'll need:
Grow Tent: It will give your plants a great place to grow. They run from $70 – $150.
Lights: Your plants need light to grow well. LED lights are the best for this job and they don't use much power.
Fan: A small fan that can move air around your plants is vital.
Filter: If odors are a problem, buy a carbon filter.
Timer: A good timer will help turn your lights on and off at the right times.
Potting Soil: Quality potting soil helps your plants grow strong.
Seeds: Buy some good quality seeds of the strain you want to try out.
Planting materials
You need the right planting materials to grow weed indoors. Here is a list of supplies:
Soil: You can't just use any soil. Buy high-quality potting mix that drains well.
Pots: Small starter pots are best for young plants. As they grow bigger, you will need larger pots.
Seeds or Clones: You can start with seeds or buy clones, which are small weed plants already started.
Fertilizer: Like all plants, weed needs food to grow. Get a quality fertilizer that has all the nutrients your plants need.
Water system: Some people water their plants by hand, but others set up an automatic watering system.
Helpful gear
You'll need useful tools to grow weed at home. These are a part of the "Equipment Needed for an Indoor Weed Homegrow Under $500". The right tools can help you have a fruitful growth.
Support netting: It holds your plants upright.
Clippers: They are used to cut and shape your plants.
Pruners: These are handy for cutting thicker stems.
Scissors: You use them to trim small leaves and buds.
Chikamasa scissors: These are special shears that help in detailed trimming.
DIY Indoor Cannabis Grow Room on a Budget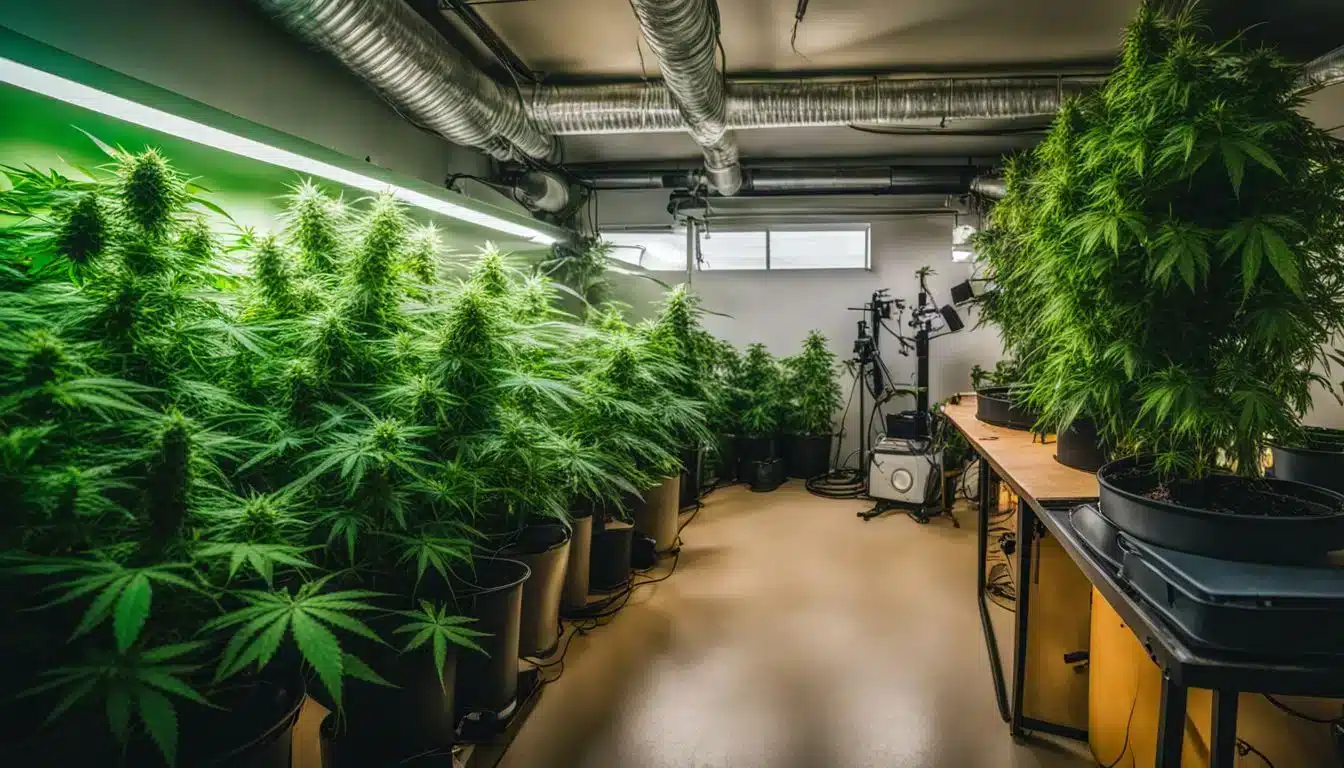 Starting a DIY indoor cannabis grow room doesn't require a massive budget. You can allocate funds to essential items first like quality seeds, lighting fixtures, and proper ventilation systems, which contribute significantly to your cannabis growth.
Remember to prioritize cost-effectiveness without compromising on the integrity of your setup; Browse online or local markets for second-hand or discounted grow equipment that suits your needs—always verify the working condition before buying.
Starting small is smart- aim for smaller yields initially as you understand more about cultivating on a budget while maximizing output in future endeavors.
Cost breakdown
For a budget-friendly indoor weed homegrow, it's crucial to know where your money is going. Here's a breakdown of the estimated costs:
| Item | Cost |
| --- | --- |
| Grow space equipment | $100 – $150 |
| Planting materials (seeds, soil, nutrients) | $50 – $100 |
| Grow lights | $75 – $150 |
| Ventilation systems | $50 – $100 |
| Helpful gear (thermometer, hygrometer, pH meter) | $25 – $75 |
| Electricity costs (estimated) | $50 per month |
This approximation totals to around $400 – $625, not including ongoing electricity costs. Remember, proper planning and budgeting can help you stick within your $500 limit.
Necessary supplies
You need some key things to start your home cannabis farm.
Recommended Indoor Grow Setups
Explore various options for indoor weed setups that match your budget. Consider starting with a nano cannabis grow setup, costing you between $100-150. If you have a slightly bigger wallet, choose the micro cannabis grow tent setup around $500.
For more experienced growers who can afford it, we suggest going for the standard cannabis grow setup which is roughly valued at $1,000. Each option offers unique advantages and outcomes; choose wisely according to your needs and budget limitations.
Nano cannabis grow setup ($100-150)
You can grow cannabis at home on a small budget. The Nano cannabis grow setup is light on the pocket, costing just $100-150. This plan suits those who want to start small or have less space.
For such setups, you need a few things. Get good seeds first. Then buy soil and pots for your plants. You should also get lights to help plants grow and fans to move air around them.
Keep humidity in check in your room too. That means buying a good dehumidifier. With these simple tools, you can set up a nano cannabis grow setup at home and start growing!
Micro cannabis grow tent setup ($500)
Our $500 setup is great for growing your own weed. It includes a grow tent that is 2 feet wide, 2 feet long and 3 feet tall. This size fits well in small spaces and it's easy to hide if you need to.
You also get lights, fans and filters for the tent. These help keep your plants happy by giving them light, fresh air and clean smells. Plus, you receive a water pump and tubes for water delivery.
This system waters plants without any work from you! Last but not least are the pots for planting and some simple hand tools like clippers and measuring cups. With all these things combined, this micro cannabis grow tent setup makes indoor cannabis cultivation fun on a budget.
Standard cannabis grow setup ($1,000)
A standard cannabis grow setup costs around $1,000. This price gives you a bigger grow tent and better lights. You get more room for your weed plants. Package deals often include vent fans and carbon filters too.
The good gear helps you control the air in the tent better. It can give you a big jump in quality from the smaller setups.
Tips for Alternative Indoor Grow Setups
Explore alternative indoor grow setups like marijuana grow boxes or kits if you're looking for simplicity. Discover reliable supply recommendations and get an understanding of your expected yield.
You don't want to miss these tips, so keep reading!
Using grow kits or marijuana grow boxes
Setting up your own cannabis garden can be fun and budget-friendly with grow kits or marijuana grow boxes. Here's how you do it:
Choose an ideal box or kit that fits your budget. Grow kits are handy and well-priced.
Set up the kit in your chosen area. The area should be safe, secure, and have enough space.
Follow the manual included in the kit. Every step is important for proper plant growth.
Keep track of how much water your plants need. Each type of cannabis plant has different needs.
Use a good lighting system to help plants grow well indoors.
Keep indoor conditions under control with helpful gear like fans and filters.
Pick a grow box that suits your needs best.
Ready the box for planting by setting it up as per instructions.
Plant the cannabis seeds or starters in the box carefully.
Use a container or bucket with holes drilled at the bottom for cost-saving.
Make sure to use lights suitable for promoting photosynthesis in plants.
Supply recommendations
You need to pick the right equipment to grow cannabis at home. Here are some supply recommendations:
Get a grow tent. This is your weed's new home! Look for tents that are under $100.
You also need lights. LED grow lights work best and they cost around $70.
Don't forget about the plant pots! These should be about $10 each.
A good fan helps keep the air fresh for your plants, it costs around $20.
A carbon filter removes bad smells, you can find one for $50.
Find a timer to control your light schedule. This tool is under $10.
Yield estimates
While exact yield estimates are hard to pin down due to factors like strain type, lighting, and cultivation techniques, some general guidelines can be offered. Note, however, there is no available data on specific yield estimates for the under $500 indoor grow setup or homegrown cannabis.
| Grow Setup | Estimated Yield |
| --- | --- |
| Nano cannabis grow setup | Expect modest yields, perfect for personal use or experimentation. |
| Micro cannabis grow tent setup | Yields may vary greatly, but this setup can potentially produce several ounces of cannabis. |
| Standard cannabis grow setup | Yields can be substantial with this setup, with potential for multiple ounces to a few pounds, depending on expertise and plant variety. |
Remember, these are only rough guidelines. Your actual yield will be influenced heavily by factors like your experience, the strain you choose, and how you care for your plants.
Conclusion
FAQs
1. What do I need to start growing weed indoors?
To grow weed indoors, you'll need a growing tent, lights, soil or hydroponics system, seeds or clones and some basic tools like pH testers.
2. Can I set up an indoor weed homegrow under $500?
Yes, it's possible to set up an indoor weed homegrow for under $500 if you choose cost-effective equipment and materials.
3. How much space do I need for an indoor weed homegrow?
A small closet or spare room can be enough for a personal indoor grow as long as there is proper ventilation and light control.
4. Do I need special training or skills to grow weed at home?
While having gardening skills can help, most beginners learn through experience and by seeking advice from experienced growers when needed.
5. Is it legal to grow my own cannabis indoors?
The legality of growing cannabis at home varies depending on the state laws so make sure you check local regulations before getting started.