Are you perplexed about the different stages of marijuana plant growth? It's fascinating to know that this plant, like any other, goes through various developmental phases which include germination, seedling, vegetative and flowering stages.
This insightful article aims to clearly explain these four fundamental steps along with common challenges and tips for a successful harvest. Let's dive in and unravel the mystifying lifecycle of cannabis plants!
Key Takeaways
Marijuana plant growth has 4 stages. They are germination, seedling, vegetative growth and flowering stage.
Each stage needs different care. For example, seedlings need gentle light and the right amount of water.
Common issues in each phase can be germs or bad soil. Be careful when you water your plants too!
To have a good harvest, pick the best seeds and create the right growing conditions.
The Four Stages of Marijuana Plant Growth
Understanding the four stages of marijuana plant growth – germination, seedling stage, vegetative growth, and flowering stage – is crucial for successful cannabis cultivation. Each phase plays a unique role in the development of your plant, from sprouting the initial roots during germination to producing buds in the flowering phase.
Germination
Germination kicks off the growth of your marijuana plant. A tiny root pops out from the cannabis seed during this stage. This usually takes between 3 to 10 days, sometimes up to two weeks.
Proper care is key in germination. Healthy root development starts here and it shapes how well your plant grows later on. Smart growers understand this and pay close attention to their seeds in this stage for a good crop.
Seedling Stage
The seedling stage is the second part in the growth cycle of a cannabis plant. It starts after germination and lasts for about 2 to 3 weeks. In this time, your marijuana plant grows its first true leaves.
These are not like the small round leaves it had before. They have points on them and may look like hands with fingers.
Caring for seedlings needs work but it's not hard if you know what to do. Always keep them warm and give them gentle light. Too much heat or bright light can hurt them. Also, be careful when you water your plants because too much or too little can harm them as well.
Vegetative Growth
In the vegetative stage, your marijuana plant goes through big changes. It will grow leaves, stems, and roots. This growth lasts for about 2 to 8 weeks. The roots get strong during this time, which is very important for how well the plant grows later on.
Sometimes you need to move the plants into a bigger place because they get too big for where they started growing. This stage gets your marijuana plant ready to make flowers and cannabinoids in the next stages of its growth.
Flowering Stage
The flowering stage is a big part of the marijuana plant's life. It starts after the vegetative growth stage. This phase lasts for about 6-8 weeks but some plants take longer. During this time, your cannabis plant makes its bud.
This bud has many different cannabinoids. After the flowering stage, ripening begins. Be patient as it can last from 7 to 9 weeks depending on the strain of your plant. Take great care of your plant in this stage so you will have a good harvest later on.
Challenges and Common Issues in Each Stage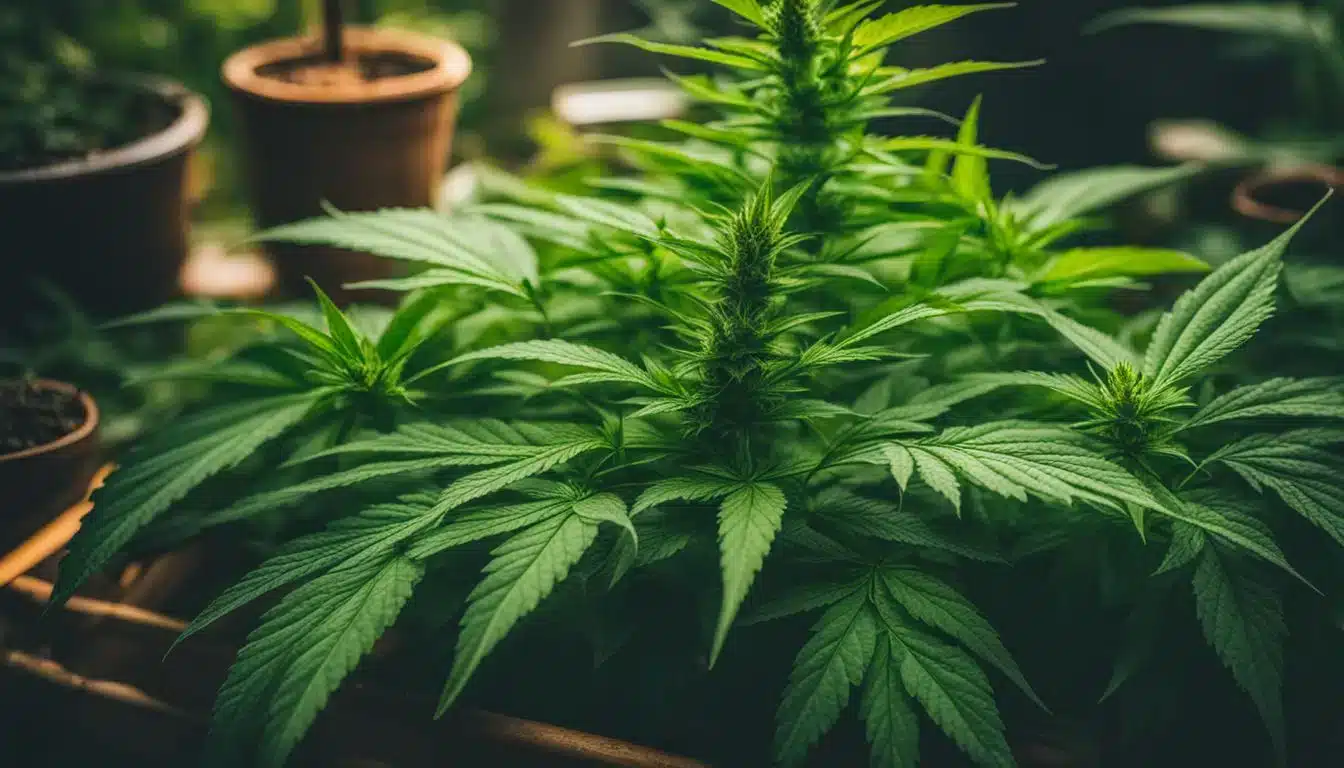 Each phase of marijuana plant growth presents its own set of unique challenges and potential issues, from struggles with germination to common complications in the all-important flowering stage.
Interested to learn how you can prevent or tackle these problems? Read on!
Germination challenges
Planting weed seeds may seem easy, but it comes with some challenges. Here are a few:
Bad timing: Seeds can fail to grow if you plant them at the wrong time.
Wrong tillage: Not using the right kind of soil tillage can cause problems for your seeds.
Little or no equipment: If you don't have good tools, you might not be able to plant your seeds well.
Poor seed quality: Sometimes, bad seeds just won't sprout.
Careless storage: Seeds that aren't kept in the right place could get damaged or rot.
Handling with bare hands: Touching your seeds too much might hurt them.
Seedling stage common issues
In the seedling stage of marijuana plant growth, common problems can occur. Here are some issues to watch out for:
Overwatering: Too much water can drown your seedlings.
Underwatering: Not enough water can dry out your plants.
Nutrient problems: Lacking nutrients slows the growth of your plants.
High heat: Too much heat stresses your young plants and stops growth.
Not enough light: Seedlings need a lot of light to grow strong stems.
Vegetative growth challenges
Making a marijuana plant grow is hard work. You have to watch out for many things. Here are some of the main problems you might find.
Your plant can get sick if it gets too much or not enough water. This is common in the vegetative growth stage.
Chances of root disease go up when the area around your plants is not clean.
Not giving your plants the right amount of food makes them weak. They may show signs of disease or not grow well.
The place where your plants live needs to be just right. Too hot, too cold, or too dry will make them unhappy and they may stop growing.
Light is key for your plants. Make sure they get lots of it during the vegetative growth stage.
Be careful with light exposure timing. It helps in keeping your plants on track with their growth stages.
Flowering stage common issues
Any grower knows the flowering stage is key. Yet, it's not always smooth sailing. Some common issues you might face during this phase are:
Pests: Bugs can harm your plants. They eat leaves and stems.
Nutrient Deficiencies: Your plants need good food to grow well. If they don't get it, they might not bloom.
Diseases: Sick plants do not grow well. Make sure they stay healthy.
Environmental Stress: Plants need the right place to grow. Too much heat or cold can be bad for them.
Light Changes: When days are shorter, your plants start to bloom.
Tips for a Successful Harvest
Choosing the right strain and seeds is essential for a successful harvest. Ensure your grow room has optimal conditions – temperature, humidity and light all play a vital role in plant health.
Careful soil preparation is key to nutrient absorption during growth. Regular watering schedules and correct lighting cycles are crucial for each stage of the marijuana plant's life cycle.
By following these tips, you can pave the way towards a bountiful harvest.
Choosing the right strain and seeds
Picking the best seeds starts a good grow. Look for high-quality seeds. These are bred for more yield and power. Top-quality means your plants will thrive. Always keep in mind, your harvest depends on the seeds you pick first.
A healthy cannabis crop comes from understanding all growth stages, start to finish. From germination to curing, know what happens at each stage of growth. Stick with these tips for a boost in potency and yield!
Creating optimal growing conditions
Optimal growing conditions set the stage for a thriving cannabis crop. Here are some key components to consider:
Lighting adjustment: A cannabis plant needs bright light to grow well. Make sure your plants get enough light.
Temperature control: Keep the space nice and warm, but not too hot! Cannabis likes a temperature around 70-85 degrees Fahrenheit during the day.
Humidity management: Balance is key! Too much moisture can cause mold, so keep it around 40%-70% humidity while the plant is young.
Nutrient balance: Feed your plants with healthy soil or nutrient mixes made for cannabis.
Watering strategies: Give your plants water when their soil feels dry an inch down from the surface.
Seed harvesting: At the end of growth, take seeds from mature female plants for next time.
Soil preparation and maintenance
Taking care of the soil is key to growing good marijuana plants. Here are some steps to help you:
Test your soil. Make sure it has the right pH level, between 6 and 7.
Get nutrients from a store or online. You need nitrogen, phosphorus, potassium, calcium, and magnesium.
Mix the nutrients into your soil before you plant the seeds.
Keep an eye on your plants as they grow. If they look sick, test the soil again.
Add more nutrients if needed.
Learn about crop production and garden maintenance for better results.
Check the water level in the soil often – not too dry, not too wet!
Always keep your garden clean to prevent pests and diseases.
Proper watering and light cycles
Proper watering and light cycles are key to growing healthy marijuana plants.
Always give your plants water every few days, no matter the light cycle or growth stage.
During the final stage, known as the flowering stage, keep a strict light cycle. Indoor plants need 12 hours of light each day. Outdoor plants need 6 hours of light each day.
Be careful not to give too much water in the flowering stage. You should only water once every 2 – 4 days.
During the growth phase, also called the vegetative stage, it's best to give light, frequent watering. This helps make strong roots and keeps water from building up.
Flushing out nutrients with water is a key pre-harvest step.
Keep track of your plant's life cycle: germination, seedling, growth, and flowering.
Conclusion
In the end, growing a marijuana plant is like taking care of a child. You need to give it love and attention at each stage. Just keep an eye on your plant, learn its needs, and never stop caring for it! With some hard work and patience, you can grow your own healthy marijuana plant from seed to harvest.
FAQs
1. What are the four stages of marijuana plant growth?
The four stages of marijuana plant growth are germination, vegetation, flowering and harvesting.
2. How long does the germination stage last?
The germination stage can last between 24 hours to a week.
3. When does a marijuana plant start flowering?
A marijuana plant usually starts flowering after it's been growing for about two months in ideal conditions.
4. Can I speed up the growing process of a marijuana plant?
No, speeding up the growth process of a marijuana plant may harm its health and reduce its yield but you can ensure optimal conditions for faster natural growth.
5. When is the right time to harvest my matured marijuana plants?
You can harvest your matured plants when most trichomes on your buds change from clear to milky white in color.