Are you intrigued by the idea of growing your own marijuana plants but don't know where to start? Cultivating cannabis indoors isn't as complicated as it may seem; in fact, it can be a rewarding endeavor with practice.
Our comprehensive guide will walk you through every step necessary for indoor marijuana cultivation, from setting up your grow room to harvesting and curing your yield. Get ready to embark on an exciting journey of nurturing your homegrown buds!
Key Takeaways
You can grow high-quality weed indoors all year round.
You need a good spot and the right tools for indoor growing. These include a tent, lights, fans, and a carbon filter.
There are steps to follow when growing. They start with picking seeds and end with curing the plants.
Keep your plants safe from pests by knowing the signs before they get too bad.
Benefits of Growing Weed Indoors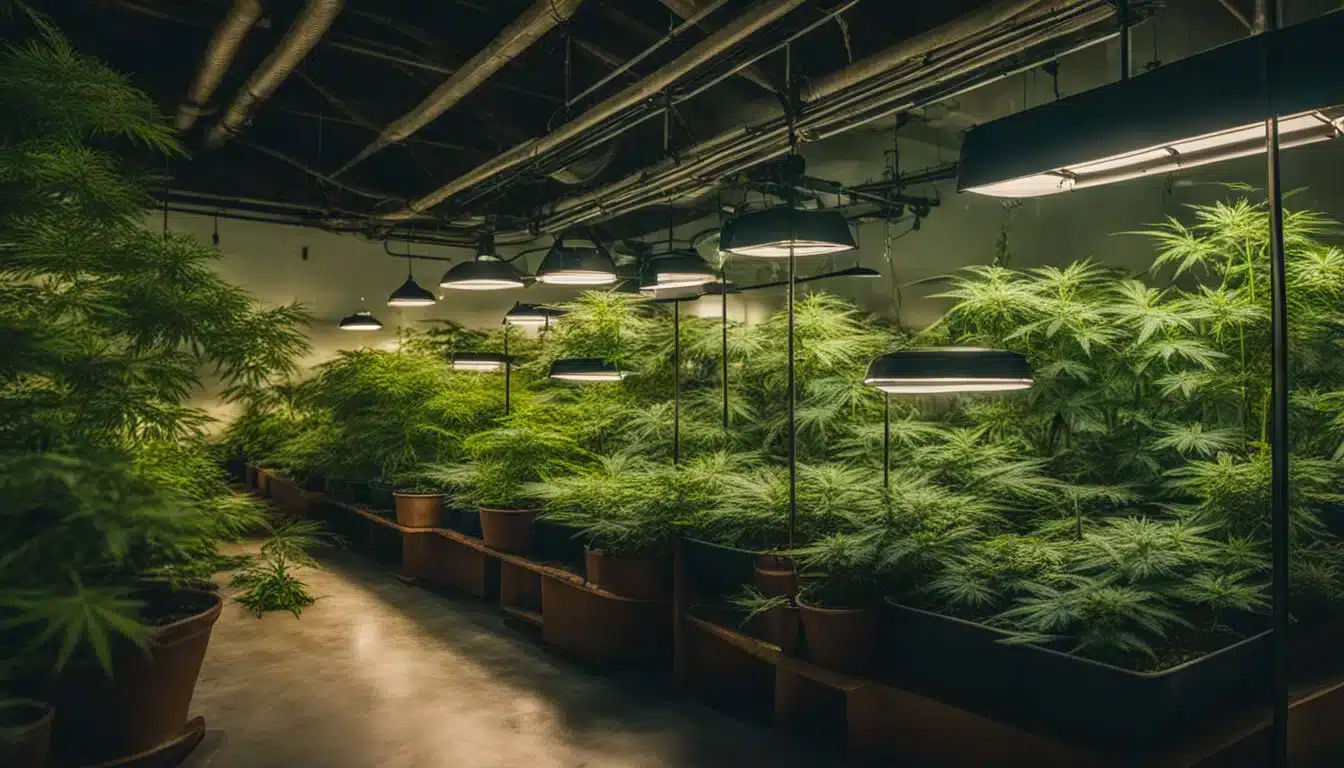 Growing weed indoors can provide you with high-quality cannabis. It offers adaptability as you control the environment, thus enabling multiple harvests. Growing indoor also guarantees privacy and security for your plants.
High-quality weed
Indoor growing can give you high-quality weed. It lets you control everything that affects your plants. You get to pick the right temperature, light, and air. This helps the plant grow strong.
It also boosts the weed's taste and power. Growing weed indoors means better buds every time!
Adaptability
You can make changes to your weed plants. This helps them grow better and bigger flowers. You have a lot of control over how the plant grows when you grow it indoors. LEDs are great for indoor growing.
They last long and use less power, which saves you money.
There are different ways to grow cannabis inside your home. Some methods may work better for certain types of cannabis strains than others. With time, you will learn what works best for the type of weed strain you're growing.
Multiple harvests
In an indoor farm, you can grow weed all year. This means you can have more than one harvest in a year. You could have nearly four if you do it right! Indoor farms use special stuff to help your plants grow well and give a lot of bud each time they are done growing.
With the right care, your plants will reward you with big yields on every harvest.
Privacy and security
Privacy and security matter a lot in growing weed. You can keep your plants hidden from others. This is useful even if it's legal to grow weed where you live. By hiding your plants, you have control over who sees them.
This cuts the risk of theft or people getting near your plants without asking first. Growing inside also makes sure no one messes with your plants from the outside world. So, increasing privacy and security will also help to keep your plants safe and sound at all times.
Setting up an Indoor Grow Room
Creating the perfect environment for your cannabis plants is key. In this section, we'll delve into how to pick the right space and equipment, regulate temperature and humidity, and select the best-growing medium for successful indoor marijuana cultivation.
Stay tuned to master these crucial steps!
Choosing the right space
The first step in setting up an indoor grow room is picking the right spot. You can use a basement, garage, attic or even a closet. Make sure the area has enough space for your plants to stretch out as they grow.
The place must be near electricity and have good air flow.
Selecting the right area for indoor marijuana cultivation can seem hard but it's not. Don't think you need a large space to grow quality weed. Even small places work well if set up right.
It's all about using what you have wisely and creating the best conditions for your plants to thrive.
Essential equipment
You need the right tools to grow weed indoors. Here is a list of the main gear:
Grow tent: It is a must-have for indoor gardening. It can control light, temperature and humidity.
Lighting system: Your plants need light to grow. You can use high-intensity discharge (HID) lights, LED lights, or fluorescent lights.
Ventilation system: It helps keep air moving. It includes an extractor fan, intake fan, and ducting.
Carbon filter: This tool takes care of the smell. It stops odors from the plants.
Humidity and temperature control: These tools help keep your plants happy.
Reflective material: This helps with light intensity. The more light your plants get, the better they will grow.
Grow medium: This is what you plant your seeds in.
Regulating temperature and humidity
Taking care of temperature and humidity helps weed grow better indoors. Here's how you can do it:
Keep a check on your grow room's climate. It should be optimal for cannabis growth.
Use good tools to set the right temperature and humidity.
Make sure humidity levels are between 40-70%. This is important for indoor gardening.
When the lights are on, you can raise the room's temperature a bit.
The best relative humidity for weed plants ranges from 70% in the seedling stage to 30% during flowering.
Control of climate is a big part of setting up an indoor grow room.
Temperature regulation and humidity management are key tasks for you.
Aim for air flow control and light optimization too – they help in cannabis cultivation.
Choosing the right growing medium
Soil is a top choice for growing weed indoors. It's great for first-time growers. If you want an option other than soil, try coco coir. Coco coir soaks up water and nutrients well.
Hydroponics and aeroponics use no soil at all. These methods give nutrients directly to the plants through water or mist spray. Your grow medium should match your skill level, tools you have and how you wish to grow your plants.
Trying various mediums can help find the best fit for your indoor gardening needs in marijuana cultivation.
Steps for Growing Weed Indoors
This section helps you navigate the journey of indoor cannabis cultivation, starting from selecting the right seeds to enjoying the final flowering stage. You'll learn how to germinate your seeds and transition them into a vegetative state, with optional advanced steps for seasoned growers.
We will guide you through harvesting and curing your plants for optimum results in both potency and flavor.
Choosing the right seeds
Picking the right seeds is a big deal in indoor weed growing. Different cannabis types give different flavors and effects. You need to choose the best strain for your indoor grow room.
The right seed can help you grow top-notch buds with big yields. Take time to do your research before picking a strain. This will make sure you get the best seeds that suit your needs and tastes.
Proper care makes sure these seeds grow well indoors.
Germinating and caring for seedlings
Growing your own weed at home starts with the right seeds. Let's talk about germinating and caring for seedlings.
Pick out the best seeds for indoor cultivation.
Get a moist paper towel.
Put cannabis seeds on it to start sprouting.
Wait for the seedling to emerge after germination.
Keep an eye on humidity, it plays a big part in plant health.
Be patient, your indoor gardening journey just started.
Care for these baby plants until they are ready to move into their permanent home.
Moving into the vegetative stage
Now your seeds are growing. The next step in cannabis growth is the vegetative stage. This stage can last more than 8 weeks or even longer. It all depends on how big you want your plants to be.
"Mother plants" often live in this phase for a long time by commercial growers who want to keep certain strains alive. In this stage, plant care is very important for good growth. Your cannabis plant will grow new branches and leaves during this time.
It's crucial that they get enough light and nutrients now! Be patient and let them grow at their own pace.
Optional advanced steps
You can take your pot growing to a higher level. Advanced steps exist for those ready for more. For seeds, try using clones. Clones are cuttings from grown weed plants and they grow faster.
Another step is 'topping'. Topping means cutting off the top of the weed plant when it grows too high. This makes the plant bush out with even more buds.
Also, consider trying hydroponics. Hydroponics lets you grow weed in water instead of soil. Yes, cannabis plants can live well in just water! But, you must add nutrients to the water for them to eat up.
With these techniques, your indoor gardening will be at its best in 2023!
Enjoying the flowering stage
The flowering stage is a fun part of growing weed indoors. This is when female plants start to show big, smell-strong buds. The buds are the parts we use. Each plant can take 50 to 70 days to flower fully.
Some types of plants might be fast and only need about 8-9 weeks to flower, but others may take up to 12 weeks. The best care you give during this time will make your yield better and your buds top quality.
Harvesting and curing your plants
Picking and curing your plants is key in growing weed indoors. Here are steps you can follow:
Wait for the right time to pick your plants. Indica plants usually finish flowering in around 55-60 days, while some sativas might need more time.
Look at the plant's trichomes with a magnifier. When most trichomes turn milky white, it's time to pick.
Cut the buds off each branch, leaving small stems on them.
After picking, hang the buds upside down in a cool, dry room with good air flow for about two weeks.
Check for mold during drying time.
Once buds feel dry to touch but small stems still bend without breaking, start curing process.
Put the buds in jars loosely filled up to 75% and seal them tight.
Open each jar once a day for about two weeks to let fresh air in and excess moisture out.
Keep jars away from light; store them in a cool place.
Maintenance and Care for Indoor Cannabis Plants
Proper care is a must for healthy cannabis plants. Learn all about watering schedules, nutrient management, pest prevention strategies, and methods to control odor in your indoor garden.
Don't forget the essential task of maintaining your equipment! Read on to ensure you're giving your green friends everything they need to thrive indoors.
Watering and nutrient care
Taking care of your weed plants means giving them much water and the right food. Here is a list to show you how:
Keep a good pH level. This aids nutrient absorption.
Feed your plants water – soluble fertilizers through their root system.
Use a water calculator to work out how much water each plant needs.
Keep the soil moist all the time, this helps young plants grow well.
Be aware that mature plants can make more humidity in the room by turning water into vapor.
Pests and mold prevention
Keeping your indoor weed plants safe from pests and mold is crucial. Here's how to do it:
Grow strains that can fight off pests and mold well. They are less likely to get sick.
Learn about what hurts cannabis plants. This can help you stop bugs before they start.
Keep your grow room neat and clean all the time. It stops bugs and mold from making a home there.
Use plant netting for added safety against insects. It acts as a strong wall keeping the bad bugs out.
Be careful of spider mites! They love weed plants, so keep a close eye out for them.
Look after your indoor cannabis plants well to stop mold growth and keep high-quality levels.
Keep the room dry and cool to stop mold from growing on your plants.
Check your plants often for any signs of pests or disease, this way you can act fast if there's a problem.
Clean all equipment often so no pests or mold can hide there.
Make sure your room doesn't smell too much like cannabis, this can draw unwanted insects in.
Equipment maintenance
Taking good care of your tools helps grow weed successfully indoors. Here are some steps for proper equipment maintenance:
Clean your tools each week. Use hydrogen peroxide or bleach for a deep clean.
Check your lights often. They should work well and not be too hot.
Keep the air fresh. Change filters on air systems when needed.
Fix any broken parts as soon as possible. Damaged tools can hurt your plants.
Test the pH levels in your soil often with a pH meter to make sure it's just right.
Keep the room at the right temperature and humidity level with air conditioners and humidifiers.
Odor control
Grown weed has a strong smell. This smell can be too much in an indoor garden. You should use tools like molecular filters to cut down on the odor. These filters clean the air inside your grow room.
Ozone machines can also help to remove smells from your room quickly and efficiently. It is key to keep a steady temperature and humidity level in your space too, as it helps manage the smell better.
If you plan to sell weed, know that Health Canada looks at how you control odors in your workspace.
Conclusion
So, growing weed indoors is not as hard as you might think. It just needs some time and care from you. You get to be in charge of every step of the journey. So why wait? Start your indoor weed garden today!
FAQs
1. What type of light should I use to grow weed indoors?
For growing weed indoors, full-spectrum lights, like LED or fluorescent lamps work best.
2. How much water does an indoor weed plant need?
Your indoor weed plant needs enough water to keep the soil moist, but not soaking wet and you must allow the top inch of soil to dry out before watering again.
3. Can any type of pot be used for growing weed indoors?
You can use any container for growing your weed as long as it has good drainage holes at its base.
4. How often should I feed my indoor-grown weed plants with nutrients?
Indoor-grown weed plants need nutrient feeding about once a week; too much can harm them.
5. Is there a specific temperature needed for growing weeds indoors?
Yes, indoor weeds thrive in temperatures between 70-85 degrees Fahrenheit during their growth period.