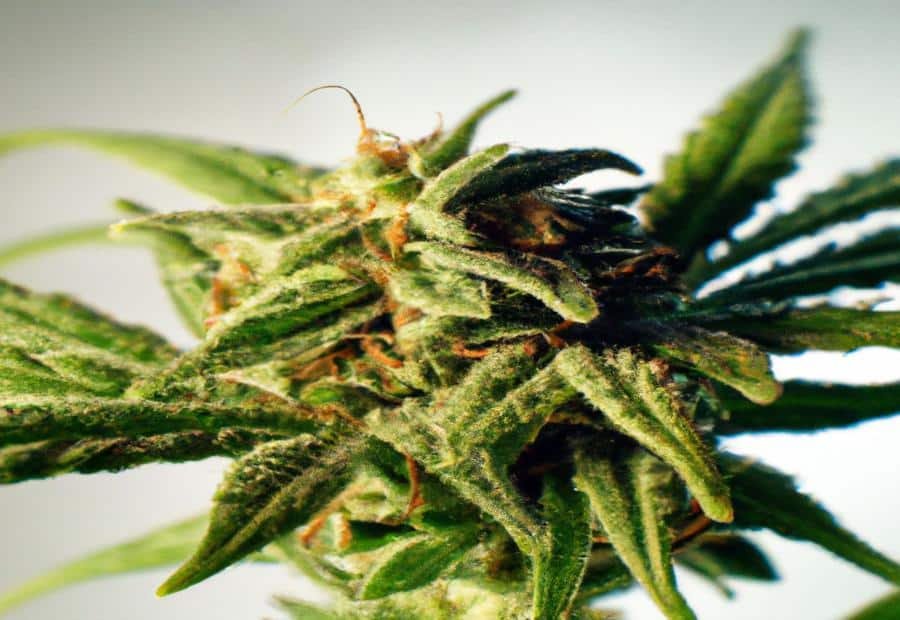 Photo Credits: Www.Letsallgrowcannabis.Com by Christian Walker
The Do-si-dos strain: an overview and its importance in the cannabis community.
Overview of the Do-si-dos Strain
Do-si-dos is a much-coveted cannabis variety! It's an indica-dominant hybrid known for its unique properties and effects. Its genetics come from a long breeding history.
The Do-si-dos strain has dense buds and leaves that are a vibrant green, often tinged with purple. Its trichomes have a frosty look. It has an earthy, sweet, and skunky aroma and flavor.
Do-si-dos has high THC content. It can relax you, ease stress, anxiety, and insomnia. It can also help with pain and stimulate appetite.
Cultivating Do-si-dos needs some know-how. It does best in a controlled climate. Growers can expect a moderate yield after 8-9 weeks of flowering. Proper harvesting and drying will help keep potency and flavor.
Do-si-dos is easy to find in dispensaries and online. People use it for therapeutic or recreational purposes. It can be smoked, eaten as edibles, or taken as tinctures. This makes it very versatile!
Importance of the Do-si-dos Strain
The Do-si-dos strain is hugely significant in the cannabis world! Its unique genes and traits make it a highly sought-after choice for both recreational and medicinal users. It has an interesting breeding history, carefully crafted to enhance its potency and flavor. Its origin is a mix of Girl Scout Cookies and Face Off OG.
This strain's appearance, aroma, and flavor also add to its desirability. It's full of vibrant colors and trichomes, plus an earthy, sweet, and floral aroma. Its flavor is a delightful mix of sweet and fruity.
Its effects are equally significant. It induces deep relaxation and tranquility, making it great for stress, anxiety, and insomnia. It may also help combat chronic pain and muscle tension.
In conclusion, the Do-si-dos strain's unique genetics, appealing visuals and scent, plus its potent effects make it a must-have for cannabis enthusiasts. Whether used recreationally or medicinally, this strain offers incredible benefits and is incredibly significant in the industry.
Origins and Genetics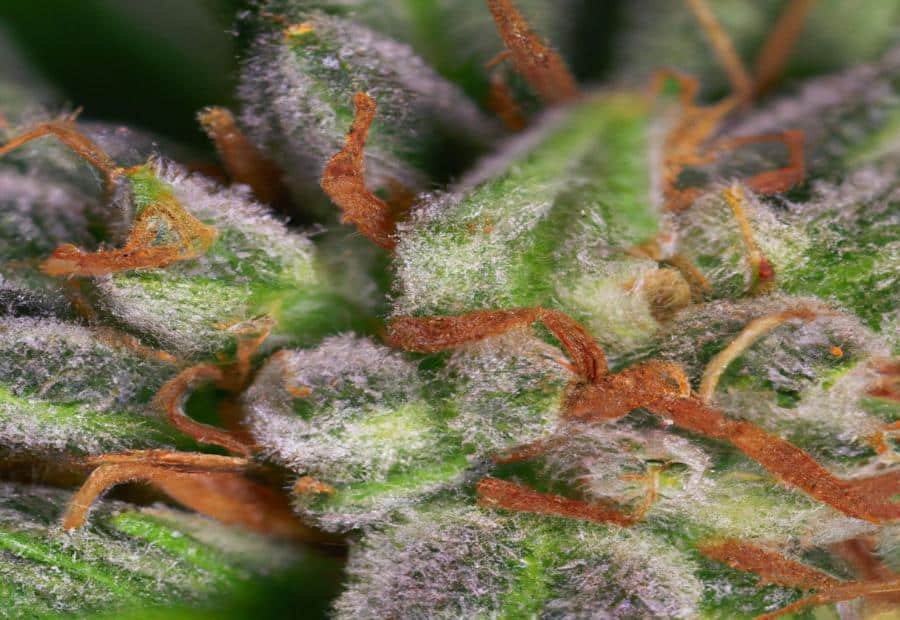 Photo Credits: Www.Letsallgrowcannabis.Com by Philip Jones
The origins and genetics of the Do-si-dos strain take us on a journey through its breeding history and genetic makeup. Uncovering the intriguing stories behind its development and understanding the unique genetic characteristics that make it stand out. This section provides a fascinating exploration into the lineage and composition of the Do-si-dos strain, shedding light on its exceptional qualities and origins.
Breeding History
Fascinating is the breeding history of Do-si-dos. It has a rich line of parent strains. Experienced breeders made this careful and deliberate crossbreeding. Its unique qualities come from this process. Through selective breeding, they created a new genetic composition. This gives the distinct characteristics and effects of Do-si-dos.
To see the breeding history, make a table. This table should show the "Parent Strains," "Breeding Techniques," and "Resulting Genetic Composition". In the "Parent Strains" column, list the original strains used. The "Breeding Techniques" column shows the methods used, like backcrossing or hybridization. The "Resulting Genetic Composition" column explains how the breeding techniques created the unique makeup of Do-si-dos.
An interesting aspect of Do-si-dos is its mix of genetics from multiple strains. This leads to diverse traits and characteristics. By merging different genetic compositions with breeding techniques, breeders create the sought-after and exceptional Do-si-dos cannabis strain.
Genetic Makeup
The genetic makeup of Do-si-dos is essential to know. It's the result of combining two popular strains: Girl Scout Cookies and Face Off OG. GSC adds its potent effects and sweet, earthy aroma to the mix. Face Off OG brings its indica influence and relaxing, sedative qualities.
This blend creates a hybrid with balanced effects that are both euphoric and calming. Plus, it has a sweet and earthy flavor profile. Do-si-dos also has high THC levels, usually between 20-30%. So, it's a potent strain with strong psychoactive effects. It also has medicinal benefits, such as easing pain, insomnia, stress, and anxiety.
Understanding the genetics of Do-si-dos helps us appreciate how complex it is to cultivate this unique strain. We can also use this knowledge to make informed decisions about our cannabis preferences.
Characteristics and Effects
Delve into the world of Do-si-dos strain as we explore its characteristics and effects. From its unique appearance and enticing aroma to the range of flavors it offers, we'll take a closer look at what makes this strain stand out. Additionally, we'll uncover the effects of Do-si-dos and the potential benefits it may bring. Get ready to explore the captivating qualities of this popular strain.
Appearance and Color
Do-si-dos stands out with its distinct look and colors. Cannabis connoisseurs find it visually appealing. It has deep purple hues, both in its leaves and flowers. Plus, its buds are dense and compact – adding to its vibrant colors. Further, it's packed with frosty trichomes, giving the buds a sparkling quality. And, its pistils have a vibrant orange hue.
Every batch of Do-si-dos may vary due to growing conditions and genetics. But, its visuals are sure to captivate. This strain is truly a standout with its unique combination of deep purple hues, dense and frosty buds, and vibrant orange pistils. It's an ideal choice for both experts and novices looking for a visually enticing cannabis experience.
Aroma and Flavor
Do-si-dos strain is famous for its unique aroma and flavor. It has a mix of sweet and earthy scents, with a hint of skunky and piney. Taste-wise, it's sweet and floral with a tinge of lime and spice. Users say it has a smooth, enjoyable taste that really makes the smoking experience great. That's why Do-si-dos is so popular!
But its uniqueness doesn't stop there. It also has special characteristics that separate it from other cannabis strains.
Effects and Benefits
The Do-si-dos strain is renowned for its advantages. When consumed, it provides many advantageous outcomes.
Relaxation: This strain is known to generate profound relaxation. It helps users relax after a long day or ease stress and tension.
Creativity: This strain may improve creativity. It can enhance imagination and artistic thinking, making it perfect for creative careers like writing or painting.
Pain Relief: Do-si-dos strain has pain-relieving properties. It may reduce chronic pain, migraines, and other physical discomforts.
Sleep Aid: This strain has sedative effects. It can assist those with insomnia or sleep-related issues, leading to better sleep quality.
Furthermore, the Do-si-dos strain has unique qualities that distinguish it. Its calming effects make it useful for therapeutic activities such as stress reduction or anxiety management. Its pain-relieving properties are also helpful for individuals suffering from chronic conditions or injuries. All in all, the Do-si-dos strain offers a variety of effects and benefits that cater to various needs and preferences in the cannabis community.
Growing the Do-si-dos Strain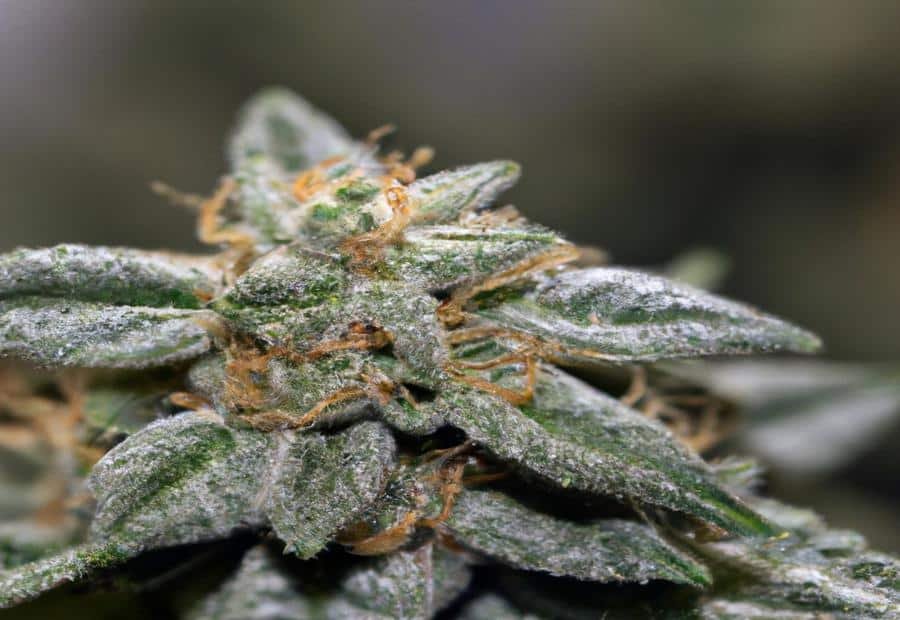 Photo Credits: Www.Letsallgrowcannabis.Com by Richard Martin
Discover the secrets to growing the popular Do-si-dos strain. From cultivation tips to mastering the art of harvesting and drying, this section will provide you with valuable insights into successfully cultivating this renowned cannabis variety. Dive into expert advice and techniques that will help you yield a bountiful harvest of Do-si-dos.
Cultivation Tips
To grow Do-si-dos buds, it's important to follow these tips. These will ensure the plants thrive and give high-quality buds.
Pick the Right Growing Environment: The Do-si-dos strain likes a controlled indoor setting with regulated temperature and humidity. Good ventilation with proper air movement stops mold and bugs.
Give Sufficient Lighting: HID or LED lights are best for Do-si-dos. Giving the plants enough light during the veg and flower stages helps them reach their optimum size and bud growth.
Balance Nutrients: It is important to give the Do-si-dos plants the right nutrients throughout their life. Use a well-balanced fertilizer made for cannabis to make sure they get all the nutrients they need.
Train and Prune Plants: Use techniques like topping, pruning, and tying down branches to create a bushier structure. This maximizes light getting to the buds and encourages better bud growth.
Check pH Levels: Make sure to check and adjust the pH levels of the growing medium. Keeping a pH between 5.5 to 6.5 stops nutrient deficiencies or problems.
Harvest at the Right Time: Keep an eye on trichome development to know when to harvest. Trichomes should be milky white or amber for maximum potency.
These tips are vital for getting the best out of Do-si-dos. This ensures healthy growth and maxes the yield.
Also, regularly monitor and control temp, humidity, and air flow throughout the cultivation. Proper drying and curing of the buds after harvesting is key for keeping their flavor, aroma, and potency.
Harvesting and Drying
It's time to harvest and dry the Do-si-dos strain when it has reached optimal maturity! Harvesting is all about snatching the mature buds from the plant. Then, drying them up is the next step in getting them ready for consumption.
Harvesting: Wait till the buds have grown fully and are covered in trichomes. This ensures the best potency and flavor. Prune and trim the buds carefully, so you don't damage them.
Drying: Hang the buds upside down in a ventilated place with humidity and temperature levels under control. Slow and even drying preserves potency and quality.
Curing: Place buds in airtight containers in a dark, cool spot for a few weeks. This helps remove moisture and bring out flavor, aroma, and smoothness.
Storage: Put buds in airtight glass jars or containers in a cool, dark place. This will keep them fresh and potent for longer.
Timeline: It takes 2-4 weeks for harvesting, drying, and curing, depending on the environment, bud density, and preference.
Tips: Handle the buds gently during harvesting, so you don't damage trichomes. Also, watch the humidity levels during drying and curing to avoid mold.
To get the best out of Do-si-dos buds – potency, flavor, and quality – you must pay attention to the harvesting and drying process. Follow the guidelines for harvesting at peak maturity and use effective drying methods for an enjoyable experience.
Availability and Usage
When it comes to the Do-si-dos strain, understanding its availability and usage is key. In this section, we will explore the various aspects of purchasing and availability, as well as the different ways this strain is used and consumed. Get ready to dive into the world of Do-si-dos, where we'll uncover where to find it and how it can be enjoyed.
Purchasing and Availability
The Do-si-dos strain is easy to get from many sources. It is popular and can be found in dispensaries and online. But, it is good to check with local laws to make sure it is okay to buy.
Availability can change depending on how much people want it and if new strains come out. To stay up to date, it is wise to follow reliable sources.
Usage and Consumption
The Do-si-dos strain is perfect for many uses. Its potent effects and multiple benefits make it a great choice for both recreational and medicinal users. Whether one needs relaxation, pain relief, or creative inspiration, the Do-si-dos strain offers something unique.
It's also used in the culinary world! Its aroma and flavor make it perfect for baking recipes such as brownies and cookies. This way, one can enjoy the therapeutic effects of the strain while indulging in a delicious treat. There are loads of different ways to consume the Do-si-dos strain, making it a versatile option for those who want to explore.
Additional Information and Updates
It is essential to consider updates and additional information about the Do-si-dos strain. It is important to be aware of its potential side effects and precautions. The high THC content means novice users and those with low tolerance should be cautious. Common side effects may include dry mouth, eyes, dizziness, and increased heart rate. People with mental health disorders or anxiety should be careful. Start with a low dose and increase gradually, like with any cannabis strain.
Do-si-dos is popular in the medical cannabis community. Patients have reported positive effects when using it to ease chronic pain, muscle spasms, insomnia, and stress. Before incorporating Do-si-dos into a treatment plan, consult with a healthcare professional. Its therapeutic potential and efficacy may vary depending on individual needs and medical history. It's potency and benefits make it interesting to recreational and medicinal cannabis users.
Conclusion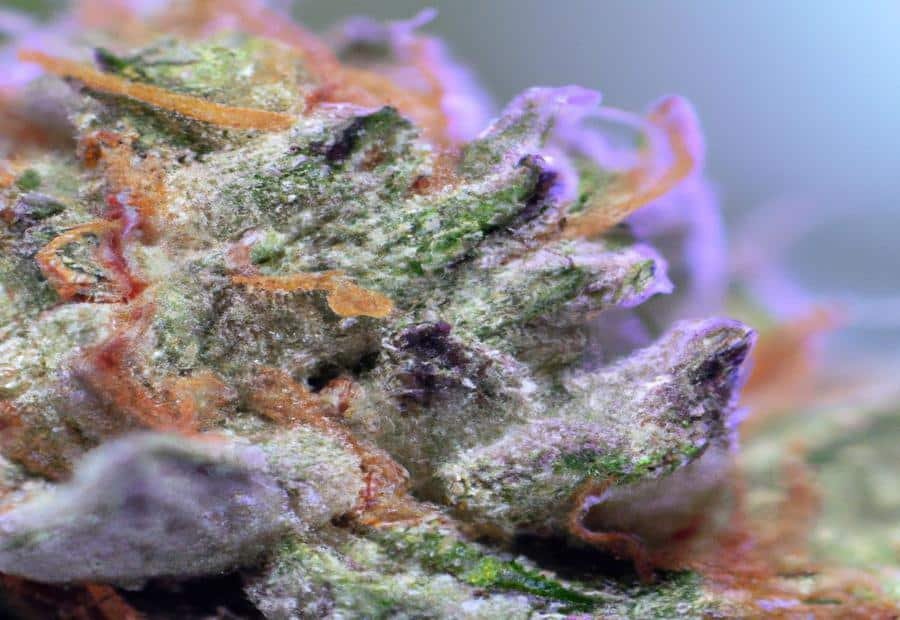 Photo Credits: Www.Letsallgrowcannabis.Com by Edward Thomas
The Do-si-dos strain is renowned! It's known for its powerful effects and delightful flavor. It contains a high THC content, providing users with a lengthy and blissful high. This indica-dominant strain is a favorite for its ability to reduce pain, cure insomnia, and relax. Plus, it has a unique skunky, sweet, and earthy aroma and taste. That's why it's sought-after by cannabis lovers!
To sum up, the Do-si-dos strain is lauded for its potency, flavor, and therapeutic benefits. Use it for pain relief, a good night's sleep, or just for relaxation. Its popularity says it all – this strain is remarkable! So try it out and see why so many love it.
FAQs about Do-Si-Dos Strain
What is the Do Si Do strain and what are its effects?
The Do Si Do strain is a popular hybrid strain that is a combination of the OGKB and Face Off OG strains. It is known for its beautiful appearance with glittering trichomes and bright pistils. The strain contains around 20% THC and 1% CBG, providing both psychoactive effects and medicinal benefits. The top reported effects of Do Si Do include relaxation, euphoria, and sleepiness.
How can I grow the Do Si Do strain?
To grow the Do Si Do strain, it is important to have a sunny and humid environment with proper ventilation to eliminate any unpleasant smells. There are also specific processes that can be followed to achieve the strain's exotic purple tones. It is recommended to reach out to a licensed grower or refer to a reputable source for detailed grow information.
What are the primary terpenes found in the Do Si Do strain?
The Do Si Do strain has a dominant terpene called Limonene, which gives it a fruity and floral scent and flavor. It also contains other terpenes such as Myrcene and Caryophyllene.
What are the medicinal benefits of the Do Si Do strain?
The Do Si Do strain offers multiple therapeutic benefits due to the presence of certain medicinal compounds. It can help with relaxation, sleep, and has the potential to provide relief from conditions such as insomnia, depression, and nausea.
Where can I find the Do Si Do strain?
Those interested in trying the Do Si Do strain can visit a store on the Las Vegas strip or order online from licensed dispensaries. Thrive Cannabis Marketplace is a recommended destination as they offer a wide range of cannabis products and accessories.
Is the Do Si Do strain available in non-feminized seed form?
Yes, the Do Si Do strain is available in regular, non-feminized seed form. It can be obtained from seed banks or licensed growers who specialize in breeding and cultivating this strain.