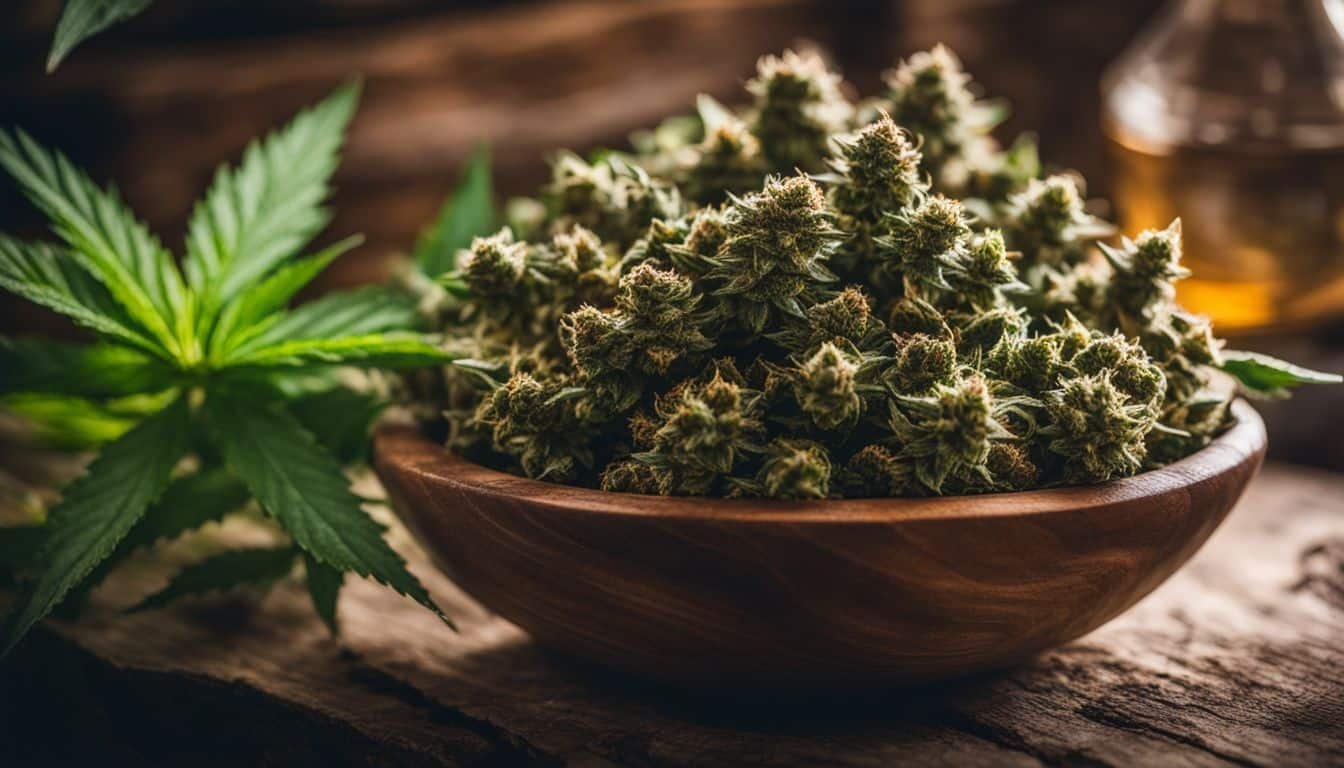 Searching for a cannabis strain that's all about relaxation and euphoria? Enter the Dolato, an indica-dominant hybrid known for its potent effects. In this blog post, we'll dive deep into everything you need to know about this unique strain – from its genetics, THC content to cultivation tips.
Read on and discover why the Dolato may just be your new favorite!
Key Takeaways
Dolato is an indica – dominant hybrid strain known for its relaxing and euphoric effects.
It has a high THC content, ranging from 20% to 29%, making it potent and suitable for experienced users.
The strain offers a unique aroma with fruity, earthy scents and has a sweet and musky taste with hints of spice.
Dolato provides relaxation for the body and mind without heavy sedation or sleepiness, making it great for managing anxiety and relieving pain.
Dolato Strain Information
The Dolato strain is an indica-dominant hybrid marijuana strain known for its relaxing and euphoric effects.
Lineage and genetics
Dolato is a potent indica marijuana strain, intricately born from a unique crossing of Do-Si-Dos with Gelato #41. In the world of cannabis, lineage strongly influences plant characteristics, potency and flavor profiles.
The NorCal cut of Do-Si-Dos in Dolato's lineage brings vibrant lime green coloration and potent effects while the Gelato #41 contribution imparts sweet cookie-like notes to its aroma.
This clever combination has resulted in Dolato standing firm among popular strains on account of its high THC content and unique genetics. It boasts a complex profile that not only promises an enjoyable user experience but also intriguing cultivation challenges for growers invested in breeding fine cannabis hybrids.
THC content
The Dolato strain stands out for its impressive THC content. Usually, this cannabis strain bears a THC concentration between 20% and up to a staggering 29%. This high THC level gives it a potent psychoactive effect that users often seek in their marijuana strains.
The resinous buds of the Dolato strain are densely coated with trichomes, contributing immensely to its high cannabis potency.
Without any doubt, the potent nature of Dolato makes it attractive for experienced users who enjoy intense effects. But be careful! This strong THC concentration range can prove overwhelming for beginners or occasional smokers.
The psychoactive effects of the Dolato strain are primarily attributed to these remarkably high THC levels. It's no surprise then why both recreational and medicinal consumers praise this variety so much.
Aroma and taste
Dolato strain greets your senses with a unique blend of fruity, earthy scents. The strains' aromatic profile is sweet and musky with spicy undertones, appealing to those who appreciate complexities in their cannabis experience.
Its dominant terpene is terpineol which contributes to Dolato's unusual lavender flavor lending it an overall sweetness.
On the tongue, Dolato bursts forth with a delightful fusion of tastes. An enticing combination of berry pine flavors meets you at first inhale, followed by subtle notes of lilac as you savor each puff.
A light hint of spice remains after exhale, rounding up this satisfying palate adventure that Dolato offers its users.
Effects and benefits
Dolato strain is known for its impressive effects and numerous benefits. As an indica-dominant strain, Dolato provides a high that brings about a calming sensation, perfect for unwinding after a long day.
Users often describe feeling dazed yet peaceful for several hours after consuming this strain. It offers great relaxation for both the body and mind, allowing users to find comfort and relief from daily stressors without experiencing heavy sedation or sleepiness.
Aside from its recreational effects, Dolato also boasts various medical benefits. Its ability to induce relaxation makes it suitable for managing anxiety and promoting overall well-being.
Many individuals turn to Dolato as a natural remedy to alleviate chronic pain or migraines due to its potent soothing properties.
Another advantage of Dolato is that it's relatively easy to grow, making it an excellent choice for both experienced cultivators and beginners alike. With its manageable growth requirements, such as proper lighting and regular watering schedule, anyone can successfully cultivate this strain at home.
Side effects
Consuming Dolato strain may have some side effects that you should be aware of. Some users report experiencing dry mouth and dry eyes after using this strain. In addition, excessive consumption can lead to feelings of dizziness, anxiety, jitteriness, or even paranoia.
It's important to keep these potential side effects in mind when using Dolato strain and to consume it responsibly.
Comparison: Dolato Strain vs Black Cherry Gelato Strain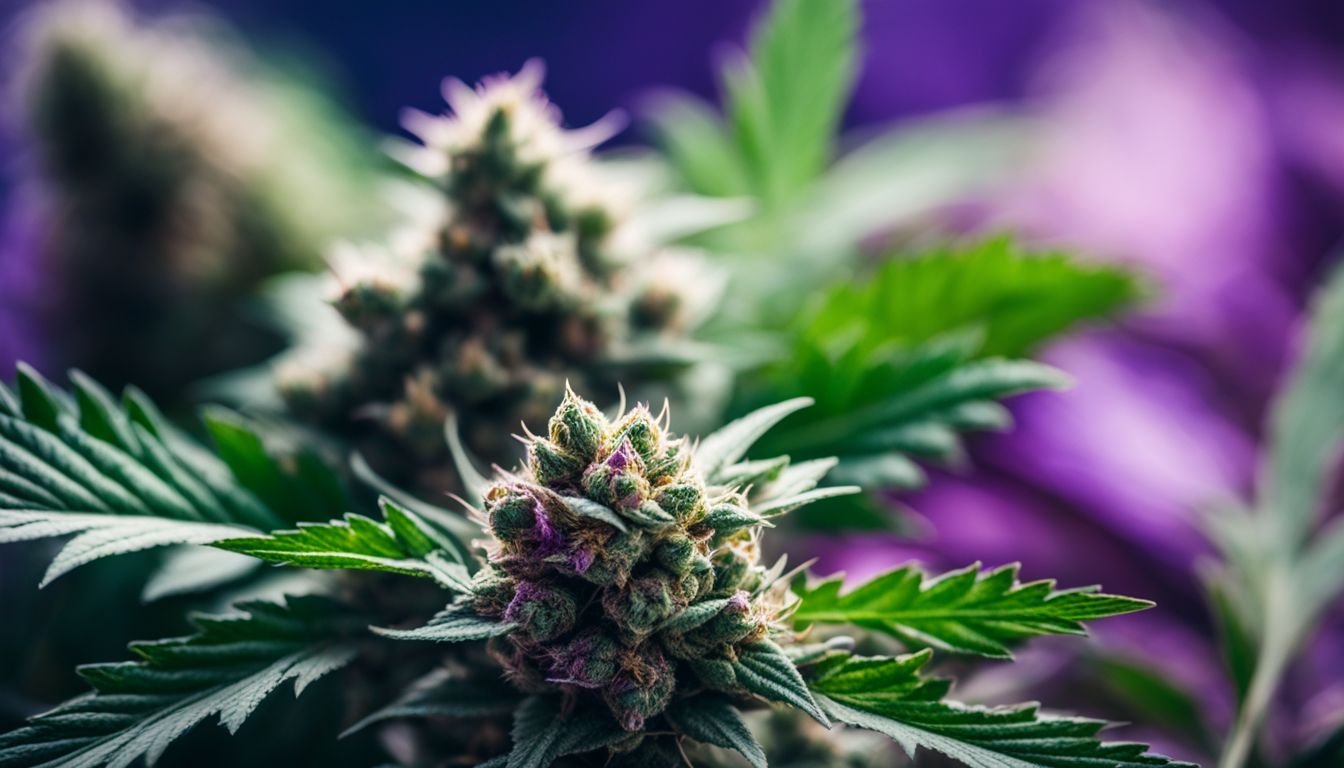 When it comes to comparing cannabis strains, several factors come into play such as the strain's genetics, THC content, appearance, and terpene profile. Let's take a look at how Dolato compares to Black Cherry Gelato in these areas.
| Comparison Aspect | Dolato | Black Cherry Gelato |
| --- | --- | --- |
| Strain Type | Indica dominant hybrid strain | Slightly indica dominant hybrid strain (60% indica genetics) |
| Genetics | Cross between Gelato #41 and an infamous strain | Cross between Acai and Black Cherry Funk |
| THC Content | Ranges from 21% to 23% | Not mentioned |
| CBG Levels | Up to 2.05% | Not mentioned |
| Appearance | Frosty appearance with tints of green, white, and purple | Not mentioned |
| Dominant Terpene | Limonene, which gives it fruity flavors | Not mentioned |
| Effects | Not mentioned | Known to be calming |
As you can see, both strains have their unique characteristics. Your choice will depend on what you're looking for in a cannabis strain. Whether it's the fruity flavors of Dolato or the calming effects of Black Cherry Gelato, there's a strain out there for everyone.
Dolato Strain Reviews
Read user reviews and experiences to get insights into the popular opinions surrounding Dolato Strain, including its effects, aroma, and potency.
User reviews and experiences
Users have reported positive experiences with the Dolato strain, praising its relaxing effects and smooth hitting experience. Here are some notable user reviews and experiences:
Many users have found that the Dolato strain provides a calming and peaceful euphoria, perfect for unwinding after a long day.
The smoothness of the hits is often highlighted by users, making it an enjoyable strain to smoke.
Users have also mentioned that the Dolato strain delivers a light buzz, allowing for a functional high without feeling overwhelmed.
Some users have reported that they feel uplifted and happy after consuming this strain, making it a great choice for boosting mood.
Many people find the aroma and taste of Dolato to be pleasant, describing it as sweet with hints of earthiness.
Users appreciate that even though Dolato is an indica-dominant hybrid, it doesn't leave them feeling too sedated or couch-locked.
People who suffer from anxiety or stress have found relief in using the Dolato strain due to its relaxing effects.
Another benefit mentioned by users is that the Dolato strain can help alleviate pain and promote better sleep quality.
Overall, user reviews indicate that the Dolato strain is well – loved for its balanced effects and enjoyable smoking experience.
It's important to note that individual experiences may vary, so it's always recommended to start with a low dosage when trying out a new strain.
Popular opinions
Many cannabis enthusiasts have shared their thoughts on the Dolato strain. Here are some popular opinions:
Users rave about the relaxing effects of Dolato, which can help melt away stress and tension.
Many have reported a euphoric and uplifting experience, making it a great strain for socializing or creative endeavors.
Dolato has been praised for its ability to provide pain relief, with some users finding relief from chronic conditions like arthritis or migraines.
Some reviewers have noted that Dolato's effects can be long – lasting, allowing for prolonged enjoyment.
The visually appealing appearance of Dolato, with its range of vibrant colors, has been a standout feature for many users.
Several users have mentioned that they appreciate the balanced hybrid nature of Dolato, which combines relaxing indica effects with uplifting sativa traits.
Growing Dolato Strain
To successfully grow the Dolato strain, you'll need to provide it with a warm and sunny climate, as well as ample space for it to flourish.
Cultivation information
To successfully cultivate the Dolato strain, there are a few key factors to keep in mind:
Outdoor cultivation: The Dolato strain thrives best in a Mediterranean climate, where it can soak up plenty of sunshine. It has the potential to yield up to 18 ounces per plant when grown outdoors in ideal conditions.
Indoor cultivation: If you prefer indoor growing, Dolato can still be a great choice. It typically takes about eight to nine weeks for the plants to be ready for harvest. When cultivated indoors, you can expect a yield of around 14-16 ounces per square yard.
Indica dominance: Dolato is an indica dominant hybrid strain, with a genetic makeup consisting of approximately 70% indica and 30% sativa. This makes it well-suited for relaxation and stress relief.
Gelato lineage: Dolato is created through crossing Gelato #41 with the NorCal cut of Gelato #41. This combination results in a unique flavor profile and potent effects.
High THC content: One important factor to consider is the high THC content of Dolato, which sits at around 26%. This makes it quite potent, so beginners should approach with caution.
Tips for successful growth
Growing the Dolato strain is a breeze, especially for those with mid-level cultivation experience. Here are some tips to ensure successful growth:
Provide proper growth conditions: Create a favorable environment by maintaining a temperature of 70-80°F (21-27°C) during the day and 50-60°F (10-16°C) at night.
Give them room to thrive: Dolato plants have strong vegetation, so make sure to give them enough space to spread out. Allow at least 18 inches (45 cm) between each plant.
Nutritional requirements: Dolato plants require calcium and magnesium for optimal growth. Use supplements or feed them with organic nutrients rich in these elements.
Watch out for thinning out: As Dolato plants develop, they may become crowded with leaves and branches. Thinning out excess foliage ensures better air circulation and prevents moisture buildup.
Experimentation is key: The forgiving nature of the Dolato strain makes it perfect for trying out different techniques or training methods like topping or low-stress training (LST).
Harvest properly: When grown indoors, Dolato plants typically take around eight to nine weeks to reach harvest time. Keep an eye on the trichomes – when most turn cloudy or milky, it's time to harvest and enjoy your reward.
Conclusion and Recommendation
In conclusion, Dolato is a potent indica-dominant hybrid strain that offers a relaxing high and euphoria. With its pungent aroma and funky essence, it provides both cerebral and full-body relaxation effects.
If you're looking for a cannabis strain that can help you unwind and find tranquility, Dolato is definitely worth trying out.
FAQs
1. What is the THC content of Dolato strain?
The THC content of Dolato strain can vary, but it typically ranges from 20% to 25%.
2. How does Dolato strain make you feel?
Dolato strain can produce a relaxed and euphoric effect, often accompanied by feelings of happiness and upliftment.
3. Does Dolato strain have any medical benefits?
Yes, Dolato strain is known for its potential medical benefits, including pain relief, stress reduction, and aiding in sleep.
4. Are there any side effects associated with using Dolato strain?
Common side effects of using Dolato strain may include dry mouth, dry eyes, dizziness, or heightened anxiety for some individuals.