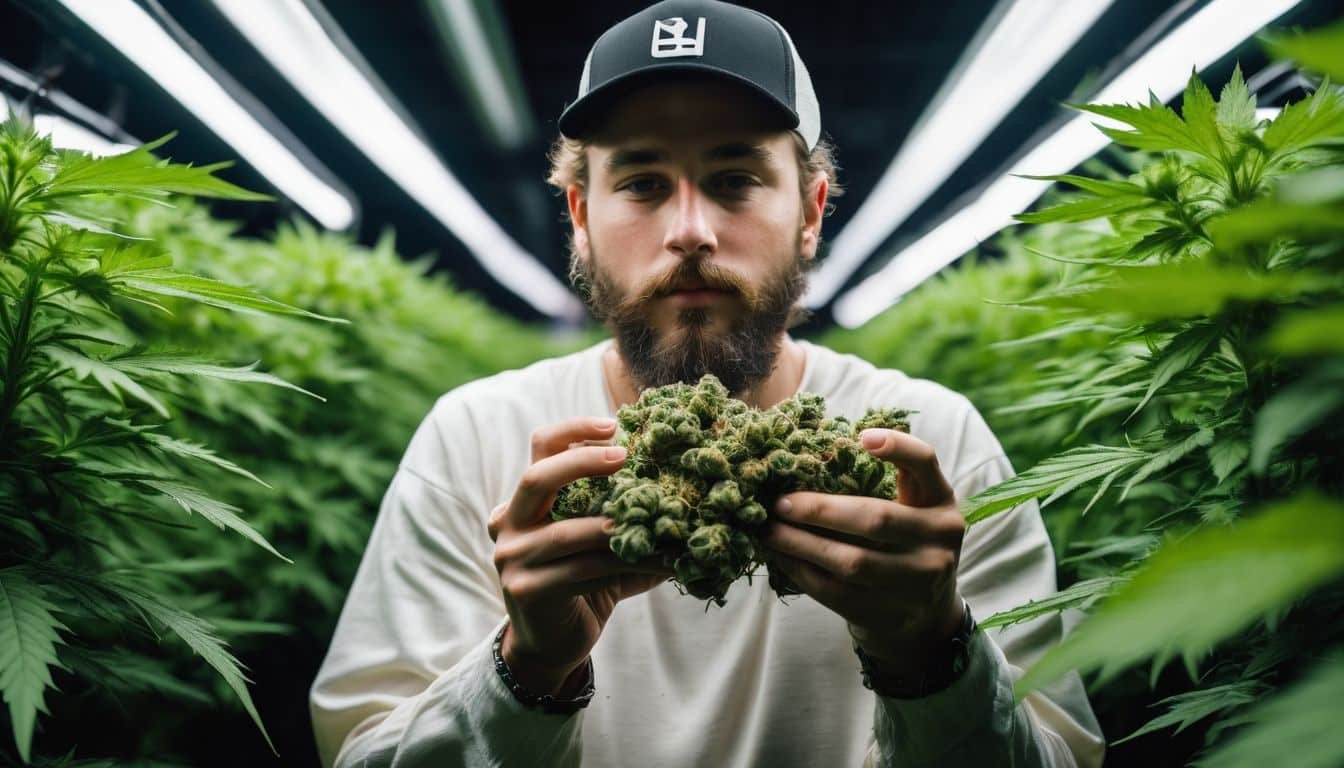 Are you interested in finding out more about the Ghost Train Haze strain, but unsure where to begin? Recognized as a potent sativa-dominant hybrid, this strain packs a powerful punch with THC levels around 25%.
Our detailed review will provide you with everything from its genetics and unique flavor profile to cultivation tips and user experiences. Let's dive into the world of Ghost Train Haze!
Key Takeaways
Ghost Train Haze is a potent sativa – dominant hybrid strain with THC levels around 25%.
It has dense buds, a unique flavor profile with citrus and spice undertones, and an invigorating aroma.
The strain delivers uplifting effects, enhances focus and creativity, but heavy smoking can cause occasional paranoia or anxiety.
Growing Ghost Train Haze is relatively straightforward, suitable for both indoor and outdoor cultivation.
About Ghost Train Haze Strain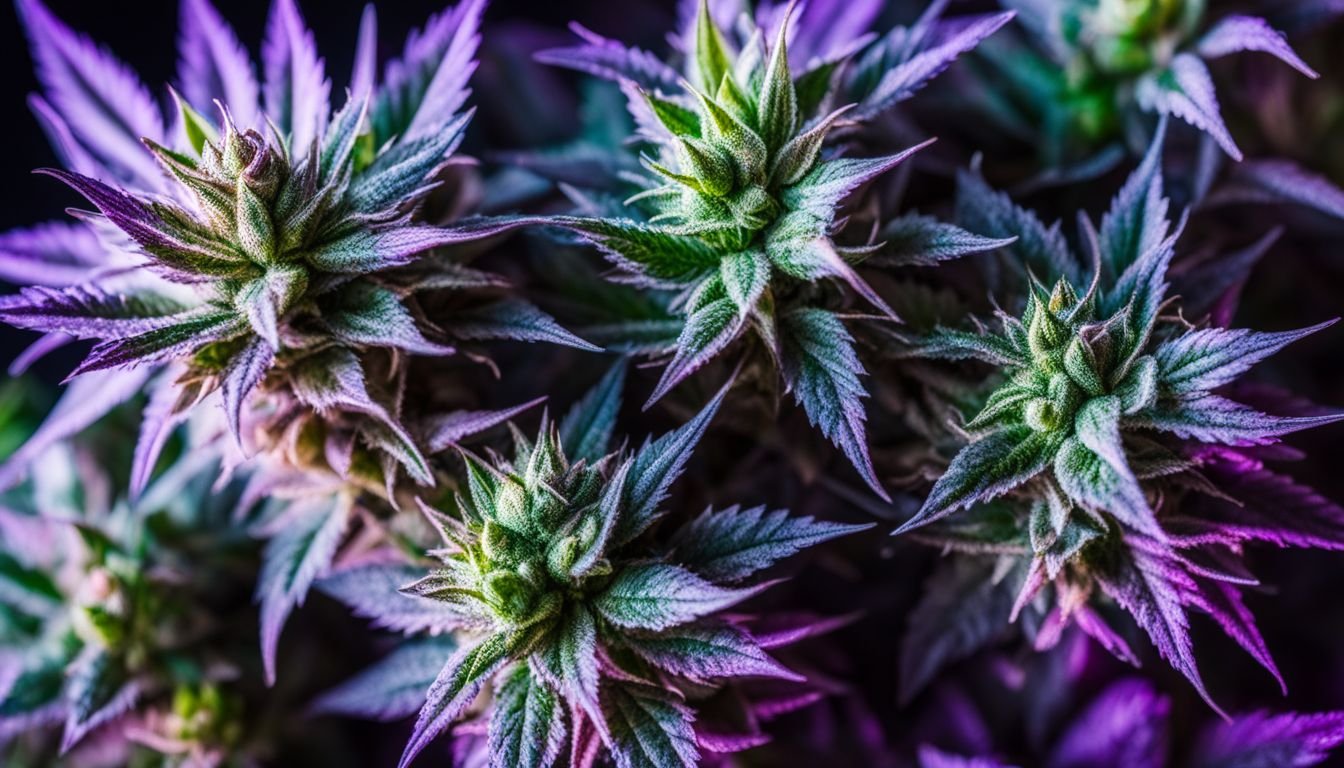 The Ghost Train Haze strain is a sativa-dominant marijuana strain known for its dense buds and strong cerebral high.
Genetics
Ghost Train Haze carries a unique blend of genetics that sets it apart in the cannabis world. This hybrid strain is a product of meticulous crossbreeding involving Ghost OG and Neville's Wreck.
The result is an exceptional sativa-dominant hybrid that boasts an impressive 80% sativa and 20% indica genetic makeup. Elements from widely celebrated strains such as OG Kush, Trainwreck, Nevil's Haze, and Ghost OG are integrated into its DNA.
Colorado-based cultivator Rare Dankness took credit for developing this distinctive blend by producing the first batch of Ghost Train Haze seeds. These expertly selected genetics contribute to the distinct properties that make this strain highly sought after among cannabis enthusiasts today.
Appearance, Aroma & Flavor
Ghost Train Haze Strain scores high on both aesthetics and sensory appeal. The dense nugs are a sight to behold, lavishly adorned with crystalline trichomes that promise quality and potency.
As you break open the buds, an invigorating aroma fills your nostrils –a unique blend of sour citrus and floral fragrance indicative of its rich terpene profile. But there's more to this marijuana strain than just looks and smell; it also delights the palate with an intriguing combination of flavors.
On inhalation, the ghost train haze offers a smooth smoking experience with lemony freshness interlaced with unexpected spice undertones giving it an OG flavor profile that leaves a lingering pleasant taste long after your last puff.
High THC content is another standout feature setting Ghost Train Haze apart from others in its league, ensuring users get their money's worth for every ounce purchased.
THC Content
Ghost Train Haze is renowned for its incredibly elevated THC levels. On the higher end of potency, this strain's intense cerebral effects stem from a potent psychoactive compound, THC, which can reach up to 27%.
This heavy THC content yields powerful mind-altering properties and euphoric sensations that denote high-grade quality. The high concentration emphasizes the strain's strong psychoactive effects accentuating its popularity among cannabis cultivators and connoisseurs.
Ghost Train Haze isn't just packed with flavor; it bears a significant punch in terms of THC too!
Effects
Ghost Train Haze strain is well-known for its potent effects and psychedelic feel. It can induce a sense of euphoria, creativity, and happiness. However, it's important to note that heavy smoking of this strain can also trigger instant psychedelic effects, which may cause occasional paranoia or anxiety.
Despite these potential side effects, Ghost Train Haze is often chosen by patients suffering from depression, stress, chronic pain, fatigue, and lack of focus as it can provide relief from these symptoms.
It's worth mentioning that the high THC content in this strain contributes to its strong psychoactive properties. With Ghost Train Haze comes the risk of experiencing dry eyes and cottonmouth as common physical side effects after consumption.
Detailed Review of Ghost Train Haze Strain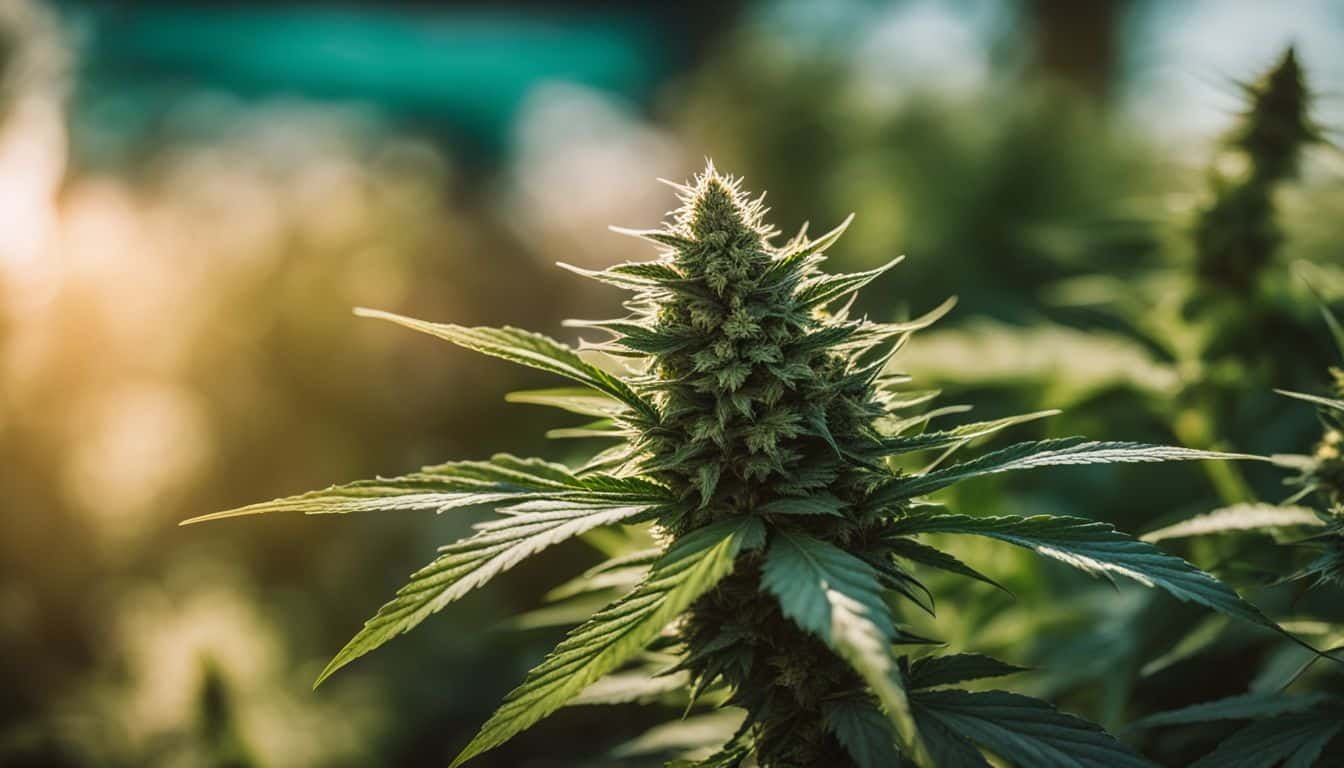 Ghost Train Haze is a sativa strain that has gained popularity among cannabis enthusiasts for its distinctive characteristics and potent effects. Bred by Rare Dankness, this unique strain is a cross between Ghost OG and Neville's Wreck.
One notable aspect of Ghost Train Haze is its dense buds, which set it apart from other sativas.
When it comes to taste, Ghost Train Haze offers a delightful experience for the palate. It has a citrusy flavor with hints of floral notes, creating an invigorating and awakening sensation in every inhale.
But what truly sets Ghost Train Haze apart are its effects. Known for its potency, this strain delivers uplifting and cerebral effects that can leave you feeling euphoric and energized.
It's perfect for those looking for a powerful high that enhances creativity and focus.
Additionally, Ghost Train Haze boasts a strong aroma characterized by sour citrus combined with pine scents. This pungent fragrance adds to the overall experience when enjoying this strain.
Overall, if you're seeking an exceptional sativa strain with dense buds, an exciting taste profile, and potent effects that uplift your mood and enhance your focus, then consider giving Ghost Train Haze a try.
Growing Ghost Train Haze
Growing Ghost Train Haze is relatively straightforward, making it a popular choice for both experienced and novice cultivators.
Growing information
To successfully grow Ghost Train Haze, consider the following:
Ghost Train Haze is a sativa-dominant hybrid strain that can reach heights of 30-78 inches.
The flowering period for Ghost Train Haze typically lasts 10 – 12 weeks.
When growing indoors, you can expect a yield of 1 – 3 ounces per plant.
Outdoor cultivation yields an average of 14 ounces per plant.
Ghost Train Haze thrives in hot and dry conditions with minimal climate changes.
This strain is resistant to various diseases, making it suitable for beginner growers.
Yield and flowering time
Ghost Train Haze offers quite a decent yield and has a predictable flowering time. This information is critical for anybody interested in undertaking cannabis cultivation. Here are the key details:
| Flowering Time | Yield |
| --- | --- |
| The flowering time for Ghost Train Haze is around 8-9 weeks. Sometimes it can range from 9 to 11 weeks. Specifically, Ghost Train Haze #1 has a flowering period of approximately 65-80 days. | When it comes to yield, Ghost Train Haze does not disappoint. It can produce between 1-3 ounces of marijuana. This of course depends on the growing conditions and care given. |
Ghost Train Haze is appreciated for its high THC content and dense buds. As a grower, you should also anticipate that this strain can reach a height between 30 inches and 78 inches during its growth period.
Recommended growing techniques
To successfully grow Ghost Train Haze, follow these recommended techniques:
Provide enough space for your plants to grow tall, as Ghost Train Haze can reach heights of up to 78 inches.
Ensure a flowering time of around 12 weeks for optimal bud development.
Consider growing Ghost Train Haze both indoors and outdoors, as it is suitable for both environments.
Expect an average yield and flowering time for this strain.
Don't worry about the difficulty level, as growing Ghost Train Haze is not particularly challenging.
Create ideal climate conditions by providing a hot and dry environment with minimal fluctuations.
User Reviews of Ghost Train Haze
Users have reported experiencing a cerebral high with mental stimulation and a relaxing body high. The strain is praised for its sweet and piney aroma, citrus hints, and lemon flavors.
Some users have also noted a hazy odor and fresh Sativa smell.
Reported effects
Ghost Train Haze strain has been reported to have a range of effects on users. These effects include intense smoking potentially generating a hallucinogenic experience and igniting anxiety. Users have also experienced feelings of euphoria, although dry mouth is a common side effect. Ghost Train Haze has shown promise in alleviating feelings of sadness, anxiety, persistent discomfort, exhaustion, and difficulty concentrating. Heavy use can create a trippy sensation and potentially trigger fear. It induces a state of happiness but may lead to dehydration as a common side effect. Many users have reported that Ghost Train Haze is effective in relieving symptoms of low mood, tension, long-lasting ache, tiredness, and lack of concentration. Excessive consumption can produce a psychedelic vibe and potentially cause unease. It delivers a sense of bliss but may result in dryness of the mouth as a typical side effect. Ghost Train Haze is also believed to be beneficial in alleviating depressive feelings, stress, chronic discomfort, weariness, and lack of attention. Heavy smoking can induce a hallucinatory experience and potentially trigger paranoia.
Flavors
When you try Ghost Train Haze, get ready for an intense and exciting taste experience. This strain offers a distinct sharp and sweet pine flavor that lingers on your palate. Alongside the prominent notes of citrus and lemon, you'll also detect hints of herbal goodness. The combination of tangy, earthy, and fresh flavors adds even more depth to this unique strain. Ghost Train Haze delivers a woody undertone that perfectly complements its overall taste profile. Whether you're a fan of piney sweetness or crave something more floral, this strain has something for everyone.
Positive and negative experiences
Every strain of cannabis is unique, and Ghost Train Haze is no exception, with users reporting a range of both positive and negative experiences. The table below outlines the most commonly reported experiences.
| Positive Experiences | Negative Experiences |
| --- | --- |
| Users report feeling happy, uplifted, and euphoric after using Ghost Train Haze. | Due to its high THC content, some users have experienced paranoia and anxiety. |
| Many users have noticed an increase in energy and heightened creativity, making it a popular choice for artistic endeavors. | For some, Ghost Train Haze might be too intense, causing discomfort and restlessness. |
| Ghost Train Haze has been found to provide relief for glaucoma and arthritis, making it a beneficial strain for those with these conditions. | Some users have reported dry mouth and eyes after using Ghost Train Haze. |
| The distinct aroma of Ghost Train Haze, with faint citrus notes, is appreciated by many users. | As Ghost Train Haze is quite potent, inexperienced users may find it overwhelming. |
| Its availability in oil form for dabbing provides an alternative method of consumption with reportedly intense effects. | Ghost Train Haze has a higher chance of causing memory impairment compared to other strains due to its high THC content. |
Remember, the effects of cannabis can vary greatly from person to person, so it's important to start slow and see how the strain affects you personally.
Conclusion
In conclusion, Ghost Train Haze is a sativa-dominant strain with dense buds and a potent THC content of around 25%. Its sweet aroma, combined with hints of citrus and spice, creates an enjoyable smoking experience.
With its energetic effects and mental stimulation, Ghost Train Haze is a popular choice among cannabis enthusiasts seeking a relaxing yet uplifting high. Whether you're looking for medicinal properties or simply want to explore different marijuana strains, Ghost Train Haze is definitely worth trying.
FAQs
1. How potent is Ghost Train Haze?
Ghost Train Haze is known for its high potency, with THC levels ranging from 20-25% on average.
2. What are the effects of smoking Ghost Train Haze?
Smoking Ghost Train Haze can produce strong cerebral effects, including an uplifting and energetic high, increased creativity, and enhanced focus.
3. Is Ghost Train Haze suitable for beginners?
No, Ghost Train Haze is not recommended for beginners due to its high potency and intense effects. It is better suited for experienced cannabis users who can handle its strong characteristics.
4. Does Ghost Train Haze have any medical benefits?
Yes, Ghost Train Haze has been reported to potentially help with conditions such as chronic pain, depression, fatigue, and stress due to its uplifting and mood-enhancing properties.