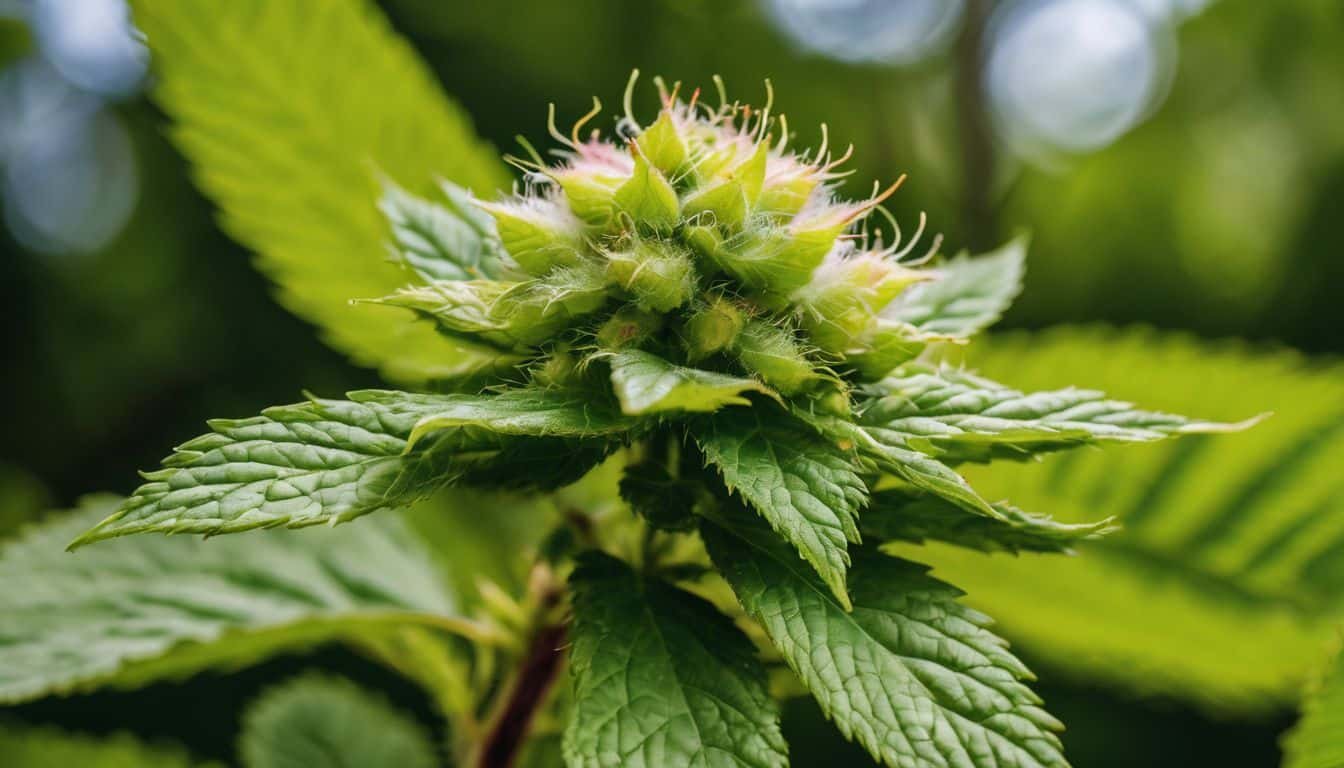 Whether you're a seasoned stoner or newbie to the world of cannabis, finding the right strain is vital. Enter Blackberry Kush, an indica-dominant hybrid packed with 20% THC content for a powerful mind and body high.
In this article, you'll discover everything from its unique genetics and taste profile to its medicinal benefits and how it compares with other strains. Ready to elevate your smoking experience? Stay tuned!
Key Takeaways
Blackberry Kush is an indica – dominant hybrid strain with a THC content of around 20%.
It has a unique flavor profile, combining sweet blackberries with earthy and diesel undertones.
Blackberry Kush offers potent effects, including relaxation, euphoria, enhanced creativity, and sleep-inducing properties.
The strain is known for its medicinal benefits in treating anxiety, insomnia, and pain management.
Overview of Blackberry Kush Marijuana Strain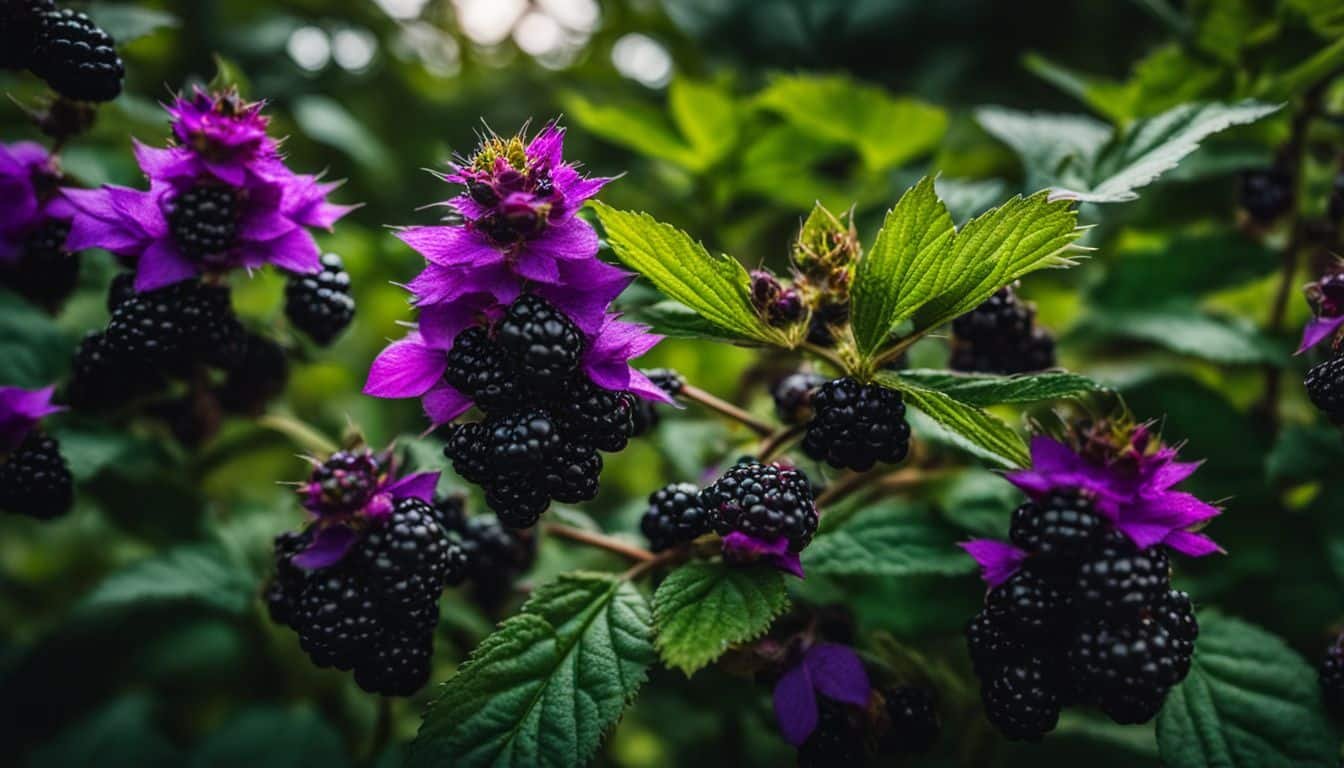 Blackberry Kush is an indica-dominant hybrid marijuana strain that offers a potent and relaxing high thanks to its THC content of around 20%.
History and genetics
Blackberry Kush, predominantly an Indicadominant strain, owes its rich heritage to a somewhat debatable lineage. Many believe that this potent variety is the result of crossing Blackberry with Afghani or Bubba Kush strains.
Despite varying theories about its origins, what remains undisputed is the robust genetic profile that defines Blackberry Kush and contributes to its distinct characteristics. Known by other names such as BBK and Auto Blackberry Kush, this strain attests to the impact genetics have on producing unique and powerful cannabis varieties.
Appearance, aroma, and flavor
Blackberry Kush catches your eye with its stunning green buds boasting hues of purple, yellow, and black. It's an inviting sight that promises an exciting sensory experience. Not only is this strain appealing to look at, but it also delights the senses with a bouquet seeping full of ripe berries.
The sweet aroma engages you right from the first whiff, making it hard to resist a taste test. Once you savor Blackberry Kush, you encounter a robust earthy flavor enriched by sweet blackberries' sugary notes.
A diesel undertone adds depth to the palate, finally leaving behind an earthy aftertaste reminiscent of jam spread on a roasted beet – an intriguing mix indeed! Thus in terms of appearance, aroma and flavor- Blackberry Kush truly stands out as an enthralling spectacle among marijuana strains.
THC content and effects
Blackberry Kush boasts a robust THC content, often ranging from 13% to an impressive 20%. This notable potency contributes significantly to the strain's psychoactive effects. Users typically experience heightened creativity and relaxation, making it a favored choice for winding down or exploring artistic pursuits.
Sleep-inducing properties also distinguish Blackberry Kush as a potent strain, particularly beneficial for individuals seeking this specific effect. In some cases, growers have even reported THC levels reaching up to 35%, further reinforcing the strength and impact of this unique marijuana strain on its users.
Growing information
Blackberry Kush is a popular strain among cannabis cultivators. If you are interested in growing it yourself, here is some useful information:
Blackberry Kush is an indica – dominant strain, meaning it tends to be shorter and bushier compared to sativa strains.
This strain thrives in both indoor and outdoor environments, but it requires proper ventilation and temperature control.
When grown indoors, Blackberry Kush flowers within 7 – 8 weeks and yields about 14 ounces per square meter.
For outdoor cultivation, this strain prefers a warm and sunny climate, with harvest taking place around late September to early October.
It is important to monitor the humidity levels during the flowering stage, as high humidity can lead to mold formation on its dense buds.
Regular pruning and training techniques can help maintain the plant's shape and increase overall yield.
Blackberry Kush Strain Review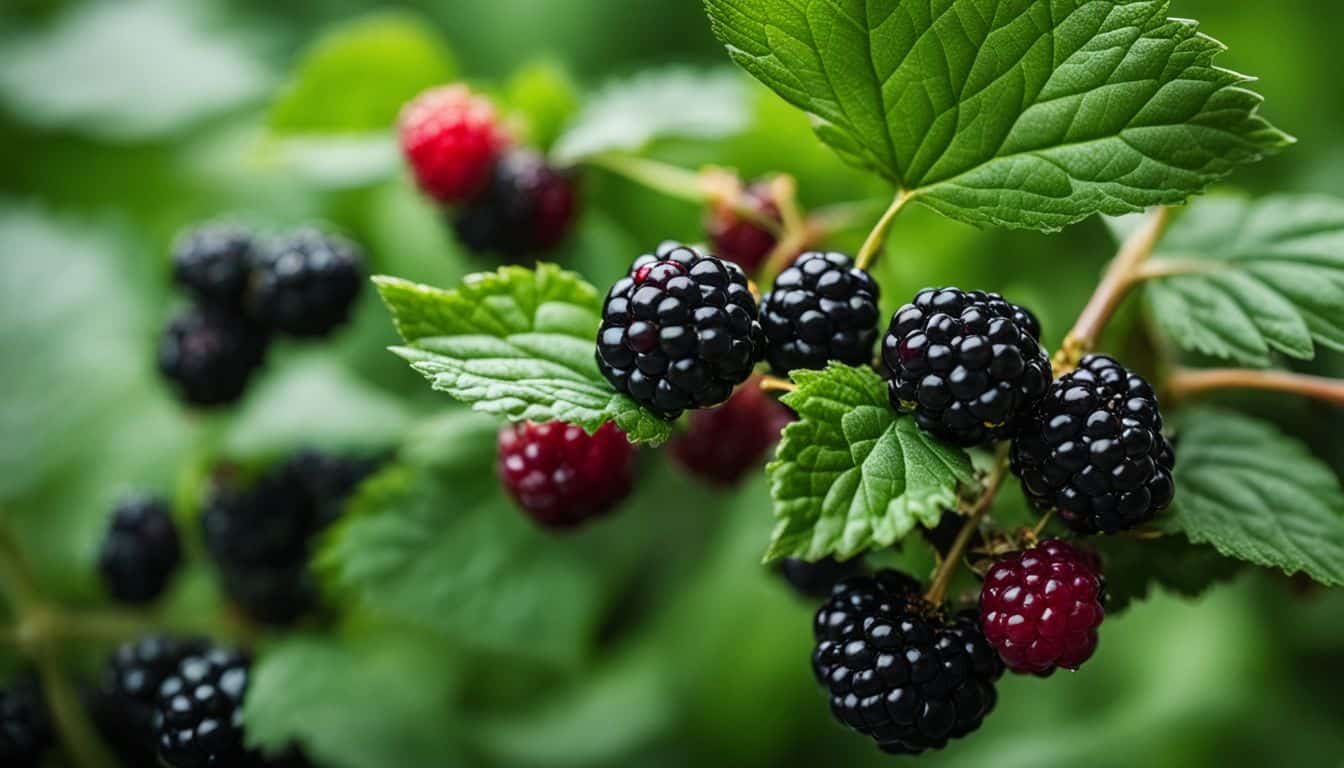 Discover the potency, effects, and medicinal benefits of Blackberry Kush, along with its price and availability.
Potency and effects experienced by users
Blackberry Kush is known for its potent effects, with a THC content of 20%. This strain delivers a powerful punch, offering an intense and long-lasting high. Users often describe feeling intensely relaxed and euphoric, with some reporting enhanced creativity and sensory perception.
However, it's important to note that Blackberry Kush may not be suitable for everyone. Some users have reported common side effects like cottonmouth and dry eyes, while others have experienced dizziness and headaches.
Occasionally, individuals may also feel a slight sense of anxiety after using this strain. If you're seeking robust potency and unique effects, Blackberry Kush might just be the perfect choice for you.
Medicinal benefits
Blackberry Kush is highly regarded among medical marijuana users for its powerful medicinal benefits. This strain is particularly helpful for individuals who struggle with anxiety, insomnia, and pain management.
Thanks to its potent properties, Blackberry Kush is known to provide relief from anxiety, reduce insomnia symptoms, and act as a strong pain reliever. Many users have reported positive effects and therapeutic benefits after consuming this strain.
Its effectiveness in treating these conditions makes it a popular choice among those seeking natural remedies for their ailments.
Price and availability
The average price for Blackberry Kush strain is $12-$16 per gram, making it an affordable option for cannabis enthusiasts. This strain is widely available in dispensaries, such as The Broccoli Barrel, where you can find a range of options to suit your preferences.
Whether you're looking for the flower itself or terpene profiles, you'll have no trouble finding Blackberry Kush on the market. It's especially popular among Colorado tokers who appreciate its unique qualities and medicinal benefits.
So if you're interested in trying out this flavorful marijuana strain, rest assured that it won't break the bank and is easily accessible at your local dispensary.
Terpene profile
The terpene profile of Blackberry Kush is characterized by the presence of pinene, myrcene, and caryophyllene. These aromatic compounds contribute to its distinct taste and aroma, delivering a sweet and sour flavor with fruity scents.
The terpenes found in Blackberry Kush, such as those extracted by Cali Terpenes, are used to enhance the cannabis fragrance and provide unique aromas and flavors. This strain's terpene composition is influenced by its genetics, which combines Blackberry and Afghani strains.
Comparisons with other Strains
Blackberry Kush is often compared to King Louis, another popular strain known for its potency and relaxation effects.
King Louis Strain Review
First up in our strain review series is the renowned King Louis XIII. Known for its potent effects and efficient cultivation process, this indica-dominant hybrid has been a fan favorite among cannabis enthusiasts. Let's dive into the details.
| Strain | Genetics | THC Content | Cultivation | Potency | Effects |
| --- | --- | --- | --- | --- | --- |
| King Louis XIII | A cross between OG Kush and LA Confidential | High; often exceeds 20% | Suitable for both indoor and outdoor cultivation; notable for mildew and mold resistance | Strong in terms of potency | Indica-dominant effects; known for creating a relaxing vibe |
The King Louis XIII strain stands out for its reliable cultivation process and high THC levels. Whether you're cultivating cannabis indoors or outdoors, this strain is known for its resistance to mold and mildew, making it a preferred choice among growers. Importantly, it's also a potent strain, often registering a THC level that surpasses the 20% mark, a factor that has earned it a spot in the hearts of cannabis users seeking strong effects. As an indica-dominant hybrid, King Louis XIII is celebrated for its relaxing effects, perfect for unwinding after a long day.
Pairings and Recommendations
Pair Blackberry Kush with fruity desserts or snacks to enhance its sweet berry flavor. Enjoy this strain while relaxing outdoors or engaging in creative activities like painting or writing.
Taste and smell characteristics
Blackberry Kush strain is known for its delightful taste and smell characteristics. When it comes to flavor, this strain offers a unique combination of sweet berries and fuel, creating a truly enjoyable experience.
Its aroma carries hints of sweetness and kushiness, making it even more appealing to cannabis enthusiasts. The robust, earthy, and diesel flavor coupled with the sweet blackberry taste make Blackberry Kush a favorite among users looking for an extraordinary sensory experience.
Complementary activities or foods
Blackberry Kush strain pairs well with a variety of complementary activities or foods. Here are some tasty combinations to enhance your experience:
Grilled chicken and vegetable skewers: The fruity and earthy undertones of Blackberry Kush perfectly complement the smoky flavors of grilled chicken and veggies.
Jerk seasoning: Add a kick of spice to your meal with jerk seasoning. This bold flavor profile harmonizes with the sweet and fruity notes of this strain.
Veggie kebabs: For a vegetarian option, opt for veggie kebabs. The combination of fresh vegetables and Blackberry Kush's taste creates a satisfying and flavorful pairing.
Hangover relief: If you're dealing with a hangover, Blackberry Kush can help alleviate the symptoms while also adding pleasure to your recovery process.
Final Thoughts on Blackberry Kush Strain
Overall, Blackberry Kush is a highly potent and popular indica-dominant hybrid marijuana strain. Its dark violet buds and unique flavor profile make it a favorite among cannabis enthusiasts.
Whether you're looking for relaxation or stress relief, Blackberry Kush delivers a strong body high that leaves users feeling calm and content. With its availability in various forms, including cartridges for vaping, this strain offers flexibility for consumption preferences.
Give Blackberry Kush a try and experience its powerful effects firsthand.
Overall impressions and recommendations
The overall impression of Blackberry Kush is that it is a highly enjoyable and relaxing strain. With its unique taste resembling blackberries and earthy undertones, along with its diesellike aroma, the strain offers a delightful sensory experience.
As an indica-dominant hybrid, Blackberry Kush provides powerful relaxation and is best enjoyed at the end of the day. It induces euphoric feelings and elevates mood, making it a great choice for unwinding after a long day.
Given its high THC concentration of around 20%, this strain should be approached with caution by novice users or those sensitive to THC. Overall, Blackberry Kush is recommended for those seeking deep relaxation and mood elevation.
Conclusion
In conclusion, Blackberry Kush is a highly potent indica-dominant hybrid strain that offers a blissful high and effective relaxation. With its unique flavor and aroma profile, it has become popular among cannabis enthusiasts.
Whether you're looking for stress relief or simply want to unwind after a long day, Blackberry Kush may just be the perfect choice for you.
FAQs
1. What are the effects of Blackberry Kush strain?
Blackberry Kush strain is known for its relaxing and calming effects, often inducing feelings of euphoria, happiness, and sedation.
2. Is Blackberry Kush strain suitable for beginners?
Blackberry Kush strain is typically recommended for experienced users due to its potent indica properties which can be overwhelming for beginners.
3. How does Blackberry Kush strain taste and smell?
Blackberry Kush has a sweet and fruity flavor with hints of berries, while its aroma is earthy with strong berry undertones.
4. What medical conditions can be treated with Blackberry Kush strain?
Blackberry Kush strain is often used to relieve stress, anxiety, pain, insomnia, and muscle spasms. Its sedating properties make it beneficial for relaxation and sleep aid purposes as well.