Are you curious about the world of cannabis strains, but not sure where to start? Enter Green Crack, a potent sativa strain with an addictive flavor and energetic high. This post dives into everything you need to know about this premier marijuana strain: its history, effects, benefits and how it compares to other popular strains.
Stick around if you're ready to elevate your cannabis knowledge!
Key Takeaways
Green Crack is a potent sativa strain known for its energetic and uplifting effects, making it popular among cannabis enthusiasts.
The strain has a high THC content, reaching up to 24%, which contributes to its potency.
Green Crack offers an improved taste and odor with citrusy and earthy undertones, providing a unique sensory experience.
This strain can help improve mood, increase focus and productivity, and provide pain relief.
Overview of Green Crack Strain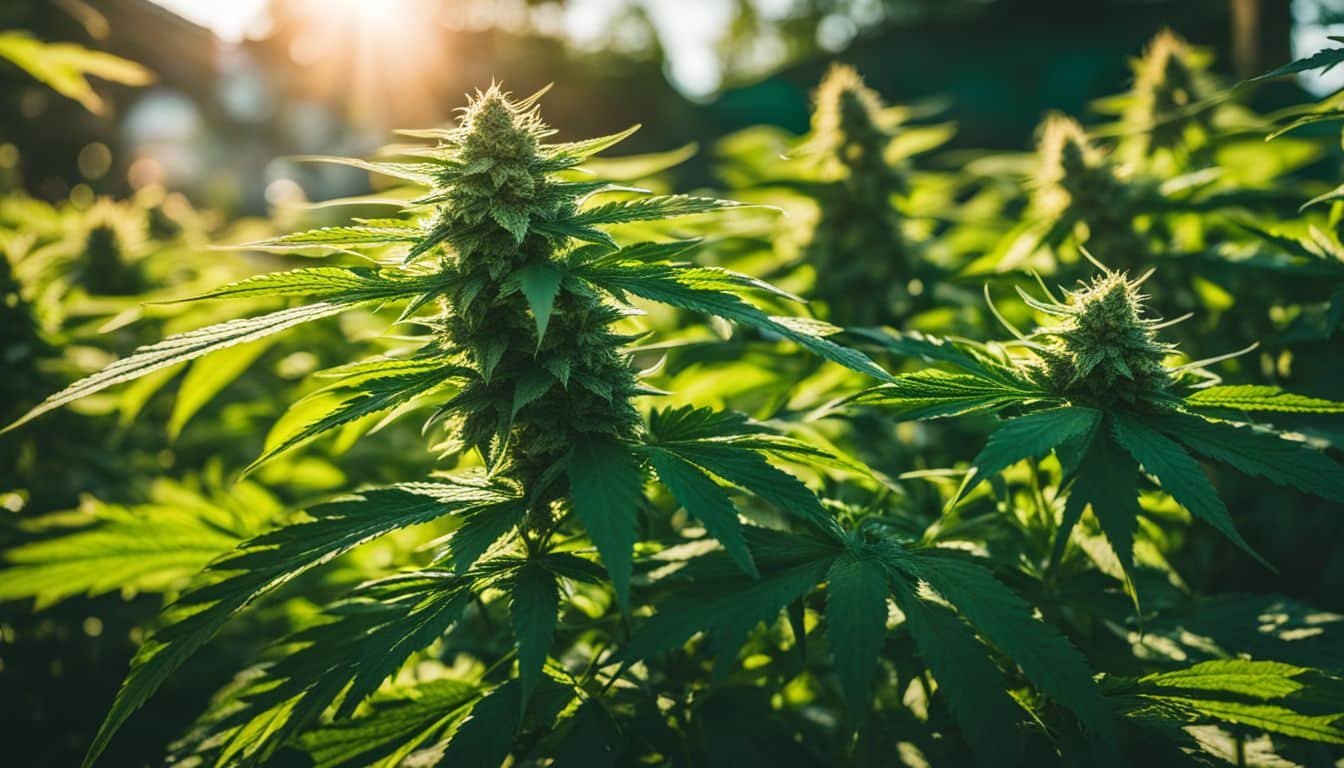 Green Crack strain is a potent sativa marijuana strain known for its uplifting and energizing effects. It is created by crossing Skunk #1 with an unknown indica, resulting in a unique flavor profile and powerful potency.
The strain has a high THC content, reaching up to 24%, making it popular among cannabis enthusiasts.
History & Genetics
Green Crack boasts a strong sativa genetic makeup, making it a hybrid strain loved by many. Although its precise genetics remain unclear, speculation posits that Skunk #1 and an undisclosed Indica strain are the parents of Green Crack.
This uncertainty doesn't detract from its popularity in the cannabis community, especially with celebrities like Snoop Dogg voicing their approval. Characteristic features include dense and small buds showcasing a classic indica structure.
Fascinatingly enough, some know this strain as Green Crush or even Mango Crack – highlighting just how well-known and influential it has become among users over time.
Appearance, Aroma & Flavor
Green Crack Strain catches your eye with its dense, Indicalike appearance. Closely packed buds give a hint of the strain's potency and appeal to the senses. One whiff introduces you to the citrusy scent brilliantly intertwined with earthy undertones, creating an aromatic profile that is both hearty and refreshing.
The fragrance reveals hints of distinct fruitiness and woodsy notes, inviting you into a delightfully unique cannabis experience. Upon tasting this strain, your taste buds meet pungency in full force, accompanied by pleasingly complex flavors weaving together in perfect harmony.
With every puff taken from Green Crack Strain, expect nothing less than an explosion of various sensory delights!
THC Content
Green Crack's THC content boosts its popularity among cannabis enthusiasts. You'll experience potent feelings with this strain, thanks to the high THC levels that average around 25%.
The potency of Green Crack varies from one grower to another, which means THC concentrations can range from a moderate 13% to a more robust 21%. Due to the lack of CBD content, users should expect a pure and singular influence from the THC.
For vaping fans interested in experiencing this strain differently, Delta 8 THC cartridges are available as well. Regardless of delivery method, expect an active and vivid sensation due to Green Crack's substantial THC potency range.
Effects
Green Crack strain is known for its potent effects that can leave you feeling energized and uplifted. When you consume Green Crack, you can expect a strong cerebral buzz that centers around your temples, providing a stimulating and invigorating experience.
This strain also offers a pleasant body high, which can help with pain management and anxiety relief. However, keep in mind that dry mouth is a common side effect of using Green Crack.
The high it provides is powerful but balanced, without inducing extreme or manic effects.
Benefits of Using the Green Crack Strain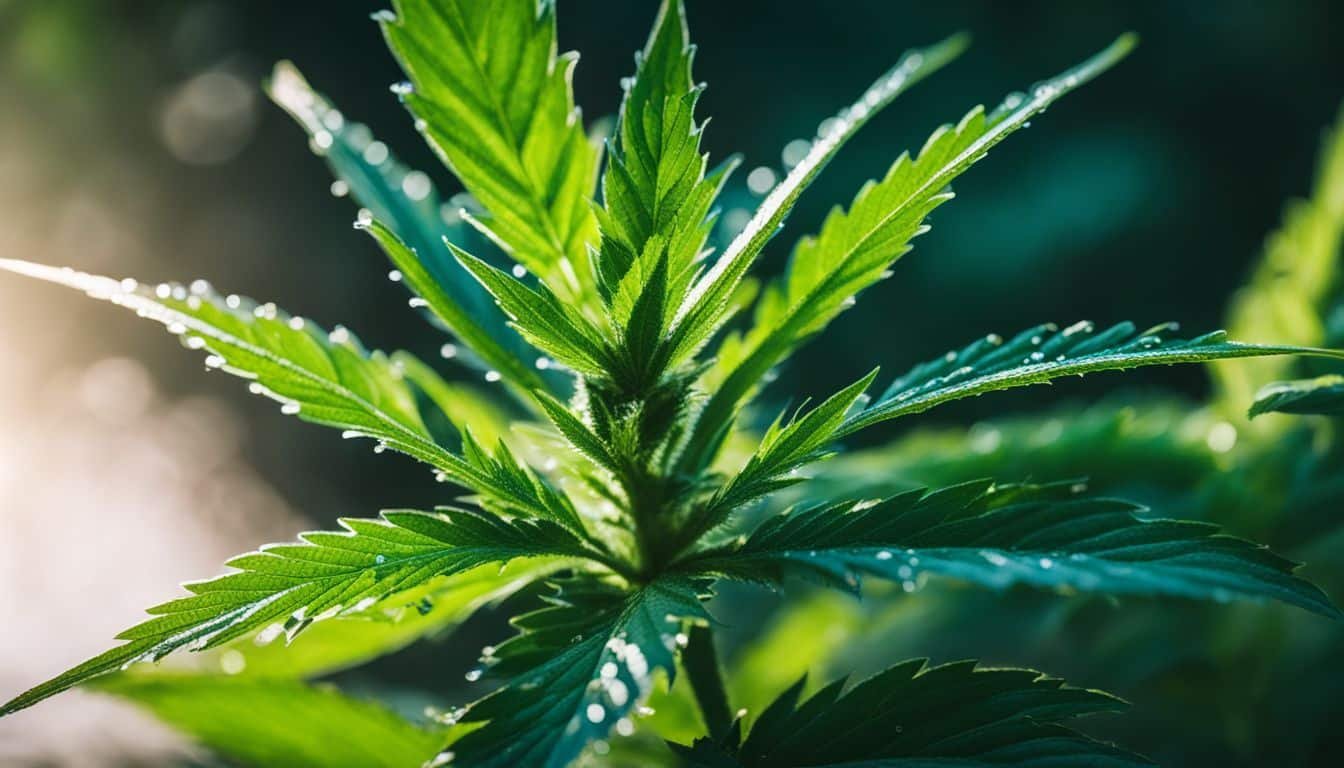 Experience an improved taste and odor, uplifting and energizing effects, and reduced maintenance with the Green Crack Strain. Read on to discover how this potent Sativa-dominant hybrid can enhance your cannabis experience.
Improved taste and odor
The Green Crack strain offers an improved taste and odor that cannabis enthusiasts appreciate. When properly cured, this strain releases a bright citrus scent with mellow earthy undertones and hints of wood.
The smoke from Green Crack is smooth and leaves a tang at the top, indicating its enhanced taste. Its unique flavor profile sets it apart from other strains, making it a favorite among users who value both the effects and the sensory experience.
With fruity and tropical notes like those found in mangoes, Green Crack adds an enjoyable twist to your cannabis consumption.
Uplifting and energizing effects
The Green Crack marijuana strain is well-known for its uplifting and energizing effects. When you use Green Crack, you can expect to experience a boost in energy, sharp focus, increased productivity, and an overall sense of happiness and motivation.
This strain acts as a stimulant, helping to enhance your mood and provide mental clarity. It can also serve as an antidepressant and aid in stress relief. If you're looking for an invigorating high that increases your motivation and creativity, the Green Crack strain might be just what you need.
Reduced maintenance
Using the Green Crack strain for your cannabis cultivation can lead to reduced maintenance. This potent sativa marijuana strain requires less attention in terms of upkeep compared to other strains.
With its energizing effects and motivational properties, you can achieve a high level of productivity without constantly tending to your plants. The easier maintenance allows you to focus on other aspects of cannabis cultivation or simply enjoy the benefits of this smooth-smoking, mango-flavored strain.
Comparison: Green Crack Strain vs White Widow Strain
In the world of cannabis, two strains that often spark interest are Green Crack and White Widow. These strains have unique properties that distinguish them from each other. Let's dig deeper into the differences and similarities between these two popular strains.
| | Green Crack Strain | White Widow Strain |
| --- | --- | --- |
| Genetics | Sativa dominant strain | Hybrid strain |
| Flavor | Citrus, earthy, and sweet | Earthy, woody, and pungent |
| THC Content | 92% | 100% |
| Effects | Known for its head high effects | Preferred by some individuals for its hybrid effects |
Each strain offers its own unique experiences and effects. However, it's essential to remember that individual reactions to different strains can vary widely. Always consume responsibly and consider the potential effects before selecting your strain.
How to Choose the Right Strain for You
To choose the right strain for you, start by determining where it comes from and if it's from a reputable source. Then, make sure to identify any potential contaminants that could be present.
Lastly, consider the filter capacity of the strain to ensure it meets your needs and preferences.
Determine the source
To choose the right strain for your needs, it's important to determine the source of the cannabis. Knowing where it comes from can give you valuable information about its quality and safety.
Look for reputable growers or dispensaries that follow proper cultivation practices and prioritize customer satisfaction. By understanding the source, you can make an informed decision and select a strain that meets your expectations in terms of potency, flavor, and overall experience.
Identify the contaminants
To ensure you choose the right strain for your needs, it's essential to identify any contaminants in the cannabis. Evaluating the quality of the flowers can help determine if they are free from harmful substances.
By understanding the source and considering filter capacity, you can make an informed decision about which strain is best for you. Taking these steps will help guarantee a safe and enjoyable experience with cannabis cultivation and use.
Consider filter capacity
When choosing the right cannabis strain for you, it's important to consider filter capacity. Green Crack, being a potent sativa marijuana strain, has high medicinal properties and a sweet, fruity flavor.
Therefore, you'll want to ensure that your filter can effectively handle the potency and aroma of this strain. Proper filtration will not only enhance your smoking experience but also help remove any unwanted contaminants from the cannabis.
So when selecting your strains, make sure to consider the filter capacity for optimal enjoyment.
Popular Similar Strains
If you're looking to try other strains similar to Green Crack, there are some popular options worth exploring. Dutch Treat, Sour Diesel #2, Critical Jack, Moon Rock, and Bahama Mama are all highly regarded in the cannabis community.
Each one offers its own unique flavor profile and potent effects. Dive into this section to learn more about these exciting alternatives!
Dutch Treat
Dutch Treat is a popular hybrid marijuana strain that combines Northern Lights and Haze. It originated in the Pacific Northwest but has gained popularity in Amsterdam as well. Known for its sativa-dominant effects, Dutch Treat leaves users feeling uplifted and focused.
Many people associate this strain with treating stress and depression. So if you're looking for a cannabis variety that can provide mood elevation and psychological well-being, Dutch Treat could be worth considering for your cultivation or personal use.
Sour Diesel #2
Sour Diesel #2 is a popular strain that is similar to Green Crack. It is actually a variation of the original Sour Diesel strain. One of its distinctive features is its earthy and diesel-like aroma, which can be quite unique and appealing.
Sour Diesel #2 is often used by people to treat stress and depression due to its mood-enhancing effects. Additionally, it has proven to be more effective in managing pain compared to Green Crack.
If you're looking for a strain with an interesting scent and potential therapeutic benefits, Sour Diesel #2 may be worth trying out.
Critical Jack
Critical Jack is a hybrid cannabis strain that is highly regarded for its energizing effects. This well-balanced hybrid is created by crossing Critical Plus and Jack Herer, resulting in a potent and versatile marijuana variety.
With its balanced genetics, Critical Jack offers users both mental clarity and physical relaxation. It's often mentioned alongside other popular strains like Green Crack and Sour Diesel due to their similar uplifting qualities.
If you're looking for stress relief or an extra boost of energy, Critical Jack may be the perfect choice for you.
Moon Rock
Moon Rock is a popular strain among cannabis enthusiasts due to its potent effects. This strong product is created by combining different forms of cannabis, resulting in higher levels of THC compared to regular cannabis products.
In fact, Moon rocks have been known to contain some of the highest THC levels available. Derived from the Girl Scout Cookies strain variation, Moon Rock offers an intense experience for those seeking powerful effects.
It's often sold in 1-gram quantities and may also be referred to as space rocks. So if you're looking for a high-potency option that packs a punch, give Moon Rock a try.
Bahama Mama
Bahama Mama is a highly potent and popular sativa-dominant hybrid strain. This strain is created by crossing Black Bananas with Tropicana Cookies, resulting in a unique and enticing combination of flavors and effects.
Known for its focus enhancement and creativity boost, Bahama Mama is often sought after by both recreational users and medical cannabis patients. It provides a productive and stimulating high that can uplift your mood and keep you energized throughout the day.
If you're looking for a tropicana-flavored strain that delivers powerful effects, Bahama Mama is definitely worth considering.
Conclusion
In conclusion, the Green Crack strain is a popular choice among cannabis enthusiasts. With its potent sativa effects and unique flavor, it offers an uplifting and trippy experience.
Whether you're looking to start your day with a burst of energy or simply want to enjoy the powerful potency of this strain, Green Crack is definitely worth trying.
FAQs
1. What are the effects of Green Crack strain?
Green Crack is known for its energizing and uplifting effects, providing a boost in focus, creativity, and motivation.
2. Is Green Crack strain suitable for beginners?
Green Crack is a potent strain with high THC levels, so it may be too intense for beginners or those sensitive to cannabis. It is recommended to start with lower potency strains.
3. Does the Green Crack strain have any medical benefits?
Yes, the Green Crack strain has been reported to help with conditions such as depression, fatigue, stress, and pain relief due to its stimulating and mood-enhancing properties.
4. How does Green Crack compare to other cannabis strains?
Compared to other strains, Green Crack is often described as having a more energetic and cerebral high rather than inducing relaxation or sedation commonly associated with indica-dominant strains.