Are you curious about the Jungle Cake strain and wondering if it's worth trying? Known for its potent effects, this perfectly balanced hybrid is a real crowd pleaser in the cannabis community.
This blog post will provide an in-depth review of all things Jungle Cake – from its unique flavors to growth information, recreational use, and potential medical benefits. Get ready to dive into the jungle!
Key Takeaways
Jungle Cake is a balanced hybrid strain known for its potent effects and unique flavors.
It has a rich aroma and flavor profile, with hints of sweetness, spice, and fruit.
With THC levels ranging from 22% to 32%, Jungle Cake is one of the strongest marijuana varieties available.
When consuming Jungle Cake, users may experience feelings of inspiration, relaxation, focus, and uplifted mood.
Some potential negatives associated with this strain include dry mouth and eyes, dizziness, anxiety or paranoia, and increased heart rate.
Growing Jungle Cake requires providing ample space for the plants to grow tall and bushy, maintaining proper lighting and humidity levels,
Users have reported positive experiences with Jungle Cake in terms of flavor enjoyment
Experts consider Jungle Cake to be a top – notch cannabis strain due to its potent THC content,
Jungle Cake Strain Information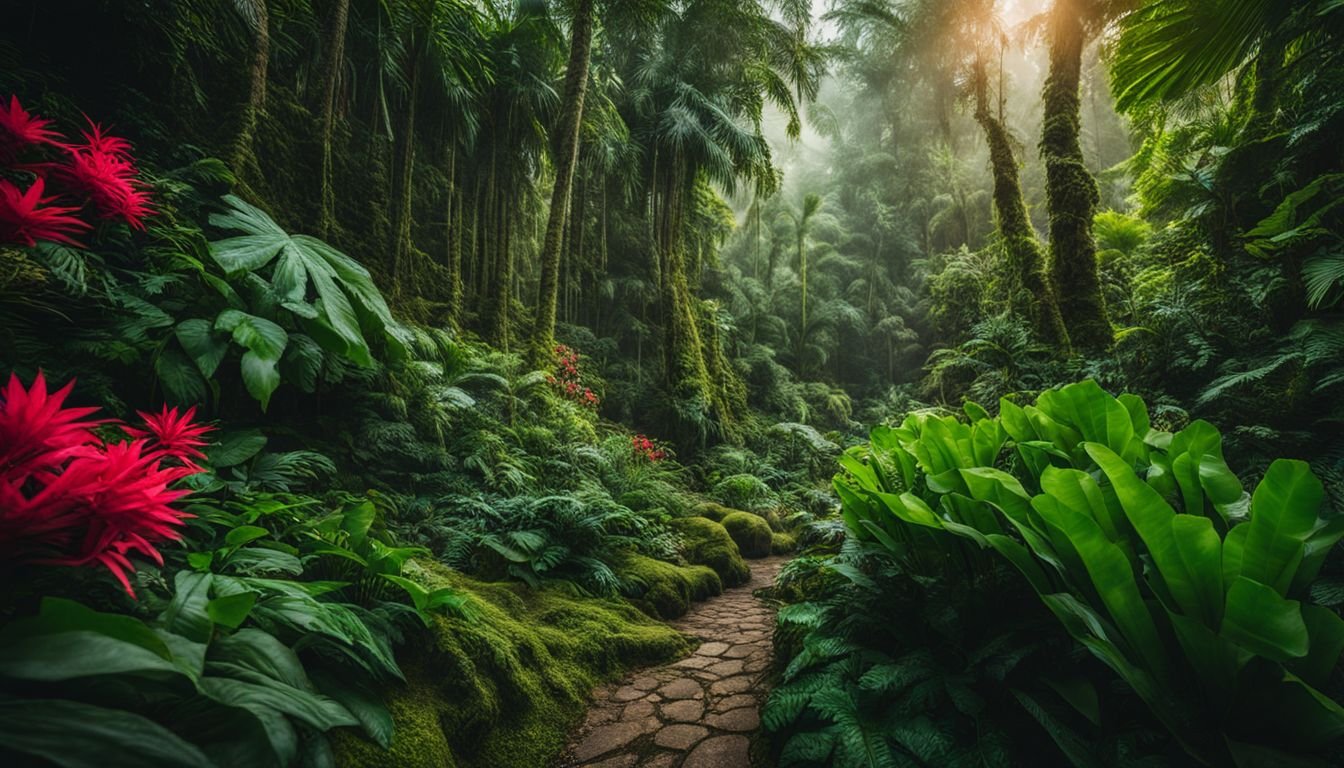 The Jungle Cake strain is a popular hybrid strain that has gained popularity in the cannabis community. It is a balanced strain, evenly combining the effects of both indica and sativa strains.
This unique blend creates a potent yet well-balanced experience for users. In terms of appearance, aroma, and flavor, Jungle Cake offers an earthy aroma with hints of nuts and fruit.
Its flavor profile is rich and includes notes of sweetness and spice. With its roots in Denver, this cultivated strain comes from crossbreeding White Fire #43 (White Fire OG) with Wedding Cake (Cherry Pie).
History & Genetics
The Jungle Cake strain is a gem in the cannabis industry, birthed from a precise process of genetic crossbreeding. This hybrid cannabis strain springs from prestigious parent strains – White Fire #43 and Wedding Cake.
It was carefully bred by Seed Junky Genetics, well-known experts in the field of marijuana cultivation and breeding. These pioneers have worked tirelessly to create one-of-a-kind strains with unique psychoactive effects, like Jungle Cake's impressive THC content of around 30%.
With its intriguing history and exceptional genetics, it's no surprise that Jungle Cake has captured attention within the cannabis community.
Appearance, Aroma, & Flavor
Jungle Cake strain presents an enticing array of flavors, such as vanilla, pepper, and a nutty undertone that you may notice immediately. The earthy, spicy taste is accompanied by the dominant terpene, myrcene, giving it a distinctive character.
Sweet fruity notes with hints of diesel provide additional complexity to this rich palate. It's often compared to marshmallows because of its sweetness and creamy texture. You'll also discover an aroma that's uniquely earthy and nutty but offset by a surprising sweet scent that lingers in your senses.
THC Content
Jungle Cake strain stands out due to its impressively high THC content. With levels ranging from 22% all the way up to a staggering 32%, this potent cannabis strain guarantees an intense high for users.
This concentration makes it one of the strongest marijuana varieties available today, delivering powerful psychoactive effects that even experienced users will find noteworthy. Despite packing such a punch in terms of THC, Jungle Cake's CBD content remains relatively low, adding another intriguing layer to this unique and high potency strain.
Comparative Review: Jungle Cake Strain vs White Widow Strain
Exploring the world of cannabis strains can be complex, but when diving deep into the details, certain strains like the Jungle Cake and White Widow stand out as unique. These two have proven to be incredibly popular and effective, but each brings something special to the table. To understand more, let's look at a comparative review between these two strains:
| Parameter | Jungle Cake | White Widow |
| --- | --- | --- |
| Genetics | Jungle Cake is a hybrid strain created from a genetic cross between White Fire #43 and Wedding Cake. | White Widow, however, is a balanced hybrid between a Brazilian Sativa strain and a South Indian Indica strain. |
| THC Content | Jungle Cake is a heavy hitter with high THC levels that can provide potent and balanced effects. | White Widow also has high THC levels, but tends to produce more cerebral and uplifting effects. |
| Appearance | The Jungle Cake strain offers a rich, visually appealing green bud with a layer of frosty white trichomes. | White Widow is known for its white buds, covered in crystal resin, giving it a bright, sparkly look. |
| Aroma and Flavor | Jungle Cake offers an immensely flavorful and aromatic experience, with notes of sweet berries, marshmallow, and diesel. | White Widow provides a pungent, earthy aroma and a taste that is smooth, smoky, and slightly sweet. |
| Effects | Jungle Cake is often chosen for late-night sessions due to its significant power and calming effects. | White Widow is famously known for its energy-boosting effects and is excellent for daytime use. |
Both strains have their unique characteristics and uses. Depending on your preferences and needs, you might find one strain more appealing than the other. However, both strains have made their mark in the cannabis world due to their potent effects and unique flavors.
Effects of Jungle Cake Strain
The effects of Jungle Cake Strain are balanced and potent, creating a delightful experience that will leave you wanting more.
Feelings
The Jungle Cake strain can evoke a range of positive emotions and sensations. When you consume this strain, you may experience feelings of inspiration, joy, and bliss. It can also induce relaxation and contentment, helping to melt away stress and worries. Additionally, the Jungle Cake strain has been known to enhance focus and uplift mood, leaving you with a sense of peacefulness and serenity.
Negatives
Jungle Cake strain, like any other cannabis strain, may have some adverse side effects. It's important to be aware of these potential drawbacks before using Jungle Cake. Here are some possible negatives associated with this strain:
Dry mouth: Jungle Cake can cause dryness in the mouth, also known as cottonmouth. Make sure to stay hydrated and have a drink nearby while enjoying this strain.
Dry eyes: Similar to dry mouth, Jungle Cake may also cause dry eyes. Using eye drops can help alleviate any discomfort.
Dizziness: Some users have reported feeling dizzy after consuming Jungle Cake. If you experience dizziness, it's best to sit or lie down until it passes.
Anxiety or paranoia: In rare cases, individuals may feel heightened anxiety or paranoia when using Jungle Cake. Start with a low dose and monitor your reactions to ensure a comfortable experience.
Increased heart rate: The THC content in Jungle Cake can cause an increase in heart rate for some people. If you have any underlying heart conditions, it's important to consult with a healthcare professional before using this strain.
Growing Jungle Cake Strain
Discover the best tips and techniques for cultivating the Jungle Cake strain, from overcoming common challenges to ensuring a successful harvest. Read more for expert advice on growing this popular hybrid weed strain.
Growing tips and techniques
To successfully cultivate the Jungle Cake strain, follow these essential growing tips and techniques:
Provide ample space: Jungle Cake plants can grow to be quite tall and bushy, so make sure to give them enough space to thrive. Consider using techniques like topping or pruning to manage their height and promote healthy growth.
Maintain proper lighting: This strain benefits from a balance between natural and artificial light sources. Aim for 18-20 hours of light during the vegetative stage, and reduce it to 12 hours during flowering.
Control humidity levels: Jungle Cake thrives in a moderate humidity range of 40-50%. High humidity can lead to mold growth, so investing in a dehumidifier is recommended if you live in a humid climate.
Monitor temperature: Keep the temperature between 70-80°F (21-27°C) during the day and slightly cooler at night. Avoid drastic temperature fluctuations as they can stress the plants.
Use nutrient-rich soil: Prepare your growing medium by mixing high-quality soil with organic nutrients to provide a balanced nutrition profile for your plants.
Watering schedule: Ensure that you water your Jungle Cake plants evenly and consistently without overwatering or letting them dry out completely. Monitor moisture levels daily and adjust accordingly.
Prune for better airflow: Proper air circulation is essential for preventing pest infestations and diseases. Regularly trim away excess foliage to allow better airflow through the canopy.
Harvest at the right time: Jungle Cake plants have a relatively short flowering period of around 57-67 days on average. Check trichome development under magnification to determine when it's time to harvest for maximum potency.
Common challenges
Common challenges when growing Jungle Cake strain can include managing pests and diseases, ensuring proper nutrient levels, maintaining optimal temperature and humidity, achieving desired yield and potency, implementing effective pruning and training techniques, and preventing infestations through regular monitoring and pest control measures.
Reviews of Jungle Cake Strain
Read about the experiences of users and expert opinions on the Jungle Cake Strain, and discover why it has gained popularity in the cannabis community.
User reviews and experiences
Users have raved about their experiences with the Jungle Cake strain, praising its flavorful and tropical taste. Many have reported feeling relief from inflammation and muscle pain after using this strain.
Additionally, it has been found to stimulate appetite in those who may be struggling to eat. Testimonials from users highlight the refreshing aroma and tropical blend of flavors that make Jungle Cake an enjoyable choice for cannabis enthusiasts.
Overall, users have had positive experiences with this strain, finding it soothing and effective for both physical discomforts and relaxation purposes.
Expert opinions
Experts consider Jungle Cake to be a top-notch cannabis strain, highly regarded for its unique combination of effects and flavors. Many experts praise the strain for its potent THC content, which can range from 23% to 25%.
They also appreciate the balanced hybrid nature of Jungle Cake, providing both uplifting cerebral effects and soothing relaxation. Furthermore, experts admire the strain's sweet and fruity aroma with undertones of spiciness.
Overall, expert opinions suggest that Jungle Cake is a must-try for cannabis enthusiasts looking for a flavorful and impactful experience.
Conclusion
In conclusion, Jungle Cake is a powerful and balanced hybrid strain that offers both relaxing and creative effects. With its high THC content and delicious flavors, it's no wonder this strain has become a favorite among cannabis enthusiasts.
Whether you're looking for relief from stress or simply want to unwind at the end of the day, Jungle Cake is definitely worth a try.
FAQs
1. What is the potency of Jungle Cake strain?
Jungle Cake strain has a high potency with THC levels ranging from 23% to 25%.
2. How does Jungle Cake strain taste and smell?
Jungle Cake strain has a sweet and fruity flavor with hints of vanilla, along with an earthy and pungent aroma.
3. What are the effects of consuming Jungle Cake strain?
Consuming Jungle Cake strain can induce a relaxed and euphoric state, followed by feelings of happiness and creativity. It may also provide relief from stress, anxiety, and pain.
4. Is Jungle Cake strain suitable for beginners?
While experienced users may enjoy the potent effects of Jungle Cake strain, it is not recommended for beginners due to its high THC content which can be overwhelming for those with low tolerance levels.