Are you curious about the world of cannabis strains, particularly the enigmatic White Truffle? A phenotype of Gorilla Butter, this indica-dominant hybrid is all the rage among cannabis enthusiasts.
In this blog post, we'll delve into a comprehensive review of this potent strain – discussing its appearance, aroma, effects on mental and physical wellbeing as well as tips for growing your own White Truffle.
So why wait? Let's dive right in!
Key Takeaways
White Truffle is an indica – dominant hybrid strain with THC levels ranging from 18% to 26%.
It has a visually appealing appearance with frosty white trichomes and violet – splashed buds.
The strain offers a unique aroma and flavor profile, featuring skunky undertones with hints of diesel and apricot.
White Truffle delivers powerful effects on both mental and physical well – being, promoting relaxation, creativity, and stress relief.
Possible adverse effects include dry mouth and dehydration; staying hydrated can minimize these side effects.
In comparison to the White Widow strain, White Truffle has higher THC levels (up to 25%) and is ideal for nighttime use due to its sedative effect.
When growing White Truffle, it yields impressive results both indoors (up to 14 ounces per square foot) and outdoors (around 450 to 500 grams per plant).
The strain has a relatively short flowering time of around 60 – 64 days, making it popular among growers looking for a quick turnaround.
Potential health benefits of White Truffle include relief from stress, anxiety, depression, improved sleep quality, and support for eating disorders.
White Truffle Strain Overview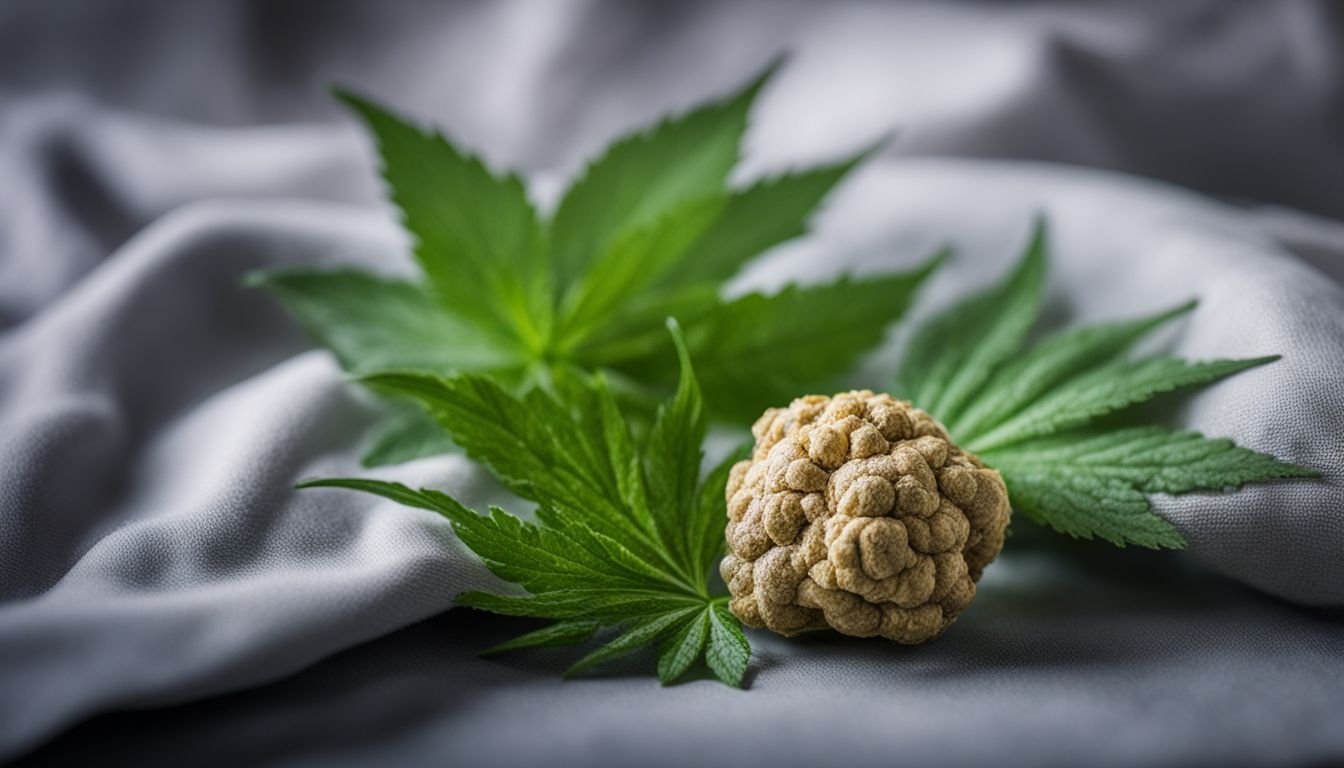 The White Truffle strain is an indica-dominant hybrid marijuana strain with a THC level ranging from 18% to 26%.
Genetics
White Truffle heralds from an impressive lineage, drawing its unique traits through genetic perfection. As a phenotype of Gorilla Butter, it's crossbred between the potent strains 95 dead x Platinum Kush mints and Kush mints #11 x Platinum.
The strain has established itself as an indica-dominant hybrid, boasting a commanding 70/30 ratio and sharing similarities with other carefully bred strains in specific locations. This optimal blend embodies the superior characteristics of Gorilla Glue #4 and Peanut Butter Breath, contributing to White Truffle's distinctive appeal among cannabis connoisseurs.
Physical appearance
The physical appearance of the White Truffle strain is nothing short of alluring. A close look reveals sharp, milk-like trichomes adorning the surface, giving it a unique frosty appearance that's sure to catch your eye.
Its dense buds offer an average density that makes for a satisfying texture in hand.
In keeping with its name, this strain stunningly exhibits thick layers of frosty white trichomes – a spectacle to behold! Its visually appealing aesthetics only continue with violet-splashed buds weaving their way among the green leaves.
These brilliant splashes of color contribute significantly to its overall stunning characteristics and are more than enough to intrigue any cannabis enthusiast.
Aroma and flavor
Upon opening a bag of White Truffle strain, your senses will be greeted by a mild yet distinct skunky aroma. This unique scent is further enriched with the prominent undertones of diesel and apricot, representative of its intricate terpene profile featuring Limonene among others.
However, it doesn't stop there; A delightful creamy taste adds to the experience as you consume this cannabis variant. Exhaling the smooth smoke leaves behind a pleasant aftertaste that lingers for quite some time.
The combination of these aromatic compounds makes every inhalation and flavor-filled encounter with White Truffle strain nothing short of tasteful indulgence.
Effects on mental and physical wellbeing
The White Truffle strain has powerful effects on both mental and physical wellbeing. With its high THC content, this strain delivers a fast-acting euphoria that immediately promotes relaxation and enhances creativity.
Users often report feeling an immediate mental relaxation and soothing effects on the mind and body. It is particularly effective for relieving stress, making it popular among medical marijuana patients seeking physical relief from their symptoms.
The unique mix of terpenes in White Truffle contributes to its calming effects, providing a sense of calmness for both the body and mind. Overall, the White Truffle strain offers potent effects that can positively impact your mental and physical wellbeing.
Adverse effects
Using the White Truffle strain may lead to some adverse effects. One common side effect is experiencing dry mouth, commonly known as "cotton mouth." This can make you feel thirsty and have a lack of saliva in your mouth.
Another reported adverse effect is dehydration, which can cause dry eyes and a parched mouth. It's important to stay hydrated while using this strain to minimize these effects.
Comparison: White Truffle vs White Widow Strain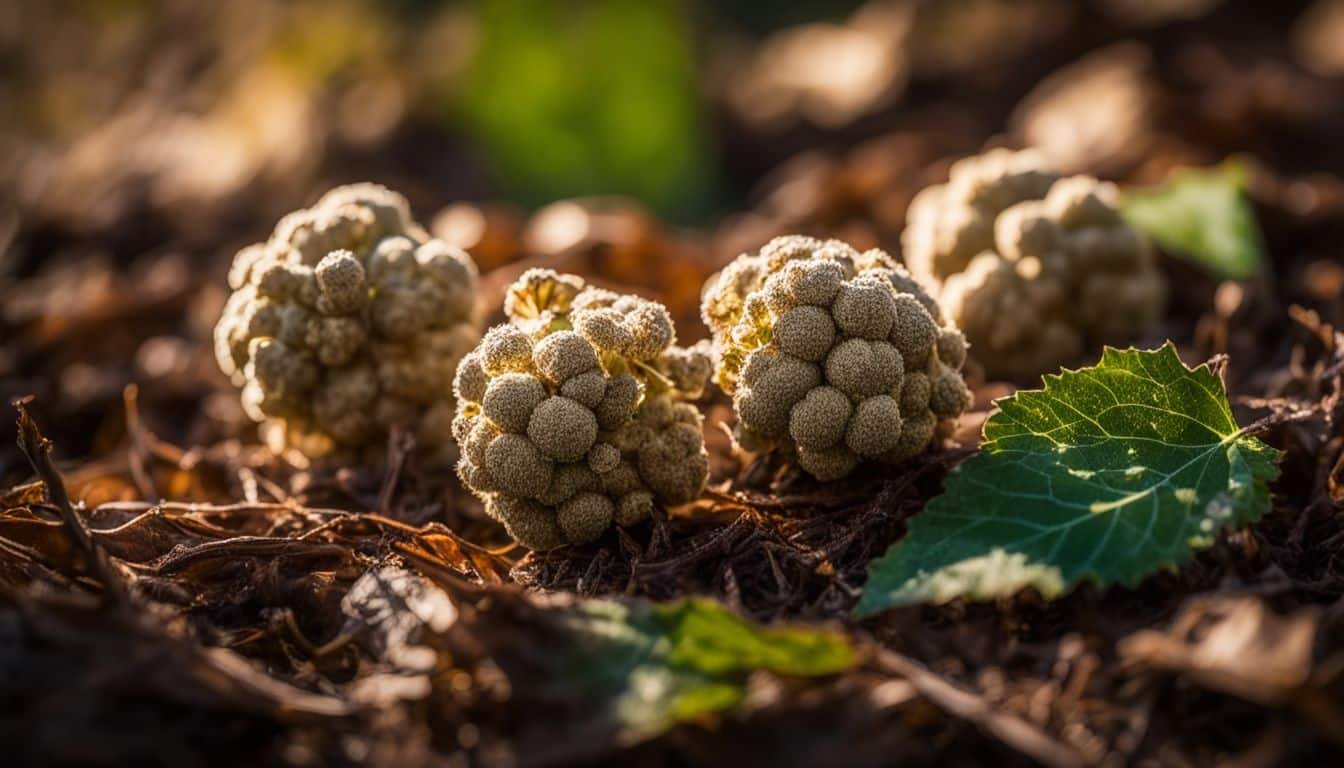 The White Truffle strain and the White Widow strain, both are popular among cannabis enthusiasts, but each offers a unique set of characteristics. We'll take a closer look at the distinctions between these two strains in the table below.
| | White Truffle | White Widow |
| --- | --- | --- |
| Genetics | Believed to be a cross of Gorilla Butter | Hybrid of Brazilian Sativa and South Indian Indica |
| Type | Indica-dominant hybrid | Indica/Sativa hybrid |
| THC Levels | Between 23% and 25% on average | Usually around 20% |
| Use | Ideal for nighttime use due to its deeply sedative effect | Used any time of day but can be overly stimulating for some |
| Appearance | Noted for its attractive coat of trichomes | Known for its white buds covered in crystal resin |
Both strains have their unique attributes, but in terms of THC content, White Truffle edges out White Widow. The choice between the two ultimately depends on the user's personal preferences and requirements.
Growing White Truffle
Growing White Truffle is a rewarding experience, with a decent yield and a relatively short flowering time.
Yield
White Truffle is a strain that can produce impressive yields when grown both indoors and outdoors. Outdoor cultivation of White Truffle can result in a yield of around 450 to 500 grams per plant, while indoor yields can reach up to 14 ounces per square foot.
For those growing White Truffle outdoors, it's possible to achieve a harvest of up to 17 ounces per plant. These high yields make White Truffle a desirable strain for cannabis cultivators looking to maximize their production.
Whether you're an experienced grower or just starting out, the potential yield of White Truffle makes it worth considering for your next cultivation project.
Flowering time
The White Truffle strain is known for its relatively fast flowering time, taking around 60-64 days to fully mature. This makes it a popular choice for growers who want a quick turnaround.
If you choose to grow this strain outdoors, you can expect to harvest your plants in mid-October, during the abundant crop season. Indoor cultivation can yield impressive results too, with an average of 1-2 ounces per square meter.
Whether you prefer indoor or outdoor production, the White Truffle strain offers a rewarding and productive growing experience.
Tips for cultivation
To successfully cultivate White Truffle, keep these tips in mind:
Use well-draining soils with a pH level between 7.5-8.
Avoid excessive walking, tractor use, or animal grazing to prevent soil compaction.
Ensure proper soil drainage to prevent waterlogging and root rot.
Inoculate the soil with truffle spores to encourage growth.
Choose a suitable growing location, either indoors or outdoors.
Maintain a consistent temperature and humidity level for optimal growth.
Provide adequate sunlight or artificial lighting for indoor cultivation.
Regularly monitor and adjust the moisture levels of the soil.
Health Benefits of White Truffle
Discover the potential therapeutic uses and medicinal properties of the White Truffle strain, and how it can positively impact your mental and physical wellbeing.
Potential therapeutic uses
White Truffle strain offers potential therapeutic uses that are highly sought after by medical marijuana patients. The strain is commonly used to relieve symptoms associated with stress and fatigue, making it a popular choice for those seeking natural remedies.
Additionally, White Truffle may help alleviate symptoms of anxiety and depression while providing a mild sedative effect. With its well-rounded properties, this strain has become a top option for individuals seeking relief from various medical issues.
Research also suggests that truffles, including White Truffle, may have potential medicinal applications, further highlighting the possible health benefits of this strain. Whether you're looking to manage stress or find relief from other ailments, White Truffle presents itself as a promising option with therapeutic benefits worth considering.
Medicinal properties
White Truffle strain is renowned for its impressive medicinal properties. This strain offers a range of health benefits that can improve your overall well-being. One significant benefit is the potential to enhance sleep quality, allowing you to experience better and more restful nights.
Additionally, White Truffle has shown promise in alleviating symptoms of eating disorders, providing relief and support for those struggling with these conditions. Beyond these specific effects, white truffles have a wide range of potential nutritional and medicinal applications, offering multiple advantages to consumers.
With a maximum THC content of 14 percent, White Truffle may not be as potent as other strains but still provides various therapeutic benefits.
Conclusion
In conclusion, the White Truffle strain offers a unique and potent experience for cannabis enthusiasts. With its indica-dominant genetics and high THC levels, it delivers a quick-hitting head high that is perfect for unwinding after a long day.
Whether you're seeking relaxation, stress relief, or pain management, White Truffle has got you covered. Don't miss out on this popular and mysterious strain – give it a try and see why it's gaining so much attention in the cannabis community!
FAQs
1. What is the White Truffle strain known for?
The White Truffle strain is known for its powerful aroma and unique flavor profile that combines earthy, spicy, and fruity notes.
2. How strong is the White Truffle strain?
The strength of the White Truffle strain can vary depending on factors such as growing conditions and individual tolerance, but it is generally considered to be a potent strain with high THC levels.
3. What are the effects of the White Truffle strain?
The effects of the White Truffle strain are typically uplifting and euphoric, followed by a relaxing body sensation. It can also enhance creativity and promote a sense of calmness.
4. Is the White Truffle strain suitable for beginners?
Due to its potency, the White Truffle strain may be better suited for experienced cannabis users who have built up their tolerance levels. Beginners should start with lower THC strains to avoid overwhelming effects.