Are you curious about the acclaimed Blue Dream marijuana strain? Known for its balanced high and sweet blueberry flavors, this sativa-dominant hybrid has captivated cannabis enthusiasts worldwide.
This article will be your comprehensive guide to understanding the unique characteristics, effects, and cultivation methods of Blue Dream. Ready to dive into a world of fragrant buds and euphoric highs?.
Key Takeaways
Blue Dream is a popular sativa – dominant hybrid strain known for its balanced high and sweet blueberry flavors.
It has a THC content ranging from 17% to 24%, making it relatively potent compared to other strains.
Blue Dream can uplift your mood, increase energy levels, provide stress relief, and alleviate depression. However, it may also cause dry mouth and eyes, dizziness, or anxiety in some users.
This versatile strain can be grown both indoors and outdoors and thrives in various conditions. It is beginner-friendly due to its resistance to mold and mildew problems.
Blue Dream Strain Overview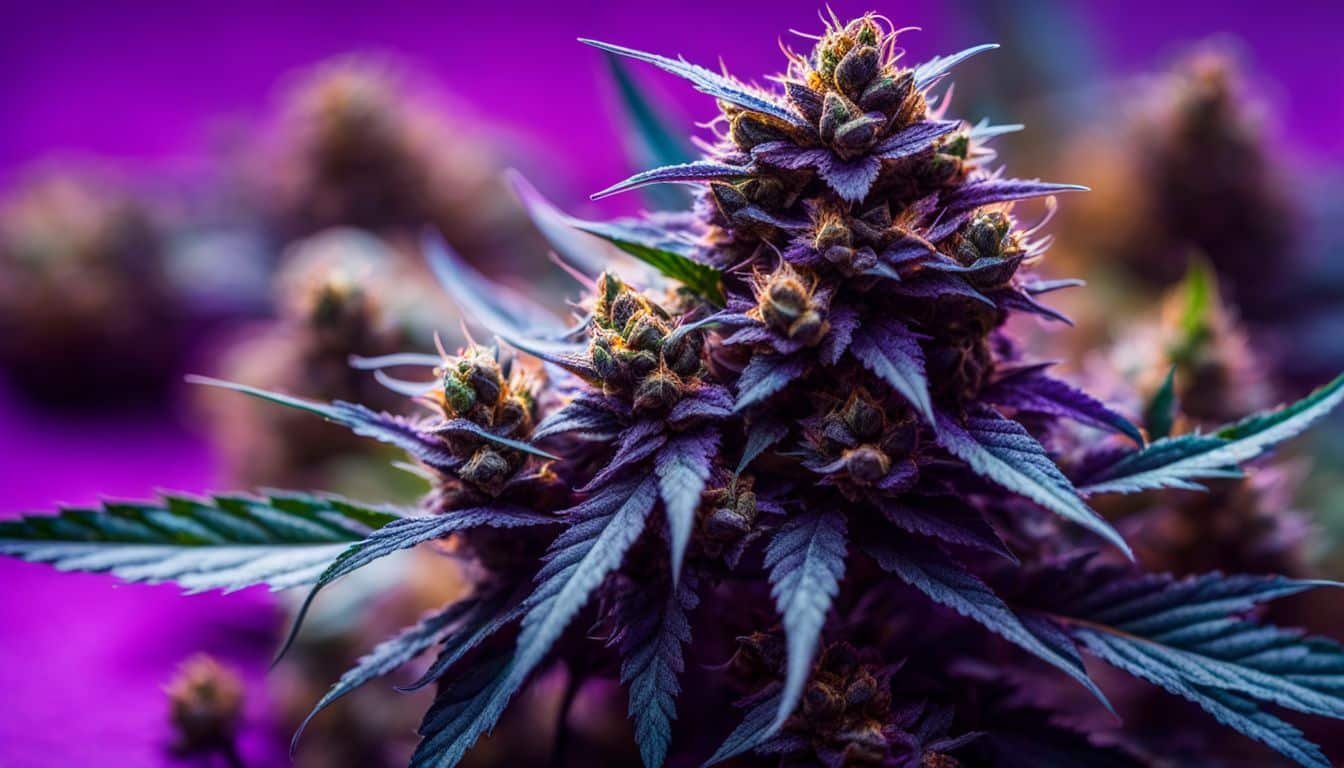 Blue Dream is a popular sativa-dominant hybrid marijuana strain known for its balanced high, with both uplifting and relaxing effects. It is a cross between Blueberry and Haze strains, resulting in a flavorful profile with sweet blueberry flavors and spicy overtones.
The THC content of Blue Dream ranges from 17% to 24%, making it relatively potent compared to other strains.
Genetics
The Blue Dream strain showcases a unique genetic makeup, widely believed to be a hybrid mix of DJ Short Blueberry and Super Silver Haze. This crossbred variety offers an ancestral combination that has left many in the cannabis community intrigued by its breeding lineage.
With parental genetics playing such a significant role in crafting its characteristics, understanding this exciting strain's heritage aids consumers and cultivators alike. However, due to its unclear parenting origins, there is much lineage speculation among enthusiasts about the exact blend that resulted in the creation of this popular strain.
Appearance, Aroma & Flavor
Blue Dream strain boasts a visual treat with its colorful buds that range from deep blue to rich purple. Its leaves are well-coated in sticky resin, giving it a frosty look and enhancing the overall aesthetic appeal of this cannabis hybrid.
The aroma is as enticing as its appearance. As soon as you break open the buds, your senses will be treated with a sweet and fruity fragrance reminiscent of fresh blueberries. Along with these fruity notes, there's also an underlying pungency characterized by clear hints of berries and citrus tones.
Upon inhaling the smoke, Blue Dream rewards users with a smooth floral sweetness delighting their taste buds while offering them an unmatched smoking experience.
THC Content
Blue Dream carries a robust THC content, reaching levels approximately at 18%. This high concentration of the psychoactive compound contributes to its status as a potent marijuana strain.
Despite its power, it holds minimal amounts of CBD. Often found in cartridges for vaping, this strain offers users well-rounded physical and mental effects due to the cannabinoids present within it.
Effects of Blue Dream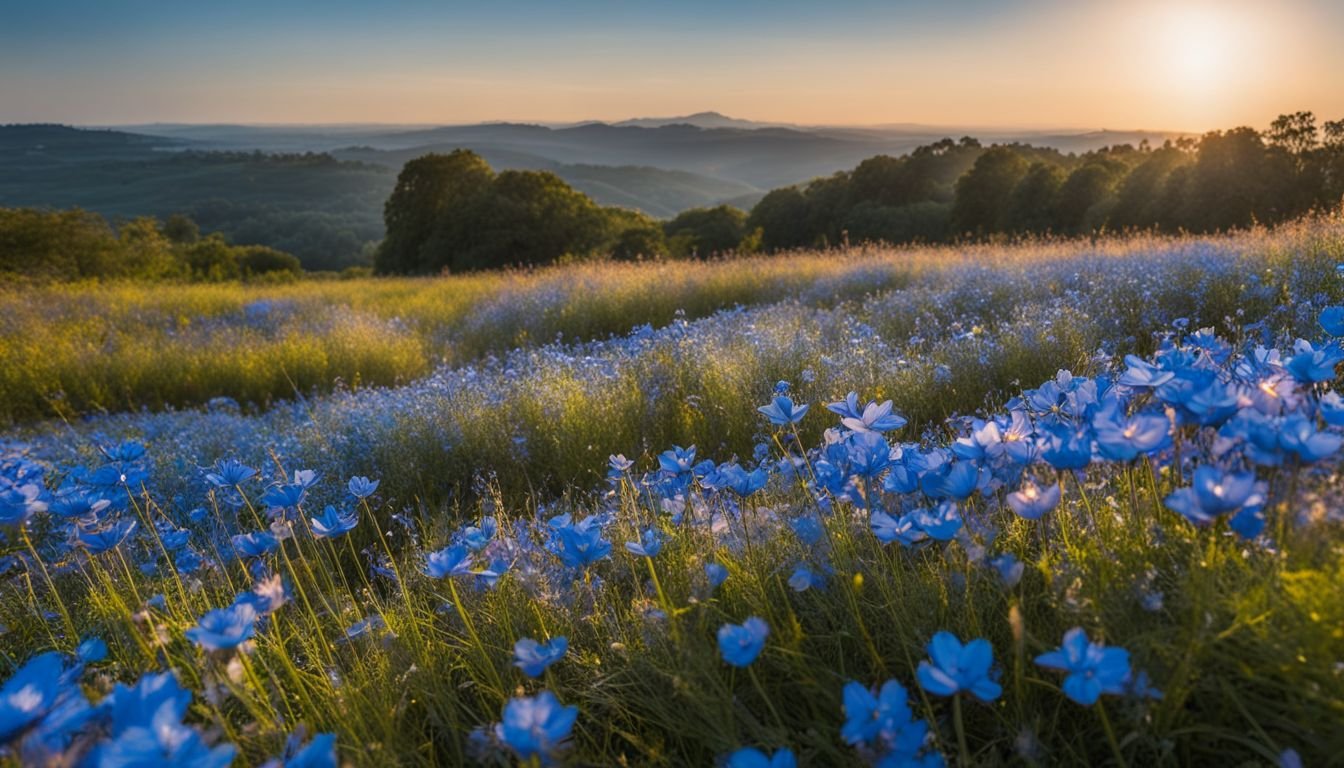 Blue Dream strain delivers a balanced high that combines the best of both worlds, providing users with uplifting and energizing effects alongside a sense of euphoria.
Feelings
Blue Dream is well-known for producing a balanced euphoria that can uplift your mood and increase your energy levels. When you consume this strain, you may experience a sense of stress relief and alleviation of depression.
Many users report feeling happy, relaxed, and even find relief from headaches, anxiety, and menstrual cramps. If you're looking for a cannabis strain that can provide these feelings and more, Blue Dream might be the perfect choice for you.
Negatives
Blue Dream, like any other strain, has its fair share of potential negatives. Some users may experience dry mouth and dry eyes after consuming Blue Dream marijuana. These are common side effects that can be easily managed by staying hydrated and using eye drops if needed.
Additionally, some individuals may feel a bit dizzy or anxious after consuming this strain. It's important to start with a low dosage and gradually increase it to see how your body responds to the effects.
Remember to always consume responsibly and in moderation to minimize any potential undesirable outcomes.
Comparison: Blue Dream vs. Super Silver Haze
In the world of cannabis, it's important to understand the differences and similarities between certain strains. In this case, we'll be comparing Blue Dream and Super Silver Haze.
| Characteristic | Blue Dream | Super Silver Haze |
| --- | --- | --- |
| Genetics | A cross between Blueberry Indica and Super Silver Haze. | Combination of Skunk, Northern Lights, and Haze. |
| Appearance | Recognized by its dense buds with orange hair all over and traces of blue. | Noted for its frosty, silvery appearance and large quantities of resin. |
| Aroma & Flavor | Known for its sweet berry aroma and flavor. | Famous for its spicy, herbal, and citrusy aroma and taste. |
| THC Content | High THC content, contributing to its potent effects. | Typically high in THC, providing strong and long-lasting effects. |
| Effects | Uplifting and cerebral, enhancing creativity and reducing social awkwardness. | Induces a powerfully uplifting and mind-blowing cerebral high. |
| Sativa vs Indica Ratio | Sativa-dominant hybrid with a 40% to 60% Indica-to-Sativa ratio. | Sativa-dominant hybrid with a higher proportion of sativa. |
Growing Blue Dream
To successfully grow Blue Dream, you need the right conditions and some helpful tips. Interested in learning more? Keep reading!
Best growing conditions
Blue Dream is a versatile strain that can thrive in various growing conditions, making it ideal for both indoor and outdoor cultivation. Whether you choose to grow it in a controlled environment or under natural sunlight, Blue Dream has the ability to adapt and flourish.
It tends to prefer a warm climate but can still prosper in regions with cooler periods. With its resistance to mold and mildew problems, this strain is beginner-friendly and forgiving for novice growers.
Additionally, Blue Dream thrives within an optimal pH range of 6.0 to 7.0, ensuring successful cultivation regardless of your experience level.
Tips for successful cultivation
To successfully cultivate Blue Dream, here are some tips you should follow:
Provide the optimal temperature range of 65 – 85 degrees Fahrenheit for your Blue Dream plants.
Use indoor cultivation techniques to create an ideal growing environment.
Manage the height of your Blue Dream plants, as they tend to grow tall due to their sativa genetics.
Prevent mold and mildew issues by ensuring proper ventilation and humidity control.
Follow a flowering time of 9 – 10 weeks when cultivating Blue Dream indoors.
Take advantage of Blue Dream's resilience to mold and mildew problems.
Blue Dream Strain Reviews
Hear from other users and discover the popular uses for Blue Dream.
User experiences and opinions
Users love Blue Dream for its sweet berry scent and flavor. Many describe feeling energized and uplifted after using this strain, making it perfect for daytime use. It puts them in a happy and easygoing mood while keeping them mentally sharp and creative.
Blue Dream is also popular among medical cannabis users who appreciate its ability to induce calmness while maintaining focus. Overall, the user experiences with Blue Dream are positive, with many enjoying its unique combination of effects and pleasant aroma.
Popular uses for Blue Dream
Blue Dream is a versatile strain that has gained popularity for its wide range of uses. Many people turn to Blue Dream for anxiety relief, as it can help calm the mind and promote relaxation.
With its mood-enhancing qualities, this strain is also favored by those looking to improve their overall mental well-being. Additionally, Blue Dream is known for its pain management properties, making it a go-to option for individuals seeking natural relief from discomfort.
Whether you're dealing with stress, depression, or simply want to unwind after a long day, Blue Dream offers an energizing yet calming experience that can help uplift your spirits and bring about a sense of peace.
Conclusion
In conclusion, Blue Dream is a sought-after strain that combines the best of both worlds with its sativa-dominant hybrid genetics. With a THC content ranging from 17% to 24%, this marijuana strain offers a balanced high that uplifts and energizes.
Its sweet blueberry flavor and creative effects make it a favorite among cannabis enthusiasts. Whether you're seeking relaxation or inspiration, Blue Dream won't disappoint.
FAQs
1. What is the THC content of Blue Dream strain?
Blue Dream strain typically has a THC content ranging from 17% to 24%.
2. How does Blue Dream strain make you feel?
Blue Dream strain is known for its balanced effects, providing a relaxed and euphoric high without causing excessive sedation or anxiety.
3. Does Blue Dream strain have any medicinal benefits?
Yes, Blue Dream strain has been reported to help with conditions such as chronic pain, depression, stress, and fatigue.
4. Is Blue Dream suitable for beginners?
Yes, Blue Dream can be enjoyed by both novice and experienced cannabis users due to its well-balanced effects and moderate potency level.