Looking for a unique cannabis strain that offers fruity flavors and potent effects? Let us introduce you to the Guava strain. This blog post will provide a detailed review of the Guaviar, covering everything from its lineage to user reviews.
Read on to discover if this sativa-leaning hybrid is your next favorite pick!
Key Takeaways
Guava strain is a sativa – leaning hybrid with a fruity and gassy aroma and flavor, making it unique and appealing to cannabis enthusiasts.
The strain has potent effects, including mood enhancement, improved focus, stress relief, and anxiety reduction.
It offers potential medicinal benefits such as pain relief and management of conditions like ADHD and PTSD.
Guava Strain Overview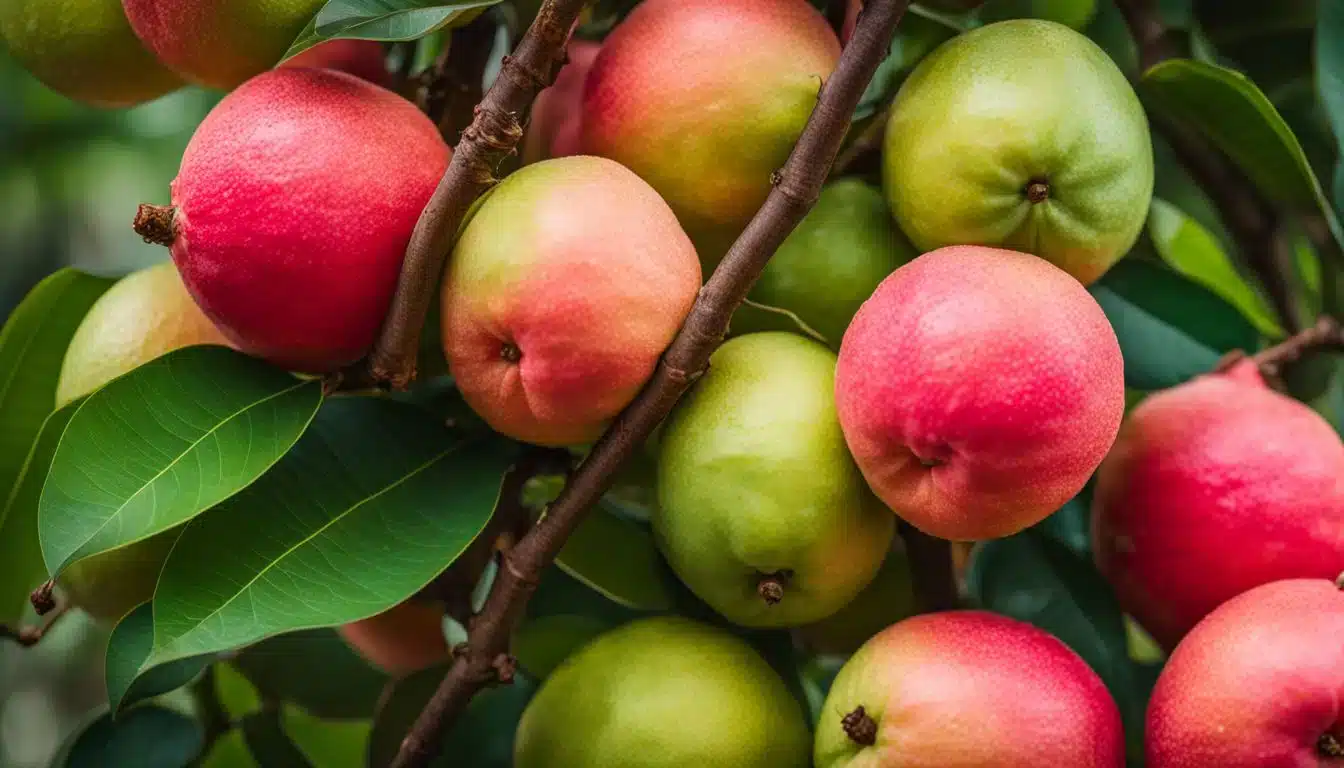 The Guava strain is a sativa-leaning hybrid that is a phenotype of the popular Gelato strain, known for its fruity and gassy aroma and flavor.
Genetics and lineage
Guava, a sativa-dominant hybrid, is a powerful blend of genetics. With 80% sativa and 20% indica genetics, it's largely derived from the Gelato strain but carries unique characteristics of its own.
The original breeders crafted Guava Z by crossing Afghani with Stardawg strains for a distinctive fusion. A similar guava variant, Guava Dawg has an interesting mix too – it plays host to Afghani, Stardawg and Tres Dawg genes making it more inclined towards Indica properties.
Fascinatingly enough, genetic diversity in guava extends beyond cannabis strains right into nature itself! The distinct difference between global mainland guavas and those found on the Galapagos Islands showcases how diverse genetics can shape variations within one species or genus.
Appearance, aroma, and flavor
Guava Strain takes the visual center stage with its vibrant colors and densely packed buds. Its bright green leaves are covered in a generous layer of crystal-like trichomes, making it truly appealing to the eyes.
Amidst this attractive ensemble lie deep orange pistils giving it an extra pop of color.
Now let's dive into its aromatic profile that is just as intriguing as its appearance. The fruity strain releases pungent yet inviting tropical scents that awaken your senses on first contact.
Upon breaking the buds, you can detect notes of sweet and sour fragrances intertwined with a punchy hint of spicy diesel – a testament to its unique scent composition. When consumed, Guava Strain delights your palate with exotic flavors that mirror its fragrance profile; think sweet guavas paired with traces of skunkiness and gassiness for that unexpected twist!
THC and CBD levels
Guava strain's potency measures up on the higher end of the cannabis spectrum with THC levels averaging around a robust 22%. This cannabis variation is known for its strong psychoactive effects, primarily due to its high THC concentration.
On the flip side, CBD content in Guava strain typically remains minimal. However, there are variations like Guava Gelato that offer a more balanced experience with their THC content hovering between 13% and 18%, still not offering significant CBD concentration.
These characteristics contribute significantly to the overall marijuana strength and deliver unique experiences for each consumer.
Effects and Uses of Guava Strain
The Guava strain offers a moderate high that provides both relaxation and mood enhancement. Its fruity aroma and flavor make it an enjoyable choice for users looking for a flavorful experience.
Additionally, the strain has been reported to have potential medicinal benefits such as pain relief and stress reduction. However, some users may find the potency of this strain to be on the stronger side, resulting in a head high that can be overwhelming for those with low tolerance levels.
Positive effects and feelings
The Guava strain offers a range of positive effects and feelings. It can enhance your mood, giving you a feeling of happiness and contentment. This strain is also known to improve focus, helping you concentrate better on tasks at hand. If you're dealing with stress, the Guava strain can be helpful in managing it effectively. Additionally, this strain has been found to have anxiety-relieving properties, providing a sense of calm and relaxation. When using the Guava strain, many users report improved mental clarity and cognitive function. Overall, it contributes to emotional well-being and reduced tension in both mind and body.
Medicinal benefits
The Guava strain offers a range of medicinal benefits that can improve your well-being. This potent cannabis strain is known for its therapeutic effects and is often used as a natural remedy for various conditions. Whether you're seeking stress relief, anxiety treatment, fatigue management, or headache and nausea relief, the Guava strain may be just what you need. Additionally, this strain has shown promise in treating medical conditions such as ADHD and PTSD. Its medicinal properties make it a popular choice for those looking for an herbal solution to their health issues.
Potential negatives
The Guava strain, while offering many positive effects and uses, does come with potential negatives that users should be aware of. Some users have reported experiencing anxiety when using the Guava strain. Additionally, dry mouth or cottonmouth is another potential negative effect that has been reported by a significant portion of users. It is important to stay hydrated and drink plenty of fluids when using this strain to avoid discomfort.
Comparison with Similar Strains (Ghost OG Strain)
The Ghost OG strain shares some similarities with the Guava strain but has significant differences that set them apart, especially when it comes to their genetics and effects. Here is a comparative breakdown:
| | Guava Strain | Ghost OG Strain |
| --- | --- | --- |
| Genetics | Guava is a sativa-leaning hybrid. It's a crossbreed strain, blending various genetics to create a unique profile. | Ghost OG is an Indica dominant hybrid, with a mix of 70% Indica and 30% Sativa. It's believed to be a cut of the legendary OG Kush strain. |
| Effects | The Guava strain is known for its stimulating effects that promote creativity and help deal with stress and depression. | Ghost OG is known for its potency and powerful effects, often described as inducing a euphoric and relaxing high that's perfect for alleviating pain and insomnia. |
| Medicinal Applications | Guava strain is often recommended for patients dealing with anxiety, chronic pain, and inflammation. | Ghost OG is considered one of the best marijuana strains for medical purposes, effective for relieving pain, anxiety, and stress. |
| Similar Strains | Guava Ghost Train Haze combines the Guava genetics with Ghost Train Haze, leading to a unique blend of effects. | Ghost OG is considered a classic strain in its own right, with its genetics contributing to the development of numerous other strains. |
This comparison points out the unique characteristics of each strain, helping you decide which might be the best fit for your specific needs.
User Reviews and Ratings
Users of the Guava strain have consistently rated it highly, praising its potent effects and unique flavor profile. Many report experiencing a mood-enhancing head high that leads to relaxation and an overall sense of well-being.
The fruity aroma and gassy undertones are also frequently mentioned as standout qualities of this strain.
Overall rating
The Guava Strain has received an overall rating of 4 out of 5 from reviewers. This high rating indicates that it is held in high regard by those who have tried it. Reviewers specifically mentioned the strain's affordability as a positive aspect, making it accessible for those looking to try something new without breaking the bank.
The Guava Strain stands out with its quality and potency, providing users with a satisfying experience. So if you're interested in trying a strain that won't disappoint, the Guava Strain may be worth considering.
Personal experiences and testimonials
Users have overwhelmingly positive things to say about their experiences with the Guava strain. Many reviewers on Leafly and other platforms praise its enjoyable flavor profile, which is fruity and gassy.
People also appreciate the balanced effects of this strain, as it provides a pleasant combination of relaxation and euphoria without causing excessive sedation or anxiety. Some users have reported using the Guava strain for medicinal purposes, finding relief from symptoms such as chronic pain, stress, and insomnia.
Overall, the personal testimonials highlight the high satisfaction level among those who have tried the Guava strain, making it a popular choice among cannabis enthusiasts.
Conclusion
In conclusion, the Guava strain offers a unique and enjoyable experience for cannabis enthusiasts. With its fruity aroma and sweet flavor, it provides a pleasant sensory experience.
The potent effects of this sativa-leaning hybrid make it suitable for both daytime and evening use.
FAQs
1. What is the THC content of Guava Strain?
The THC content of Guava Strain can vary, but it typically ranges from 15% to 25%.
2. What are the effects of smoking Guava Strain?
Smoking Guava Strain can provide a euphoric and uplifting high, followed by relaxation and potential pain relief.
3. What are the medical benefits of using Guava Strain?
Guava Strain may be beneficial for managing stress, anxiety, depression, chronic pain, inflammation, and insomnia.
4. Is Guava Strain suitable for beginners?
While experienced users may enjoy the potency of Guava Strain, it is not recommended for beginners due to its higher THC levels. It's best to start with strains that have lower THC content until you become accustomed to its effects.