Are you hunting for a balanced cannabis strain with a vibrant aroma and robust flavor? Meet Jealousy, an evenly split hybrid strain known as the love-child of Sherbert Bx1 and Gelato 41.
This blog offers an in-depth review of this unique strain from its genetics and potent effects to cultivation methods. Stay tuned and uncover the fascinating world of Jealousy!
Key Takeaways
Jealousy Strain is a well – balanced hybrid created by crossing Sherbert Bx1 and Gelato 41.
It has vibrant green buds with hints of orange, purple, and yellow, along with a unique aroma of gasoline and earthy undertones.
With a high THC content of up to 30%, Jealousy Strain delivers potent effects that uplift mood, increase creativity, and provide mental relaxation combined with physical energy.
When growing Jealousy Strain, it is important to provide ample sunlight, maintain proper humidity levels, regularly prune for optimal growth, and harvest at the right time for maximum potency.
Overview of Jealousy Strain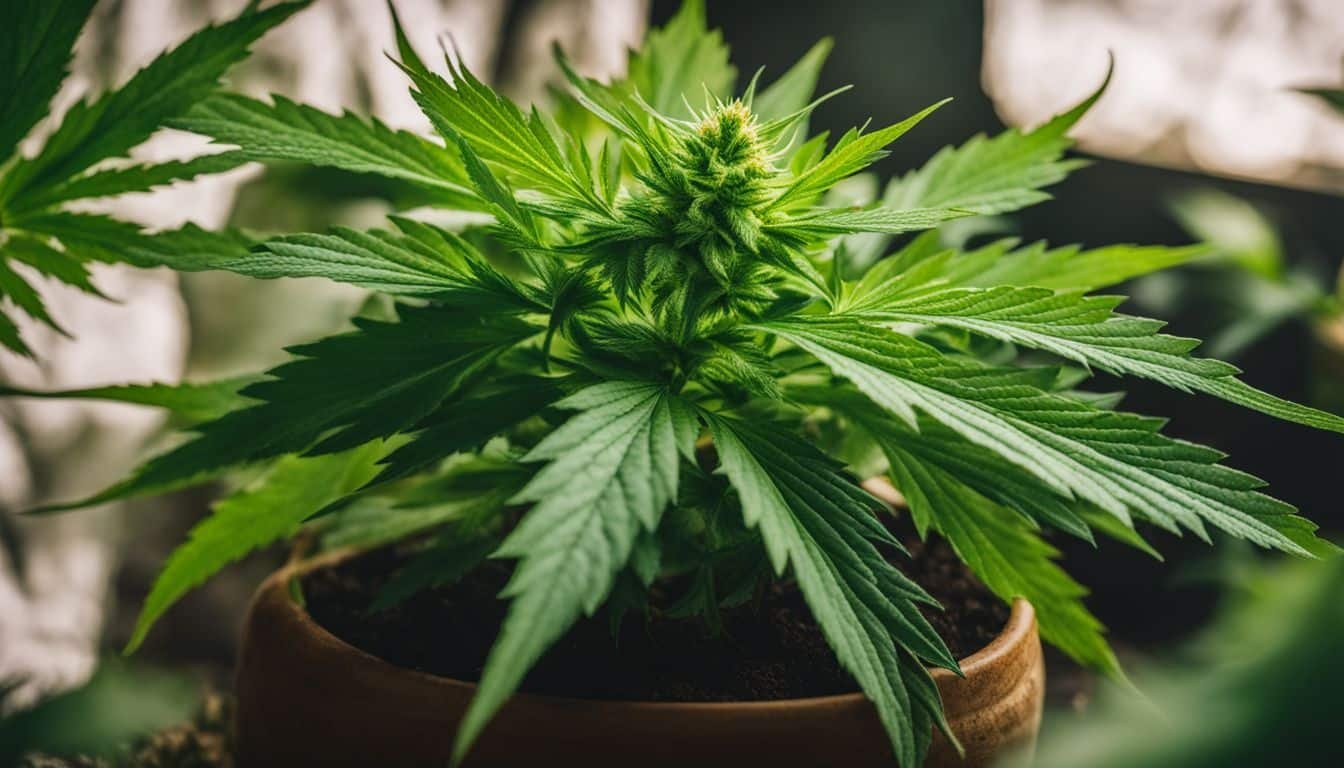 The Jealousy Strain is a hybrid weed strain that is created by crossing Sherbert Bx1 with Gelato 41.
Genetics and lineage
The Jealousy strain boasts a unique genetics and lineage in the world of hybrid weed strains. This intriguing blend is the brainchild of Cookies and Seed Junkie Genetics, resulting from a precise cross between Sherbert Bx1 and Gelato 41.
Through this successful collaboration, they've not only developed a one-of-a-kind strain but also contributed to other popular creations like Jealousy Pie. Thus, its distinct genetic makeup sets it apart amongst cannabis cultivators and enthusiasts alike.
Appearance, aroma, and flavor
Jealousy strain boasts a vibrant canvas of hues. Its buds paint a stunning visual with shades of verdant green, hints of citrus orange, touches of lavender purple, and splashes of buttery yellow.
The leafy presence makes it stand out in any cannabis garden or display.
On the scent front, Jealousy strain takes you on an olfactory journey like no other. It unveils its fragrant perfume in layers – first hitting you with the sharp fragrance reminiscent of gasoline that is inherent to its caryophyllene terpene profile.
As your senses adjust to this surprising yet intriguing smell, subtler notes emerge from behind the scenes – earthy tones intermingling with slightly spicy undertones that add depth to its overall aroma.
The flavor experience delivered by Jealousy strain is nothing short of exquisite. Your palate instantly recognizes the tangy taste similar to orange soda upon your first drag. But don't rush; savor it because what follows next will take you by surprise! A peppery aftertaste sweeps over your tongue once the sweet zestiness recedes – a truly unique and mind-blowing gustatory treat for those bold enough to embark on this adventure.
THC content
The Jealousy strain packs a powerful punch with its high THC content. Known for its potency, the cannabis strain can reach levels as high as 30%. This strong THC level was confirmed in a batch grown by Tahoe Hydro, marking the strain's standout feature among marijuana enthusiasts seeking intense effects.
The elevated percentage of THC cements Jealousy's reputation as an extraordinarily potent strain of cannabis.
Comparison with Other Strains: Jealousy Strain vs. MAC Strain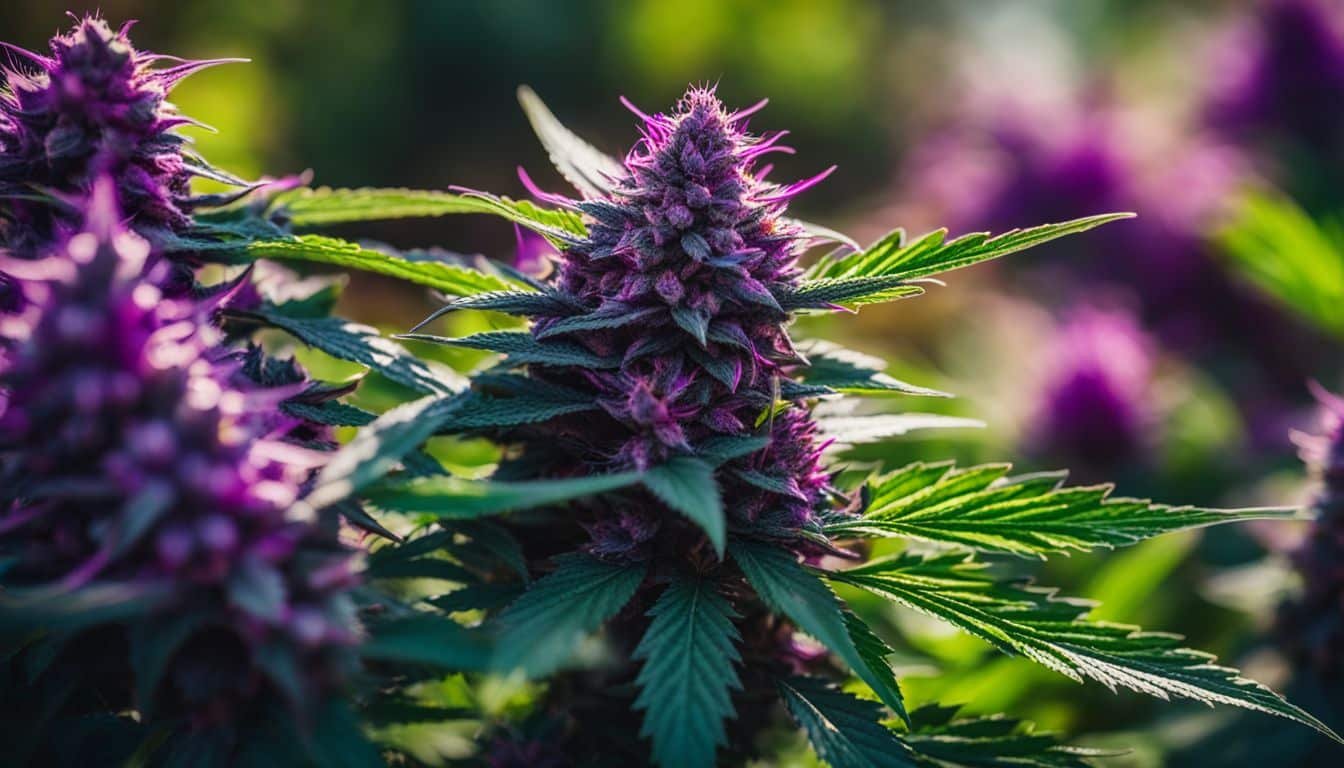 Let's dive into the comparison between the Jealousy Strain and the MAC Strain, two highly-coveted names in the realm of cannabis.
| Aspect | Jealousy Strain | MAC Strain |
| --- | --- | --- |
| Genetics | Cross between Sherbert Bx1 and Gelato 41. | A well-balanced hybrid of Alien Cookies, Starfighter, and Columbian. |
| THC Content | Offers high THC levels, delivering a potent experience. | Also prides itself with high THC content, ensuring a strong effect. |
| Effects | Offers an indica-dominant experience with balanced effects. | Known for its balanced hybrid effects and euphoric uplift. |
| Appearance | Oftentimes presents dense green buds with purple hues. | Noted for its resin-packed flowers with purple streaks. |
| Aroma and Flavor | Exudes a unique aroma and flavor palette, boasting sweet, fruity, and earthy tones. | Carries a complex aroma and flavor profile – spicy and floral with undertones of diesel and musk. |
| Reviews | Highly praised by reviewers on Leafly for its enjoyable and powerful experience. | Loved by users for its euphoric and creativity-stimulating effects. |
These strains, though different in their nuances, are both treasured for their high potency and immersive cannabis experiences. Whether you're cultivating or consuming, either strain is sure to deliver an unforgettable journey.
Effects of Jealousy Strain
The effects of the Jealousy Strain are a perfect balance of euphoria and relaxation, making it a great choice for both daytime and evening use. It provides a mellow high that uplifts your mood while also soothing any tension or stress.
Read more to discover the complete experience this strain has to offer.
Feelings and positives
The Jealousy strain brings about a range of positive feelings and effects. When consuming this strain, you may experience a sense of happiness and relaxation. It has balancing effects that can also make you feel giggly and talkative.
Despite being indica-dominant, Jealousy can uplift your mood, increase creativity, and boost energy levels. Many users have reported experiencing mental relaxation combined with physical energy when enjoying the Jealousy strain.
Additionally, this strain is known to be helpful for managing stress, anxiety, and depression.
Negatives
The Jealousy strain, like any other cannabis strain, has its share of potential negative effects. It's important to be aware of these drawbacks before trying it out. Some users have reported experiencing headaches and dizziness after consuming the Jealousy strain.
Additionally, feelings of anxiousness and unease can arise as well. These side effects may be attributed to the specific terpene profile of the Jealousy strain, which can vary between strains and contribute to different reactions in individuals.
Furthermore, if not managed properly, the emotion of jealousy that this strain is named after can have a detrimental impact on relationships, leading to feelings of envy, resentment, suspicion, frustration or even anger.
Growing Jealousy Strain
Tips for growing Jealousy Strain include providing ample sunlight, maintaining proper humidity levels, and regular pruning to encourage optimal growth. Harvesting the strain at the right time will ensure maximum potency and yield.
Read on to discover expert advice and techniques for cultivating this coveted strain!
Tips for cultivation
To successfully cultivate the Jealousy strain, follow these tips:
Choose the right environment: Whether you decide to grow indoors or outdoors, create an environment that meets the specific needs of this strain.
Provide adequate lighting: If growing indoors, use high-quality LED lights or HID lamps to ensure your plants receive enough light during both the vegetative and flowering stages.
Control temperature and humidity: Keep the temperature between 70-80°F (21-27°C) during the day and around 10°F (5°C) cooler at night. Maintain humidity levels between 40-50% in the vegetative stage and decrease it to 30-40% during flowering.
Use quality soil or hydroponic systems: Ensure your plants have access to well-draining soil with a pH level between 6-7. Alternatively, consider using hydroponic systems for better nutrient uptake and control over plant growth.
Regularly monitor and adjust feeding: Observe your plants closely and provide them with proper nutrients based on their growth stage. Avoid overfeeding, as it can lead to nutrient burn.
Prune and train your plants: To enhance airflow and maximize light penetration, prune any large fan leaves blocking lower bud sites. Additionally, consider using low-stress training techniques like tying down branches to promote even canopy growth.
Support your plants during flowering: As Jealousy strain produces medium-sized nugs, ensure they are properly supported by using trellises or stakes to prevent branch breakage due to heavy buds.
Harvest at the right time: Keeping a close eye on trichome development is crucial for determining when to harvest. Wait until trichomes turn cloudy or amber for desired effects.
Harvesting and yield
To maximize the harvest and yield of Jealousy Strain, there are a few key factors to consider. When growing indoors, you can expect around 14-16 ounces per square meter. On the other hand, outdoor plants have the potential to produce 15-19 ounces per plant.
The flowering period for both Jealousy and Jealousy Automatic is approximately 9-10 weeks. If you opt for Jealousy Automatic, it can be grown from seed to harvest, making it a convenient choice.
By ensuring optimal growing conditions and using proper harvesting techniques, you can enjoy a bountiful crop of this strain.
Reviews and User Experiences
Discover what users have to say about the Jealousy Strain and why it's a popular choice among cannabis enthusiasts.
User ratings and experiences
Users have reported uplifting and creative effects from the Jealousy strain. They have also experienced relief from various symptoms when using this strain, indicating its potential therapeutic benefits. Reviewers on Leafly have noted the balancing effects of the Jealousy strain, suggesting that it may help bring a sense of equilibrium or stability. The Jealousy strain is highly sought after due to its strong genetics, potency, aroma, flavor, and therapeutic effects. It is recommended for evening use after a long or tiring day. With a high THC level of 17%, the Jealousy strain has a potent psychoactive effect.
Popular strains similar to Jealousy
The Jealousy strain has gained popularity among cannabis enthusiasts, and if you're a fan, you might be interested in exploring other similar strains. Here are a few popular strains that share some similarities with Jealousy:
Envy: This strain is known for its relaxing effects and ability to alleviate stress and anxiety. Like Jealousy, Envy provides a sense of calm and tranquility.
Resentment: With its potent indica effects, Resentment is perfect for those looking to unwind after a long day. It can help promote relaxation and ease tension, just like Jealousy.
Hatred: If you're seeking a strain that provides powerful pain relief and relaxation, Hatred might be the one for you. It shares some of the therapeutic qualities found in Jealousy.
Suspicion: This strain offers an uplifting and energizing experience, making it ideal for daytime use. If you enjoy the boost of energy that Jealousy provides, Suspicion may be worth trying.
Insecurity: Known for its mood-enhancing properties, Insecurity can help alleviate feelings of unease and self-doubt. Like Jealousy, it offers a sense of calmness and mental clarity.
Conclusion
Jealousy Strain is a balanced hybrid that offers a mellow and enjoyable high. With its dense buds and vibrant colors, this strain is visually stunning. Whether you're a recreational user or someone interested in cultivation, Jealousy Strain is definitely worth trying out.
Its unique aroma and delicious flavor profile make it a popular choice among cannabis enthusiasts. So go ahead, give Jealousy Strain a try and experience its impressive effects for yourself!
FAQs
1. What is the Jealousy strain?
The Jealousy strain is a particular type of cannabis plant known for its unique combination of flavors and effects.
2. What are the main characteristics of the Jealousy strain?
The Jealousy strain is known for its potent aroma, dense buds, and well-balanced blend of relaxation and euphoria.
3. How does the Jealousy strain make you feel?
The Jealousy strain produces a calming and uplifting effect, promoting a sense of relaxation while also enhancing mood and creativity.
4. Where can I find the Jealousy strain?
You can find the Jealousy strain at select dispensaries or through licensed online retailers in states where recreational or medicinal cannabis use is legal.