Are you looking for a strain of cannabis that will provide both relaxation and an energy boost? If so, Lemon Cherry Gelato might be the perfect choice for you. This hybrid weed strain is known for its flavorful taste and potent effects. In this blog post, we'll take a closer look at the lineage, effects, aroma, flavor, and growing information of Lemon Cherry Gelato. Whether you're a cannabis enthusiast or interested in cultivation, keep reading to learn more about this popular strain.
Key Takeaways
Lemon Cherry Gelato is a hybrid cannabis strain known for its flavorful taste and potent effects.
It has a high THC content, ranging from 25% to 28%, which contributes to its strong effects.
This strain offers both relaxation and an energizing boost, making it suitable for daytime use.
Lemon Cherry Gelato provides various medical benefits, including relief from chronic pain, improved mood, and enhanced appetite.
Lineage of Lemon Cherry Gelato
Lemon Cherry Gelato hails from a fascinating lineage, underlining its quality and distinct character. Fields Family Farmz and Backpackboyz sharply developed this strain by crossbreeding two iconic parent strains: Sunset Sherbet and Girl Scout Cookies.
This careful cultivation process resulted in Lemon Cherry Gelato, an outstanding hybrid strain with unique attributes owed to its diverse genetic cross. This remarkable blend of cannabis genetics gives the strain its distinctive flavor profile and powerful effects that users highly value today.
THC and CBD concentrations
Lemon Cherry Gelato is a cannabis strain known for its high THC levels.
This strain boasts a robust THC concentration of 25%.
Some batches of Lemon Cherry Gelato can reach an impressive THC content of up to 28%.
The high THC percentage contributes to the cannabis strength and marijuana intensity, providing users with a potent experience.
The cannabinoid content in this strain mainly consists of THC, making it a stronger choice than hemp.
Despite having a lower CBD level compared to its high THC ratio, it still offers numerous medical benefits.
Users should be aware that higher THC concentrations can increase the potential for adverse effects.
Its cannabinoid profile makes Lemon Cherry Gelato a potent choice for those looking for stronger effects.
People who prefer balanced CBD to THC ratios might find other strains more suitable.
Effects and Benefits of Lemon Cherry Gelato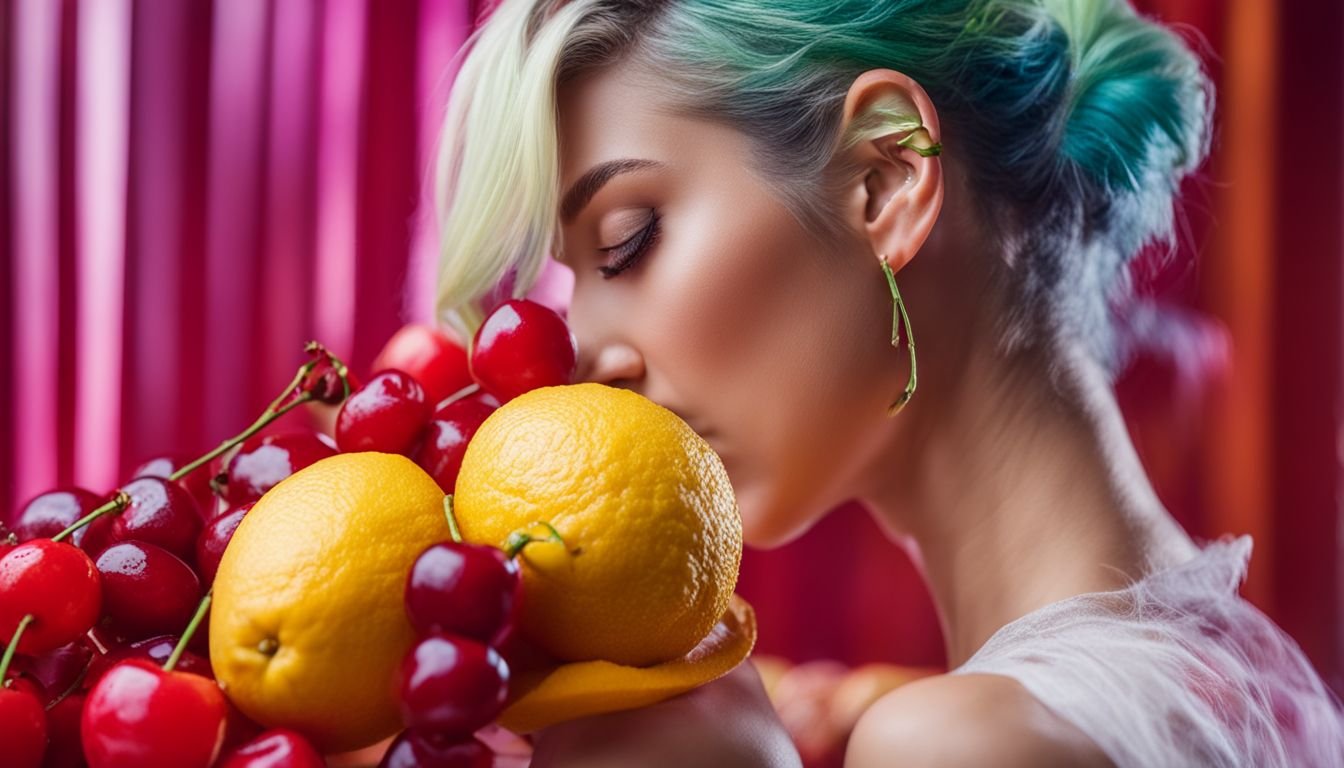 Experience a euphoric and uplifting high that will leave you feeling energized and focused, making it perfect for daytime use. It also provides relaxation to ease stress, anxiety, and chronic pain.
Read on to discover more about its medical benefits and possible adverse effects.
Experience and feelings
Lemon Cherry Gelato exudes an invigorating and calming effect, creating a balanced sensation of relaxation and euphoria. Users often report feeling contentment washing over them as they sink into tranquility, making this strain perfect for winding down after a long day or engaging in leisurely activities.
The experience is not just about physical relaxation. Lemon Cherry Gelato also promotes an improved mood and mental wellbeing. It imparts an emotional stability that can act as a balm for individuals suffering from anxiety or chronic stress.
A sense of enhanced happiness envelops the user, demonstrating the strain's effectiveness in boosting joyfulness while reducing pain and mood swings. This culminates in delivering a wholesome cannabis experience that enriches both body and mind wellness.
Medical benefits
You'll find the Lemon Cherry Gelato strain packed with potential health benefits, particularly for stress-related conditions. This strain acts as a potent stress-reliever due to its high THC content. Here are more of its incredible medicinal properties:
Lemon Cherry Gelato can provide significant relief from chronic pains and aches.
The strain promotes sound sleep, proving beneficial for those battling insomnia.
It's known to enhance appetite, making it a helpful aid for people dealing with loss of appetite or eating disorders.
Its mood – enhancing qualities can reduce symptoms associated with depression and anxiety.
The strain is also used in managing migraines and other severe headaches.
With anti – inflammatory properties, it can alleviate arthritis discomfort.
Possible adverse effects
The Lemon Cherry Gelato strain has several potential adverse effects that you should be aware of. These include increased anxiety and paranoia, which can be especially problematic for individuals who are prone to these symptoms. Additionally, dry mouth and dry eyes are common side effects that may occur after consuming Lemon Cherry Gelato. Some people may also experience dizziness and lightheadedness, as well as headaches or migraines. It's important to note that excessive consumption of Lemon Cherry Gelato can lead to impaired motor skills and coordination.
Aroma, Flavor, and Appearance of Lemon Cherry Gelato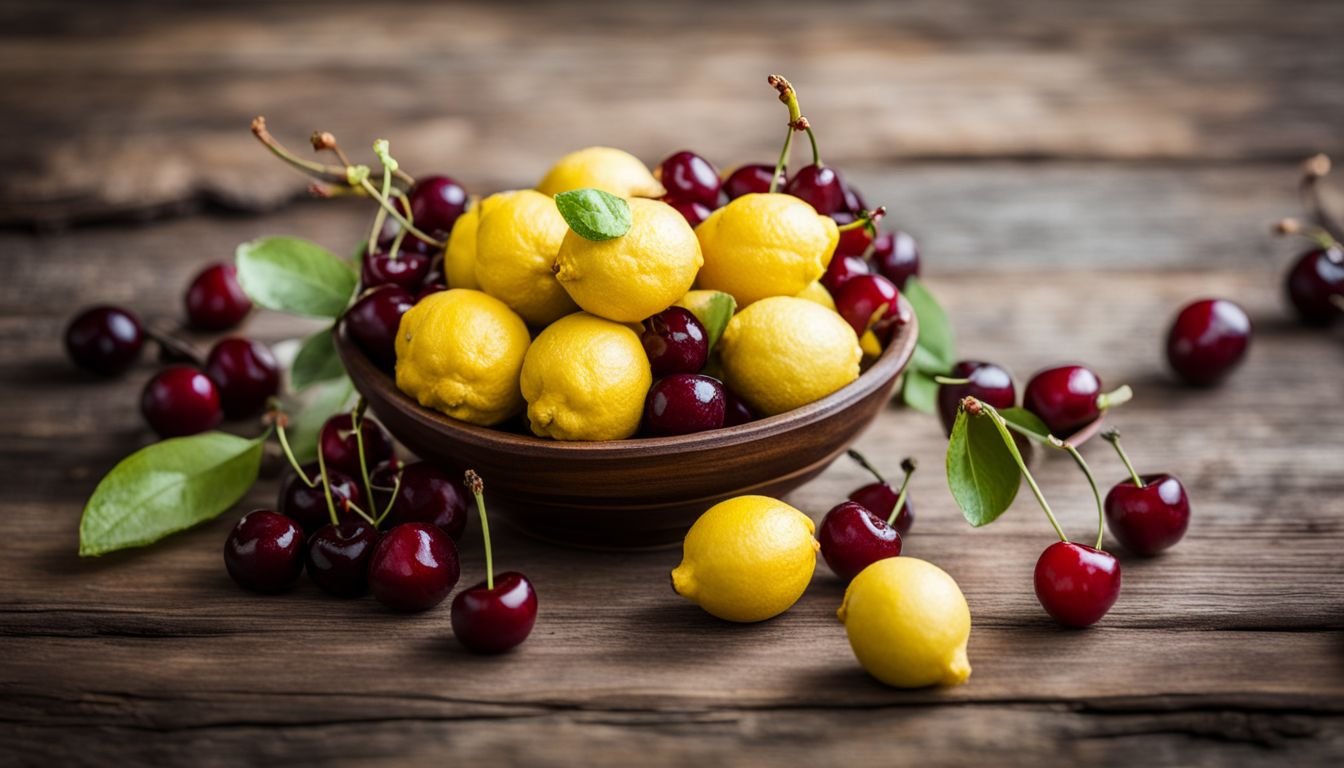 Lemon Cherry Gelato is a strain that offers a unique and enticing aroma profile, combining the sweet and creamy scent of cookies with hints of citrus fruit. Its flavor is equally delightful, with prominent notes of lemon and cherry blending together for a truly enjoyable taste experience.
In terms of appearance, Lemon Cherry Gelato features buds that are dense and resinous, showcasing hues of green, orange, and purple throughout.
Scent profile
Lemon Cherry Gelato has a delightful and unique scent profile that will captivate your senses. As you take a whiff, you'll be greeted by an invigorating aroma of sour lemons combined with the rich sweetness of cherries and berries.
The combination is simply intoxicating. In addition to these fruity notes, there are also hints of citrus, earthiness, gassiness, and even some tropical undertones. The diverse range of scents makes Lemon Cherry Gelato truly one-of-a-kind in terms of aroma.
So get ready to indulge your nose in this enticing fragrance that is sure to leave you craving more.
Taste profile
The taste profile of Lemon Cherry Gelato is a delightful combination of sour lemons, rich cherries, and berries. It has a creamy cookies flavor that brings a sense of sweetness to the mix.
When you take a hit, you'll be greeted with a blast of high gassy goodness that adds an extra level of enjoyment. This strain's deep citrus fruit profile is complemented by hints of cherry, tropical notes, and woody earth undertones.
The result is a flavorful experience that combines both sweet and tangy flavors in one delicious package. With its strong fruity taste and high THC content, Lemon Cherry Gelato offers cannabis enthusiasts a truly enjoyable flavor experience.
Visual appearance
The visual appearance of Lemon Cherry Gelato is truly eye-catching. This strain boasts large and dense buds that come in a variety of vibrant shades. From deep greens to purples and even hints of orange, these colorful buds are a sight to behold.
With its resemblance to gelato ice cream, Lemon Cherry Gelato is both visually appealing and enticing. The buds are covered in a thick layer of trichomes, giving them a frosty and refreshing look.
Overall, the visual appearance of Lemon Cherry Gelato is as captivating as its aroma and flavor.
Comparison: Lemon Cherry Gelato vs Ice Cream Cake Strain
Lemon Cherry Gelato and Ice Cream Cake are two potent and flavorful strains with distinct characteristics. Below is a brief comparison between the two:
| Attributes | Lemon Cherry Gelato | Ice Cream Cake |
| --- | --- | --- |
| Lineage | A genetic cross between Sunset Sherbet and Girl Scout Cookies | Details not provided |
| THC Content | 19% to 29% | Details not provided |
| Strain Type | Hybrid, leaning slightly indica-dominant (60% indica, 40% sativa) | Details not provided |
| Flavors and Aroma | Known for its creamy sweetness and gassy undertones | Details not provided |
| Effects | Offers a mix of energy-boosting and relaxing effects, leaning slightly towards the indica side | Details not provided |
While we have detailed information on Lemon Cherry Gelato, more data is needed on Ice Cream Cake to offer a comprehensive comparison. Lemon Cherry Gelato, with its robust THC content and complex flavor profile, is an excellent choice for those seeking a balanced, slightly indica-dominant hybrid.
Growing Information for Lemon Cherry Gelato
Lemon Cherry Gelato is an easy strain to grow, making it perfect for beginners. With a moderate yield and recommended growing conditions of a warm and sunny climate, you'll have no problem cultivating this delicious strain.
But that's not all there is to know..
Yield
The Lemon Cherry Gelato strain is known for its high yields, making it a popular choice for cannabis cultivators. When grown indoors under ideal conditions, this strain can produce 2-3 ounces of bud per square meter.
If you prefer outdoor cultivation, Lemon Cherry Gelato can still offer substantial yields, with about 1-2 ounces per plant. Whether you choose indoor or outdoor growing, this strain has the potential to provide a bountiful harvest of high-quality buds.
Recommended growing conditions
Lemon Cherry Gelato is a strain that can be grown both indoors and outdoors. It thrives in warm and humid climates, making it ideal for cultivation in regions with these conditions. The strain has a medium-sized yield capacity under optimal growing conditions. It has a flowering period of 57-62 days and can be harvested around 64 days. Lemon Cherry Gelato is considered an easy strain to grow, making it suitable for novice growers who are just starting out in cannabis cultivation.
Final Thoughts on Lemon Cherry Gelato
After experiencing the energizing and relaxing effects of Lemon Cherry Gelato, along with its delightful aroma and flavors, it's safe to say that this strain is a must-try for any cannabis enthusiast.
To delve deeper into its qualities and growing information, keep reading!
Overall review and recommendation
Lemon Cherry Gelato is a hybrid cannabis strain that combines the best qualities of Sunset Sherbet and Girl Scout Cookies. With THC levels ranging from 19% to 29%, this strain offers a potent experience for both recreational and medicinal users.
Its sweet, sherbet-like flavor with hints of cherry and its peppery aroma make it a delight for the senses. The slightly indica-dominant genetic composition (60% indica, 40% sativa) ensures a relaxing body high while still providing uplifting effects.
Whether you're looking for relaxation or creative inspiration, Lemon Cherry Gelato is definitely worth trying if you can handle its high THC content.
Conclusion
In conclusion, Lemon Cherry Gelato is a highly sought-after strain due to its impressive lineage, potent THC content, and enjoyable effects. With flavors of citrus and earthy pine, this hybrid offers a smooth and refreshing taste that cannabis enthusiasts love.
Whether you're seeking relaxation or an energy boost, Lemon Cherry Gelato delivers with its indica-dominant properties. Consider giving this gelato strain a try for a sweet and satisfying cannabis experience.
FAQs
1. What is the flavor profile of Lemon Cherry Gelato?
Lemon Cherry Gelato has a unique flavor profile that combines citrusy lemon notes with sweet cherry undertones.
2. Is Lemon Cherry Gelato a good strain for relaxation?
Yes, Lemon Cherry Gelato is known for its relaxing effects, which can help reduce stress and promote a sense of calm.
3. What are the THC levels in Lemon Cherry Gelato?
The THC levels in Lemon Cherry Gelato can vary, but it typically ranges between 18% to 22%, making it moderately potent.
4. Are there any medicinal benefits associated with using Lemon Cherry Gelato?
Lemon Cherry Gelato may provide relief from conditions such as chronic pain, insomnia, and anxiety due to its potential calming and soothing properties. However, it's best to consult with a healthcare professional before using it for medical purposes.