Are you eager to explore the world of cannabis strains, but unsure where to start? The Mac 1 strain, a popular hybrid blend known for its uplifting effects and high THC content, is definitely worth considering.
This article will dive deep into what makes this particular strain stand out from the rest – touching on everything from its aroma and taste, to health benefits and cultivating tips.
Ready for an enlightening journey into the MAC universe?.
Key Takeaways
Mac 1 is a popular hybrid marijuana strain with a balanced blend of indica and sativa genetics.
It has an impressive terpene profile that gives it a unique aroma and flavor, with notes of citrus, pine, berry, and vanilla cream.
Mac 1 offers potent effects, including uplifted mood, mental relaxation, pain relief, and stress reduction.
Medical cannabis patients often turn to Mac 1 for its therapeutic benefits in managing conditions such as chronic pain, inflammation, nausea, insomnia, and depression.
Overview of Mac 1 Strain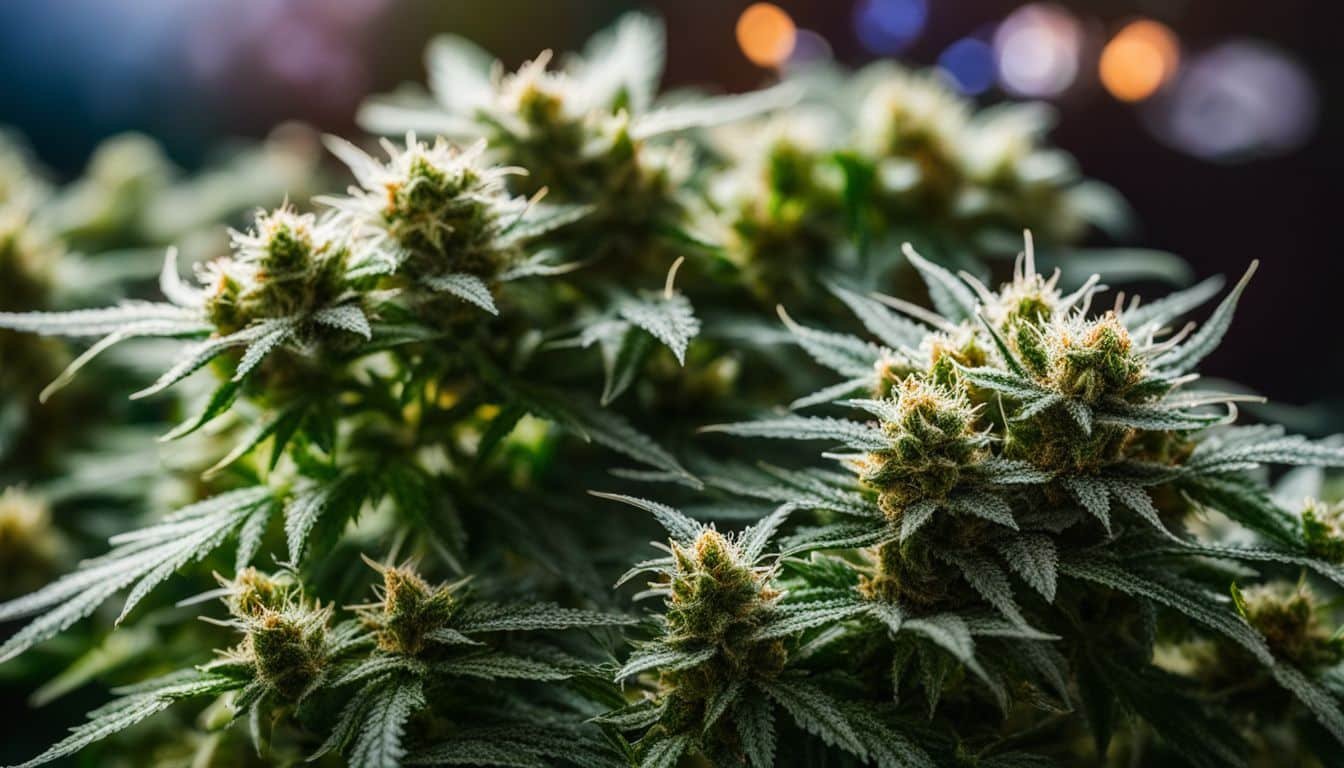 Mac 1 Strain is a popular hybrid marijuana strain, created by crossing Alien Cookies F2 with Miracle 15, resulting in an evenly balanced hybrid (50% indica/50% sativa).
Genetics
The creation of the Mac 1 strain didn't happen by chance. Fervent breeders meticulously crossed Alien Cookies F2 with Miracle 15, bringing forth a balanced hybrid loved by many. This exclusive access to rare genetics contributes to its high regard among cannabis consumers and cultivators alike.
Despite not having specific lineage details disclosed publicly, Mac 1's potent blend has captured the attention of many for its unique sativa-indica ratio; it boasts an impressive equilibrium of 50/50.
Unsurprisingly, this makes it one of those strains with limited availability but high demand in today's market.
Appearance and Aroma
Mac 1 hits your senses with a vibrant appearance and an intoxicating aroma. It stands out from the crowd with green and purple hues that catch the eye. This rich color scheme not only enhances its aesthetic appeal but also hints at its robust genetic profile.
The unique smell of Mac 1 quickly fills a room, adding to its allure. The distinctive sweet-'n'-sour citrus scent melts into musky undertones, reminiscent of fresh herbs mingling with pungent diesel fumes.
Floral notes sneak in delicately, providing a gentle contrast to the powerful diesel fragrance, making it popular among users for its fascinating blend! Don't be surprised if you find yourself hooked on this captivating mix of aroma and visual appeal.
Effects
Mac 1 strain delivers an energy-boosting effect that's renowned for its remarkably long lifespan. Users often notice a significant stimulation in creativity along with feelings of upliftment, transforming even the dullest moments into exciting experiences.
This balanced hybrid blends sativa and indica perfectly, creating diverse effects appreciated by both connoisseurs and novices alike. The potent properties also contribute to Mac 1 being a popular choice among users due to its unique blend of uplifting and hazy impacts.
Not only does it lighten moods, but it provides considerable pain relief too – part of why this strain has won fans for its storied roots and unwavering reliability.
Medical Patients
Medical cannabis patients often turn to the MAC 1 strain for its therapeutic benefits. With its average THC level of around 21%, MAC 1 provides potent relief for symptoms associated with stress.
This hybrid strain offers a balanced uplifting effect, enhancing mood and promoting productivity and talkativeness. The effects of MAC 1 are long-lasting, making it a preferred choice among medical users seeking lasting relaxation and relief.
Grow Info
To successfully grow MAC 1 strain, you'll want to create an environment that mimics its preferred conditions. This hybrid strain tends to lean towards Indica and can reach a tall stature.
Make sure to provide ample vertical space for its growth. Additionally, MAC 1 is known for being covered in trichomes, so keep an eye out for milky white ones indicating it's ready for harvest.
With the right care and attention, you can cultivate this appealingly potent strain at home.
In-depth Mac 1 Strain Review
Mac 1 is a highly sought-after hybrid strain that cannabis enthusiasts can't get enough of. This strain is the result of crossing Alien Cookies F2 with Miracle 15, creating a perfectly balanced mix of sativa and indica genetics.
With an average THC level of around 21%, Mac 1 offers users a potent and enjoyable experience.
One of the standout features of Mac 1 is its unique taste profile. When you take a hit, you'll immediately notice flavors of pine, berry, citrus, and even vanilla cream. The combination creates a delightful mix that's both refreshing and satisfying to the palate.
In addition to its captivating flavor, Mac 1 also boasts beautiful buds with vibrant colors. You'll find dense nugs in shades of purple, blue, and dark green, making it visually appealing as well.
The terpene profile of Mac 1 has been described as smooth, creamy, funky, and complex. Users often report feeling uplifted and euphoric after consuming this strain. It's known for providing mental relaxation while also offering pain relief.
Overall, Mac 1 is a top-notch strain that delivers on all fronts – from its mouthwatering taste to its impressive effects. Whether you're looking for stress relief or simply want to indulge in an enjoyable smoking experience, Mac 1 won't disappoint you.
Benefits of Mac 1 Strain
The Mac 1 Strain offers improved taste and odor, greater safety and health benefits, as well as pain and mental relaxation.
Improved taste and odor
Mac 1 strain offers an enhanced flavor and a pleasant scent. Its unique terpene profile gives it a rich and complex aroma, with subtle floral undertones. When you consume Mac 1, you can expect an earthy and fruity taste that is both musky and pungent.
The hoppy and diesellike odor adds to its distinctive fragrance. This strain's improved taste and odor are some of the reasons why users appreciate it so much.
Greater safety and health benefits
Mac 1 strain offers greater safety and health benefits to cannabis consumers. The presence of Limonene in this strain provides anti-inflammatory properties, which can help reduce inflammation in the body.
Additionally, Limonene has antioxidant effects that can protect cells from damage caused by harmful free radicals. These benefits contribute to overall well-being and improved health outcomes for those who choose to consume Mac 1.
In addition, the pain relief properties of Mac 1 make it a popular choice among patients seeking comfort and relaxation. Overall, Mac 1 is known for its positive impact on both physical and mental health, making it an excellent option for individuals looking to incorporate cannabis into their wellness routine.
Pain and mental relaxation
The Mac 1 strain is highly regarded for its ability to provide pain relief and promote mental relaxation. Many users turn to Mac 1 specifically to address issues related to inflammation and chronic pain.
When using Mac 1, you can expect a calming and soothing effect on both your body and mind. This strain is considered a 50/50 hybrid, meaning it combines the best qualities of indica and sativa strains, resulting in a balanced experience that helps with pain management and stress reduction.
Medical patients have reported finding relief from conditions such as chronic pain, inflammation, nausea, chronic stress, insomnia, and depression when using Mac 1. If you're looking for a natural way to manage pain while also achieving a state of mental relaxation, consider giving the Mac 1 strain a try.
Conclusion
In conclusion, Mac 1 is a hybrid marijuana strain that has gained popularity among both recreational and medical cannabis users. Its unique terpene profile creates a distinct flavor and aroma experience, while its high THC content provides potent effects.
With its ability to uplift mood, alleviate stress, and provide relaxation, Mac 1 offers a well-rounded and enjoyable cannabis experience. Try it out for yourself today!
FAQs
1. What is the Mac 1 strain?
The Mac 1 strain, short for Miracle Alien Cookies, is a popular cannabis strain known for its potent and uplifting effects.
2. How does the Mac 1 strain make you feel?
The Mac 1 strain can create a euphoric and energizing high, leaving users feeling happy, relaxed, and focused.
3. What are the flavors and aromas of the Mac 1 strain?
Mac 1 has a unique combination of flavors that include citrusy notes with hints of diesel fuel and earthiness. It also has a distinct herbal aroma.
4. Is the Mac 1 strain suitable for beginners or experienced cannabis users?
Due to its potent effects, the Mac 1 strain may be more suitable for experienced cannabis users who are familiar with their tolerance levels. Beginners should start with caution and take it slow when trying this particular strain.