Exploring the world of cannabis strains can be confusing with so many options out there. Did you know that Purple Punch is a relaxing, indica-dominant hybrid, highly praised for its enticing flavor and high THC content? Our comprehensive review will delve into everything you need to know about this popular strain – from its genetics and growth tips to effects and benefits.
Ready to dive in?.
Key Takeaways
Purple Punch is an indica – dominant hybrid known for its relaxing effects and high THC content.
This strain has a unique appearance, flavor, and aroma, with buds covered in trichomes and flavors of sweet blueberry and vanilla.
Purple Punch offers various benefits, including relaxation, euphoria, creativity enhancement, sleep aid, pain relief, and stress reduction.
Potential side effects of this strain include drowsiness, couch – lock, fatigue, and lethargy.
Purple Punch Strain Overview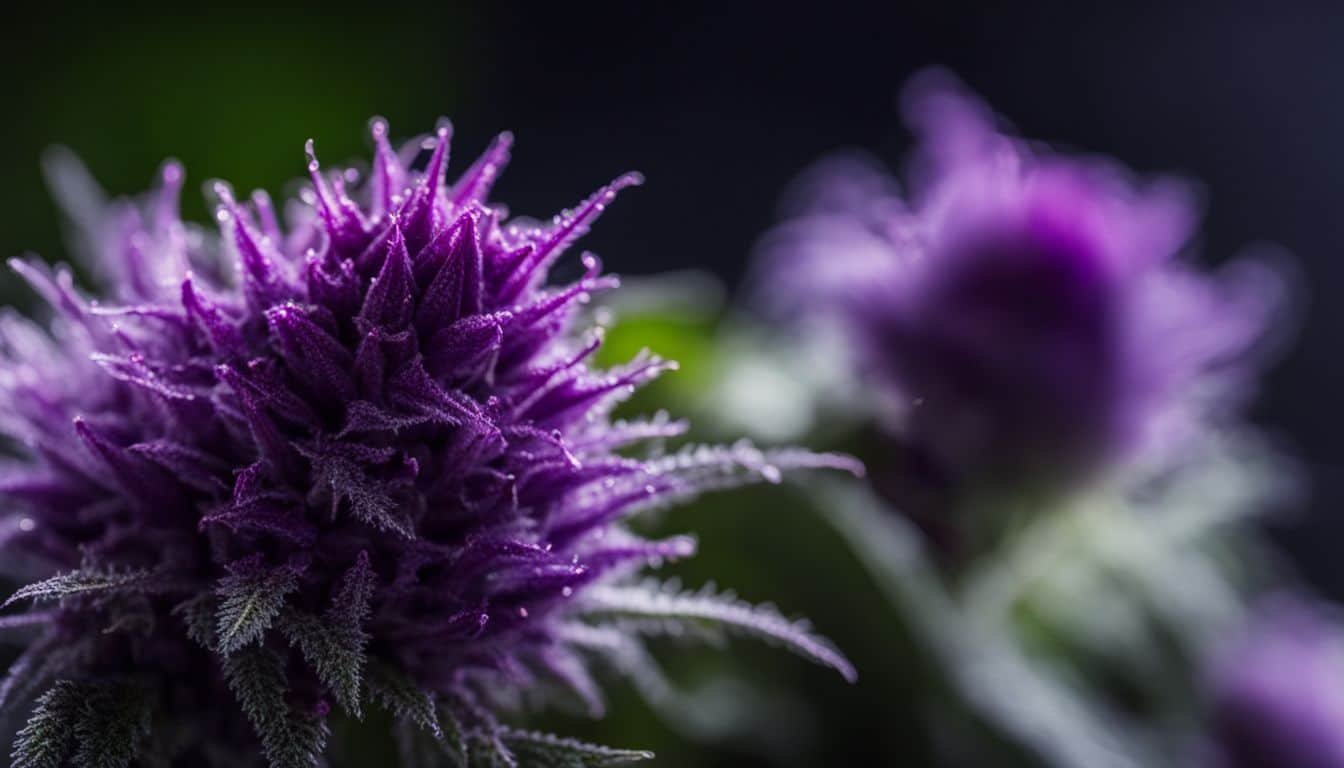 Purple Punch strain is an indica-dominant hybrid created by breeding Larry OG with Granddaddy Purple, resulting in a trichome-laden strain known for its sedating effects and pleasant flavors.
Genetics and origins
Purple Punch strain owes its origins to the diligent work at Supernova Gardens. This Indica-dominant hybrid is a sublime marriage of two popular strains: Larry OG and Granddaddy Purple.
Breeding these two powerhouses resulted in a strain with vibrant, colorful aesthetics, robust fragrances, and high THC content that cannabis enthusiasts rave about. It's the expert genetic mix that allows Purple Punch to offer unique properties distinct from its parent strains.
Appearance, flavor, and aroma
Purple Punch strain stands out with its distinct features. The buds are covered in trichomes, giving them a sugar-coated appearance that's appealing to the eye. They're usually a rich green color with hints of purple peeking through, tying it back to its name and genetics.
This indica-dominant hybrid also makes an impression on your taste buds, boasting flavors of sweet blueberry and vanilla layered with the tanginess of sour grape candy. Inhaling deeply uncovers a luxurious aromatic profile that screams quality: there's this undeniable aroma of ripe grapes mingling harmoniously with subtle earthy undertones for a sensory experience unlike any other indicadominant hybrids available today.
It simultaneously entices and relaxes you even before usage, setting itself apart from other strains in both its look and flavor profile.
THC content
Purple Punch sets a new bar for other cannabis strains with its substantial THC concentration, typically hovering between 18% to 20%. This higher THC content underscores the potent effects associated with this strain and makes Purple Punch a powerful choice for those seeking stronger experiences.
However, CBD's absence implies that consumers won't experience any significant CBD-related effects or benefits. Knowing the THC percentage can help users gauge how much of this strain they should consume to achieve their desired results.
Despite considerable THC levels, Purple Punch is loved for its strength and potency in the world of cannabis culture.
Effects and Benefits of Purple Punch Strain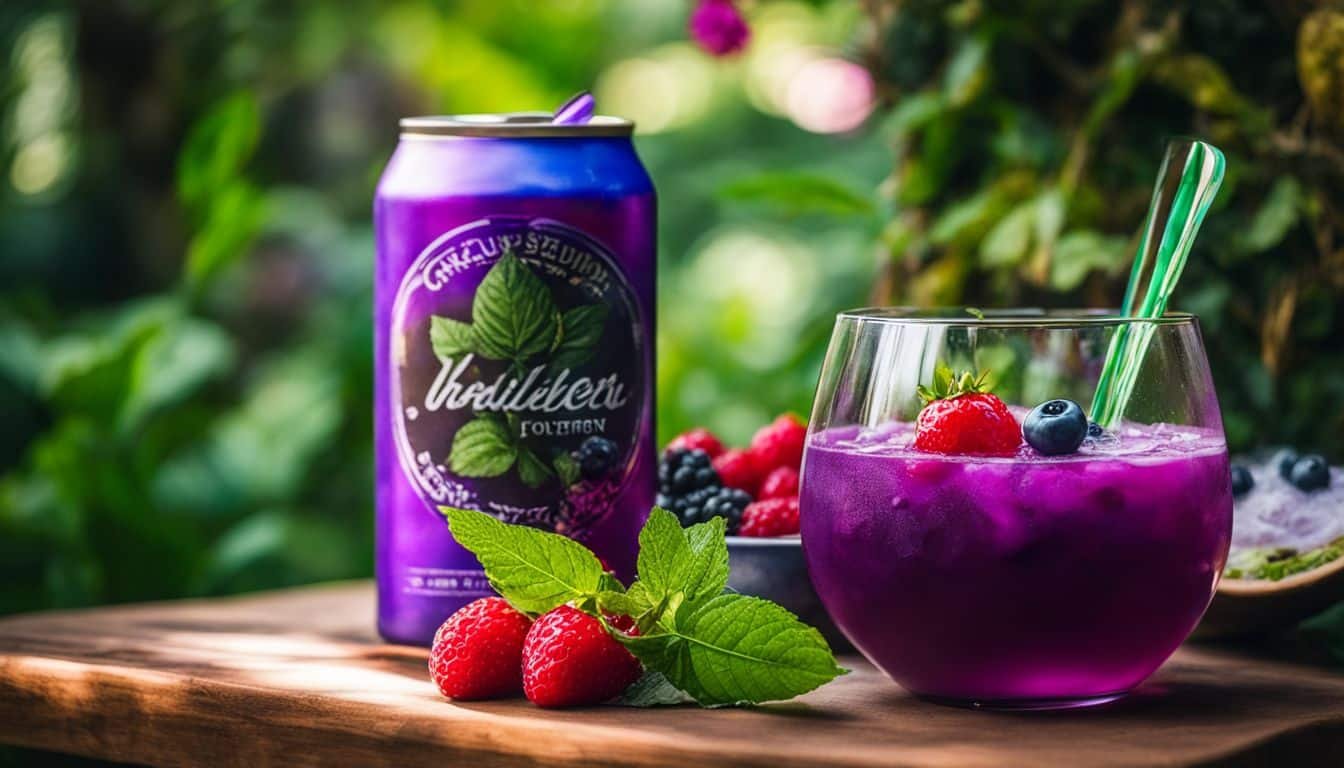 Purple Punch strain offers a range of effects that can leave you feeling relaxed, uplifted, and even slightly sedated.
Feelings and positive effects
The Purple Punch strain offers an array of positive effects and feelings that make it a favorite among cannabis enthusiasts. Here are some of the benefits you can expect from consuming Purple Punch:
Relaxation: Purple Punch is known for its deeply calming and relaxing effects, making it ideal for unwinding after a long day.
Euphoria: This strain can induce a sense of happiness and euphoria, helping to uplift your mood and promote a positive state of mind.
Creativity: Despite being an indica-leaning hybrid, Purple Punch has been reported to enhance creativity and focus, allowing for productive and inspired thinking.
Sleep Aid: Many users find that Purple Punch can help with insomnia or other sleep issues by inducing deep relaxation and drowsiness.
Pain Relief: Due to its high THC level, Purple Punch has the potential to alleviate minor body aches and chronic pain conditions.
Stress Reduction: The strain's calming properties can provide relief from stress, anxiety, and tension, promoting an overall sense of well-being.
Negatives and potential side effects
The Purple Punch strain comes with some potential negatives and side effects. It's important to be aware of these before using it. Here are some things you should know:
Drowsiness: Taking high doses of Purple Punch strain may cause drowsiness, making it best suited for evening or nighttime use.
Couch-lock: This strain can have a heavy-bodied effect, leading to a feeling of being glued to the couch. Be prepared for a relaxed and tranquil experience.
Fatigue: Due to its sedative properties, Purple Punch can make you feel tired and fatigued. It's not recommended for tasks that require alertness or productivity.
Lethargy: Some users may experience a sense of lethargy after using Purple Punch strain. This can contribute to the relaxation and calming effects it offers.
Medical uses
Purple Punch strain has gained popularity in the medical cannabis community due to its potential benefits in pain management and nausea control. It is believed to be effective in providing relief for cancer patients undergoing treatment. Additionally, this strain is known to alleviate stress and promote a sense of relaxation, making it an attractive choice for those seeking mood enhancement. With its potential medical uses, Purple Punch strain offers an alternative option for symptom control and overall well-being.
Comparison with Similar Strains: Grape Ape Strain
Purple Punch and Grape Ape are two indica-dominant strains that bear comparison due to their shared characteristics. Below is a comparative table to help break down the features and influences of these two unique strains:
| | Purple Punch | Grape Ape |
| --- | --- | --- |
| Origins | A hybrid strain bred from Larry OG and Granddaddy Purple. | A crossbreed of Mendocino Purps, Skunk, and original Afghani. |
| THC content | Similar to Grape Ape, it carries a potent THC content of up to 21%. | Known for its potency, it also holds a THC level of up to 21%. |
| Sensory properties | Characterized by a grape-like flavor. It has a reputation for its sweet and sedating properties. | Distinct for its grape-like aroma and taste. It's renowned for its potency and high THC levels. |
| Usage Time | Preferred for evening or nighttime use due to its relaxing and sedating effects. | Also suitable for evening or nighttime use because of its calming and sedative influences. |
While both strains share many similarities, they each have unique traits that set them apart. Purple Punch and Grape Ape offer different experiences and benefits to users, making them suitable for different occasions or user preferences.
Growing Purple Punch Strain
To grow Purple Punch, you'll need to provide it with plenty of sunlight and a warm climate, making it suitable for outdoor cultivation.
Growing details and tips
Growing Purple Punch Strain is an exciting venture for cannabis enthusiasts. To help you get started, here are some essential details and tips:
Harvest Yield: Expect a bountiful harvest with Purple Punch. Indoors, you can yield up to 21 ounces per square meter, while outdoors, each plant can produce around 35-70 ounces.
Flowering Period: The strain has a relatively short flowering time of 7-9 weeks. This means you won't have to wait too long before enjoying the fruits of your labor.
Cultivation Difficulty: If you're new to growing cannabis, don't worry! Purple Punch is considered an easy strain to grow. It's suitable for both indoor and outdoor cultivation, making it accessible to beginners and experienced growers alike.
Indoor Growing: When growing Purple Punch indoors, ensure that you provide high-powered lights to mimic natural sunlight. This will promote healthy growth and maximize your harvest yield.
Outdoor Growing: For optimal results, consider growing Purple Punch in an outdoor setting where it can benefit from sufficient sunlight and fresh air circulation. This will enhance its overall growth and potency.
Climate Preference: Purple Punch thrives in sunny and humid climates, so if possible, try to replicate these conditions during cultivation.
Light Requirements: As mentioned earlier, high-powered lights are necessary for indoor growing. Make sure you invest in quality lighting systems to provide the ideal light intensity for your plants.
Ventilation Needs: Proper ventilation is crucial when growing Purple Punch indoors. Ensure good air circulation within your growing space to prevent mold or mildew growth.
THC Levels: Purple Punch boasts high THC levels ranging from 17% – 27%. Keep this in mind when consuming or sharing your harvest with others who may prefer milder strains.
Indica Potency: With its potent indica effects, Purple Punch offers calming and relaxing sensations. This makes it a great choice for unwinding after a long day or treating insomnia.
Popular strains to mix with Purple Punch
Mixing Purple Punch with other popular strains can lead to some incredible combinations. If you're looking to enhance the effects and create a unique experience, consider crossing Purple Punch with other well-loved strains.
Some popular choices include Granddaddy Purple, Gorilla Glue #4, and Wedding Cake. These hybrids can provide a balance of potent THC levels, aromatic profiles, and enjoyable effects.
Whether you prefer indica-dominant or sativa-dominant strains, there are plenty of options to experiment with when mixing them with Purple Punch. So go ahead and explore the exciting world of cannabis breeding by combining this versatile strain with others that complement its characteristics!
Seed banks for purchasing Purple Punch seeds
You can easily get your hands on Purple Punch seeds from various online seed banks such as Barney's Farm. These seed banks offer a wide variety of cannabis seeds, including the popular Purple Punch strain.
With just a few clicks, you can have your seeds delivered right to your doorstep, making it convenient for growers to start cultivating this strain. Whether you're looking for supernova gardens or other reputable retailers, these online seed banks provide access to high-quality Purple Punch seeds that will help you grow your own vibrant and potent buds.
So why wait? Start exploring these seed banks and get ready to embark on your Purple Punch growing journey!
Purple Punch Strain Reviews
Customers have had overwhelmingly positive experiences with Purple Punch strain, praising its potent effects and sedating properties.
Customer reviews and experiences
Purple Punch has received rave reviews from customers who have had the pleasure of trying this strain. They highlight the high trichome density, which contributes to its potency and quality.
Many users also mention the delightful aromas of blueberry and grape that waft from Purple Punch, adding to its appeal. When it comes to effects, customers consistently report feeling completely relaxed and sedated after using Purple Punch.
This strain is known for inducing a deep sense of calmness in both body and mind. Surprisingly, some reviewers also note an enhanced focus and creativity despite Purple Punch being an indica-leaning strain.
Verdict on Purple Punch strain
Purple Punch strain has garnered positive reviews from cannabis enthusiasts and growers alike. This indica-dominant hybrid has gained popularity for its trouble-free cultivation process and impressive yield.
With a genetic lineage that combines Larry OG and Granddaddy Purple, it delivers on its promise of relaxation and sedation. Users often rave about the relaxing and creative effects it produces, making it a go-to strain for those looking to unwind after a long day or tap into their artistic side.
While Purple Punch can induce a cerebral high, its strong THC content should be approached with caution by novice users. Overall, this strain is highly regarded for its potency, pleasant aromas and flavors, making it a worthwhile addition to any cannabis collection.
Conclusion
In conclusion, Purple Punch is a potent indica-dominant hybrid strain that offers a pleasant and relaxing experience. With its strong cerebral stimulation and sedating properties, it's the perfect choice for those looking to unwind and lift their spirits.
Whether you're seeking relief from inflammation or simply want to enjoy the sweet taste of blueberries, Purple Punch is a heavy hitter that won't disappoint.
FAQs
1. What are the effects of the Purple Punch strain?
The Purple Punch strain is known for its relaxing and sedating effects, making it great for stress relief and promoting sleep.
2. Is the Purple Punch strain suitable for daytime use?
No, the Purple Punch strain is better suited for evening or nighttime use due to its tranquilizing effects that can make you feel sleepy or couch-locked.
3. What does the Purple Punch strain taste and smell like?
The Purple Punch strain has a sweet and fruity aroma with hints of grape candy and blueberry muffins. Its taste is similar, often described as a blend of berries mixed with a sugary sweetness.
4. How long do the effects of the Purple Punch strain last?
The effects of the Purple Punch strain typically last around 2-3 hours, but this can vary depending on factors such as dosage, individual tolerance, and method of consumption.