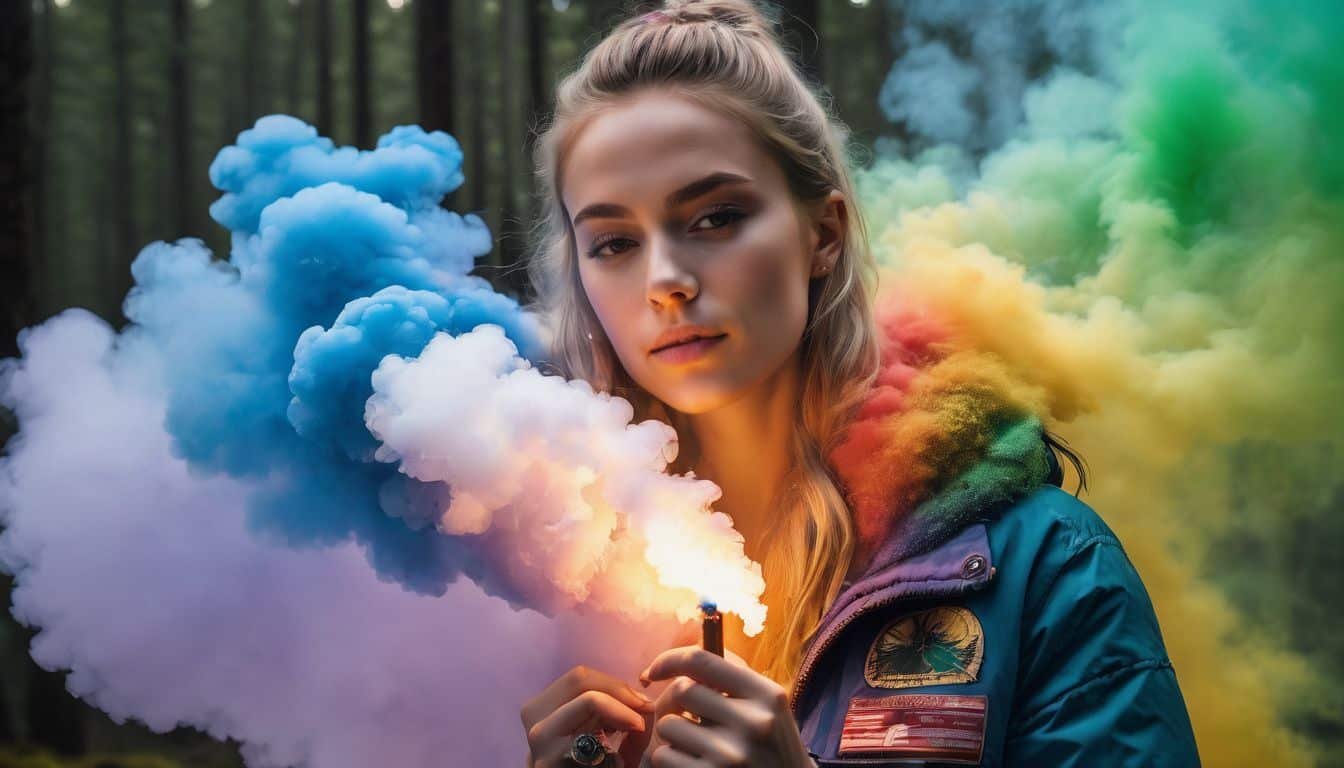 Curious about the Rainbow Belts marijuana strain? This unique cannabis hybrid, bred by crossing Moonbow with Zkittlez, is becoming increasingly popular among enthusiasts. Our dedicated review delves into everything you need to know about its genetics, characteristics, usage effects and more—so that you can make an informed decision for your next high.
Ready to explore the rainbow of possibilities?.
Key Takeaways
Rainbow Belts is a unique cannabis hybrid strain bred from Moonbow and Zkittlez, offering a balanced combination of Sativa and Indica genetics.
The strain features buds that resemble popcorn with a tropical scent and a sweet candy flavor layered with hints of spice and nuttiness.
Rainbow Belts provides calming effects, making it popular among individuals seeking relief from migraines, headaches, chronic stress, and depression.
It is important to consume Rainbow Belts responsibly due to potential side effects like dry mouth and paranoia.
Rainbow Belts Strain Information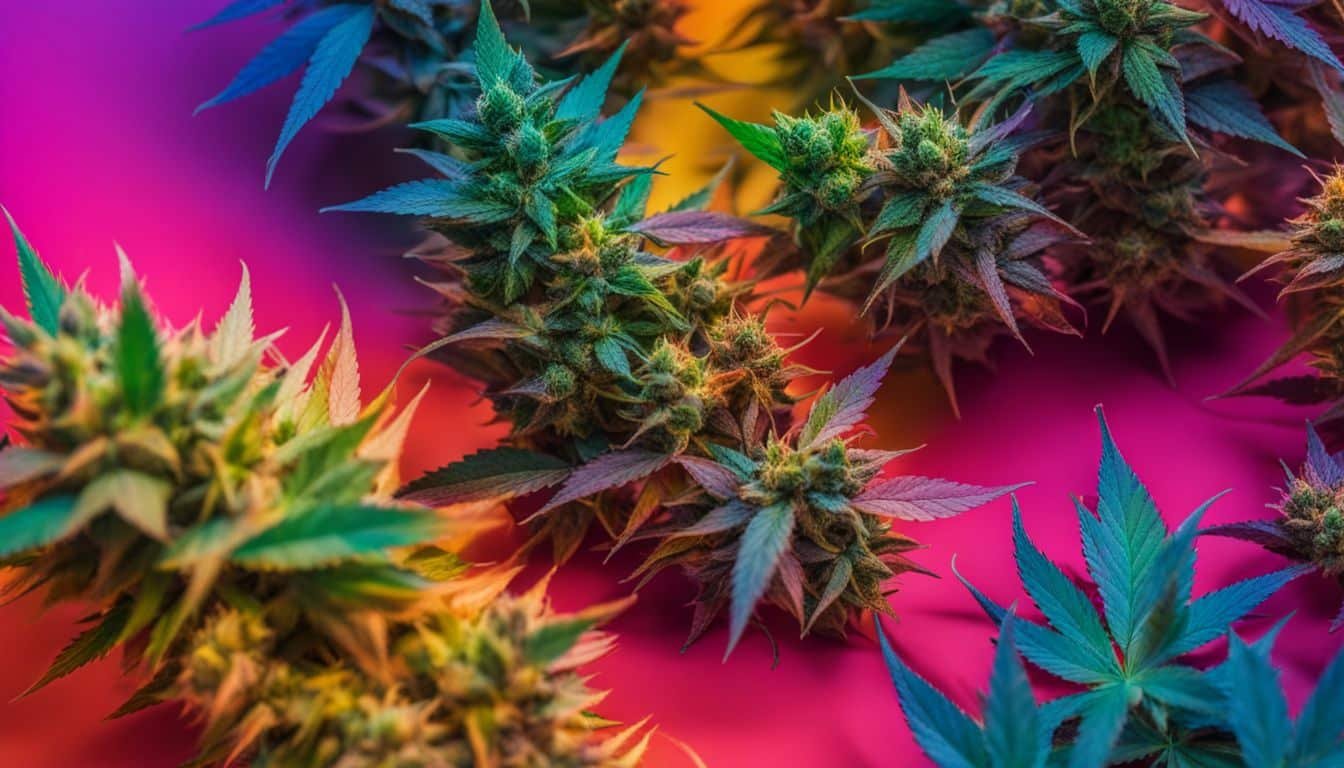 The Rainbow Belts strain is a hybrid marijuana strain that is a cross between Moonbow and Zkittlez, resulting in a unique combination of genetics. It has distinct characteristics in terms of appearance, flavor, smell, and taste.
When consumed, this strain offers various effects and potential benefits but may also have side effects to consider.
Genetic lineage (Moonbow x Zkittlez)
The Rainbow Belts strain originates from an exciting crossbreed between the Moonbow and Zkittlez cannabis strains. This curious coupling was carefully undertaken by Archive Seed Bank, creating a genetically balanced hybrid with equal parts Sativa and Indica genetics.
The resulting offspring boasts a potent blend of flavors, effects, and characteristics unique to its parents' lineage. A closer look reveals that Moonbow itself is born from Zkittlez crossed with Do Si Dos, offering additional depth to this hybrid's genetic makeup.
Being familiar with the Rainbow Belt's lineage will allow you to understand better not just its nature but also why it manifests certain effects and flavors when consumed.
Characteristics (appearance, flavor, smell, taste)
The Rainbow Belts strain showcases buds that resemble fluffy popcorn, with a radiant and inviting look. Its scent weaves a tropical cocoon around you, with dominant notes of grape, citrus, blueberry, and an unmistakable hint of sherbert.
On your first taste, the sweet flavor of candy will envelop your palate. Then comes complexity; as you exhale, the layered nuances become apparent – there are hints of spice mixed with nutty undertones that mingle beautifully with those fruity notes.
The aroma profile is unique too – combining apple-like freshness alongside lemony tang while throwing in tones reminiscent of apricots. Among these bright fruit scents lie deeper savory smells akin to blue cheese which add a contrasting depth to our strain's character.
The fusion between two worlds manifests even more vividly when tasting this strain: it lays out sweet grapes against zesty lime sweets while carrying them both on a floral fuel OG backdrop.
Engaging all your senses vividly and pleasingly makes this well-rounded cannabis experience memorable for its users.
Usage (effects, benefits, side effects)
Rainbow Belts offers a calming experience for users. It's an Indica-dominant hybrid strain, well known for its soothing effects that provide relaxation and relief. An average THC level of 24% bolsters these effects, making it popular among individuals seeking treatment for migraines, headaches, chronic stress, and depression.
However, consumption of Rainbow Belts can also lead to some side effects like thirst and dry mouth. Users with low tolerance or a tendency to over-indulge should take note as they might face paranoia, brain fog or even a drop in blood pressure.
So while the uniquely high THC content presents benefits, it does require cautious consumption to avoid potential drawbacks.
Review of Similar Strains: Rainbow Runtz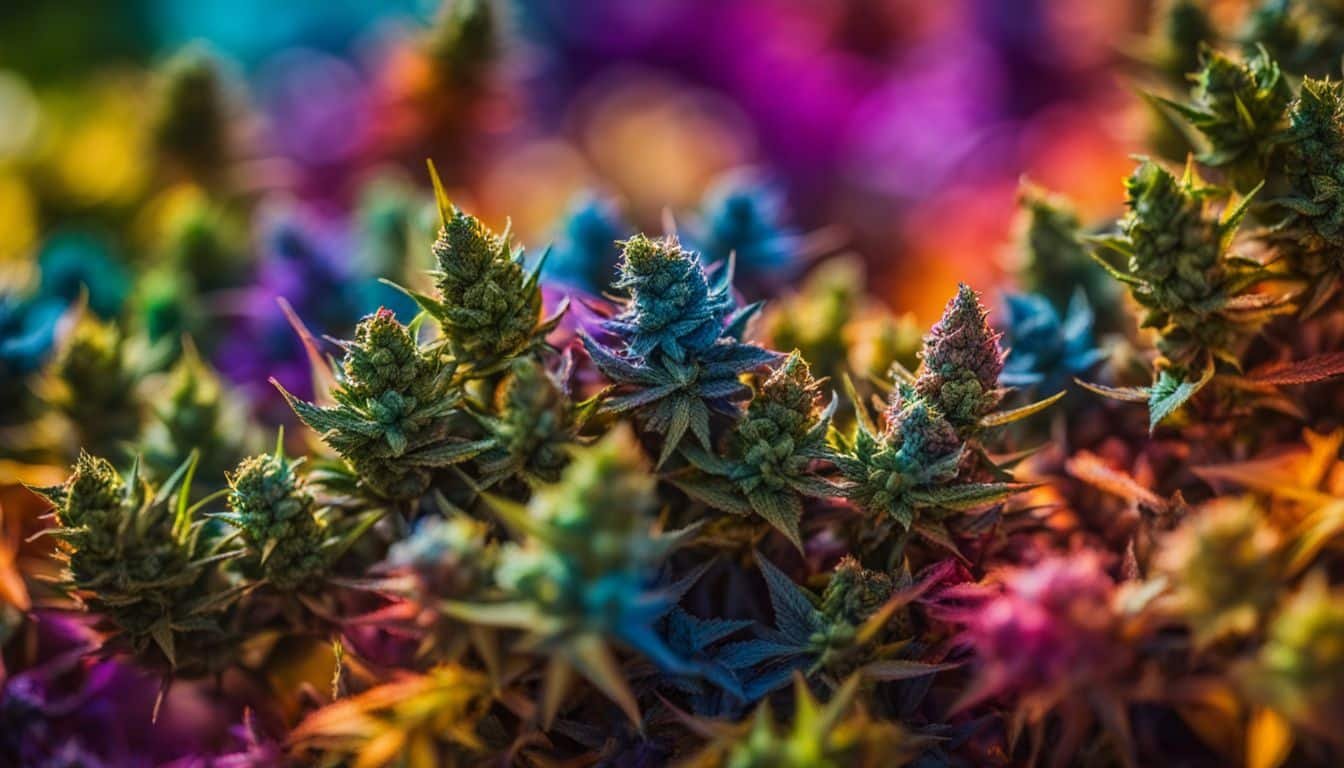 Rainbow Runtz is a strain that you definitely don't want to miss out on if you're a fan of sweet indica-dominant cannabis varieties. It comes highly recommended and is considered a favorite among Colorado tokers.
Just like Rainbow Belts, Rainbow Runtz has some amazing effects and flavors that will surely give you a pot of gold experience. So if you enjoyed Rainbow Belts, be sure to give Rainbow Runtz a try for some sweet and satisfying sensations.
One of the great things about Rainbow Runtz is its ability to deliver an incredibly relaxing high. Its indica dominance ensures that you'll feel calm, tranquil, and maybe even a little bit sleepy after consuming it.
And when it comes to flavors, Rainbow Runtz does not disappoint either. You can expect delicious fruity notes with hints of sweetness that make every inhale truly delightful. With all these amazing attributes, it's no wonder why so many people are singing praises about this strain.
Overall, if you loved Rainbow Belts and are looking for something similar yet equally enjoyable, I highly recommend trying out Rainbow Runtz. Its sweet flavor profile combined with its potent effects makes it one strain that should definitely be on your radar.
So go ahead and treat yourself to this tasty delight – you won't regret it!
How to Consume Rainbow Belts Strain
Explore different consumption methods and dosage recommendations to fully enjoy the effects of Rainbow Belts Strain. Read on to enhance your cannabis experience!
Different consumption methods
There are different methods you can use to consume Rainbow Belts strain. Here are some common ways people enjoy this cannabis strain:
Smoking: Smoking Rainbow Belts is a popular method among cannabis users. You can roll the strain into a joint or pack it into a pipe and inhale the smoke.
Vaping: Vaping has gained popularity in recent years, and it's also a great way to consume Rainbow Belts. Using a vaporizer, you can heat the strain at lower temperatures, producing vapor instead of smoke.
Dosage recommendations
To consume the Rainbow Belts Strain effectively, it is important to follow dosage recommendations. While the article does not mention specific guidelines, it is crucial to start with a low dose and gradually increase if needed.
This strain can be potent, so taking too much at once may lead to overwhelming effects and potential side effects. It's always recommended to listen to your body and adjust accordingly.
Be cautious and mindful of how the strain affects you personally, as individual tolerance levels vary. By starting slow and finding the right dosage for you, you can enjoy the benefits of Rainbow Belts while minimizing any potential discomfort or adverse reactions.
Grow Information for Rainbow Belts Strain
Learn about the flowering time, harvest yields, and tips for successful cultivation of Rainbow Belts Strain. Read more to become a cannabis cultivation pro!
Flowering time, harvest time, yields
The Rainbow Belts strain has a blooming period of approximately 52-70 days, making it a relatively quick-growing plant. After germination, you can expect to harvest your crop around 60-70 days.
When cultivated indoors, this strain typically yields about 1-2 ounces per square foot. Outdoor plants have the potential to produce even more, with an average yield of 10-15 ounces per plant.
Whether you choose indoor or outdoor cultivation, Rainbow Belts offers a moderate yield that is sure to satisfy cannabis enthusiasts looking for a rewarding growing experience.
Tips for successful cultivation
To successfully cultivate the Rainbow Belts strain, follow these tips:
Cultivate the plants indoors to have better control over their environment.
Keep the plants at a height of 3.5 – 5 feet by managing their growth with techniques like crop topping.
Cut short the vegging period to prevent excessive plant height.
The strain has a flowering period of 52 days, so be prepared for this timeline.
Indoors, expect a yield of 1-2 ounces per square foot, while outdoors, each plant can produce 10-15 ounces.
Use proper germination methods to ensure successful sprouting of the seeds.
Utilize effective propagation techniques to propagate healthy clones from mature plants.
Take advantage of the strain's hybrid effects and sticky resin by using appropriate consumption methods.
Where to Buy Rainbow Belts Strain
You can purchase Rainbow Belts strain from various dispensaries or online sources. Find out where to get this amazing strain and read customer reviews on pricing and quality.
Dispensaries or online sources
Dispensaries and online sources are the places where you can buy the Rainbow Belts strain. You have various options for purchasing this popular candy cannabis strain in Colorado. Here are some key points to keep in mind:
Dispensaries: Check out local dispensaries that specialize in selling cannabis products. They often carry a wide range of strains, including Rainbow Belts. Look for dispensaries with good customer reviews and a reputation for quality products.
Online sources: If you prefer the convenience of online shopping, there are also websites where you can purchase Rainbow Belts and have them delivered to your doorstep. Make sure to choose reputable online sources that comply with legal requirements and offer safe and discreet shipping.
Pricing: The cost of Rainbow Belts may vary between different dispensaries and online sources, so it's worth comparing prices before making a purchase. Keep in mind that factors like strain availability, THC levels, and overall product quality can also affect pricing.
Pricing and customer reviews
Rainbow Belts strain's pricing and customer reviews vary broadly. The following table lays out a general representation of the costs and opinions of customers who have tried this strain.
| Source | Price | Customer Review |
| --- | --- | --- |
| Online Dispensary A | $30 per gram | Customers love the unique flavor and reported a pleasant cerebral high; however, some have mentioned that the effects can take a while to kick in. |
| Physical Dispensary B | $25 per gram | Most reviewers praise the balanced effects of Rainbow Belts, stating it's ideal for both daytime and nighttime use. A few have reported dry mouth as a side effect. |
| Online Dispensary C | $35 per gram | Clients find the strain highly potent due to its 24% THC content. Some have expressed the strain is slightly pricey but worth the cost. |
In summary, the price of Rainbow Belts can fluctuate depending on the source, with most online dispensaries charging slightly more than physical ones. The reviews are generally positive, with customers appreciating the strain's balanced effects and unique flavor profile.
Conclusion
Rainbow Belts Strain offers a delightful and balanced experience for cannabis enthusiasts. With its sweet candy flavor and well-balanced effects, this 50/50 hybrid strain is definitely worth trying.
Whether you're looking for relaxation or a boost in creativity, Rainbow Belts has got you covered. Don't miss out on this flavorful and pleasurable cannabis strain!
FAQs
1. What is the flavor profile of Rainbow Belt strain?
Rainbow Belt strain has a sweet and fruity flavor with hints of berries and citrus.
2. Is Rainbow Belt strain a sativa or an indica?
Rainbow Belt strain is a hybrid, meaning it has both sativa and indica qualities.
3. What are the effects of Rainbow Belt strain?
The effects of Rainbow Belt strain include relaxation, euphoria, uplifted mood, and potential pain relief.
4. Can I use Rainbow Belt strain for medical purposes?
Yes, some people use Rainbow Belt strain for its potential therapeutic benefits such as stress reduction, anxiety relief, and alleviating symptoms of depression. However, consult with a healthcare professional before using it medicinally.