Are you curious about the Skywalker cannabis strain and its potential effects? Recognized for its high THC levels reaching up to 15 percent, Skywalker is renowned among enthusiasts.
This blog post will take you on an in-depth journey through this strain's unique characteristics, from aroma to taste, while unpacking its medical benefits. Ready to unlock the mysteries of the Skywalker strain? Let's dive right in!
Key Takeaways
Skywalker Strain is an indica – dominant hybrid known for its high THC levels reaching up to 15 percent.
It offers a distinct aroma with fuellike and spicy notes, making it easily recognizable.
The strain provides relaxing and euphoric effects, mood boost, pain relief, and sleep aid.
Its fruity taste with hints of sweet citrus and a spicy peppery finish add to the overall sensory experience.
Overview of Skywalker Strain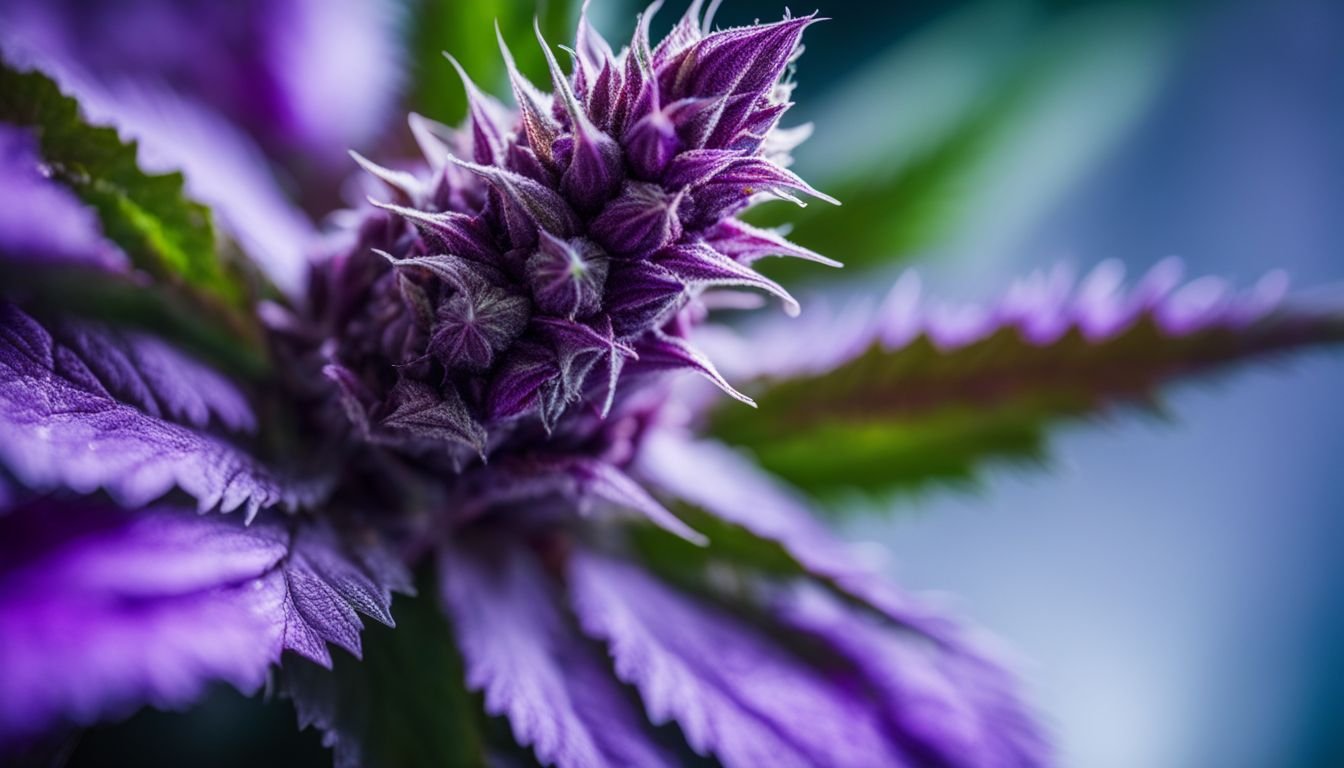 The Skywalker strain is an indica-dominant hybrid with a genetic lineage of Mazar x Blueberry, offering a distinct aroma and potent effects.
Genetic lineage (Mazar x Blueberry)
Skywalker OG strain boasts a potent genetic lineage, combining the powerful features of both Mazar and Blueberry strains. This indica-dominant hybrid exhibits the best qualities of its parents, making it a favored choice among cannabis connoisseurs.
The Mazar strain contributes robust resilience and high yields, while the Blueberry strain imparts rich flavors and an impressive range of colors to Skywalker OG. With such unique genetics at play, Skywalker OG delivers unparalleled effects and aromas that make it stand out in today's marijuana marketplace.
Indica-dominant hybrid
Skywalker OG makes its mark as a potent Indica-dominant hybrid strain. This unique blend combines the genetics of Mazar, Blueberry, and OG Kush to create an experience that is both relaxing and happiness-inducing.
Being Indica-heavy means you can expect peaceful sleepiness after using this strain.
Its power isn't limited to its effects alone; in fact, Skywalker ranks among the most admired strains on the market today. The particular combination provides a spectrum of benefits which positions it as an ideal choice for various recreational activities or simply when looking for some tranquility after a long day.
Distinct aroma
The potent aroma of the Skywalker OG strain is one for the books. It hits you with a strong fuellike scent, often compared to petrol or even an X-Wing hangar from a sci-fi universe.
Alongside this powerful smell, there's also a spicy note that adds depth and complexity to its aromatic profile. Sour Diesel notes make up part of its unique character, reminding someone of Chemdawg – another strain known for its robust diesel smell.
All these components come together to form an unfettered, easily recognizable scent—a signature trademark setting it apart in the realm of cannabis strains.
THC content
The THC content of the Skywalker strain ranges from 20% to 25%. This indica-dominant hybrid has a potent punch, with an average THC level of around 20%. Whether you're looking for a relaxing evening or a calming mood boost, the higher THC concentration in this strain is sure to deliver.
Its cannabis potency levels make it great for pain relief and as a sleep aid. With Skywalker, you can experience the strength and power of marijuana potency at its finest.
Comparison: Skywalker Strain vs Ghost OG Strain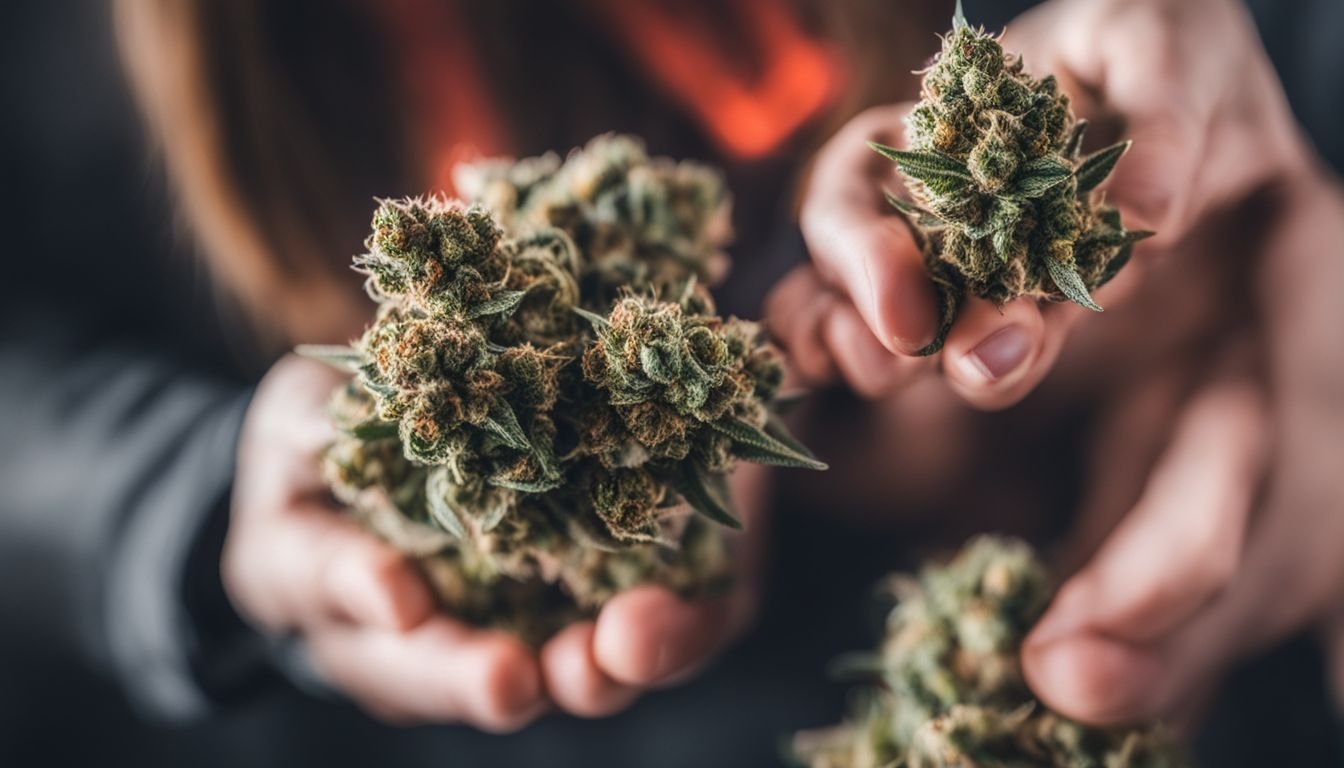 The Skywalker Strain and Ghost OG Strain are both potent varieties of cannabis with distinctive features. Here's a comparative analysis of both strains.
| | Skywalker Strain | Ghost OG Strain |
| --- | --- | --- |
| Genetic Lineage | Includes genetics from Skywalker Kush and Ghost OG. | An original OG phenotype. |
| Type | Indica-dominant hybrid. | 100% indica strain. |
| THC Content | High, can reach up to 30%. | Also high, capable of reaching 30%. |
| Flavors | Distinct flavor profile with a spicy aroma. | Pungent and sweet flavors. |
| Occurrence | Uncommon – Skywalker Ghost x Triangle Kush is a rare strain. | Commonly found in dispensaries. |
| Potency | Skywalker Ghost Kush is a potent strain with THC levels reaching 30-35%. | Highly potent, with its THC content matching that of the Skywalker strain. |
Both strains offer a unique experience for cannabis connoisseurs and are notable for their high THC content. The Skywalker Strain, however, is rarer and may prove to be a more intriguing option for those in search of unique cannabis varieties.
Effects and Benefits of Skywalker Strain
The effects of Skywalker Strain include relaxation, euphoria, mood boost, pain relief, and sleep aid. It provides a soothing and calming high that can help relieve stress and anxiety.
The strain's indica-dominant nature makes it ideal for winding down after a long day or for those seeking relief from chronic pain or insomnia. Additionally, the uplifting properties of Skywalker Strain can enhance creativity and promote a positive mental state.
Relaxation and euphoria
The Skywalker OG strain is famous for its ability to induce relaxation and euphoria. When you consume this strain, it can bring a sense of calmness, tranquility, and serenity to your mind and body.
You will feel a deep contentment and bliss wash over you, helping you unwind after a long day. The strain's potent effects can also provide moments of happiness and uplift your mood.
Additionally, Skywalker has sedative properties that can help with sleep issues or provide relief from pain. So if you're looking for some intense relaxation and an overall feeling of euphoria, Skywalker Strain might just be the perfect choice for you!
Mood boost
The Skywalker strain is renowned for its ability to enhance mood, providing an uplifting effect on your emotional well-being. With an 85% satisfaction rate among users, it has been prescribed for people with anxiety and depression as it is known to bring about feelings of happiness and serenity.
This strain works by easing and alleviating mental health issues, allowing you to experience a sense of calm and relaxation. If you're looking for a natural way to boost your mood, the Skywalker strain may be just what you need.
Pain relief
Skywalker Strain is highly regarded for its exceptional pain-relieving properties. It has been proven effective in reducing chronic pain caused by inflammation, surgery, or overworked muscles and joints.
This Indica-dominant hybrid offers a sedative body high, making it particularly beneficial for managing long-term pain. Many users rely on Skywalker Strain to alleviate stress, anxiety, and various types of pain due to its analgesic effects and calming properties.
With extensive research backing its medical benefits, this strain is a go-to option for individuals seeking natural relief from persistent discomfort.
Sleep aid
The Skywalker strain is highly regarded for its effectiveness as a sleep aid. It is commonly recommended for individuals who struggle with sleep disorders like insomnia. The strain's relaxing and sedative effects can help reduce stress, anxiety, and pain, making it easier to fall asleep and enjoy restful sleep.
If you're looking for a natural way to promote better sleep, the Skywalker strain could be just what you need. Soothing both body and mind, this strain provides relaxation and relief that can lead to a more peaceful night's rest.
Its ability to aid in sleep makes it popular among those seeking gentle yet potent assistance in achieving restorative slumber.
Taste and Smell of Skywalker Strain
The taste and smell of Skywalker Strain will transport you to a fruity paradise – read on to discover the delectable flavors and enticing aroma that make this strain a fan favorite.
Fruity aroma
The Skywalker OG strain is well-known for its delightful fruity aroma. When you take a whiff of this cannabis strain, you'll notice an earthy scent with hints of citrus and pungent fuel.
The fruity aroma is created by the presence of terpenes like caryophyllene, myrcene, and limonene in Skywalker OG. Myrcene gives it that distinct skunky smell, while limonene adds a refreshing touch of citrus notes.
Cannabis enthusiasts particularly love the enticing fruity aroma of Skywalker OG, making it a popular choice among them.
Sweet and citrus flavors
The taste of Skywalker Strain is characterized by sweet and citrus flavors that provide a delightful experience for cannabis enthusiasts. When you consume this strain, you can expect to enjoy the fruity aroma combined with hints of hops.
The flavor profile offers a pleasant sweetness along with subtle notes of citrus. Some users may also notice a spicy peppery finish, adding an extra layer of complexity to the overall taste.
With its unique combination of sweet and citrus flavors, Skywalker Strain stands out among other cannabis strains in terms of taste and sensory experience.
Spicy peppery finish
The taste and smell of the Skywalker strain is truly unique, with a spicy peppery finish that sets it apart from other cannabis strains. When you take a hit, you'll immediately notice the spicy kick on your palate, followed by a lingering peppery sensation that leaves a lasting impression.
This distinct flavor profile adds an extra layer of complexity to the overall experience of consuming Skywalker strain. Additionally, this spicy peppery finish enhances the strain's earthy and herbal undertones, creating a well-rounded and satisfying sensory experience for cannabis enthusiasts.
So if you're looking for a strain that packs a flavorful punch, look no further than Skywalker with its signature spicy peppery finish.
Conclusion
In conclusion, Skywalker Strain is a potent indica-dominant hybrid with a distinct aroma and fruity taste. With THC levels reaching up to 15 percent, it offers mellow and euphoric effects that provide relaxation and mood-boosting benefits.
Loved by many for its soothing properties, Skywalker remains a popular choice among cannabis enthusiasts.
FAQs
1. What is the potency of Skywalker Strain?
Skywalker Strain is known for its high potency, with THC levels reaching up to 30%.
2. What are the effects of Skywalker Strain?
The effects of Skywalker Strain include relaxation, euphoria, and a sense of calmness. It may also provide relief from stress, anxiety, and pain.
3. Is Skywalker Strain suitable for beginners?
No, Skywalker Strain is not recommended for beginners due to its high potency. It is better suited for experienced users who can handle its strong effects.
4. What are the flavors and aromas of Skywalker Strain?
Skywalker Strain has a unique combination of sweet, earthy, and fruity flavors with hints of diesel fuel and spice. Its aroma is pungent and skunky with notes of citrus and pine.