Looking for a potent strain to unwind after a long day? The Sunset Sherbert could be what you're seeking. Known as an indica-dominant hybrid, this vividly colorful strain bred from Girl Scout Cookies and Pink Panties is renowned for its calming and relaxing effects.
In this blog post, we'll dive deep into the world of Sunset Sherbert – exploring its genetics, THC content, aroma, flavor profile and medical applications so you can make an informed decision on whether it's right for you.
Ready to explore? Let's uncover the secrets of Sunset Sherbert together!
Key Takeaways
Sunset Sherbert is an indica-dominant hybrid strain known for its potent effects and relaxation-inducing properties.
It has a THC concentration between 18% and 21%, making it a strong choice for experienced cannabis users.
The strain offers full – body effects, providing both physical relaxation and mood enhancement benefits.
Sunset Sherbert has a sweet and fruity aroma, with flavors reminiscent of berries and citrus fruits. Its visually appealing buds come in vibrant colors ranging from deep purples to bright oranges.
Overview of Sunset Sherbert Strain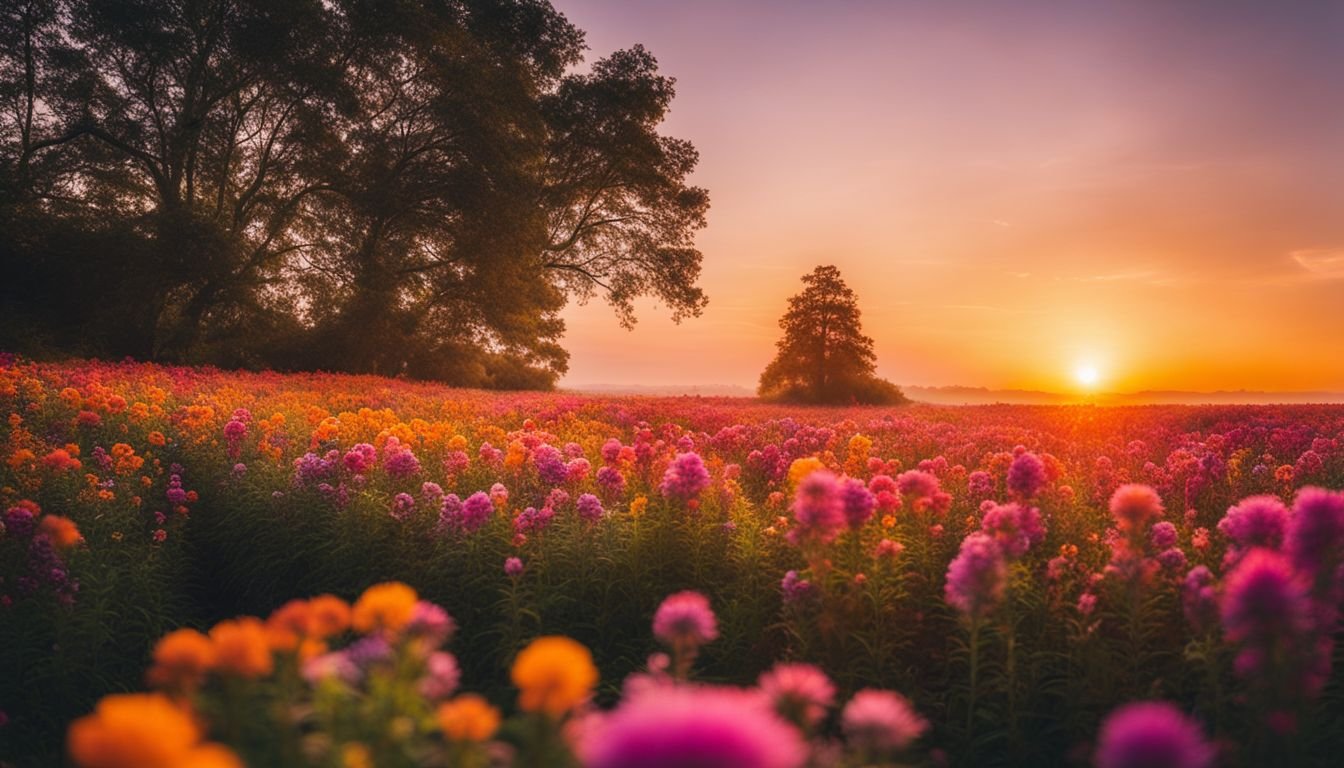 The Sunset Sherbert strain is an indica-dominant hybrid known for its potent effects and flavorful buds.
Genetics and lineage
Sunset Sherbet leaps from a rich genetic pool. This indica-dominant hybrid strain shines brightly in the cannabis family due to its unique genetics. The expert cultivators bred this marvel by crossing Girl Scout Cookies and Pink Panties strains, creating an exotic union.
The lineage doesn't stop there; it continues back to grandparent strains OG Kush and Durban Poison, inherited through the Girl Scout Cookies side of the family tree. These parent and grandparent strains lend their potent qualities, setting up Sunset Sherbet as an engaging and powerful member of modern cannabis varieties.
THC content
Sunset Sherbert boasts a THC concentration between 18% and 21%. This high THC level makes it a potent marijuana choice for those seeking strong effects. Generally, cannabis strains with such intensity are recommended primarily for seasoned cannabis users.
The strain's high THC levels do not come with any significant CBD content. Sunset Sherbert records very low CBD levels, which is worth noting for those who prefer a balanced THC to CBD ratio in their strain selection.
The emphasis here is on the strength of THC intensity without abundant overshadowing from CBD properties.
Effects and benefits
Sunset Sherbet carries a powerful punch with its full-body effects, all thanks to the Indica-dominant strain combined with OG Kush genetics. These robust properties make it an effective relaxation inducer that soothes your senses while also providing notable stress reduction benefits.
The energizing aroma and sweet flavor profile further engrain these calming effects into your system.
The therapeutic benefits of Sunset Sherbet go beyond physical relaxation. It has earned fame for its mood enhancement capabilities, helping users feel upbeat and lively. Its fruity fragrance not only adds to the aromatherapy experience but delivers a burst of happiness.
So next time you need some cheer or restful calm in your life, turn to Sunset Sherbet for a delightful blend of both!
Comparison: Sunset Sherbert vs. Ice Cream Cake Strain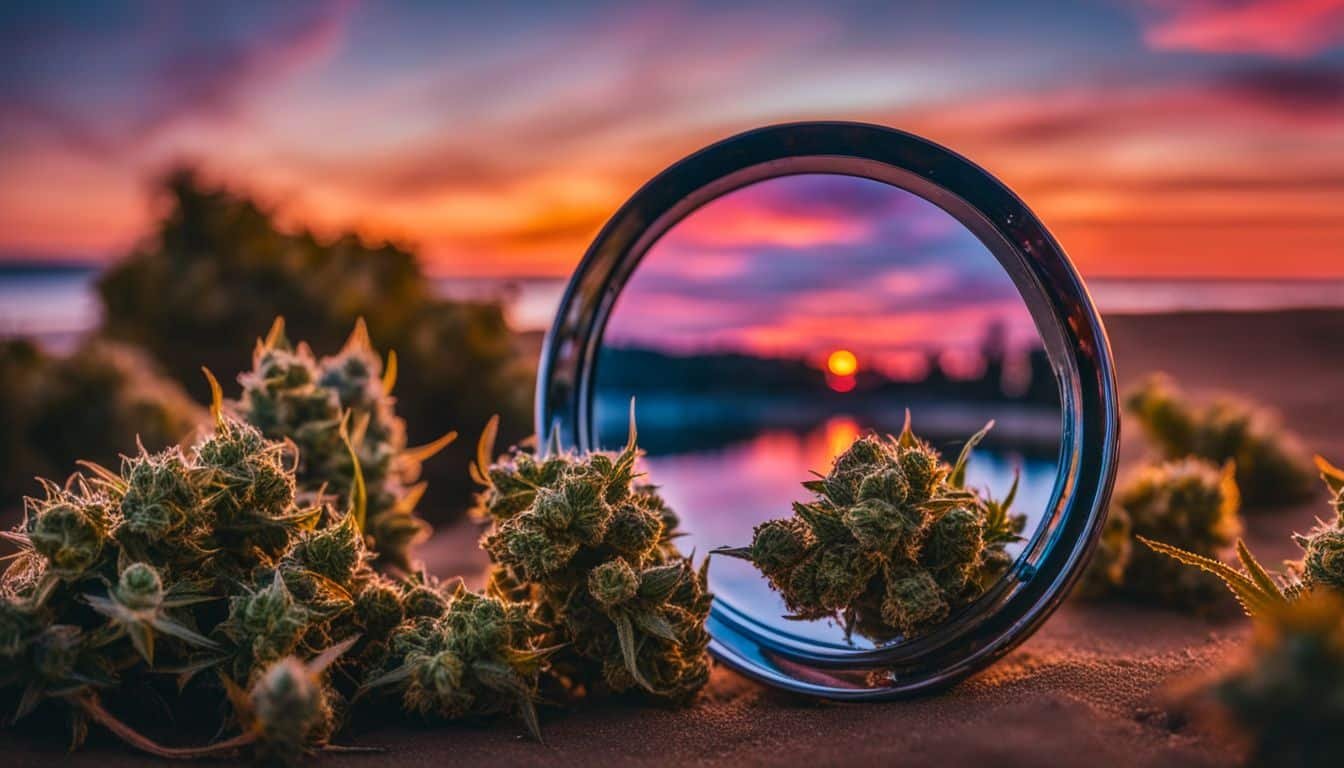 Sunset Sherbert and Ice Cream Cake strain are two remarkable kinds of cannabis strains, each with their unique characteristics. Let's compare the two to better understand their unique qualities.
| Attribute | Sunset Sherbert | Ice Cream Cake Strain |
| --- | --- | --- |
| Genetics | A hybrid of Pink Panties and Girl Scout Cookies strains | Crossed between Wedding Cake and Gelato #33 strain |
| Type | Indica-dominant hybrid | Indica-dominant |
| THC content | Around 17% | Usually in the range of 20% to 25% |
| Effects | Known for its relaxing and euphoric high | Provides a calming and euphoric high, but with a more sedative effect |
| Aroma | Fruity and frosty flavor | Sweet, with hints of vanilla and sugary dough |
While both have therapeutic benefits, it's crucial to understand their differences to make an informed decision based on your needs and preferences.
Aroma, Flavor, and Appearance of Sunset Sherbert
Get ready to be transported by the sweet and fruity aroma, the delectable flavor profile, and the stunning visual appeal of Sunset Sherbert. Read on to discover all the enticing details that make this strain truly one-of-a-kind.
Description of the scent and taste
Sunset Sherbert has an enticing aroma and flavor that will captivate your senses. The scent of this strain is pungent and skunky, with fruity and earthy undertones. As you take a hit, the taste is sweet and smooth, reminiscent of berries and citrus fruits like oranges.
The combination of these flavors creates a delightful experience for your palate. With each inhale, you'll be greeted by the mellow and distinct taste of Sunset Sherbert. Its unique blend of sweet, fruity notes makes this strain truly enjoyable to smoke or vape.
Visual characteristics of the strain
Sunset Sherbert is known for its visually appealing characteristics. The flowers of this strain are medium to large-sized, with a dense structure typical of indica strains. When you take a closer look at Sunset Sherbert, you'll notice that the buds are tightly packed and have vibrant colors that range from deep purples to bright oranges.
These beautiful hues make the strain stand out among others in your cannabis collection. Whether you're admiring it up close or showing it off to your friends, Sunset Sherbert's visual appeal is sure to impress.
In addition to its captivating appearance, Sunset Sherbert also has an aromatic and flavorful profile. The scent of this strain can be described as sweet and fruity, reminiscent of sherbet or ice cream.
When you take a hit, the taste matches the aroma with its deliciously sweet flavor that lingers on your palate. So not only will smoking or vaping Sunset Sherbert provide a visually enjoyable experience, but it will also tantalize your senses with its delightful aroma and taste.
Medical Applications and Dosing Recommendations
Discover the potential medical benefits of Sunset Sherbert and get dosing recommendations to help you find relief and relaxation.
Conditions that Sunset Sherbert may help with
Sunset Sherbert may help with various conditions, including mood disorders, emotional disorders, and mental health conditions. It can also address anxiety disorders and chronic stress. Additionally, Sunset Sherbert is recommended for those who are looking to stimulate their appetite or gain weight. It can be beneficial for individuals who have a medical condition causing appetite loss or decreased appetite.
Tips for finding the right dosage
To find the right dosage for Sunset Sherbert, consider these tips:
Start low and go slow: Begin with a small dose and gradually increase it over time to find your optimal dosage.
Listen to your body: Pay attention to how you feel after consuming Sunset Sherbert. If you experience any discomfort or unwanted effects, adjust the dosage accordingly.
Consult a healthcare provider: Seek guidance from a healthcare professional who specializes in cannabis dosing. They can provide personalized recommendations based on your specific needs and medical history.
Consider THC levels: Since Sunset Sherbert has THC levels ranging between 16 and 20 percent, take this into account when determining your dosage. Higher THC levels may require smaller doses for some individuals.
Keep a journal: Record your experiences with different dosages of Sunset Sherbert to track the effects and find what works best for you.
Conclusion
In conclusion, Sunset Sherbert is a popular indica-dominant hybrid strain that offers potent effects and relaxation. It is praised for its tasty flavor and colorful buds, making it a favorite among cannabis enthusiasts.
Whether you're seeking stress relief or simply want to enjoy the soothing nature of this strain, Sunset Sherbert is definitely worth trying out.
FAQs
1. What is the Sunset Sherbert strain?
The Sunset Sherbert strain is a hybrid cannabis strain known for its sweet and fruity flavors, as well as its calming and uplifting effects.
2. How does the Sunset Sherbert strain make you feel?
The Sunset Sherbert strain can make you feel relaxed, happy, and euphoric. It can also provide a sense of upliftment and creativity.
3. What are the potential medical benefits of the Sunset Sherbert strain?
The potential medical benefits of the Sunset Sherbert strain include relief from stress, anxiety, depression, pain, and insomnia. It may also help stimulate appetite.
4. What are the main characteristics of the Sunset Sherbet strain?
The main characteristics of the Sunset Sherbet strain include dense buds with shades of purple and orange hairs, a sweet and fruity aroma with hints of citrus and berries, and a balanced combination of indica and sativa effects.