Are you curious about different cannabis strains, especially the hybrid ones? Here's an interesting fact: White Fire OG is a high THC level strain known for its sour diesel aroma with a touch of citrus.
This blog post will give you a comprehensive review on everything from this strain's history to its effects and cultivation tips. Get ready to elevate your knowledge on cannabis as we dive into the world of White Fire OG!
Key Takeaways
White Fire OG is a hybrid weed strain with high THC levels of around 28 percent, making it potent and flavorful.
This strain has a unique aroma and flavor profile, with scents of sour citrus, diesel fuel, and hints of pine.
Users have reported uplifting and cerebral effects from White Fire OG, along with physical relaxation without sedation.
The strain offers several medicinal benefits such as pain relief, reduced anxiety, increased concentration, and improved sleep.
White Fire OG Strain Overview
White Fire OG is a hybrid weed strain created by crossing the popular Fire OG with The White, resulting in a potent and flavorful cannabis experience. With its high THC levels and unique aroma and flavor profile, White Fire OG has become a favorite among cannabis enthusiasts.
History and genetics
The story of White Fire OG begins in the world of cannabis genetics. This hybrid cannabis strain draws its lineage from two potent parent strains: Fire OG and The White. Through a meticulous process of crossbreeding strains, geneticists managed to amalgamate two phenotypic characteristics into one robust plant.
Analyses conducted in labs have uncovered interesting data about White Fire OG's phenotype, hinting at some strong similarities with another strain known as The White. As you delve deeper into this fascinating blend of history and genetics, it becomes clear that every aspect of the White Fire OG strain – from its potency to aroma – owes itself to its genetic inheritance.
Appearance, aroma, and flavor
The White Fire OG strain boasts a visually pleasing appearance, often noted for its unique blend of colors and trichomes. Individual buds are largely forest green but reveal purple hues under the sunlight or bright light, making them quite appealing to cannabis enthusiasts.
For your sense of smell, White Fire OG does not disappoint with its intoxicating bouquet of scents that fill any room instantly. It produces an earthy aroma mixed with strong hints of sour citrus and diesel fuel.
Upon closer inspection, one might pick up on subtler notes of pine adding to the complexity. On inhale, this strain surprises you with a potent mix of flavors from sour citrus to pepper and earthy undertones; while exhaling leaves a herby fuel aftertaste on your palate.
These distinct taste profiles make each puff a sensory delight increasing its desirability among seasoned users.
THC content
White Fire OG strain boasts a robust THC level of about 28 percent. This significant concentration contributes to its potency and the immediate high experienced by users. Many are drawn to this strain due to these strong effects, providing an intensity that sets it apart from other strains.
Conversely, certain vape cartridges of White Fire OG feature a high CBD concentration of over 60%, but with THC content less than 0.3%. These options are excellent for those who want the benefits of CBD without the potent high associated with substantial levels of THC.
Comparison: White Fire OG vs. Ghost OG Strain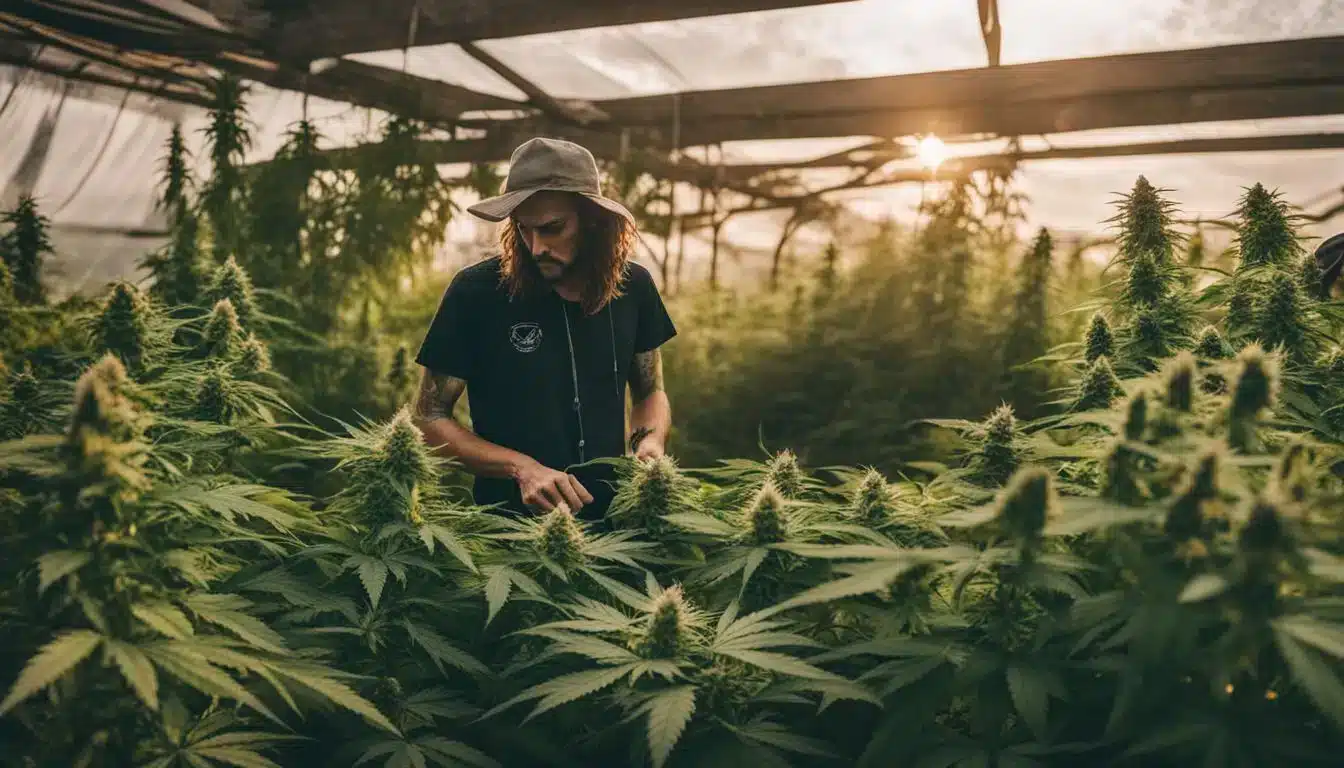 When considering the differences between White Fire OG and Ghost OG strains, there are several key factors to look at: genetics, effects, THC content, and growing conditions.
| | White Fire OG | Ghost OG |
| --- | --- | --- |
| Genetics | Created by crossing The White and Fire OG, this strain is known for its strong lineage. | A strain with a mysterious origin, Ghost OG is believed to be a cut off the original OG Kush. |
| Effects | White Fire OG is known for its energetic and happy effects, leaving users feeling uplifted and euphoric. | Ghost OG is known for its balanced effects, providing users a relaxed yet alert feeling. It may induce a sense of creativity alongside physical relaxation. |
| THC Content | White Fire OG has a THC level of high strength, giving it a potent effect. | Ghost OG typically has a moderate THC level, providing a balanced high that's less potent than White Fire OG. |
| Growing Conditions | White Fire OG can be grown both indoors and outdoors, with a flowering period of 65 days. It's characterized by its dense nugs covered in kief. | Ghost OG is usually grown indoors and has a shorter flowering period. It prefers a warm, Mediterranean climate to grow effectively. |
Understanding these differences can help you choose the strain that best fits your needs, whether it be for cultivation or usage. If you're looking for a more potent, energetic high, White Fire OG is the way to go. But if you want a balanced, relaxing effect, Ghost OG might be more your speed.
Effects and Benefits of White Fire OG Strain
White Fire OG strain offers a wave of focus and relaxation, providing a cerebral high that uplifts your mood for social interactions. Discover the reported effects and medicinal benefits of this potent hybrid weed strain.
Reported effects
White Fire OG strain offers a range of reported effects that make it popular among cannabis users. Here are some of the effects that have been reported by those who have tried White Fire OG:
Uplifting and cerebral effects: Users have described feeling a boost in mood and mental clarity after consuming White Fire OG.
Comfortable, cerebrally-focused effects: This strain is known for providing a comfortable and focused high, allowing users to stay alert and engaged.
Uplifting effect on the body: White Fire OG has been reported to provide a sense of physical relaxation and relief without sedating or couch-locking effects.
Pain mitigation: Many users have found White Fire OG to be effective in reducing pain, making it an attractive option for medical cannabis users.
Indica-heavy effects: While it does offer a cerebral high, White Fire OG also has indica-heavy effects that can help with relaxation and sleep.
Medicinal benefits
The White Fire OG strain offers a range of medicinal benefits that make it highly sought after by medical marijuana users. One key benefit is its ability to provide effective pain relief, making it an excellent choice for individuals dealing with chronic pain or discomfort.
Additionally, this strain has been known to reduce anxiety and manage stress levels, offering much-needed relief in today's fast-paced world. Another advantage is the increased concentration and enhanced productivity that users experience when using White Fire OG.
These effects can be particularly helpful for individuals looking to stay focused and productive throughout their day. Finally, the strain also promotes relaxation, aiding in the management of insomnia or sleep-related issues.
With all these health benefits combined, the White Fire OG strain truly stands out as a versatile option for those seeking therapeutic effects from cannabis use.
Growing White Fire OG Strain
Learn how to successfully cultivate White Fire OG Strain and get tips for optimal growth. Read more to discover the secrets of growing this popular hybrid weed strain.
Grow information
To successfully grow White Fire OG, you need to create the perfect environment for its growth. This strain has a relatively short flowering period of 7 to 9 weeks, making it ideal for those who want a quicker harvest.
When cultivating White Fire OG indoors, it's essential to closely monitor temperature and humidity levels in your grow room. Providing the right conditions will ensure healthy plant development and maximize yields during the indoor flowering time of 9-10 weeks.
However, this versatile strain can also be grown outdoors with great success. Whether you choose indoor or outdoor cultivation, make sure to follow proper growing techniques and give your plants the care they need throughout each stage – from germination to harvesting.
Tips for cultivation
To successfully cultivate the White Fire OG strain, follow these tips:
Choose the right growing location: Whether you decide to grow indoor or outdoor, make sure the environment is suitable for White Fire OG. It prefers warm temperatures and needs plenty of sunlight if grown outdoors.
Control the growing conditions: Provide a controlled environment with Sea of Green (SOG) method for optimal growth. This technique involves maximizing space by growing multiple plants close together.
Optimize lighting: Use high-quality lights if growing indoors to simulate natural sunlight. LED or high-intensity discharge (HID) lights are popular choices for cannabis cultivation.
Monitor humidity levels: White Fire OG thrives in a slightly lower humidity range, around 40%-50%. Invest in a hygrometer to measure humidity levels and adjust accordingly.
Maintain proper ventilation: Good airflow is important to prevent issues like mold or mildew. Use fans and exhaust systems to ensure fresh air circulation.
Feed and water appropriately: Regularly feed your plants with nutrients designed specifically for cannabis cultivation during each stage of growth. Be careful not to overwater – allow the soil to dry out between watering sessions.
Prune and train your plants: To maximize yields, trim away any large fan leaves that block light from reaching lower buds. Consider using low-stress training techniques like bending or tying branches down to create an even canopy.
Keep pests at bay: Implement preventive measures against common cannabis pests such as spider mites or aphids. Regularly inspect your plants for any signs of infestation and take prompt action if needed.
Harvest at the right time: Pay attention to the trichomes' color on your plant's buds – they should be milky white with some amber for optimum potency and effects. Harvest when most trichomes have reached this stage.
Conclusion
In conclusion, White Fire OG is a hybrid weed strain with a high THC level of around 28 percent. It offers an earthy flavor with a sweet taste and has a strong aroma of fuel and pine.
With its indica-dominant genetics, White Fire OG provides sedative effects that can help you relax after a long day. If you're looking for a cannabis strain that combines potency and flavor, White Fire OG is definitely worth trying out.
FAQs
1. What are the effects of the White Fire Og strain?
The White Fire Og strain is known for providing a relaxed and euphoric high, with users reporting feelings of happiness, upliftment, and creativity.
2. How does the White Fire Og strain taste and smell?
White Fire Og has a unique aroma that combines earthy, diesel-like notes with hints of citrus and pine. When smoked or vaped, it delivers a smooth flavor profile with a mix of sweet and spicy undertones.
3. Is White Fire Og suitable for medical use?
Yes, White Fire Og can be used for medicinal purposes. It is often recommended to those seeking relief from stress, anxiety, depression, pain, and insomnia.
4. Can I grow my own White Fire Og plants?
Yes! With proper knowledge and equipment, you can grow your own White Fire Og plants at home. However,resulting in high-quality yield may require some expertise in cannabis cultivation techniques such as temperature control,and pruning