Looking for a potent cannabis strain that packs a punch of flavor and effects? Meet White Widow, an in-demand hybrid with roots tracing back to Brazilian sativa landrace and resin-rich South Indian indica.
In this comprehensive review, we'll delve into all things White Widow – from its distinctive smell to the notable THC levels, its medicinal benefits and even tips on cultivating your own plants.
Prepare yourself for an enlightening journey into the world of one frosty queen – the White Widow strain!
Key Takeaways
White Widow is a potent hybrid strain with an average THC level of 20%.
It offers unique effects, including a head high and psychedelic experiences.
The strain has medicinal benefits, such as pain relief and anxiety management.
White Widow Strain Overview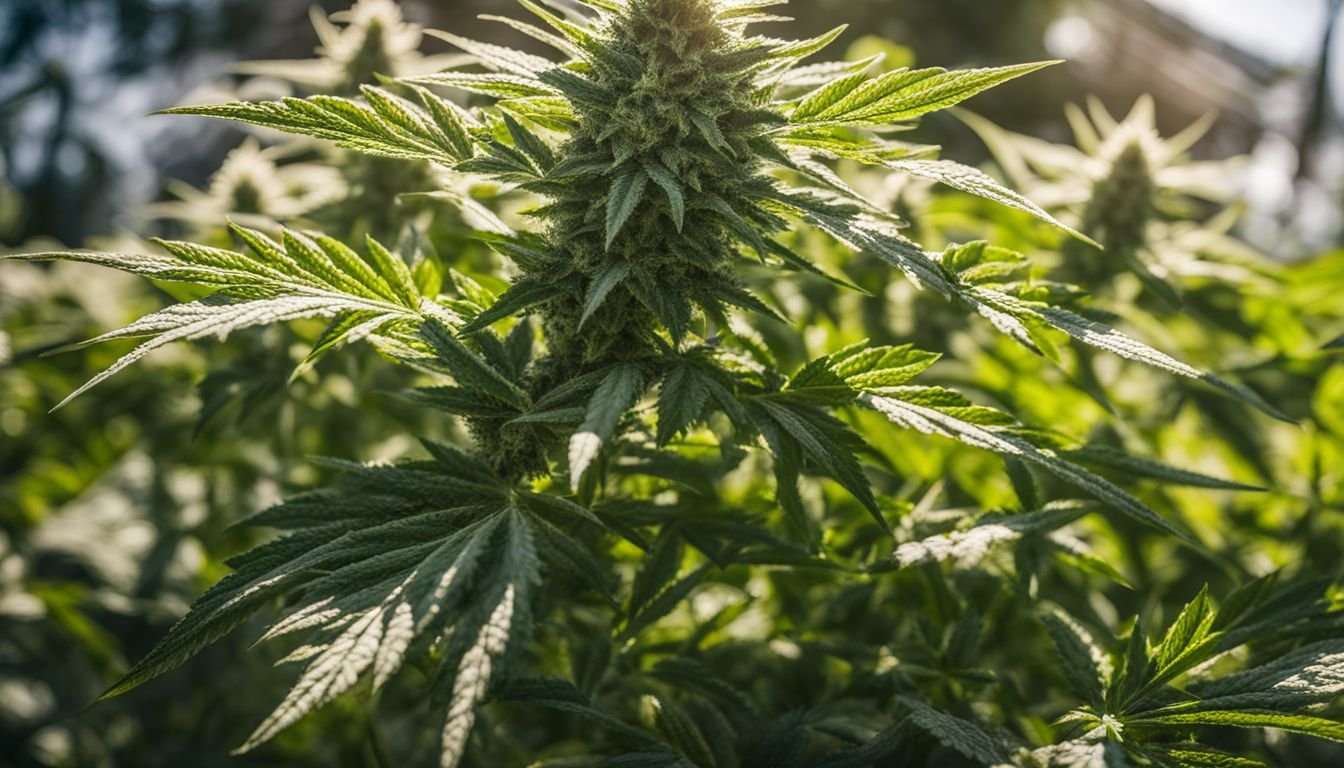 White Widow is a potent hybrid strain that is a cross between a Brazilian sativa and a South Indian indica, with effects that are both cerebral and functional. It has an average THC level of 20% and offers flavors of earthiness and pine.
As a popular medical strain, White Widow is often used to ease the negative effects of conditions such as depression, stress, pain, and PTSD.
Effects
The White Widow strain offers unique effects due to its slightly sativa-dominant properties. Users will first notice a distinct head high, creating an invigorating burst of euphoria and energy.
This then gradually meshes with psychedelic experiences like visual distortions and enhanced perceptions, making music or art seem profoundly engaging. The strain isn't just a recreational delight; it also has medicinal elements that potentially relieve pain and muscle tension across the body.
With an average THC level ranging from 14-18%, this particular cannabis variant delivers robust yet balanced effects for both novice users and experienced enthusiasts alike.
Flavors
White Widow greets you with an intense aroma that's a blend of earthy and sharp scents. Its surprising mix may catch your nose off guard, giving a stinging hit of ammonia fragrance mixed with pine scent undertones.
Yielding to this complex smell reveals the strain's underlying flavors.
Your first puff introduces you to White Widow's unique flavor profile: earthiness at its finest complemented by subtle piney notes. It allows for an organic, almost woody taste experience, which cannabis enthusiasts often find refreshing and balanced.
This combination ensures every draw from a White Widow joint is packed full of exciting flavors!
Medical Benefits
The White Widow strain holds powerful medicinal properties that directly addresses several health issues. It serves as a potent tool for pain relief, easing discomfort from chronic conditions or minor injuries.
Besides its analgesic effects, the strain provides significant benefits in anxiety management.
The calming effect prompts users to feel at ease and relaxed, making it perfect for insomnia patients. Many have reported improved sleep quality with consistent use of this strain.
The use of White Widow goes further than just physical ailments; it also helps alleviate depression by inducing feelings of happiness and euphoria.
Encompassing more therapeutic benefits, this plant shows promise in stress reduction and PTSD therapy. The soothing effects help reduce hyperactivity associated with these mental health disorders.
Migraine sufferers also find relief from their symptoms due to the anti-inflammatory nature of cannabinoid compounds found within the White Widow Strain.
Rounding up its full spectrum of medical benefits include energy enhancement due to its Sativa characteristics which can be beneficial in fatigue management during daytime usage.
White Widow Strain Review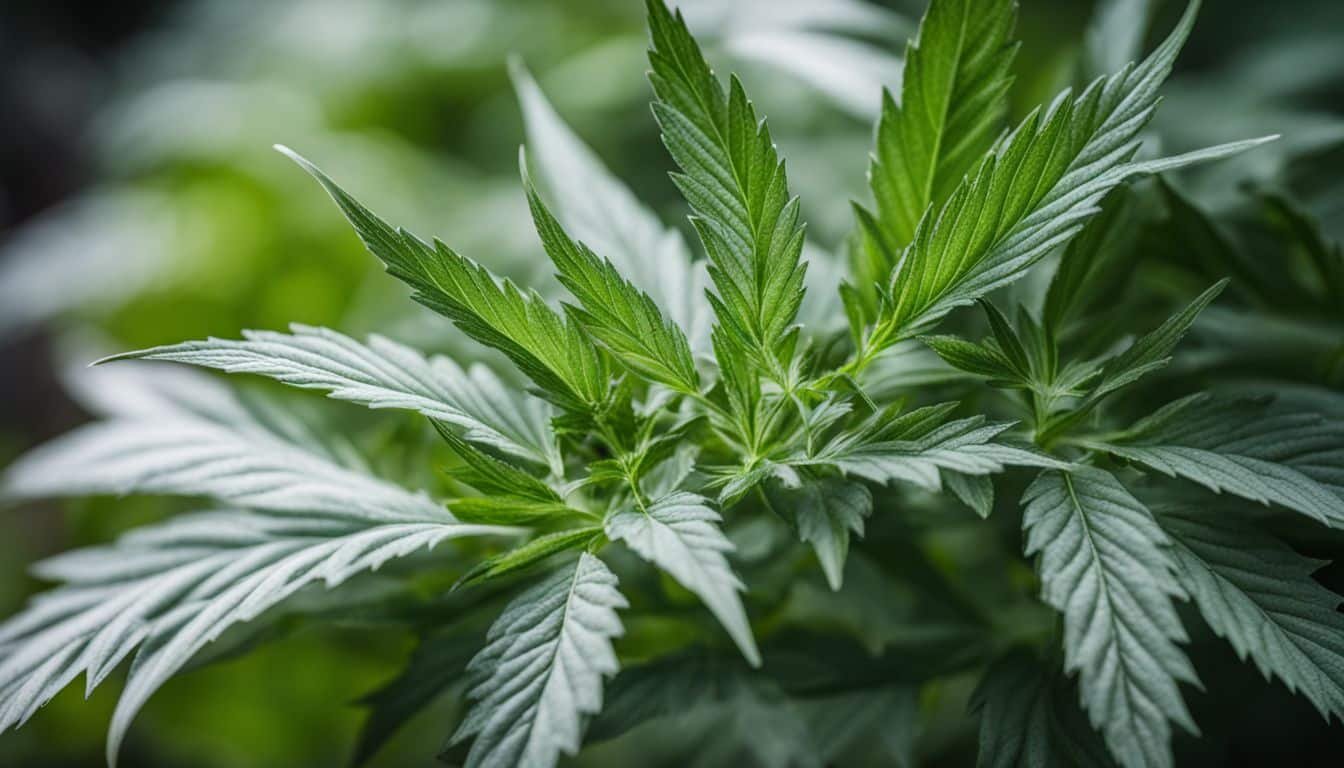 The White Widow strain has a high THC level, giving it potent effects. Its smell is earthy and pungent, often described as dank. Users report experiencing a cerebral high that leaves them functional and aware.
THC Level
White Widow is known for its potent effects, and it's no surprise considering its THC level of 20%. This strain packs a punch with its high concentration of psychoactive compounds.
With such a strong THC content, White Widow delivers a powerful experience that can be both euphoric and relaxing. Whether you're seeking relief from pain or just looking to unwind after a long day, the high THC percentage in White Widow is sure to leave you feeling blissful and at ease.
Smell
The smell of White Widow is truly unique and distinct. It has a classic hash aroma that fills the air with notes of smoke, musk, and spice. When you break open the buds, you'll be greeted by a pungent incense-like odor that can be reminiscent of traditional cannabis hash.
Some users even detect a blend of earthy undertones mixed with sandalwood, herbs, and spices in the fragrance. The scent has also been described as having hints of earthy pine with a slight stinging ammonia-like quality.
One thing is for sure – White Widow's musky smell sets it apart from other strains in the cannabis world.
User Experiences
Users report a range of experiences when consuming White Widow. Many describe feeling an immediate sense of euphoria and uplifted mood, thanks to its high THC content. The strain's balanced hybrid nature provides users with both relaxation and stimulation, making it a popular choice among cannabis enthusiasts.
Some users enjoy the strong cerebral effects that come with White Widow, while others appreciate its versatility in delivering different effects depending on individual tolerance levels.
Overall, this strain is known for providing a noticeable "head buzz" high that can be enjoyed by those seeking both recreational and medicinal benefits.
Where to Buy High-Quality White Widow Seeds
You can easily purchase high-quality White Widow seeds from reputable sources online. Look for reliable seed banks or dispensaries that offer a wide selection of cannabis seeds. When buying White Widow seeds, it's important to do your research and choose a source that has positive customer reviews and a track record of providing high-quality genetics.
One option is AMS (Amsterdam Marijuana Seeds), which offers White Widow regular seeds known for their extreme potency and high THC levels. Another popular choice is ILGM, which provides classic high-THC hybrid strains like White Widow.
By purchasing from trusted sources, you can ensure that you're getting top-notch White Widow seeds that will produce high-yielding plants with potent effects. Whether you're an experienced grower or just starting out, finding the right source for your White Widow seeds is crucial for a successful cultivation journey.
Growing White Widow
To successfully grow White Widow, you'll need to understand its genetics, follow specific grow information, and implement tips for cultivation.
Genetics
The genetics of the White Widow strain are quite interesting. This hybrid strain was created by crossing a Brazilian Sativa landrace plant with a South Indian Indica. As a result, White Widow is considered to be 60% Indica-dominant.
The genetics can be traced back to a resin-heavy Indian Indica and a Sativa landrace from Brazil. These unique genetics contribute to the strain's potent effects and distinctive characteristics.
Grow Information
To successfully grow White Widow, follow these cultivation tips and guidelines:
Indoor Cultivation: White Widow is best grown indoors in a controlled environment to ensure optimal conditions for growth and yield.
Resilience in Harsh Weather Conditions: While White Widow is known for its ability to withstand inclement weather, it is still recommended to cultivate it indoors to provide the most favorable environment for the plant.
Beginner-Friendly: If you're new to cannabis cultivation, White Widow is a great strain to start with. It's relatively easy to grow and doesn't require extensive expertise or advanced techniques.
Vegetative Stage Appearance: During the vegetative stage, White Widow plants exhibit a bushy and wide appearance. They tend to stay compact and rarely exceed 6 feet in height.
Brazilian Sativa Landrace & South Indian Indica Genetics: White Widow is created by crossing a Brazilian sativa landrace with a resin-heavy South Indian indica strain. This genetic combination contributes to its unique characteristics and effects.
THC Percentage: The THC content of White Widow ranges from 18-25%, making it a potent strain that delivers powerful psychoactive effects.
Yield Potential: With proper care and cultivation techniques, White Widow has the potential to produce high yields of quality buds.
Tips for Successful Cultivation
To successfully cultivate White Widow, here are some tips to keep in mind:
Provide the right temperature: Make sure the outdoor temperatures stay above 70°F during the day and above 60°F at night for optimal growth.
Choose a suitable climate: While White Widow can be grown indoors and outdoors, it thrives best in warm climates.
Understand its genetics: White Widow has Indica-dominant genetics, which means it has a brisk flowering phase that typically lasts around 8 weeks.
Plan for height: If growing outdoors, remember that White Widow plants can reach up to six feet tall. Indoors, they tend to be shorter in height.
Consider its reputation: The White Widow Regular strain is known for its strength and success, originating from Amsterdam.
Conclusion
In conclusion, White Widow is a potent and popular strain known for its cerebral high and functional effects. With its resin-heavy buds and average THC level of 20%, it is a go-to choice for many marijuana users.
Whether you're looking to medicate or cultivate, White Widow offers an experience that keeps you aware, focused, and uplifted. So why not give this sativa-dominant hybrid a try?.
FAQs
1. What are the effects of White Widow strain?
White Widow strain is known for its balanced effects, providing a combination of relaxation and uplifting euphoria.
2. How does White Widow strain taste and smell?
White Widow strain has a distinct aroma with notes of earthiness and spice. Its flavor profile includes hints of pine and citrus.
3. Is White Widow strain suitable for beginners?
Yes, White Widow strain is often recommended for beginners due to its relatively mild potency and well-rounded effects.
4. What are the potential medical benefits of using White Widow strain?
White Widow strain is believed to assist with stress relief, pain management, anxiety reduction, and helping with insomnia. However, it's always best to consult with a healthcare professional before using it for medicinal purposes.