Ever wondered about the rich, creamy flavor of Ice Cream strain that vapers rave about? Known as "Ice Cream Kush," it's an alluring hybrid cannabis bred by Paradise Seeds. Dive into this blog where we examine every aspect of the 'Ice Cream Strain' – its effects, cultivation process, and overall impressions to help you understand why it takes the cannabis community by storm.
Ready for the inside scoop? Let's get started!
Key Takeaways
Ice Cream Strain is an exotic and potent hybrid cannabis strain with a balanced body and head buzz.
Its rich genetic lineage includes Gelato, White Widow, Bubble Gum, and Skunk, resulting in a unique flavor profile.
The strain has high THC content (up to 22%) and zero CBD content, making it suitable for seasoned users seeking stronger effects.
Ice Cream Strain offers a range of effects including relaxation, mood enhancement, pain management, anxiety relief, nausea reduction, improved sleep, and muscle spasm relief.
Overview of Ice Cream Strain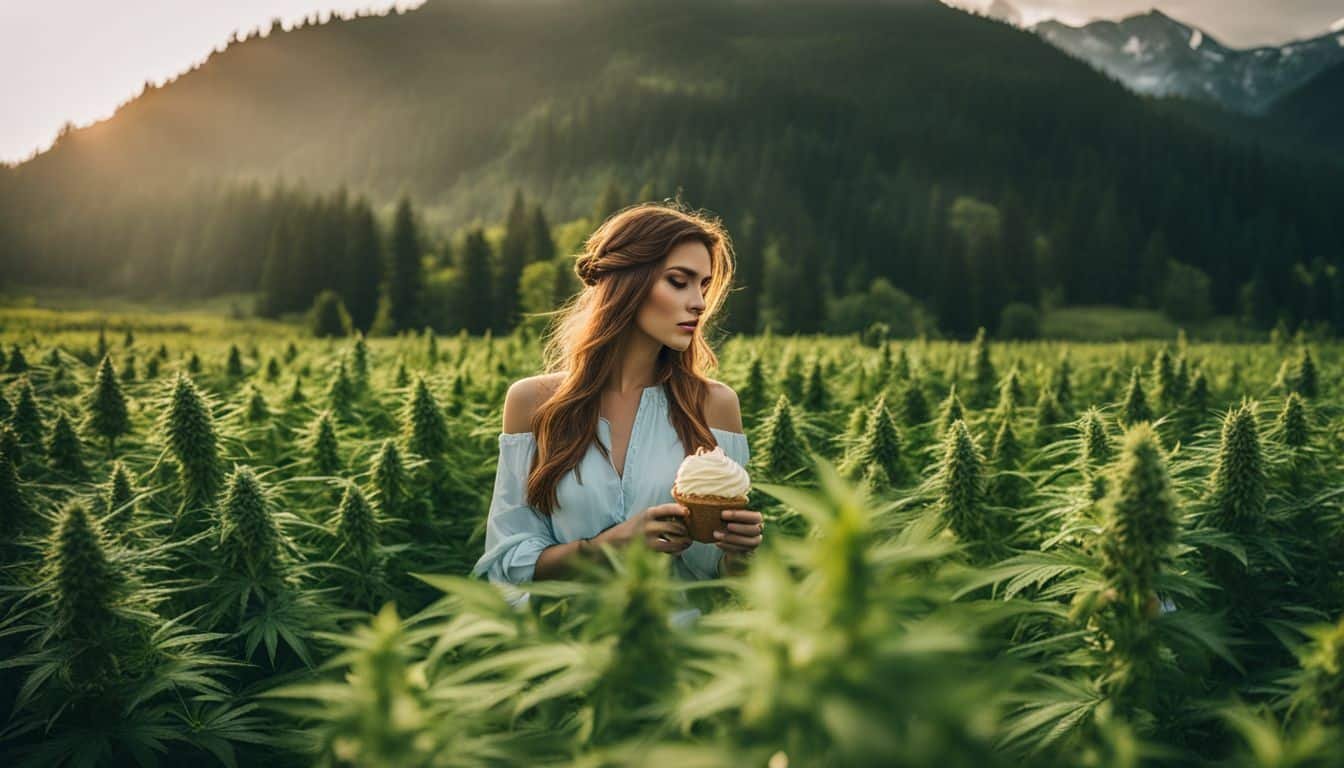 The Ice Cream strain is an exotic and potent hybrid marijuana strain that offers a balanced body and head buzz.
History & Genetics
The Ice Cream strain boasts a rich genetic lineage, carefully crafted by Paradise Seeds. Beloved for its Indica-dominant nature, Ice Cream commonly traces its roots to a crossbreed between Gelato and an unidentified variety.
Its complex genome also encompasses distant descendants of the notable hybrids White Widow, Bubble Gum, and Skunk. A close relation in terms of flavor profile and impact is the Ice Cream Cake strain.
Breeders developed this variant by crossing Wedding Cake with Gelato #33; thus, sharing part of Ice Cream's gene pool. The spectrum of genetics that converge in these strains adds depth to their character while offering users unique experiences during consumption or cultivation.
Appearance, Aroma, & Flavors
The Ice Cream strain greets your senses with an appealing presentation. It boasts light green buds that are generously covered in crystal trichomes, resembling the sprinkle topping on a classic ice cream sundae.
Amidst this intricate texture, you'll spot vibrant orange hairs intertwining themselves around the buds.
Delving deeper into its sensory characteristics, the aroma and flavors of Ice Cream strain take center stage. Its scent infuses creamy vanilla notes with refreshing pine undertones along with a sweet candy twist.
This bouquet of smells may remind you of walking into an old-fashioned soda shoppe or dessert parlor—a definite treat for those who love their cannabis strains aromatic! As for the taste, expect to be enthralled by its distinct profile marked by creamy fruity flavors complimented subtly with hints of orange and cinnamon traces.
THC Content
The THC content of Ice Cream cannabis strain is notably high, reaching levels as steep as 22%. This elevates the strain to a more potent category among cannabis strains. In contrast, its CBD content remains typically at zero percent.
Similar strains such as Ice Cream Cookies and Ice Cream Cake also boast impressive percentages of THC. The former carries a content of 21%, while the latter pushes even higher with up to 25% THC.
These higher-than-average percentages indicate that these strains maintain significant marijuana potency built into their genetics for an intensified user experience awaited by seasoned users or those seeking stronger effects in their chosen strains.
Comparisons: Ice Cream Strain vs Black Cherry Gelato Strain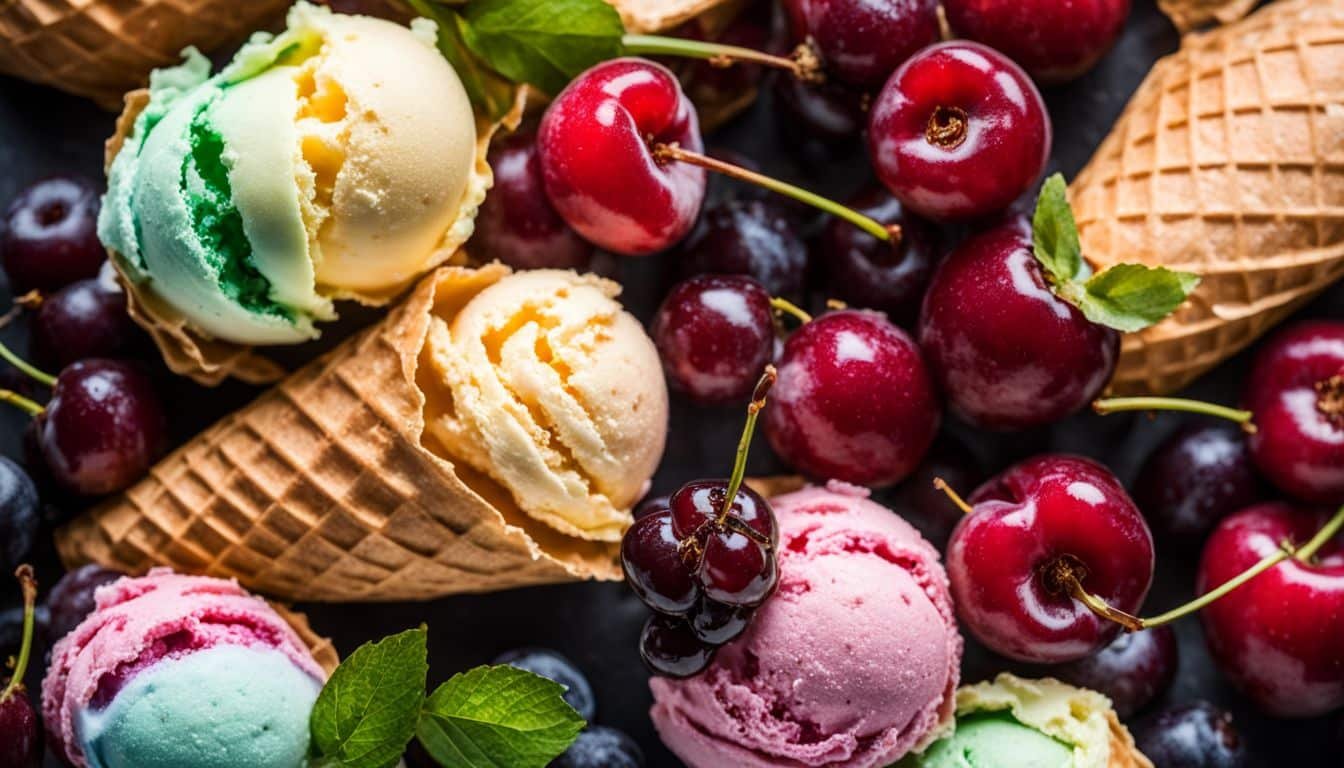 Let's delve into the differences and similarities between the Ice Cream Strain and Black Cherry Gelato Strain. These two strains each have unique characteristics that set them apart, but they also share some similarities in their effects and makeup.
| Comparison Factor | Ice Cream Strain | Black Cherry Gelato Strain |
| --- | --- | --- |
| Genetics | Unknown, but it's a hybrid strain. | A hybrid strain created by crossing Acai with Black Cherry Funk. |
| Indica/Sativa Split | Unknown, likely leans towards Indica. | 60% Indica and 40% Sativa. |
| Aroma and Flavor | Resembles the dessert it's named after, ice cream. | A sweet fruity cherry berry taste with a hint of skunky herbs both in flavor and aroma. |
| Effects | Offers a range of effects but leans towards relaxation. | A heavy-hitting strain providing relaxation while also keeping the user energized. |
| Popularity | Well-loved by cannabis enthusiasts. | Often sought after for its unique flavor and effects. |
Remember, while these strains do have their differences, which you prefer will ultimately come down to your personal preferences in aroma, flavor, and effects.
Effects of Ice Cream Strain
The effects of Ice Cream Strain are potent and indulgent, delivering a smooth and creamy high that will leave you feeling relaxed and uplifted. Read on to discover more about its incredible effects.
Feelings
The Ice Cream strain offers a pleasant and balanced high that combines relaxation and mood enhancement. Users often report feelings of tranquility, making it an ideal choice for those seeking anxiety relief or stress reduction.
Additionally, this strain is known for its pain management properties, providing muscle relaxation and assisting with chronic pain. When consuming Ice Cream strain, you can expect a smooth inhalation experience that leaves you feeling uplifted and content.
With its creamy flavor and enjoyable effects, the Ice Cream strain is sure to leave you feeling satisfied. Don't forget to stay hydrated while enjoying this strain to prevent dry mouth!
Negatives
Common negative effects of the Ice Cream Weed Strain may include dry eyes, which can cause discomfort and irritation. Another potential side effect is dry mouth, leaving you feeling dehydrated and thirsty.
It's important to stay hydrated while using this strain to avoid a parched mouth. Additionally, some users may experience mild eye irritation. Despite these potential negatives, it's worth noting that individual experiences can vary when using the Ice Cream Strain.
Medicinal Benefits
The Ice Cream strain offers several potential medicinal benefits that can help improve your overall well-being. This cannabis strain has been known to provide relief from chronic pain, making it a great option for those suffering from conditions like arthritis or back pain.
Additionally, the Ice Cream strain may also be effective in treating anxiety and depression, helping to alleviate some of the symptoms associated with these mental health disorders.
If you struggle with nausea or have difficulty sleeping, the Ice Cream strain might be able to provide some relief. This strain has been reported to reduce nausea and induce sleep, making it beneficial for individuals dealing with these issues.
Lastly, if you experience muscle spasms, using the Ice Cream strain could potentially bring you some relief.
Growing Ice Cream Strain
Growing Ice Cream Strain is moderately difficult, but with proper care and attention, you can achieve a bountiful yield of this deliciously potent cannabis strain.
Growing Difficulty
The Ice Cream Cake strain poses a challenge for growers with its moderate difficulty level. To successfully cultivate this strain, you will need advanced skills in environmental control and expertise in managing its specific nutrient needs.
Creating spacious growing areas is also crucial for the plants to spread out and flourish during the flowering period. With an indoor or outdoor cultivation option, proper climate and nutrient management are essential factors to consider.
The Ice Cream Cake strain typically matures within 55 to 60 days, making it necessary to have patience when tending to these plants.
Yield
The Ice Cream strain is known for its impressive yields in both indoor and outdoor cultivation. When grown indoors, you can expect to harvest around 18 ounces per square meter. On the other hand, outdoor growers can enjoy a yield of 18 ounces or even more per plant.
With its robust growth and high yields, Ice Cream Cake is a great choice for growers looking to maximize their harvest. Not only that, but the strain's seeds from Seedsman also come with built-in resistance against pests and disease, making it even more suitable for intermediate and advanced cultivators.
So whether you prefer indoor or outdoor cultivation, Ice Cream Cake will reward you with bountiful results.
Flowering Time
The flowering time of the Ice Cream marijuana strain is relatively quick, taking around 8-10 weeks to develop fully. When grown outdoors, you can expect the buds to be ready for harvest in early to mid-October.
However, if you prefer indoor cultivation, the Ice Cream strain typically matures within 55-60 days. Another popular hybrid strain called Ice Cream Cake has a similar flowering time of 8-9 weeks.
From bud development to blooming duration, understanding the flowering timeline is essential for successful cultivation of the Ice Cream strain.
Tips for Successful Cultivation
To successfully cultivate the Ice Cream strain, here are some tips to keep in mind:
Opt for high – yielding cannabis strains like Ice Cream Cake, known for its impressive yields.
Promote robust plant growth by using proper pruning techniques and training methods.
Ensure pest and disease resistance in your cannabis plants through regular monitoring and prevention measures.
Maximize your cannabis yield by creating an optimal environment with suitable growing conditions.
Consider indoor cultivation for more control over temperature, humidity, and lighting conditions.
If growing outdoors, choose a spacious area that allows the plants to spread and thrive.
Remember that cultivating Ice Cream Cake requires advanced skills and experience in marijuana cultivation.
Ice Cream Strain Review
Get ready to indulge in the creamy, sweet flavors of Ice Cream strain. Read on to discover its potent effects and my personal experience with this decadent hybrid marijuana strain.
Overall Impressions
The Ice Cream strain leaves a lasting impression with its incredible flavor and aroma. This award-winning cannabis strain is highly popular among enthusiasts for good reason. With its happiness-inducing effects and manageable THC content, it's a great choice for those new to cannabis.
If you're interested in growing your own supply, the Ice Cream strain offers a relatively easy cultivation process with a flowering time of around 60 days. Overall, the Ice Cream strain is a delightful option that delivers on taste, scent, and enjoyment.
Personal Experience
You'll love the personal experience of trying the Ice Cream strain. When you light it up, the aroma of vanilla, cream, and honey fills the air, creating a delightful sensory experience.
As you take your first hit, you'll notice its smooth and creamy flavor that lingers on your tongue. The effects are truly remarkable – this indica-dominant hybrid delivers a sedating high that helps melt away stress and promotes deep relaxation.
It's perfect for winding down after a long day or getting some much-needed sleep. The Ice Cream strain is definitely worth trying if you're seeking a potent yet enjoyable cannabis experience.
Its unique flavor profile and calming effects make it a standout choice among cannabis enthusiasts.
So grab yourself some Ice Cream strain buds, sit back, and indulge in this sweet treat for both your taste buds and mind. Whether you seek relief from insomnia or simply want to unwind with an enjoyable smoke session, this strain won't disappoint.
Recommendations for Use
To get the most out of Ice Cream strain, it is recommended to use it during the daytime or when you want a light and uplifting experience. The balanced indica-sativa blend provides a heady high that won't leave you glued to the couch.
Due to its moderate THC potency, beginners can enjoy this strain without feeling overwhelmed. Its smooth smoke and skunky aroma make for an enjoyable smoking experience. Whether you're looking for a creative boost or just want to unwind after work, Ice Cream strain is a versatile option that can cater to your needs.
Conclusion
In conclusion, Ice Cream Strain is a highly sought-after marijuana strain that offers a delightful combination of flavors and effects. With its creamy vanilla taste and potent THC content, it provides an indulgent high that many users enjoy.
Whether you're looking for relaxation or medicinal benefits, Ice Cream Strain is definitely worth trying in your cannabis cultivation journey.
FAQs
1. What are the effects of Ice Cream strain?
Ice Cream strain is known for its relaxing and uplifting effects, providing a euphoric high that can help with stress relief and promoting relaxation.
2. How does Ice Cream strain taste?
Ice Cream strain has a sweet and creamy flavor profile with hints of vanilla and notes reminiscent of its namesake dessert.
3. Is Ice Cream strain suitable for beginners?
Yes, Ice Cream strain is considered beginner-friendly due to its moderate potency and well-balanced effects, making it suitable for those new to cannabis.
4. Does Ice Cream strain have any medicinal benefits?
Ice Cream strain has been reported to potentially help with symptoms such as chronic pain, insomnia, and mood disorders due to its calming properties. However, it's important to consult with a healthcare professional before using it for medical purposes.