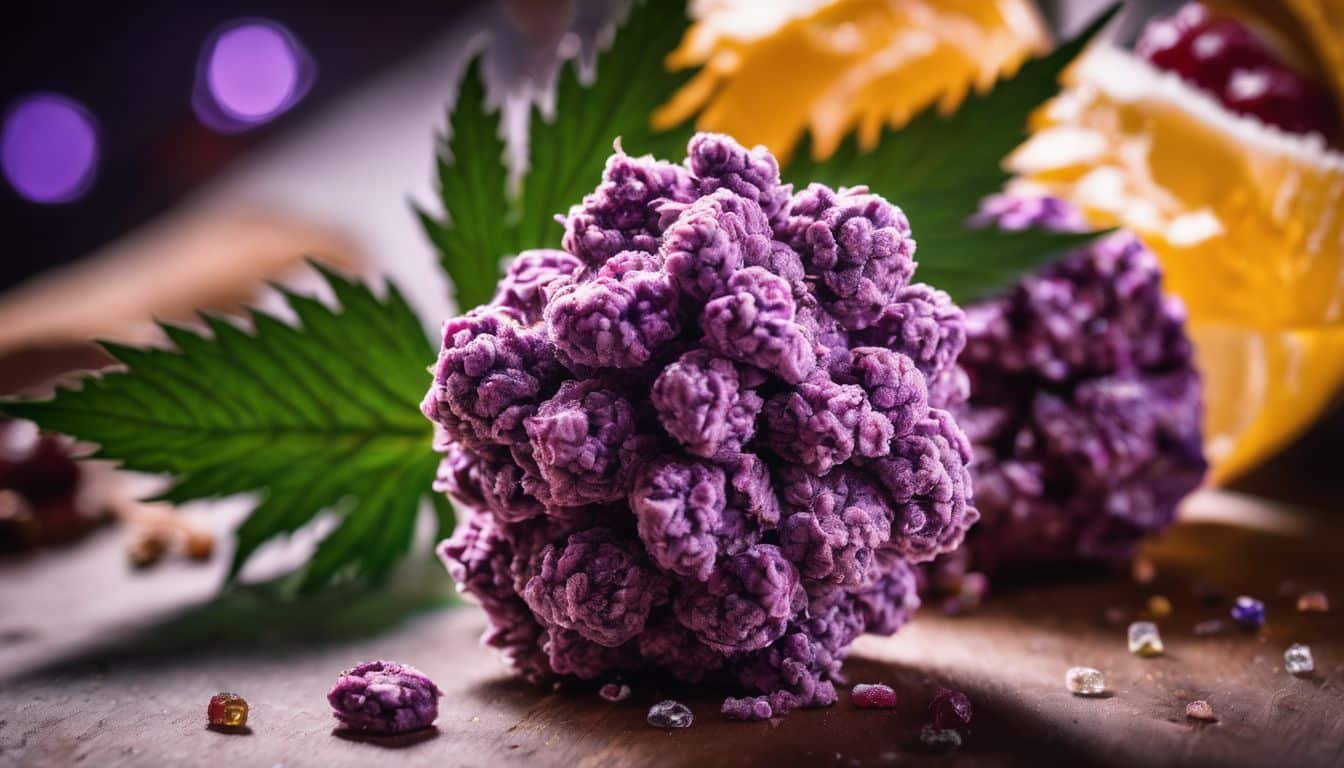 Looking for a balanced hybrid strain that delivers calming effects? Look no further than the Purple Runtz, a unique cross between Gelato #33 and Zkittlez. Our comprehensive review offers exclusive insights into its genetics, smell, flavor, growing tips and more to help you understand this masterpiece of nature better.
Read on to discover why Purple Runtz is the sensation among cannabis enthusiasts!
Key Takeaways
Purple Runtz is a balanced hybrid strain created by crossing Gelato #33 with Zkittlez, resulting in a perfect blend of indica and sativa characteristics.
This strain stands out with its stunning appearance, featuring vibrant purples and greens, and its delightful aroma of sweet and fruity scents that entice cannabis enthusiasts.
Purple Runtz delivers potent effects, including calmness, euphoria, increased appetite, and sedation. Its flavor profile is equally impressive with grape undertones complemented by soothing lavender notes.
Growing Purple Runtz requires providing optimal conditions such as moderate temperatures and humidity levels. Pruning techniques like topping and low-stress training can enhance plant health and maximize yields.
Overview of Purple Runtz Strain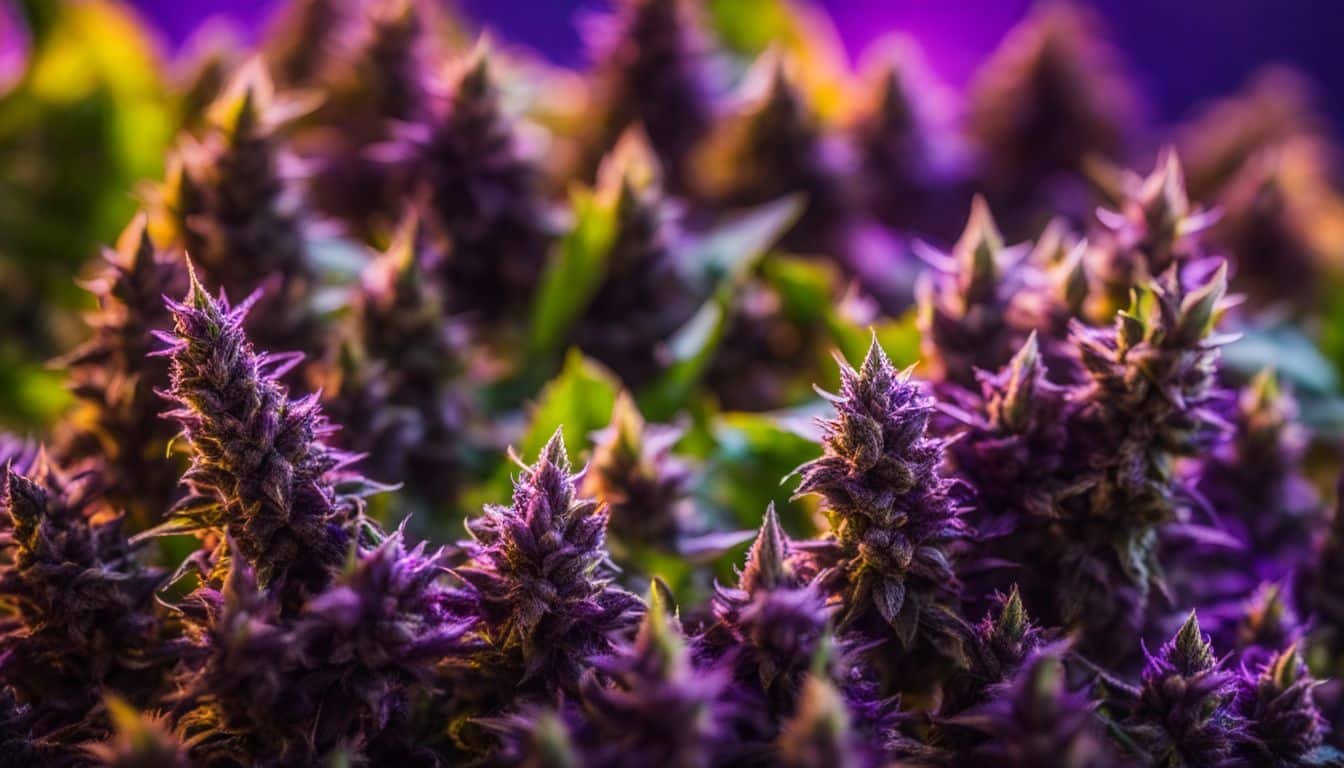 Purple Runtz is a hybrid weed strain that was created by crossing Gelato #33 with Zkittlez, resulting in a balanced blend of indica and sativa.
Genetics and history
Purple Runtz emerges as a formidable player in the cannabis scene, thanks to its hybrid lineage tracing back to Gelato #33 and Zkittlez strains. This mixing of powerhouse genetics yielded an evenly balanced strain with 50% indica and 50% sativa characteristics—an uncommon trait among hybrids.
The inception of Purple Runtz introduced a sweet and fruity aroma that has become renowned among cannabis enthusiasts. Notably, this unique blend paved the way for other variants such as Pink Runtz, Obama Runtz, and White Runtz, each embracing their distinctive genetics and effects.
These dynamic variations prove how invaluable genetic manipulation is in the continual evolution of cannabis plants.
Appearance and smell
Purple Runtz strain captivates with its stunning display of rich hues ranging from deep purples to vibrant greens, offering an eye-catching spectacle. The buds are densely packed and blanketed in a layer of frosty trichomes that glisten like morning dew on fresh leaves.
This isn't just a pretty sight for growers and users alike; it also hints at the potency hidden within these beautiful nugs.
The first whiff of Purple Runtz is a delightful bouquet of sweet, fruity aromas reminiscent of sugary candy treats. An intoxicating fragrance wafts off every bud, filling the room with notes that tantalize the senses and beg for deeper exploration.
This enchanting scent is characteristic of this unique strain, perpetually drawing cannabis enthusiasts closer with each sniff.
Effects and flavors
Purple Runtz garners praise for its potent effects and unique flavors. This hybrid strain ushers in a wave of calm, providing users with an enjoyable sense of euphoria. Some even note feelings of arousal and a noticeable increase in appetite upon consumption.
Sedation tends to be another commonly reported impact, making it suitable for those seeking relaxation or better sleep quality. The flavor profile is just as impressive, offering a combination that's hard to resist.
With strong hints of grape enveloped by the soothing essence of lavender, Purple Runtz tantalizes the taste buds and leaves you longing for more. Users also love this strain because it might help alleviate anxiety symptoms, so you can enjoy your day without stress hindering your happiness.
Comparison with Other Top Strains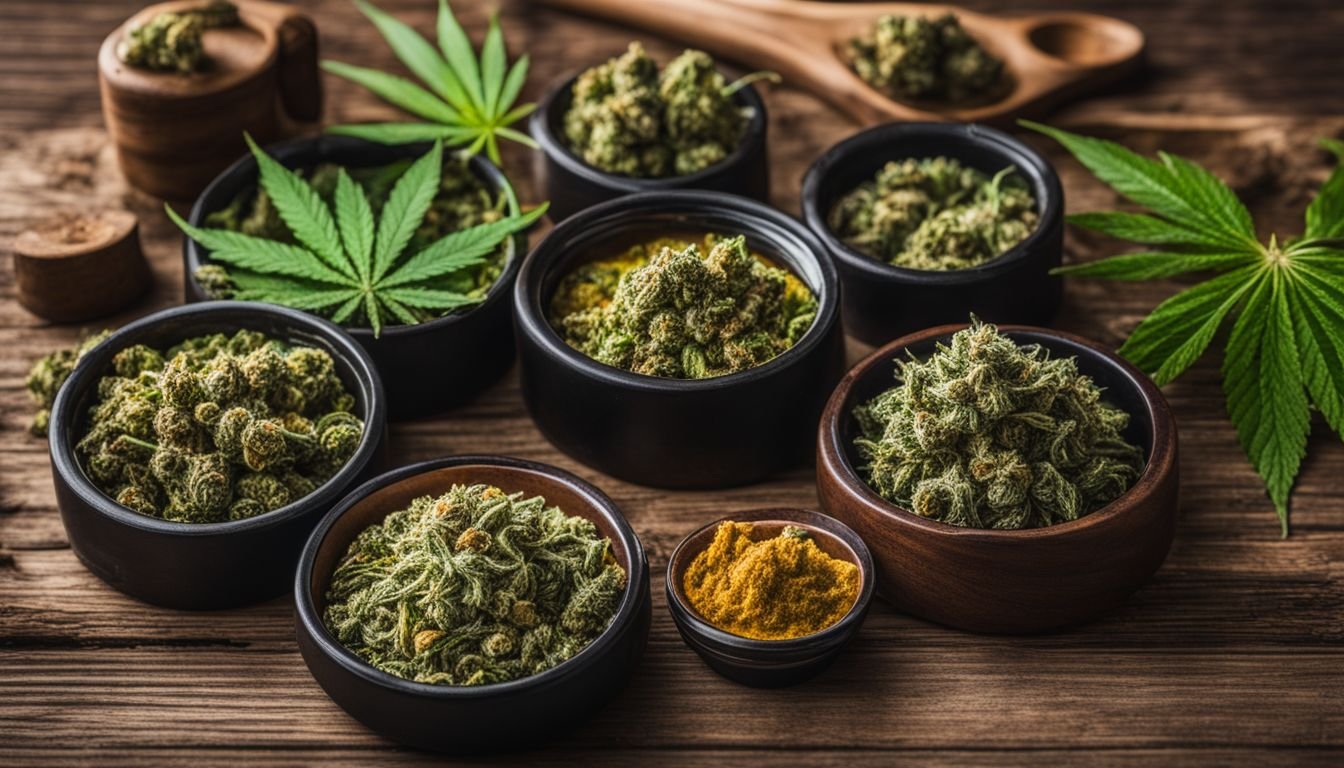 Let's delve into how the Purple Runtz strain stacks up against other top strains in the cannabis landscape.
| Strains | THC Level | Genetics | Flavor |
| --- | --- | --- | --- |
| Purple Runtz | 14% | 50% Indica 50% Sativa, Zkittlez and Gelato #33 Cross | Delicious blend of sweet and fruity flavors |
| Pink Runtz | Varies | Indica/Sativa Hybrid | Earthy and citrus flavors due to Limonene terpene |
| Blue Dream | 17-24% | 60% Sativa, Blueberry and Haze Cross | Sweet berry flavors |
| OG Kush | 19-26% | 75% Indica, Chemdawg and Hindu Kush Cross | Earthy pine and sour lemon flavors |
From the table above, we can see that Purple Runtz falls into a moderate THC range compared to other strains. Its equally balanced genetics set it apart, giving it a unique blend of effects from both indica and sativa varieties. The flavor profile of Purple Runtz, like all Runtz strains, stands out for its delicious sweetness, derived from its Zkittlez and Gelato #33 parents. This is a noticeable difference compared to the earthy flavors of Pink Runtz or the sour tang of OG Kush.
Growing Purple Runtz Strain
Discover the cultivation process, pruning techniques, and ideal growing conditions for Purple Runtz strain. Don't miss out on achieving a bountiful yield of this sought-after hybrid weed!
Cultivation process and yield
The cultivation process of Purple Runtz strain is straightforward, and it can yield impressive results. Here are some key points to keep in mind:
The Purple Runtz strain has a genetic makeup of 50% Indica and 50% Sativa, resulting in a balanced and enjoyable experience.
When grown indoors, this strain can produce around 450 – 500 grams per square meter, providing a good yield for indoor growers.
Outdoors, each Purple Runtz plant can yield approximately 400 – 450 grams, making it a suitable choice for outdoor cultivation as well.
The flowering period for the Purple Runtz strain usually lasts about 8 weeks, allowing for relatively quick turnaround times between harvests.
This hybrid strain is created by crossing Gelato #33 with Zkittlez, resulting in a unique combination of flavors and effects.
Pruning techniques
Pruning techniques are crucial for the successful growth of Purple Runtz plants. Here are some effective methods to maintain plant health and maximize yield:
Topping: Removing the top part of the main stem promotes lateral growth, resulting in bushier plants with multiple colas. This technique helps distribute energy evenly across the plant and increases bud production.
LST (Low-Stress Training): Gently bending and tying down branches allows for better light penetration and airflow, leading to more robust growth. LST also helps create an even canopy, maximizing yield potential.
Defoliation: Carefully removing some of the larger fan leaves during the flowering stage allows more light to reach lower bud sites, promoting their development. However, it's important not to overdo it and stress the plant.
Trellis Nets: Supporting the branches with trellis nets prevents them from sagging under the weight of heavy buds. This technique improves air circulation and reduces the risk of mold or mildew formation.
Pruning for Airflow: Removing any excess foliage that blocks airflow within the canopy helps prevent humidity build-up and lowers the chances of diseases like powdery mildew or bud rot.
Growing conditions, fertilizers, and nutrients
To successfully grow the Purple Runtz strain, you need to provide optimal growing conditions, fertilizers, and nutrients. This hybrid weed strain requires a controlled environment with moderate temperatures and humidity levels.
Ensure that your plants receive plenty of sunlight or use high-quality artificial lights for indoor cultivation.
When it comes to fertilization, pay attention to the nutrient needs of Purple Runtz. It is particularly important to supplement nitrogen during its growth stage as this strain thrives on nitrogen-rich soil.
However, be cautious not to overdo it as excessive nitrogen can lead to nutrient burn on the leaves.
To maintain leaf health and promote proper nutrient absorption, consider using organic fertilizers rich in macronutrients such as phosphorus and potassium. These essential elements help enhance plant growth and overall bud production.
Medicinal Use of Purple Runtz Strain
Purple Runtz Strain has various medicinal benefits, making it a popular choice among users seeking therapeutic effects.
Benefits and recommended usage
Purple Runtz strain offers a range of benefits and is recommended for various uses. Firstly, it provides deep relaxation, making it perfect for unwinding after a long day or managing stress.
If you're experiencing chronic stress or anxiety, Purple Runtz can help ease your mind and promote a sense of calm.
In addition to its relaxation properties, this strain is known for its effectiveness in relieving pain. Whether you're dealing with muscle soreness or chronic body pain, Purple Runtz can offer much-needed relief.
Furthermore, Purple Runtz contains a high concentration of anthocyanin flavonoid, which gives it its striking purple color. This compound has antioxidant properties that can benefit the body by reducing inflammation and promoting overall wellness.
With its balanced effects and well-rounded experience, Purple Runtz not only provides mental benefits but also physical ones. It's an excellent choice if you're seeking both mind and body relief.
Potential for therapeutic effects
Purple Runtz is not just a popular strain for recreational use, but it also holds potential therapeutic effects. Research suggests that Purple Runtz offers various medical benefits and can be used to treat conditions like chronic pain, depression, chronic stress, and anxiety.
With an average THC level of 18% or higher, Purple Runtz provides calming effects that can help alleviate symptoms and improve overall well-being. Whether you're seeking relief from physical discomfort or looking to uplift your mood, Purple Runtz has the potential to offer therapeutic effects that may enhance your quality of life.
Customer Reviews of Purple Runtz Strain and Other Top Strains
Purple Runtz strain has been receiving rave reviews from customers who are fans of candy-flavored strains. People love the delicious taste and aroma, which reminds them of their favorite childhood treats.
Along with Purple Runtz, other top strains like Skittlez and DoSiDos have also garnered positive feedback for their aromatic profiles and high potency. Customers appreciate the calming effects provided by these strains, making them perfect for relaxation and stress relief.
For those seeking an intense high, Purple Runtz is highly recommended. Additionally, Rainbow Runtz, a strain derived from Skittlez and DoSiDos, offers another flavorful option for cannabis enthusiasts looking to expand their collection of popular strains.
Conclusion
In conclusion, Purple Runtz is a hybrid strain that offers a unique balance between indica and sativa effects. With its calming properties and delicious flavor, it has become a favorite among cannabis enthusiasts.
Whether you're looking for relaxation or a tasty smoke, Purple Runtz is definitely worth trying out.
FAQs
1. What is the THC level of Purple Runtz strain?
Purple Runtz strain typically has a high THC level ranging from 17% to 29%.
2. What are the effects of smoking Purple Runtz strain?
Smoking Purple Runtz strain can produce relaxing and euphoric effects, often inducing a sense of happiness and calmness.
3. Is Purple Runtz strain suitable for beginners?
Purple Runtz strain is known to be quite potent, so it may not be suitable for beginners or those with low tolerance levels.
4. What does Purple Runtz strain taste like?
Purple Runtz strain has a sweet and fruity flavor profile, often described as a combination of grape candy and tropical fruits.