Looking for a unique marijuana strain with an exquisite blend of flavors and potent effects? Meet White Runtz, a luscious hybrid that's the offspring of fan-favorite strains Gelato and Zkittlez.
This blog post takes you on a journey through its candy-like aroma, balanced high, and potential medical benefits. Let's dive into the details of this enticing cannabis variety!
Key Takeaways
White Runtz is a potent hybrid strain that combines the genetics of Gelato and Zkittlez, resulting in a unique candy-like flavor and aroma.
This strain offers a balanced high with long – lasting effects, inducing feelings of calmness, tranquility, and tingly euphoria.
White Runtz has both recreational and medicinal uses, providing mood enhancement, relaxation, stress relief, and potential treatment for anxiety disorders and depression.
When growing White Runtz, it's important to provide proper lighting, ventilation, temperature control, pruning techniques to maximize yields.
White Runtz Strain Information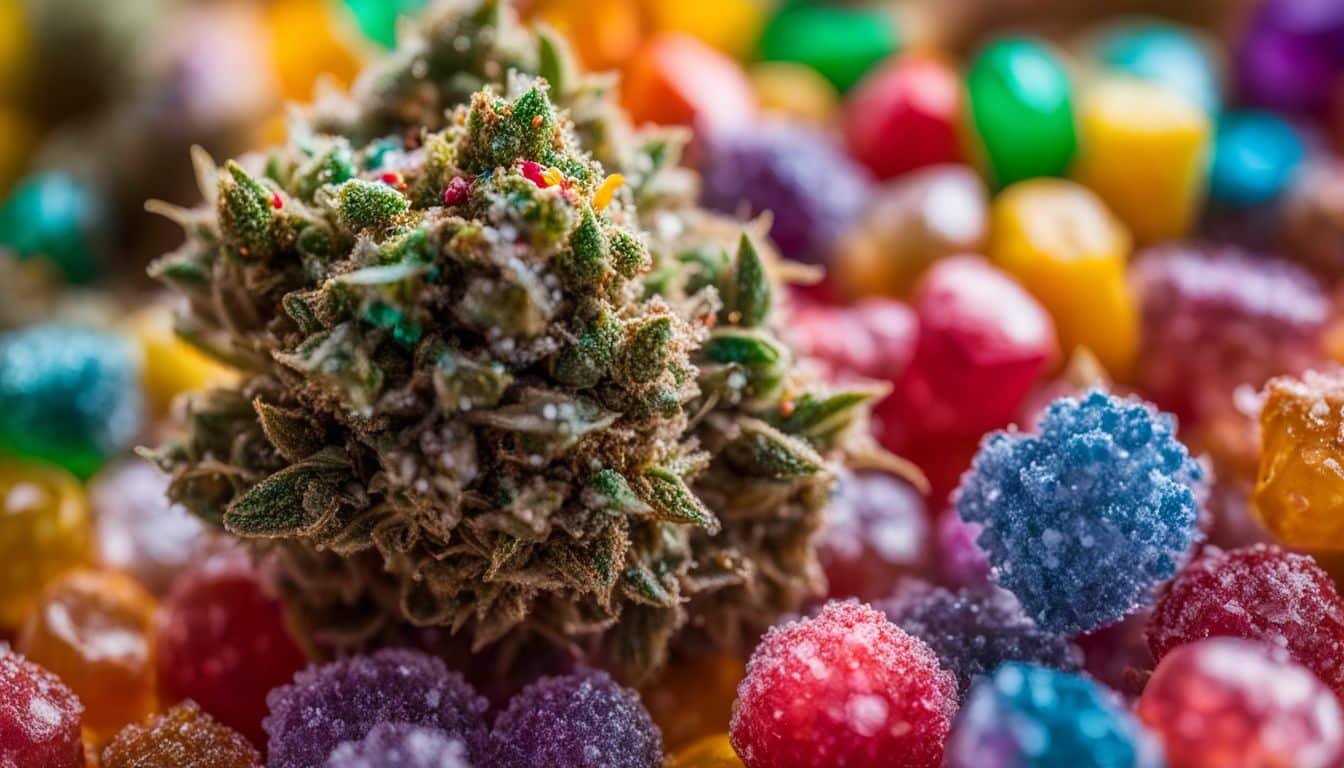 The White Runtz strain is a hybrid marijuana strain that is a cross of Gelato and Zkittlez. It has a candy-like sweetness in both its aroma and flavor, and it offers a pleasant sedation with long-lasting effects.
Genetic background (cross of Gelato and Zkittlez)
White Runtz, a potent hybrid strain, boasts an impressive genetic lineage. The prominent parent strains Gelato and Zkittlez are known for their high THC levels and unique flavor profiles.
This crossbreeding resulted in the creation of White Runtz, carrying on the best traits from each parent. Sharing similar genetics with its popular counterpart Runtz OG, White Runtz inherited the candy sweetness of Zkittlez and the creamy berry flavors of Gelato.
The impact of this distinct genetic background is evident in the strain's potency, aroma, and appearance. Nurturing these dominant phenotypes has allowed for an enriched sensory experience when consuming White Runtz.
Aroma and flavor (candy sweetness)
White Runtz delights your senses with its candylike flavor and sweet aroma. The initial whiff delivers a balanced fruity scent likened to summer's bounty, which sets the stage for a sensory experience reminiscent of indulging in childhood candies.
Delve deeper, and you'll discover subtle flowery notes that blend perfectly with the strain's inherent citrus sourness.
Taking a puff immerses you in an authentic candy sweetness that sticks to your taste buds long after smoking. This strain leaves behind traces of sugary goodness akin to popular treats like Smarties or Pixy Stix.
A light touch of citrus on exhale enhances this delicious taste even further, rendering White Runtz not only enjoyable but also quite memorable among users.
Potency and effects (pleasant sedation)
White Runtz boasts of high potency that leads to profound, relaxing effects. Once consumed, users find themselves succumbing to a state of calm and tranquility. The powerful impact washes over the body in waves, offering deep relaxation coupled with pleasant sensations of tingly euphoria.
This strong hybrid strain entices feelings of pure contentment and happiness in its consumers. Its calming sedation qualities easily help alleviate depression symptoms while also providing significant chronic stress relief.
Invoking tranquil and soothing undertones, White Runtz effectively imparts a sense of serene sedation that leaves users feeling blissfully at ease for long stretches.
Detailed Overview of White Runtz Strain Effects
White Runtz strain offers a detailed overview of its effects, making it an appealing choice for cannabis enthusiasts. As a hybrid strain created from Gelato and Zkittlez, White Runtz packs a punch with its long-lasting and enjoyable effects.
When you indulge in White Runtz, get ready to experience a relaxing and tingly sensation that can leave you feeling incredibly calm yet uplifted. With an average THC potency ranging from 19.5% to 20.75%, this strain delivers balanced effects that many users find pleasant and satisfying.
The euphoria induced by White Runtz is undeniable, often leading to giggle happiness as your worries melt away. But what truly sets this strain apart is its candy-like flavor – sweet and delightful on the palate.
Of course, like any other cannabis strain, there are potential side effects such as dry mouth, dry eyes, dizziness, and paranoia; however, the benefits of the White Runtz strain far outweigh these minor inconveniences.
Recreational and Medical Uses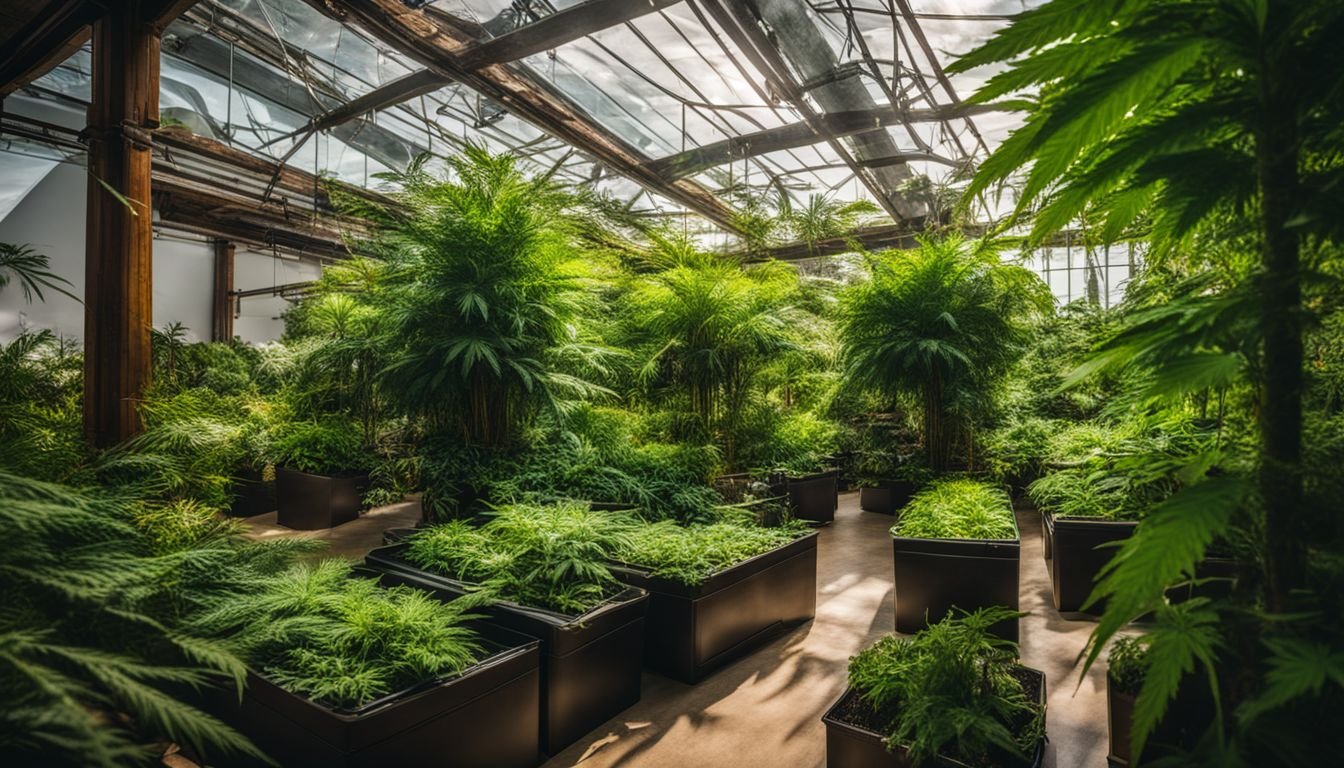 Discover the euphoric and medicinal benefits of White Runtz strain, from its relaxing effects to potential uses in treating various conditions.
Recreational effects and benefits
The White Runtz strain offers a range of recreational effects and benefits. Here are some key things to know:
Euphoria: Smoking White Runtz can bring about a strong sense of euphoria, lifting your mood and making you feel happy.
Body relaxation: This strain is also known for its ability to provide deep relaxation to the body, helping to relieve stress and tension.
Mind-altering effects: White Runtz has psychoactive properties that can create a shift in perception and enhance your overall mental experience.
Mood enhancement: Many users report an increase in positivity and an uplifted mood when consuming White Runtz, which can be perfect for socializing or unwinding after a long day.
Not overwhelming: While White Runtz delivers a potent high, it is appreciated for its balanced and invigorating effects that won't leave you feeling overwhelmed.
Medical uses and potential benefits
White Runtz strain offers various medical uses and potential benefits. It is known for its anxiolytic properties, making it beneficial for individuals dealing with stress and anxiety. Some of the common medical uses include relaxation, chronic stress relief, and body pain relief. This strain may also be helpful in treating depression, anxiety disorders, and chronic stress. Additionally, White Runtz is considered a useful tool for managing psychiatric disorders, providing therapeutic relief to those in need.
Growing White Runtz
Learn the best tips for growing White Runtz, both indoors and outdoors, to maximize your plant height and yield.
Indoor and outdoor growing tips
If you're interested in growing White Runtz, here are some tips to help you succeed:
For indoor cultivation, consider using soil or hydroponic systems.
Make sure to provide proper lighting and ventilation for your plants.
Keep the temperature and humidity levels within the ideal range for cannabis growth.
Regularly monitor and adjust pH levels in hydroponic setups.
Give your plants enough space to grow by using appropriate containers or pots.
Prune and train your plants to promote better airflow and maximize yields.
Use high – quality fertilizers and nutrients specifically formulated for cannabis cultivation.
Maintain a consistent watering schedule, being careful not to overwater your plants.
Choose a location with plenty of sunlight and good drainage.
Prepare the soil by amending it with organic matter to improve its structure and fertility.
Start planting when the threat of frost has passed.
Protect your plants from pests and diseases by using natural pest control methods or organic pesticides if necessary.
Water your plants regularly, especially during dry spells. Avoid overwatering, as it can lead to root rot.
Expected plant height and yield
White Runtz plants have an impressive growth potential when it comes to their height and yield. On average, these plants reach heights between 3-6 feet, making them a manageable size for both indoor and outdoor cultivation.
However, if you choose to grow White Runtz outdoors in the right conditions, they can reach even greater heights. The size of your harvest will also depend on your skills as a grower.
With proper care and attention, you can expect White Runtz plants to produce heavy yields that are sure to impress. So get ready to see your garden flourish with these beautiful plants!
Conclusion
In conclusion, the White Runtz strain offers a delightful combination of potency and flavor. With its sweet and candy-like taste, it provides users with a sense of relaxed euphoria and tingly sensations.
Whether you're seeking recreational enjoyment or potential medicinal benefits, White Runtz is definitely worth trying for an enjoyable cannabis experience.
FAQs
1. What are the effects of White Runtz strain?
White Runtz strain produces a relaxing and uplifting effect, leading to feelings of euphoria, happiness, and calmness.
2. Does White Runtz strain have any medical benefits?
Yes, White Runtz strain is known for its potential therapeutic benefits such as relieving stress, anxiety, pain, and insomnia.
3. How does White Runtz strain taste and smell?
White Runtz strain has a sweet and fruity aroma with hints of citrus. It also offers a smooth smoke with flavors of tropical fruits and candy.
4. Is White Runtz strain suitable for beginners?
While it can be enjoyed by beginners, the potency of White Runtz strain may be overwhelming for some users who are not accustomed to high levels of THC. It's recommended to start with low doses until you understand your tolerance level.