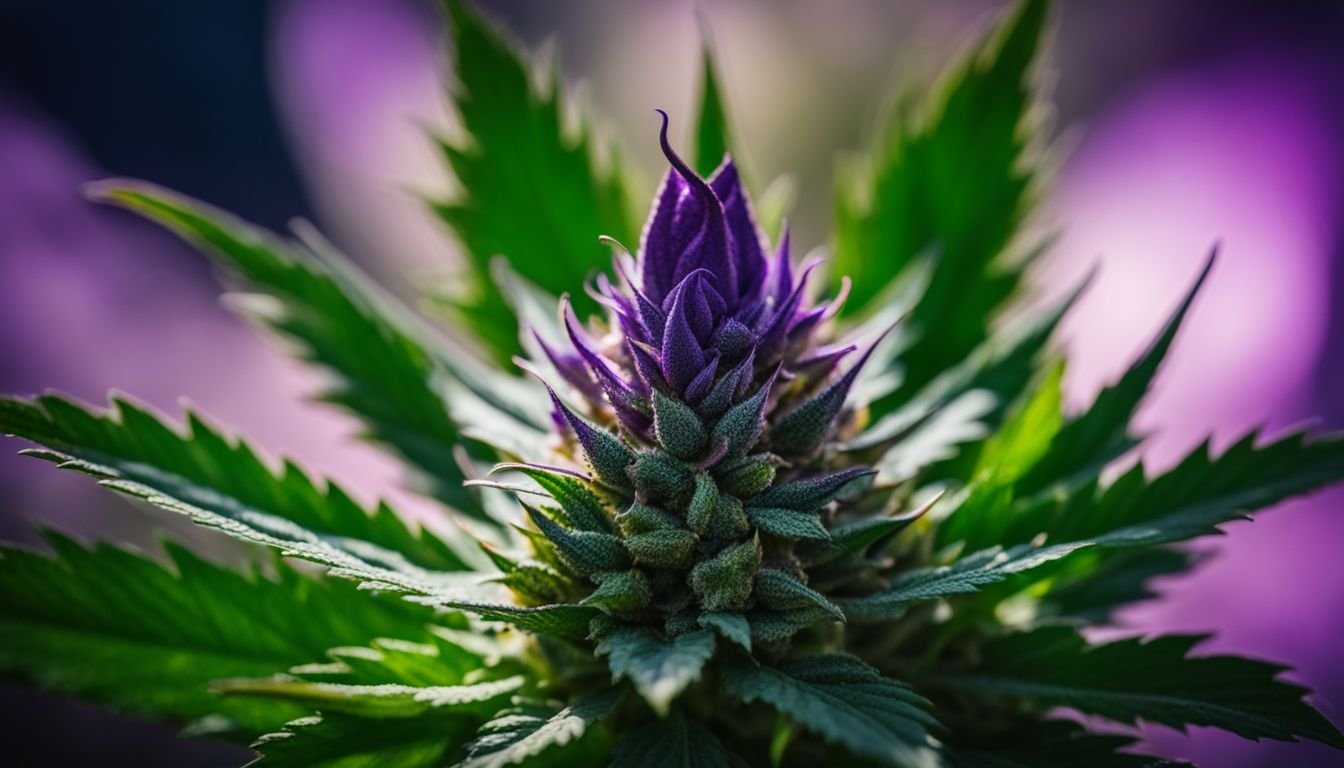 Are you curious about the Thin Mint strain – one of the most sought-after hybrids in cannabis culture? Stemming from a legendary lineage, Thin Mint is an indica-dominant offshoot of Girl Scout Cookies with striking dark green and royal purple hues.
This blog post provides a comprehensive review, including its effects, benefits, flavors, and how it compares to similar strains. Get ready – your journey into understanding the magic of Thin Mint starts here!
Key Takeaways
Thin Mint is an indica – dominant hybrid strain derived from Girl Scout Cookies, known for its dark green and purple hues.
It offers a balanced high with physical relaxation and mental stimulation.
The strain has a peppery flavor with hints of mango and a minty, earthy aroma.
Thin Mint provides various medical benefits such as relieving stress, anxiety, depression, and stimulating appetite.
Thin Mint Strain Overview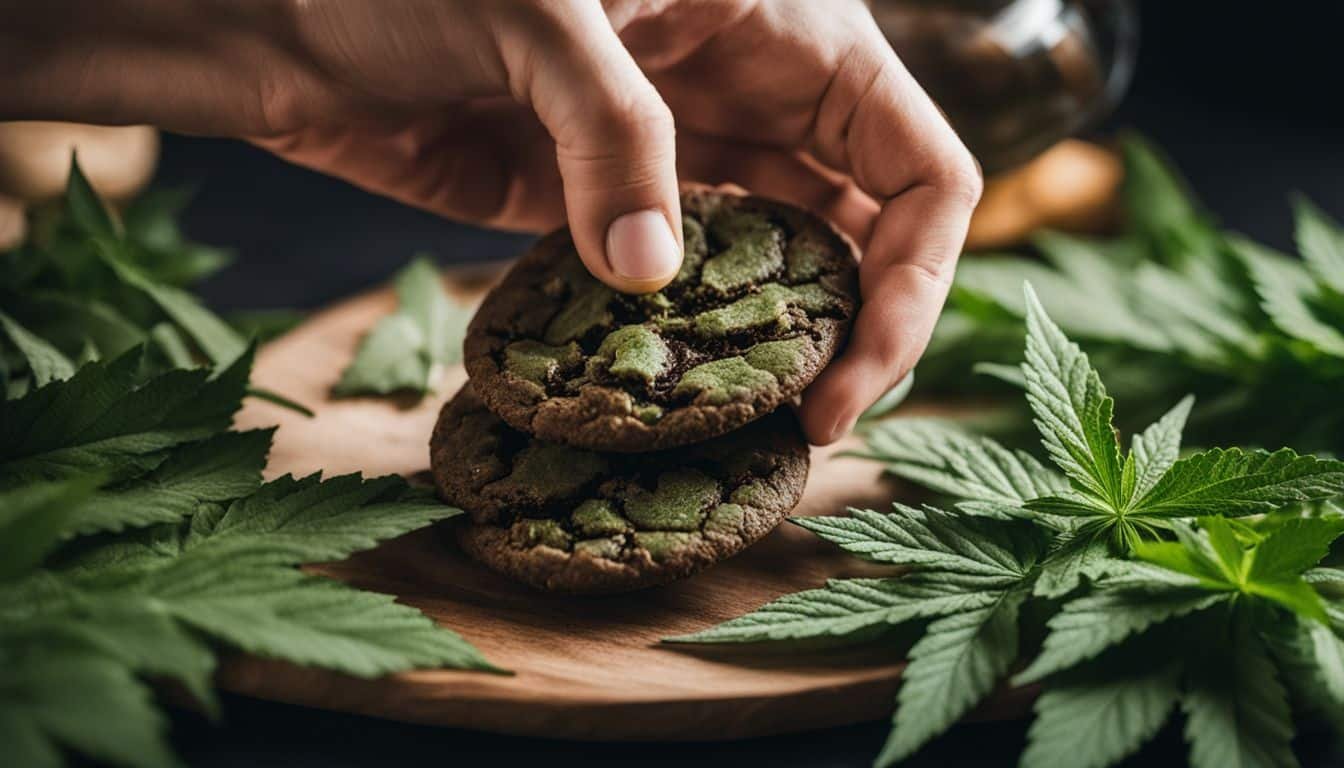 Thin Mint Strain is a popular hybrid marijuana strain that is derived from the legendary GSC (Girl Scout Cookies) strain, known for its dark green and royal purple hues.
What is the strain Thin Mint?
Thin Mint is a distinctive and balanced hybrid marijuana strain derived from the well-known GSC lineage. This strain showcases beautiful dark green and royal purple hues, making it as pleasing to the eye as it imparts an excellent psychoactive experience.
Known primarily for its invigorating effects and refreshing minty aroma, Thin Mint owes its unique attributes to its parents – the Durban Poison and OG Kush strains. Its enticing mix of both indica and sativa traits deliver a distinct high that leaves users feeling positively uplifted.
With Thin Mint's delectable taste profile, cannabis enthusiasts undoubtedly have found a perfect blend capturing enjoyment in every puff they take.
Indica or sativa?
The Thin Mint strain dances between the two worlds of Indica and Sativa, offering enthusiasts an intriguing mix. Hailed as a hybrid strain, it has successfully merged the best qualities from both sides to bring about a balanced high.
Its genetic roots trace back to OG Kush and Durban Poison strains, giving it a unique personality.
Despite its evenly poised characteristics, Thin Mint tilts slightly towards being an Indica-dominant hybrid. This prominence doesn't overpower its profile but instead enhances the overall experience by adding depth to its effects.
As you enjoy your dose of Thin Mint strain, expect to feel infused with a creative spark coupled with enhanced focus—characteristics borrowed from its Sativa influences while also experiencing the soothing effects typical of Indicas.
Genetics and cannabinoid percentage
Thin Mint Strain proudly showcases its robust genetics, a cross between Durban Poison and OG Kush. These heavyweight parents give Thin Mint Strain its hybrid traits, combining the best features of sativa-dominant and indica-dominant varieties.
With a THC potency swinging between 18% to 24%, it's no wonder this strain bagged third place in a cannabis competition, demonstrating an impressive THC peak of 28%. As a phenotype of the Girl Scout Cookies strain, Thin Mint sustains high cannabinoid levels while offering diverse benefits for both recreational and medical users.
Its powerful genetic profile has made it one of the most favored strains among cannabis enthusiasts worldwide.
Effects and Benefits of Thin Mint Strain
The effects of Thin Mint strain are both physical and mental, providing users with a perfectly balanced high. It can leave you feeling sleepy and hungry, while also stimulating an active and creative mind.
Additionally, this strain offers various medical benefits for those seeking relief from pain, inflammation, stress, and anxiety.
Physical and mental effects
The Thin Mint Strain delivers a combination of physical relaxation and cerebral stimulation. When you indulge in this strain, you can expect to feel happy, peaceful, and even euphoric.
Your body will experience a gentle buzz that promotes relaxation and tranquility. At the same time, your mind will become stimulated and mentally uplifted. The effects strike an ideal balance between mental and physical sensations, offering you the best of both worlds.
You may also experience sleepiness and increased appetite during your high. Overall, Thin Mint Strain provides a unique combination of mental stimulation and physical relaxation that is highly sought after by cannabis enthusiasts.
Medical benefits
The Thin Mint strain offers a range of medical benefits that can help improve your overall well-being. This strain has been reported to relieve symptoms of stress, anxiety, and depression, making it a great option for those seeking mental health support.
Additionally, Thin Mint has shown potential in alleviating symptoms of posttraumatic stress disorder (PTSD). If you struggle with appetite stimulation, this strain may be helpful as it has the potential to increase your appetite.
However, keep in mind that some negative side effects include dry mouth and eye irritation.
Comparison to Similar Strains: LA Kush Cake Strain Review
LA Kush Cake is a strain that is often compared to the Thin Mint strain due to their similar effects and indica-dominant genetics.
| Comparison Factors | LA Kush Cake | Thin Mint |
| --- | --- | --- |
| Genetics | Created by crossing Wedding Cake and Kush Mints. | Interbred with various strains for its unique characteristics. |
| Indica or Sativa | Indica-dominant hybrid strain. | Indica-dominant hybrid strain. |
| Aroma and Flavor | Vanilla aroma with an earthy peppermint flavor. | Peppery flavor with hints of mango and mild overall flavors. |
| Effects | Known for inducing relaxation, creativity, and surges of euphoria. Also, it's a favorite among indica lovers for its smooth hitting high. | Produces similar effects including relaxation, creativity, and euphoria. |
Each strain has its unique qualities, and your preference may depend on the specific aroma, flavor, and effects you are seeking.
Flavor and Aroma of Thin Mint Strain
The flavor of Thin Mint Strain is a peppery delight with hints of mango, while its aroma is minty and earthy. Curious to know more about this perfectly balanced high? Keep reading!
Peppery flavor with hints of mango
The flavor profile of the Thin Mint strain is characterized by a peppery taste with hints of mango. Smokers describe it as having a deliciously dank and earthy flavor, with a touch of sweetness.
This unique combination makes Thin Mint a delightful strain to smoke or vaporize for those looking for an enjoyable and flavorful experience. Additionally, the dominant terpene in Thin Mint is Caryophyllene, which contributes to its signature peppery aroma and taste.
If you enjoy strains with interesting flavor combinations, Thin Mint's peppery flavor with hints of mango might be right up your alley.
Mild overall flavor
The Thin Mint Strain offers a mild overall flavor that is often described as peppery and herbal. You'll notice hints of minty freshness, along with mild spiciness and sweet undertones.
The balanced flavor profile of this strain creates an enjoyable smoking experience. As a hybrid blend of indica and sativa traits, the Thin Mint Strain not only provides potent effects but also delivers a pleasurable taste that enhances your cannabis experience.
If you're looking for a strain with a unique aromatic profile and a satisfying flavor, the Thin Mint Strain won't disappoint.
Conclusion
In conclusion, Thin Mint is a highly potent hybrid strain that offers a balanced high. With its unique blend of Durban Poison and OG Kush, it provides both physical relaxation and mental stimulation.
This minty cannabis strain has gained popularity for its uplifting effects and flavor profile, making it a favorite among cannabis enthusiasts.
FAQs
1. What are the effects of Thin Mint strain?
The effects of Thin Mint strain typically include relaxation, euphoria, and a potential boost in creativity.
2. How does Thin Mint strain taste?
Thin Mint strain has a sweet and earthy flavor with hints of chocolate and mint, reminiscent of its namesake Girl Scout Cookies.
3. Is Thin Mint strain suitable for beginners?
While Thin Mint strain can be enjoyed by beginners, its high THC content may be overwhelming for those new to cannabis. It's important to start with small doses and proceed cautiously.
4. Does Thin Mint strain have any medicinal benefits?
Thin Mint strain is known for its potential therapeutic properties such as relieving stress, anxiety, pain, and nausea. However, it's always recommended to consult with a healthcare professional before using it for medical purposes.